Over the past two years, reports by the Tech Transparency Project and others have documented Apple's use of suppliers linked to forced labor in China.
But another tech giant is deeply implicated in the issue as well: Amazon.
Amazon's public list of suppliers, which produce Amazon devices and goods for Amazon's private brands, includes five companies that have been linked directly or indirectly to forced labor of ethnic minorities from China's Xinjiang region, TTP found.
Amazon last "comprehensively updated" its supplier list in June 2021, but details about the five suppliers' links to forced labor were public before then.
The findings raise questions about Amazon's exposure to China's repression of minority Uyghurs in Xinjiang—and the extent to which the e-commerce giant is adequately vetting its supplier relationships. Amazon says that its suppliers "must not use forced labor" and that it "does not tolerate suppliers that traffic workers or in any other way exploit workers by means of threat, force, coercion, abduction, or fraud." But its supplier list tells a different story.
In China, programs euphemistically called "labor transfers" move workers from the Xinjiang Uyghur Autonomous Region, a predominantly Muslim area in western China, to factories in other parts of the country. Experts say these programs are often coercive and connected to a network of mass internment and reeducation camps in China. In at least some cases, Uyghur laborers are not allowed to leave factory facilities or return home of their own accord.
Three Amazon suppliers are reported to have used forced labor directly: Luxshare Precision Industry, AcBel Polytech, and Lens Technology. Another two, GoerTek and Hefei BOE Optoelectronics, are themselves supplied by factories that have been implicated in forced labor.
An additional noteworthy finding: Amazon continued to include one company—Esquel Group—on its supplier list for more than a year after the U.S. government imposed sanctions on an Esquel subsidiary for involvement in forced labor in China.
The issue has become more pressing for companies like Amazon in the wake of the recent enactment of the Uyghur Forced Labor Prevention Act. The law directs U.S. Customs and Border Protection to presume goods produced wholly or in part in Xinjiang are tainted by forced labor unless proven otherwise by importing companies that can provide evidence of their satisfactory due diligence.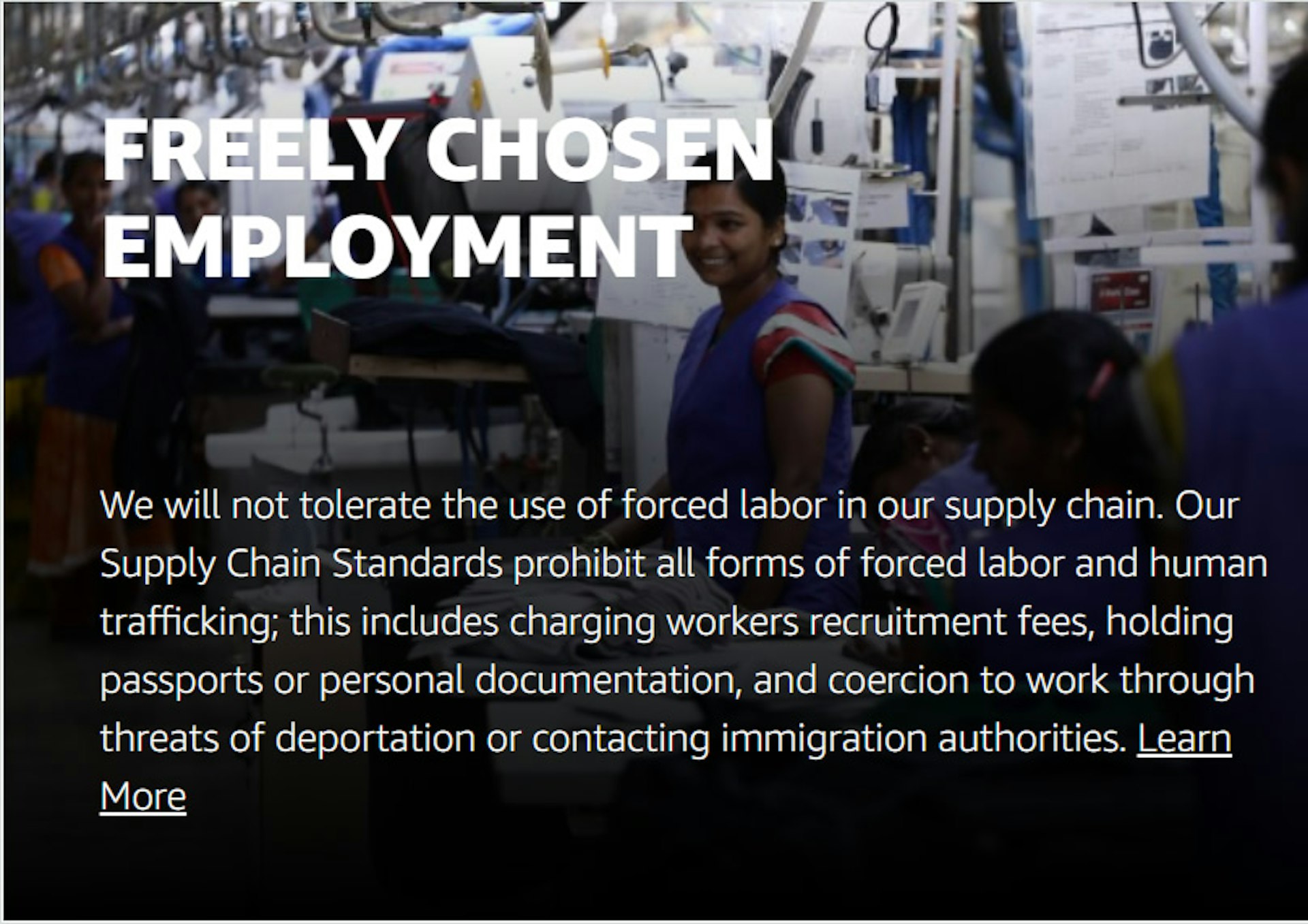 Amazon says its suppliers produce Amazon devices and goods for Amazon private brands like Amazon Basics and Amazon Essentials, though it doesn't specify the products. Amazon devices include Kindle and the Echo smart speaker; Amazon's private brands cover a wide range of consumer goods, including clothing, appliances, pet supplies, cables and more.
On its supplier list, Amazon lists two wholly owned subsidiaries of the Chinese company Luxshare Precision: Dongguan Luxshare Precision Industry and Shenzhen Luxshare Electro Acoustic Technology Co., Ltd. In a May 2021 bombshell report about Apple's use of suppliers linked to forced labor, The Information, citing Chinese sources, reported that Luxshare received "as many as hundreds" of Xinjiang workers between 2017 and 2020.
Amazon's supplier list also includes a subsidiary of AcBel Polytech, a Taiwan-based company. The Information found video evidence of AcBel's use of Xinjiang labor at its factory in Wuhan, China, in late 2018 or early 2019. (TTP contributed to The Information's investigation.)
In a response to The Information, Amazon said it expects all items sold in its stores to comply with its supply chain standards, adding that the company takes action if it receives proof of forced labor. A month later, however, Amazon continued to include the Luxshare and AcBel subsidiaries on its supplier list.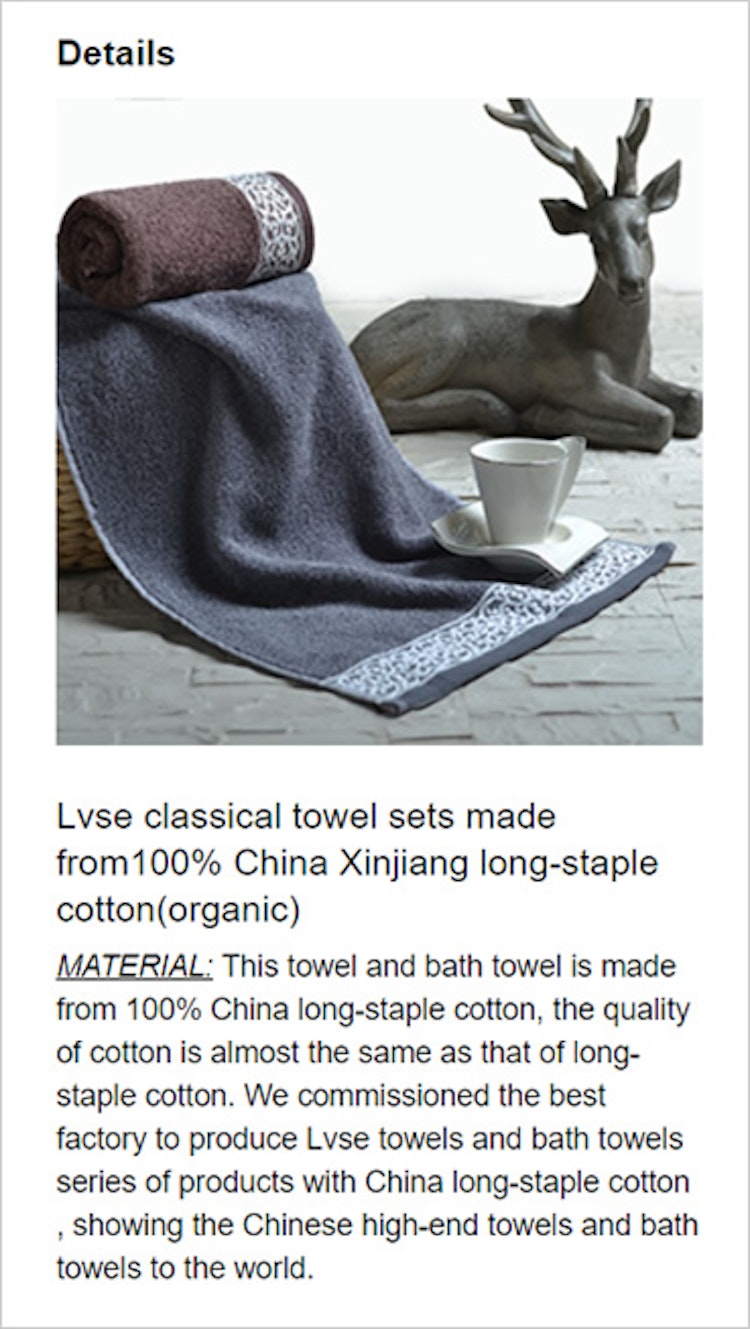 Amazon also uses Lens Technology Changsha Co., Ltd.—a subsidiary of Lens Technology—as a supplier. Evidence discovered by TTP, and shared with The Washington Post for a report in December 2020, indicates that Lens Tech has used thousands of Uyghur workers from Xinjiang. The evidence included a video posted online in 2019, showing a crowd of workers attending a National Day celebration in front of a Lens Tech building in Changsha, China, with banners indicating they came from a Uyghur-majority area of Xinjiang.
The Lens Tech building in the video appears to be a separate facility from that of Amazon supplier Lens Tech Changsha Co., though both are located in the same city. 
In a March 2020 a report titled, "Uyghurs for Sale," the Australian Strategic Policy Institute (ASPI) showed that a subsidiary of Amazon supplier Dongguan Yidong Electronic Co. Ltd. received transferred Uyghur workers. Amazon dropped the company from its supplier list later that same year. But Amazon has continued to use GoerTek, another Chinese firm that, according to ASPI, is supplied by Dongguan Yidong. That means Amazon is linked through an intermediary supplier to a company involved in forced labor in China.
ASPI also found that Hefei Highbroad Advanced Material Co., a supplier of electronic displays, employed forced Uyghur labor. One of Amazon's current suppliers, Hefei BOE Optoelectronics Technology Co., is itself supplied by Hefei Highbroad, according to Chinese corporate records.
Then there's the issue of Esquel, a major textiles manufacturer with extensive operations in Xinjiang. The Commerce Department imposed sanctions on an Esquel subsidiary in July 2020 over its involvement in forced labor in China. But for more than a year afterward, Amazon continued to list two other Esquel subsidiaries, one in China and one in Vietnam, on its supplier list. The subsidiaries were present on the supplier list as recently as December 2021, but have since been removed by Amazon. (TTP has detailed Apple's use of Esquel to make T-shirts for its retail staff following the sanctions.)
In addition to using suppliers tainted by forced labor, Amazon continues to sell third-party products despite a U.S. ban on products made from Xinjiang cotton. One product page advertises a set of towels as "100% China Xinjiang long-staple cotton." Another company with an Amazon store advertises on its website the use of Xinjiang cotton.
TTP also found an example of a Chinese seller on Amazon simply deleting references to "Xinjiang" from its description of bedding, with no discernible change to the underlying goods—raising questions about Amazon's monitoring of such sellers. (See a March 2021 archive of the page versus a January 2022 version.)
Amazon's continued use of companies with well-documented ties to forced labor in Xinjiang cast doubt on the tech giant's stated intolerance of human rights abuses in its supply chain. In light of the Uyghur Forced Labor Prevention Act, the issue is set to become even more urgent for the company.