When the Tech Transparency Project in April identified dozens of Facebook pages offering migrants passage across the U.S. southern border, Facebook told CNN it prohibits content "that either offers or assists with human smuggling."
When TTP found yet more Facebook pages and groups openly selling illegal border crossing services in June, Facebook told NBC News that it's "constantly evaluating ways to improve our enforcement."
Months later, TTP conducted a spot check to determine if Facebook had made any discernible progress on the issue. The results show little, if anything, has changed—with Facebook continuing to miss obvious signs of human smuggling activity.
TTP easily identified an additional 40 Facebook pages and 17 Facebook groups that openly sell illegal border crossings, often using the word "coyote"—a commonly-used term for human smuggler—in their names. Prices and smuggling routes are posted for all to see.
Facebook's inability, or unwillingness, to clean up its human smuggling problem comes as Homeland Security Secretary Alejandro Mayorkas has raised new alarms about the "unprecedented number of migrants" at the southern border. TTP's previous research has shown that many smugglers promise migrants easy and fast asylum in the U.S.—feeding false hope to a vulnerable population and exacerbating the border surge.
Meanwhile, the Wall Street Journal, as part of a bombshell series of reports about Facebook's failings to curb harmful content, has revealed Facebook's slow and weak response to internal company research pointing to the prevalence of human trafficking and drug cartels on the platform.
TTP's new review found numerous human smuggling-related Facebook groups and pages launched in July and August 2021. One page created on July 5 called "Coyote Te llevo a usa 100% Seguro" ("Coyote I take you to USA 100% safe") featured a cover photo of a man climbing over what appears to be a section of border wall. Facebook even provides visitors to the page with a series of pre-set questions ("How much do your products or services cost?") that they can use to privately message the page administrator with a single click.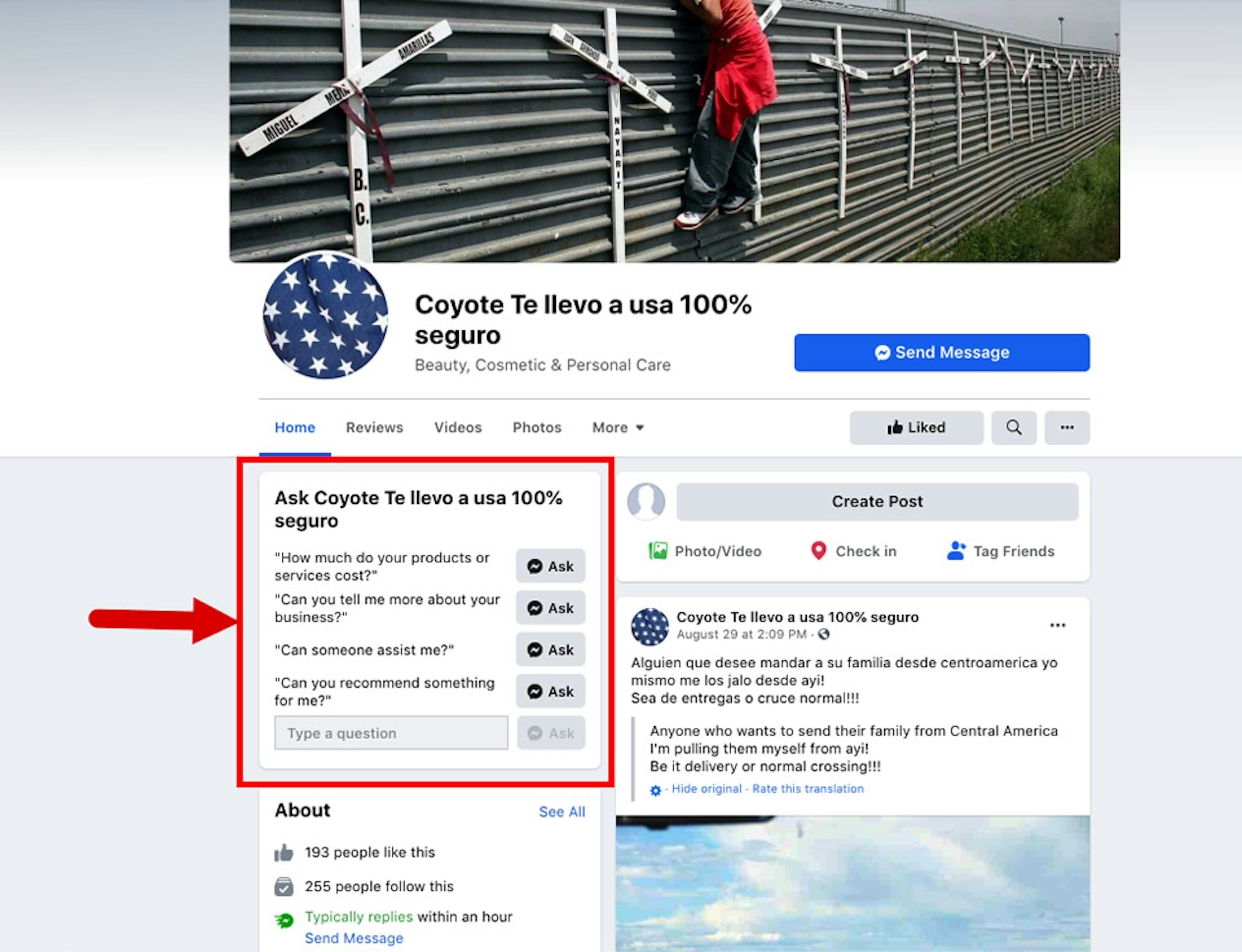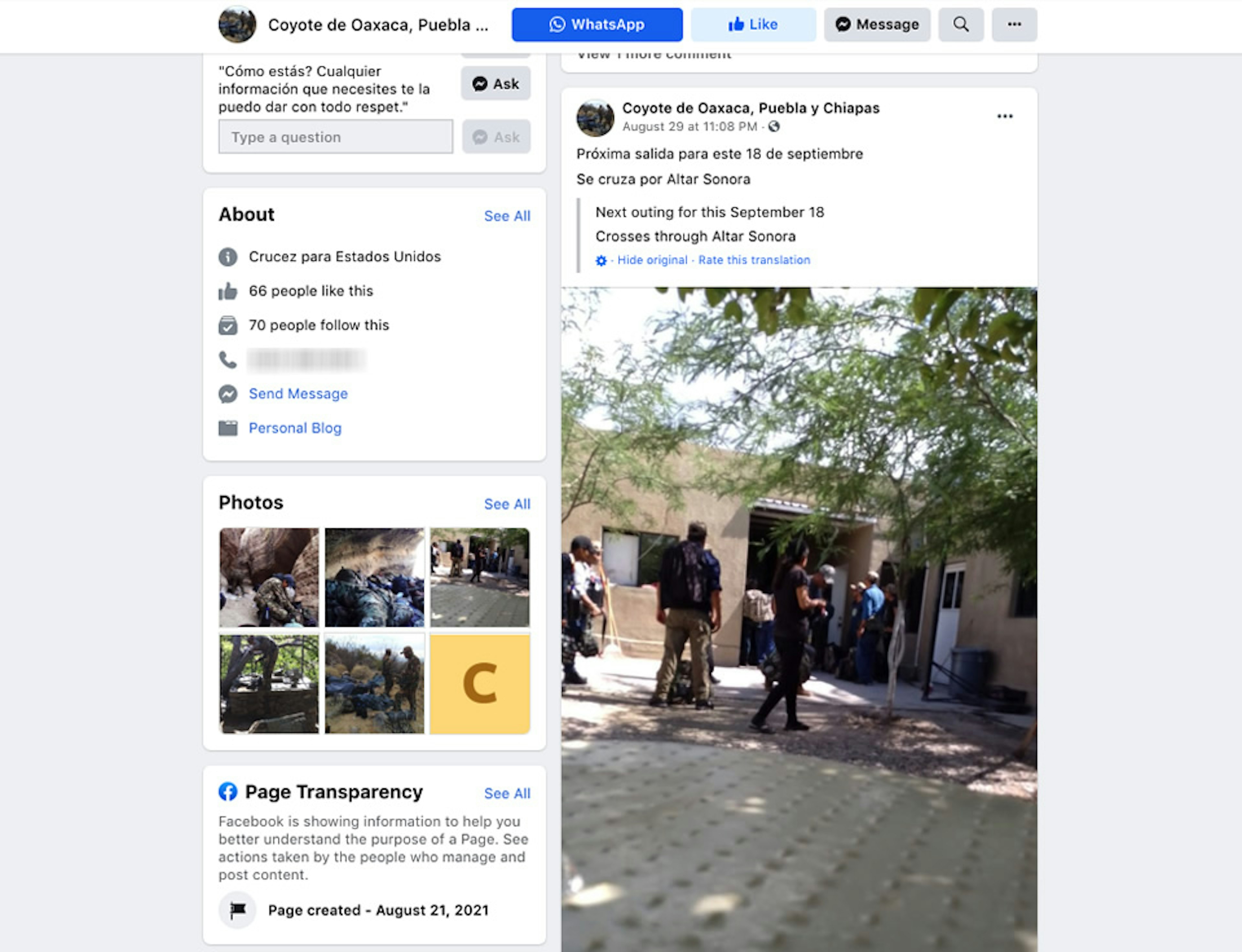 The Coyote Te llevo a usa 100% Seguro page illustrates its human smuggling services with photos and video of migrants crossing the border. One post from August 19 included a menu of prices along with a video of people crossing a river in a raft. The post notes that the next group of migrants is being booked for October.
TTP also found recently created Facebook human smuggling groups that are growing rapidly without any intervention from the platform.
One group explicitly named "Coyotes Para Cruzar a Estado Unidos" ("Coyotes for crossing to the United States"), created on August 3, attracted 1,100 members in less than a month. The group produces dozens of posts on a daily basis offering border crossings. One post recorded by TTP on August 31 offered human smuggling services through Tijuana, Mexico, accompanied by a video of migrants running through the desert to a waiting vehicle.
Another group called "migrantes con sueño americano y guias de confianza" ("migrants with an American dream and trusted guides") has amassed over 4,000 members since it was created on May 25, 2021. The group's cover photo features people using makeshift rafts to cross a river.
Like Coyotes Para Cruzar a Estado Unidos, the migrantes con sueño americano group is full of human smugglers offering their services and migrants seeking safe passage across the border. One smuggler post from August 30 provides a menu of prices to get to Laredo and San Antonio, Texas. The post includes a video of people running through the desert after exiting a vehicle.
TTP also spotted a Facebook group called "Caravana de Emigrantes el 2021" ("Immigrant caravan of 2021"), where one member promoted the next group leaving Honduras for the U.S. on Sept. 30.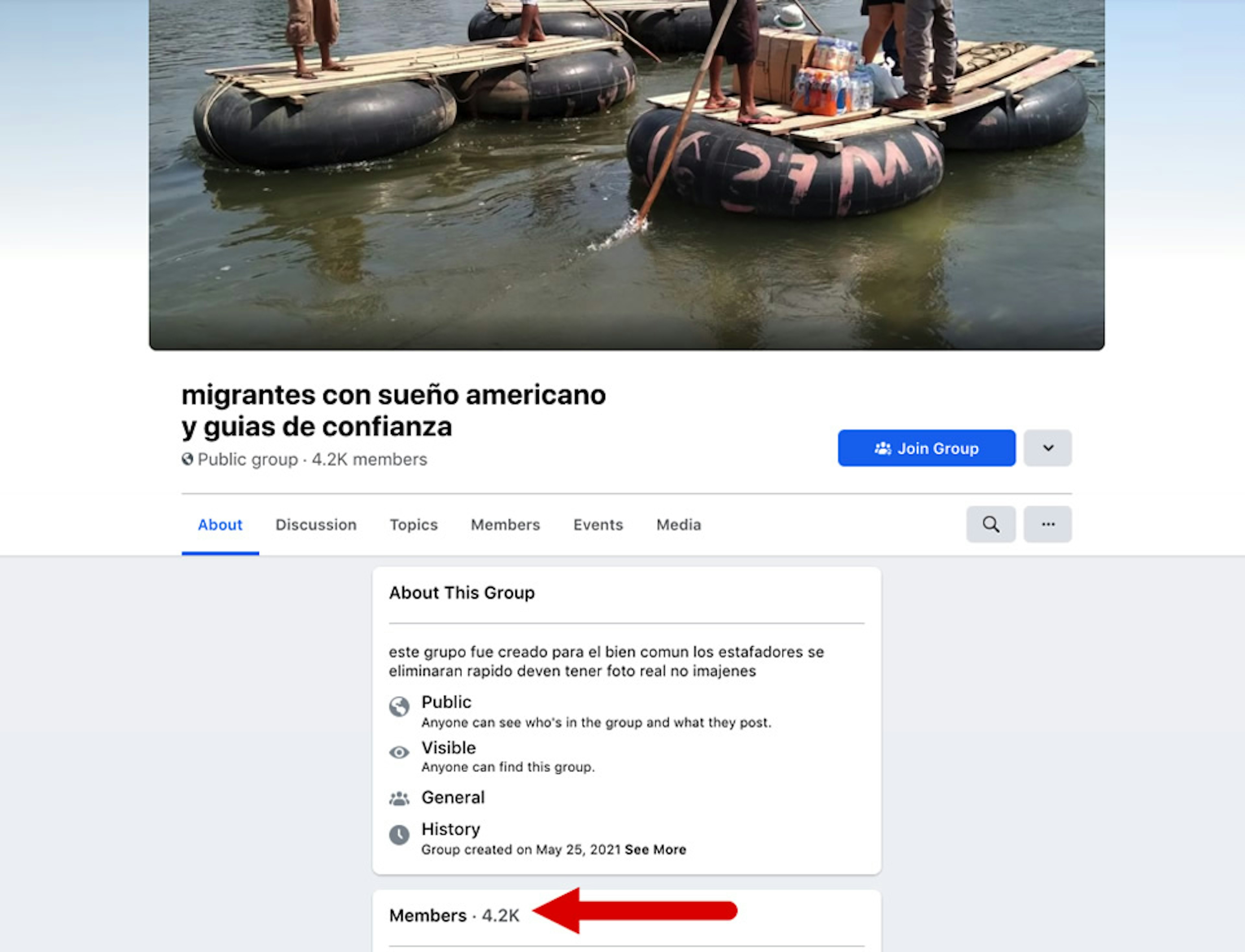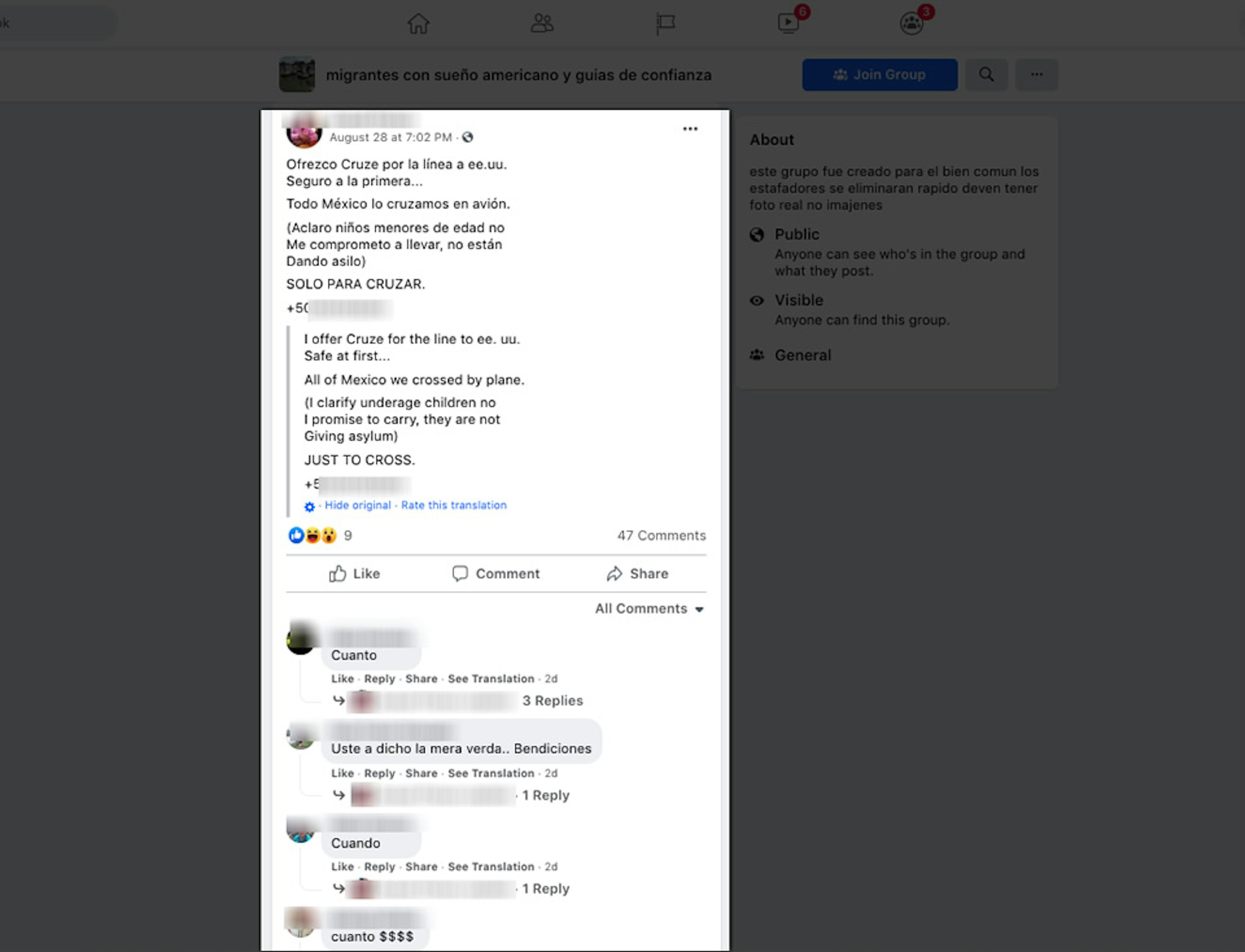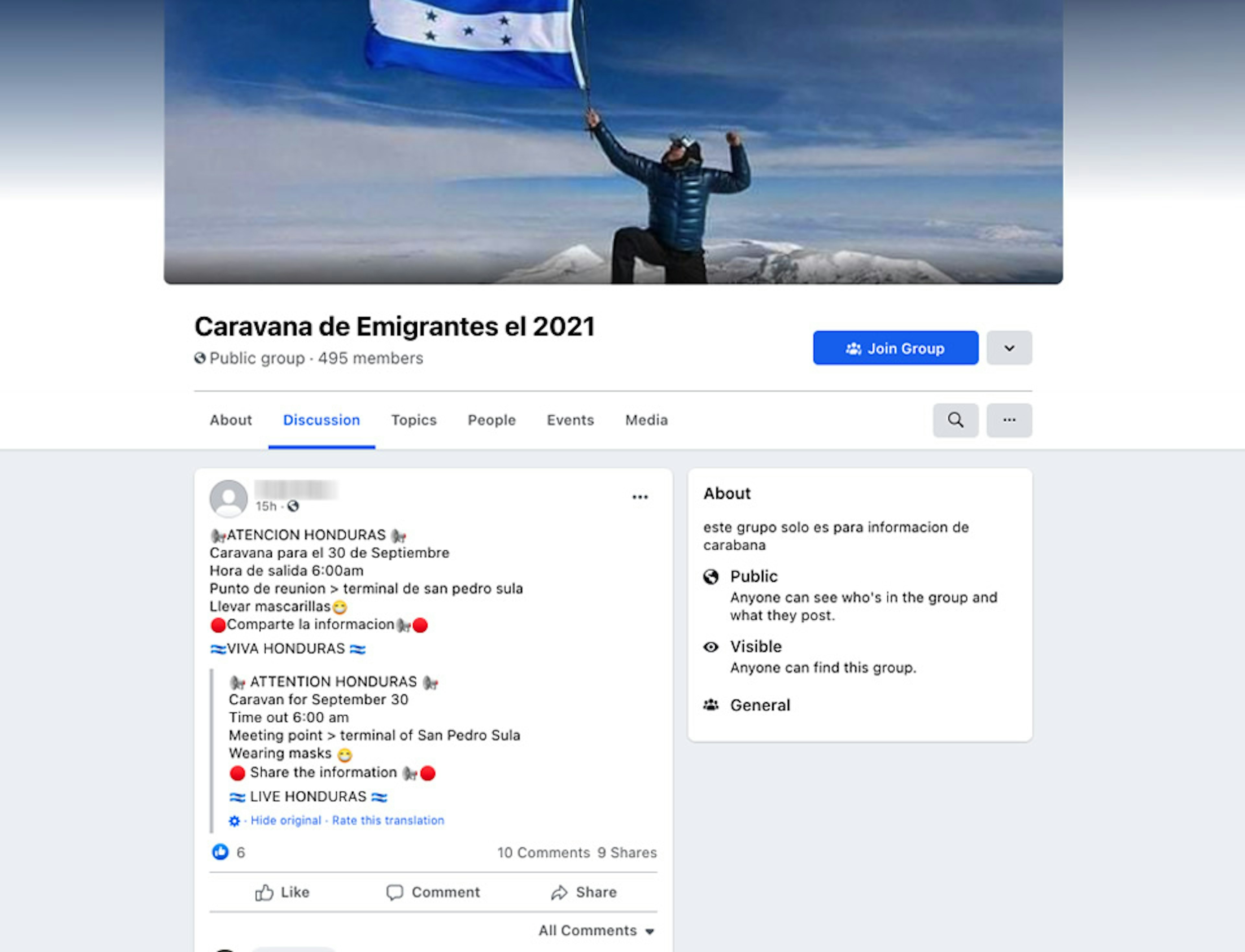 As TTP has previously noted, Facebook has expanded rapidly in Latin America, providing human smugglers with a massive platform to reach new customers. In Facebook groups, smugglers can advertise their services to thousands of people with a single post—a feat that is virtually impossible via traditional person-to-person interaction. Facebook's lax enforcement, meanwhile, allows the smugglers to sell their services unimpeded.
As part of this research, TTP also found evidence that Facebook is facilitating the movement of Haitians to the U.S. southern border, a worrying sign given the thousands of Haitian migrants who've been encamped in Del Rio, Texas. Many of those migrants actually began their journey from South American countries, including Chile, where they ended up after an earthquake devastated Haiti in 2010.
TTP found examples of individuals in Haitian Creole-language Facebook groups encouraging Haitians to head to Mexico and the U.S. On July 26, a member of a 48,000-plus member Facebook group called "APOYO HAITIANO EN CHILE" (Haitian support in Chile) promoted a flight from Chile to Mexico, giving his WhatsApp number as the contact. Another member of that same group on May 28 provided a detailed plan for Haitian migrants heading from Chile to the U.S., including instructions on where to use taxis, buses, boats, and walking routes.
On August 25, the operator of the Facebook page "FME Motivation" posted in Haitian Creole to his 60,000-plus followers that the U.S. had extended its timeline to "close" borders until Sept. 21, suggesting that the borders were open and there was a deadline to reach them. Haitian and other migrants often arrive at the U.S.-Mexico border under the false impression that the U.S. has an open borders policy.  Facebook's  transparency tools indicate the page is managed from Chile, home to a large community of Haitian migrants.