Facebook is allowing human smugglers to use its platform to offer migrants illegal passage across the southern U.S. border, and in some cases Facebook's algorithm is actually recommending smuggler pages to users, according to a Tech Transparency Project (TTP) investigation that underscores the company's deep problems policing content violations.
NBC News reported on April 5 about human smugglers who advertise their services on Facebook, feeding false hope to Central American migrants that they will have an easy time crossing the border. The U.S. is currently facing its biggest migrant surge in 20 years, according to Homeland Security Secretary Alejandro Mayorkas, and many migrants arrive badly misinformed about the Biden administration's immigration policies and their ability to enter the U.S.
In response to NBC's report, a Facebook spokesperson said the company bans human exploitation and trafficking and takes down such content when flagged by users. Facebook has been warned for years about this problem, with numerous reports detailing how smugglers use Facebook to lure migrants from Africa and the Middle East into dangerous sea crossings to Europe. 
But TTP's investigation provides fresh evidence that Facebook continues to be a hub for human smuggling operations. The research identified dozens of Facebook pages offering passage across the U.S. southern border, simply by searching the site for basic Spanish phrases such as "viajar a estados Unidos" ("travel to the United States") and "cruzando a estados Unidos" ("cross to the United States").
In most cases, the pages didn't bother to disguise their intentions. One page created on March 4 called "Cruze frontera a EUA" ("Cross border to USA") had a single word descriptor for its profile: "coyotes," the widely used term for human smugglers.
Here are key findings from the investigation:
TTP's research found a total of 50 Facebook pages offering illegal border crossings, in nearly all cases making their services explicit in the page name. More than half of the pages—35—were created since last fall, and a dozen have popped up in the last month, operating freely with no enforcement from Facebook.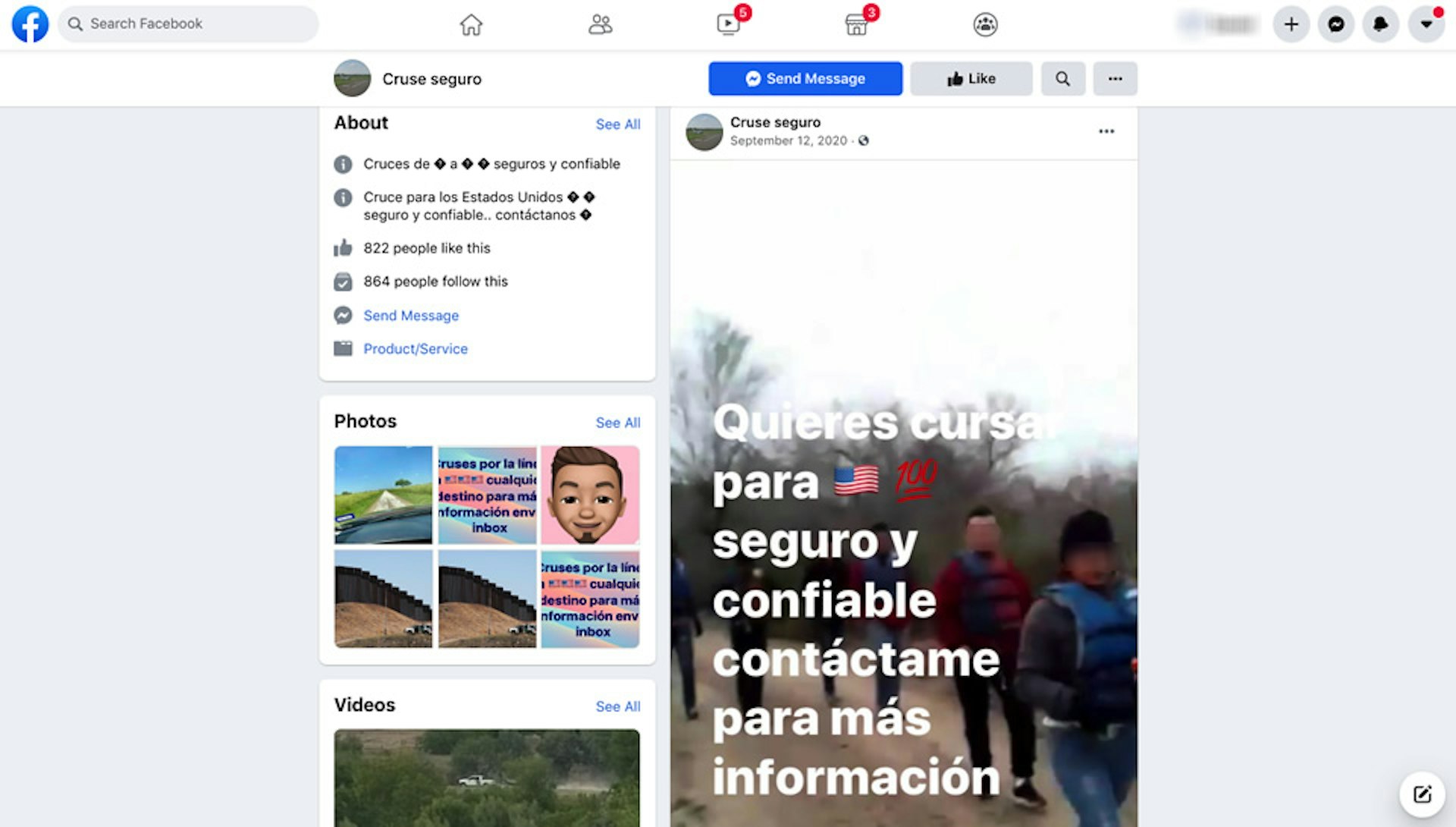 The problem is compounded by Facebook's algorithms and automated features. TTP found that Facebook's recommendation system often suggests additional pages that offer border crossings, directing users to other dubious, and potentially dangerous, smuggling services.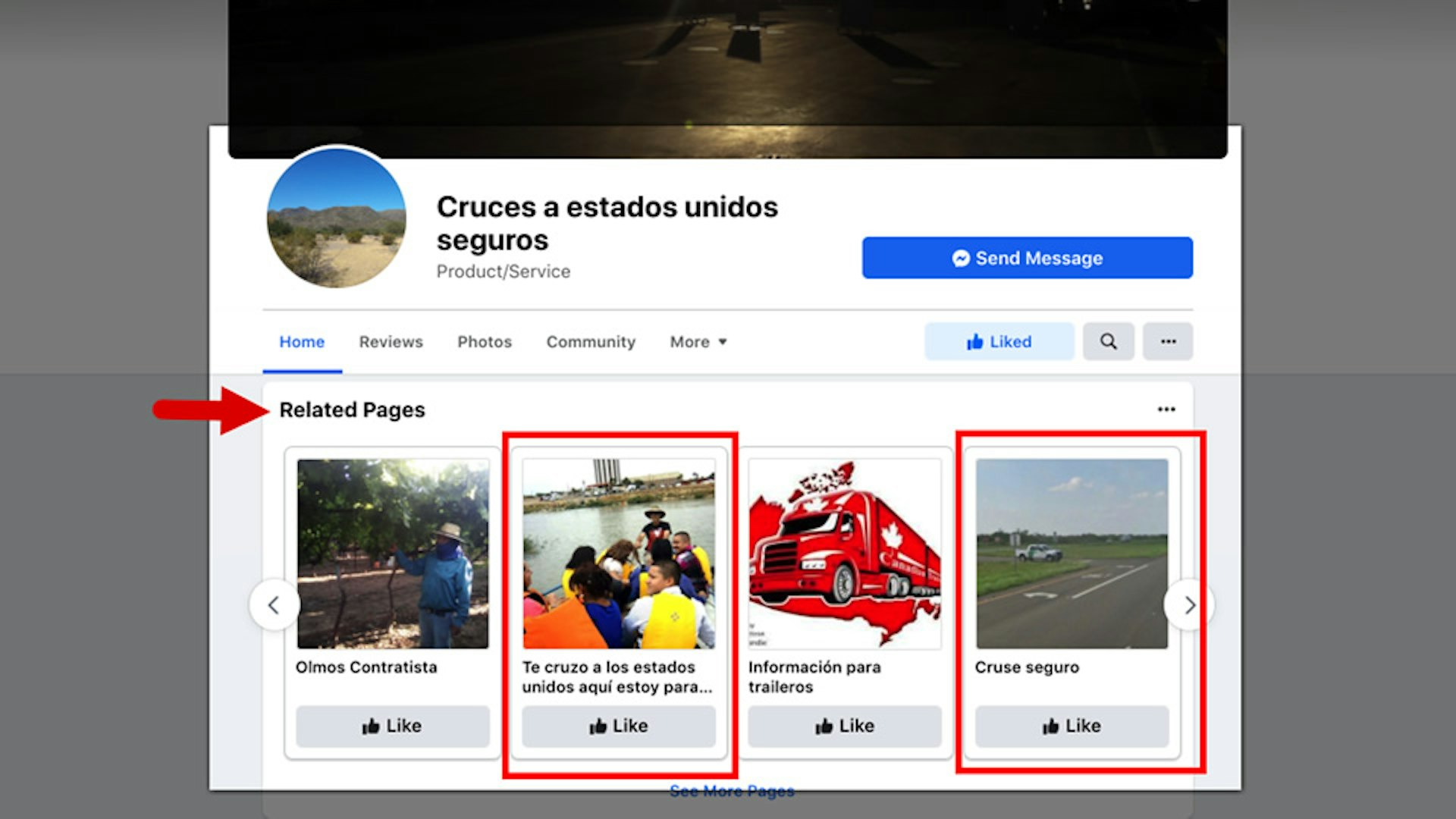 At the same time, Facebook's pop-up messenger window provides an easy way for people to privately contact the administrator of a smuggler page (complete with pre-set suggested questions), facilitating communication between would-be migrants and human traffickers. Human smuggling pages like the one below frequently request that users communicate through WhatsApp or direct messaging.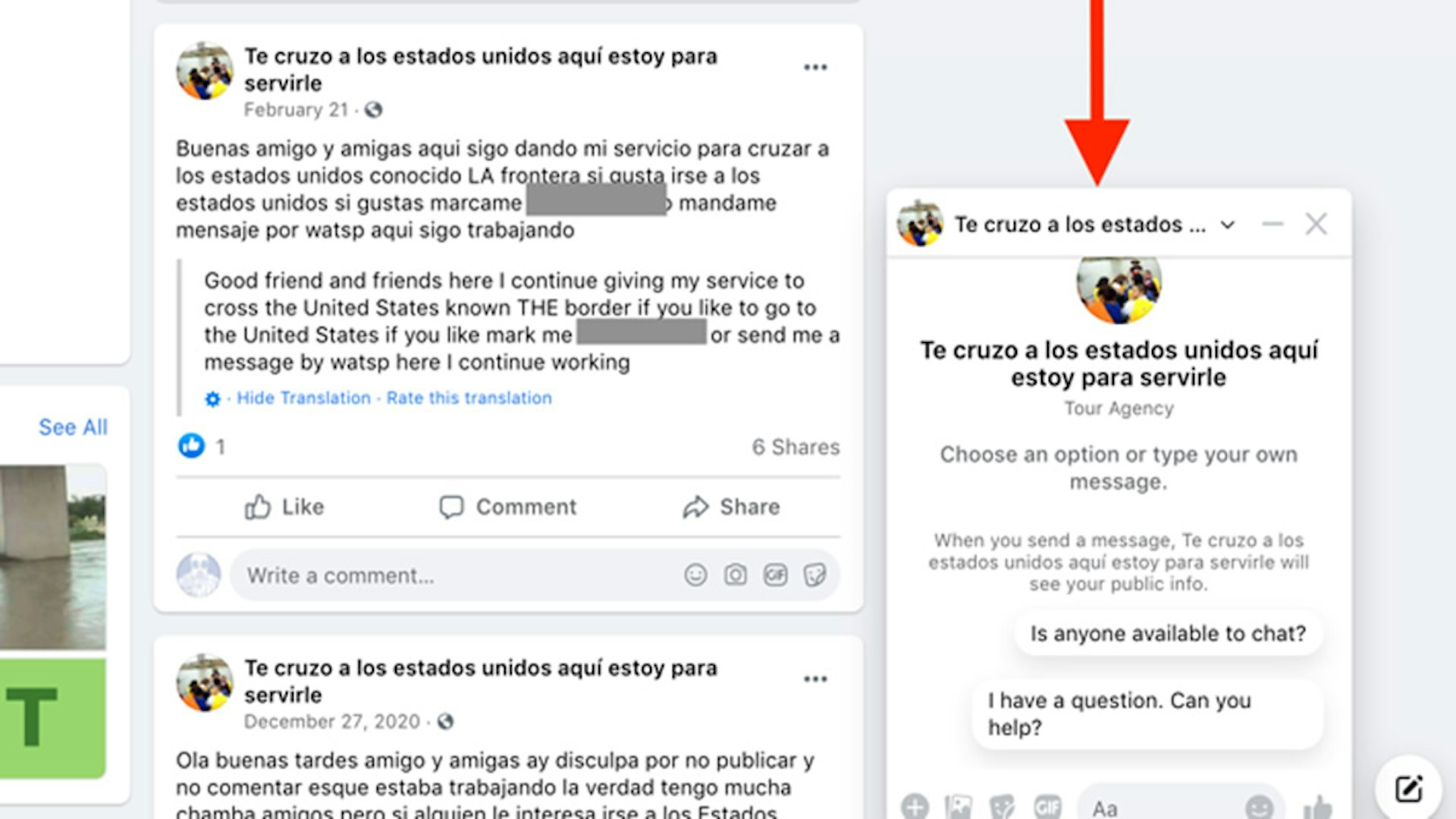 Human smugglers have also used categories like "Travel Company" and "Product/Service" to classify their pages. Facebook allows people to select up to three categories for their pages, a tool the company says makes it "easier for potential customers to find you" through search and algorithmic recommendations on the platform.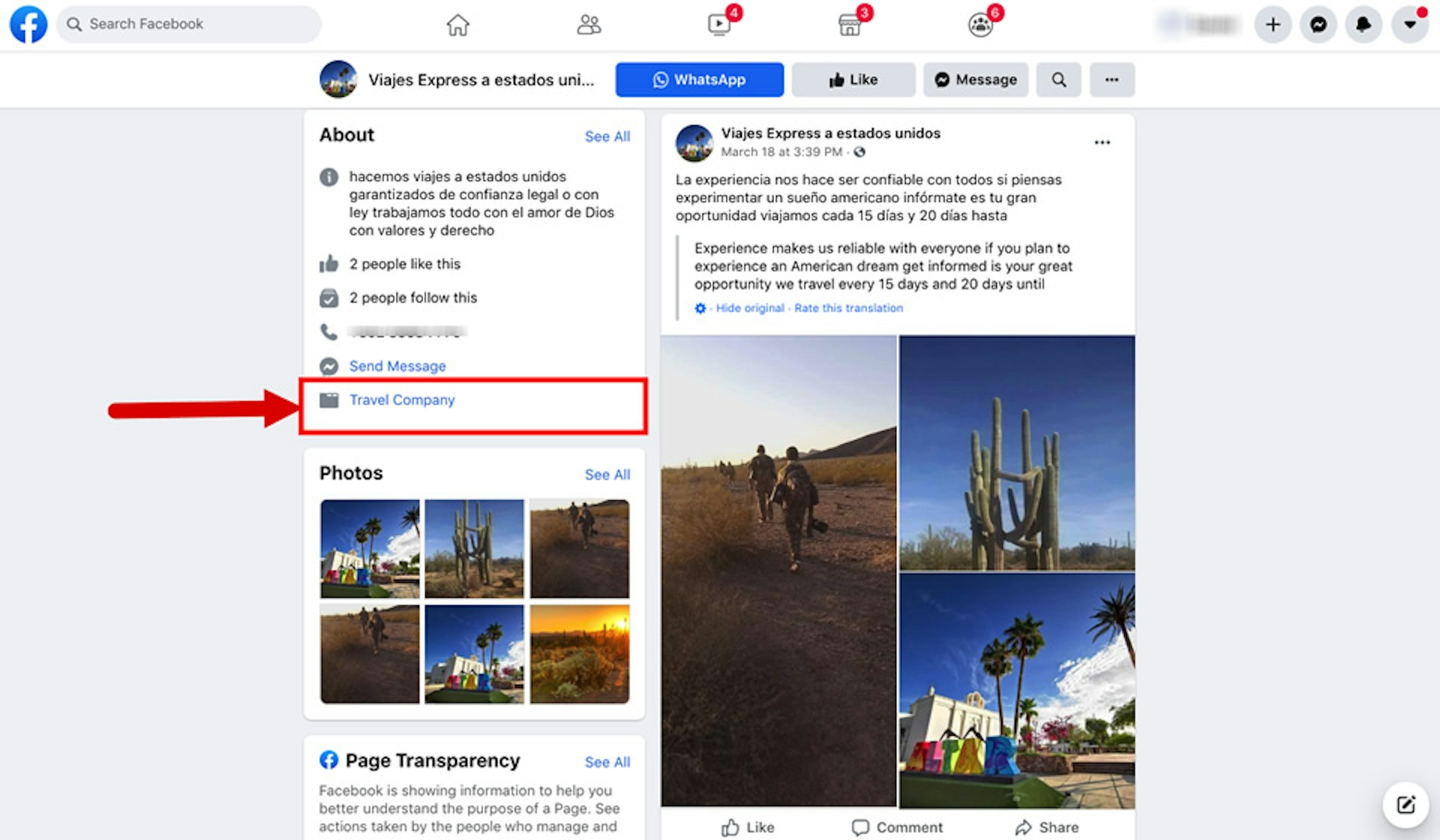 Some of these Facebook pages offer detailed descriptions of the travel arrangements they offer as well as the cost of passage for a single person, typically in the thousands of dollars. Others simply post cryptic images of buses with American flag emojis indicating the United States as the final destination and wait for users to express interest.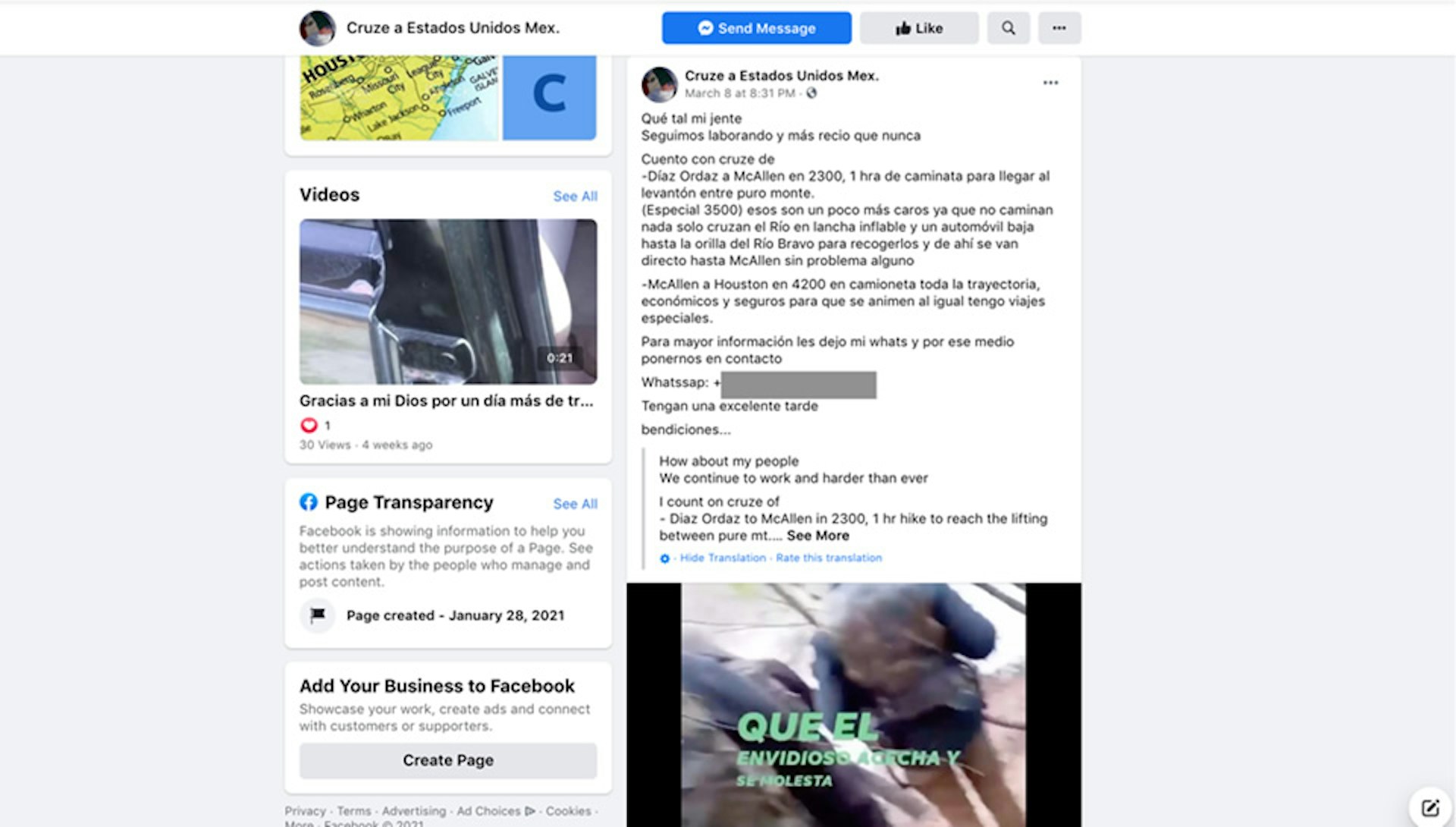 Facebook groups are also becoming a vehicle for smugglers to offer their services. One group created on November 16, 2020, called "EMIGRANTE DE VARIOS PAISES EN MÉXICO" ("Immigrants from several countries in Mexico") had amassed over 230,000 members as of April 7. While the commentary in the group covers a variety of a topics, smugglers make frequent appearances, posting offers of passage to the U.S.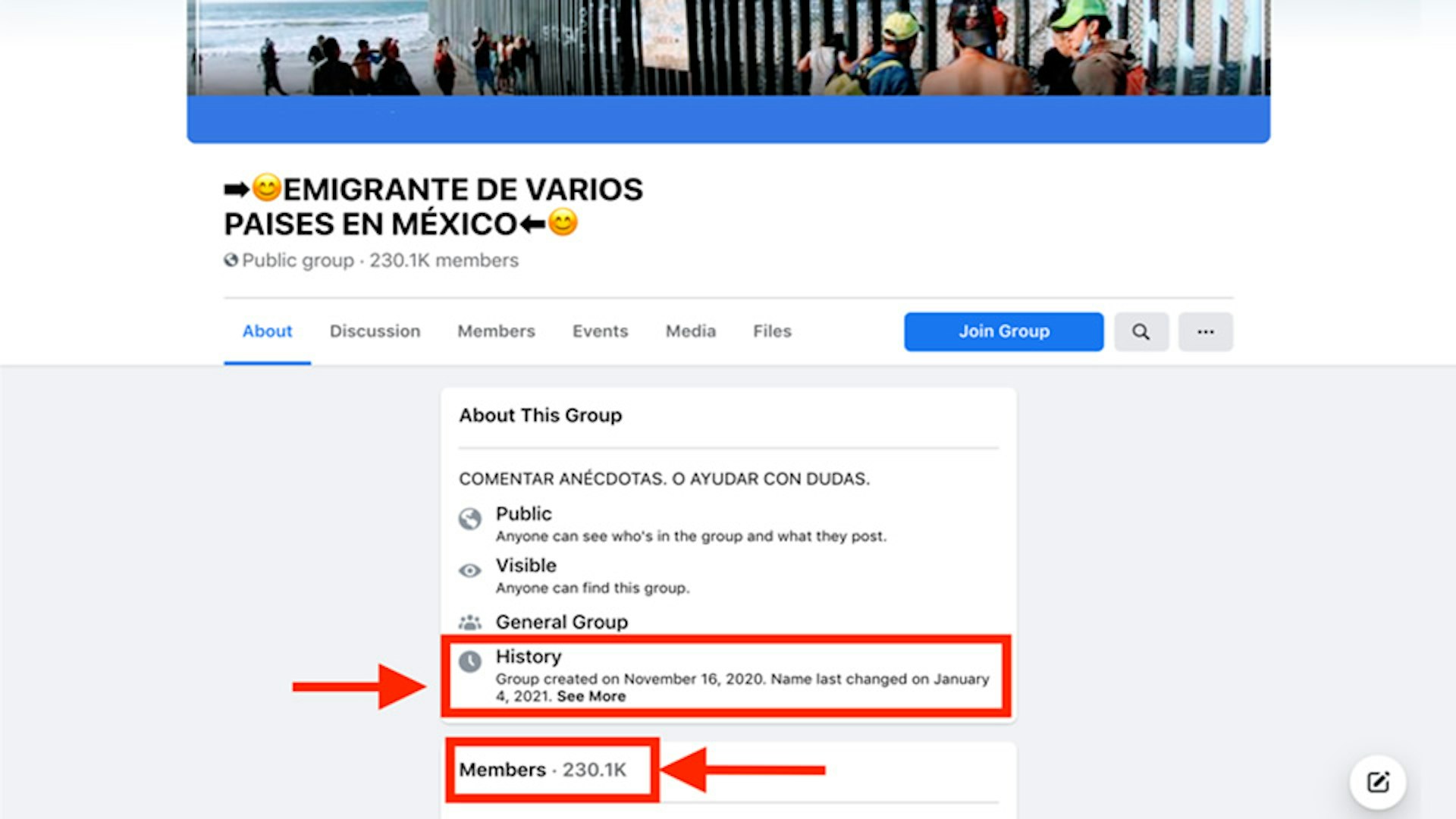 One private Facebook group called "Cruzes Seguros official" ("Official safe crossing"), which was created on March 24, 2021, gained 484 members in nearly two weeks. The group gives its location as Las Vegas, Nevada. One of the group's administrators advertised services in his profile: "QUIERES CRUZAR MANDAME MSJS POR INBOX" ("DO YOU WANT TO CROSS SEND ME MSJS BY INBOX"). The admin posts in the group about upcoming opportunities to buy passage to the U.S.; the group's comments section is disabled, forcing interested parties to communicate privately through Messenger.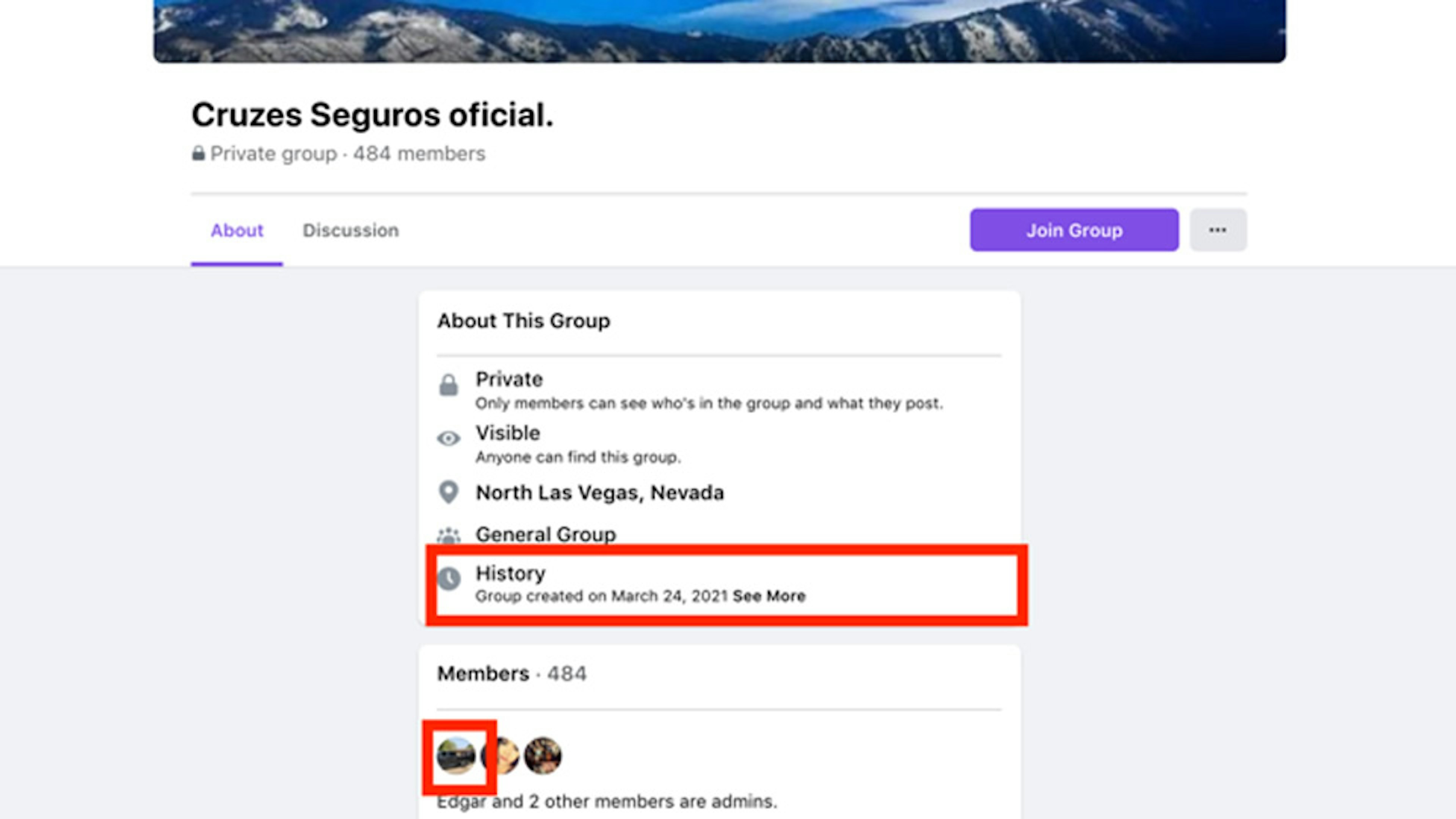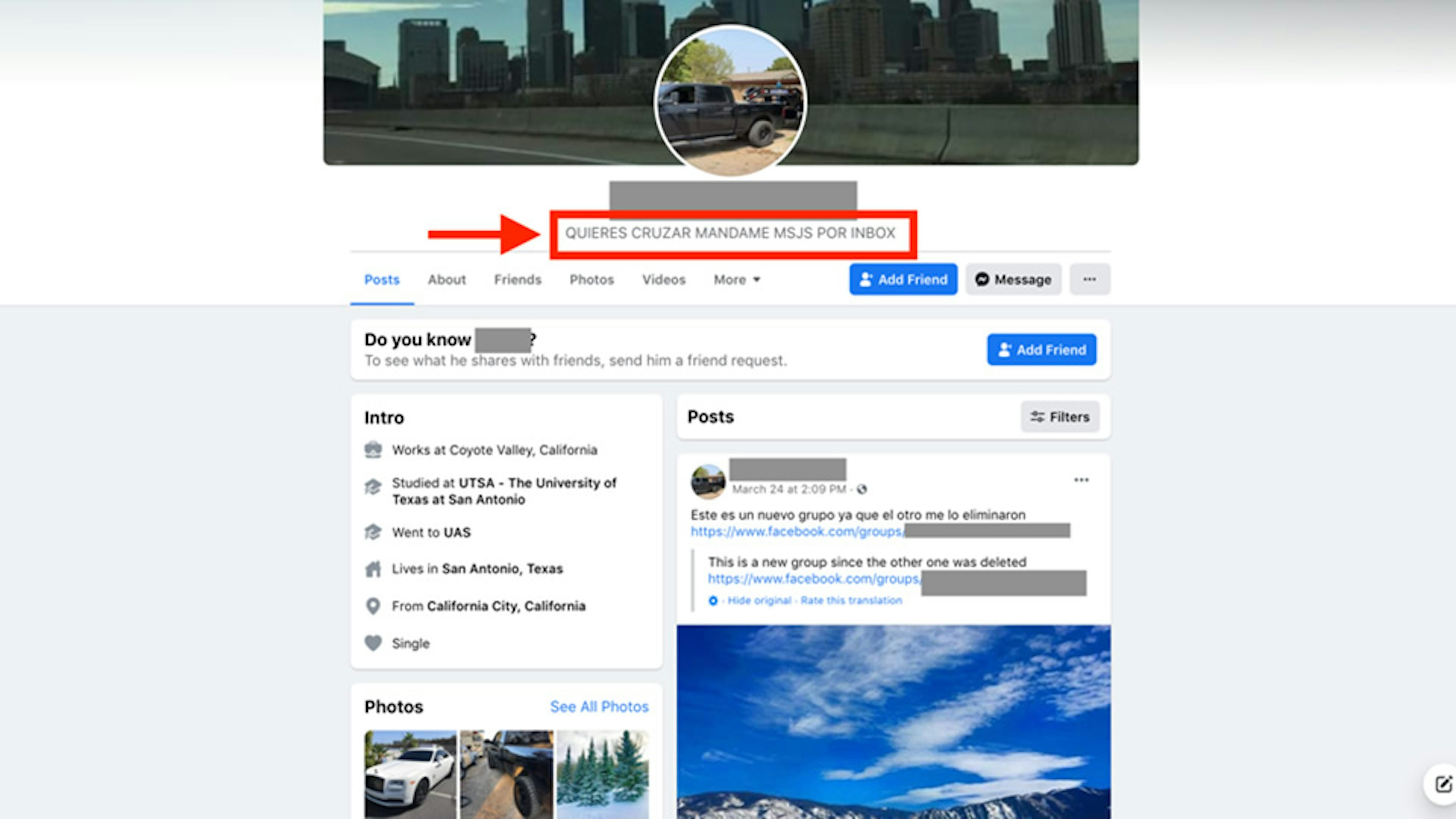 On a Facebook page called "Camino De Todos Los Migrante Hacia Estados Unidos" ("All Migrant's Path to the United States"), a user tagged the Honduran authorities in an effort to alert them to illegal smuggling activity. The page, which was created in 2018, has nearly 4,000 followers. It is unclear if the authorities took action, but the page remained active on Facebook as of April 7.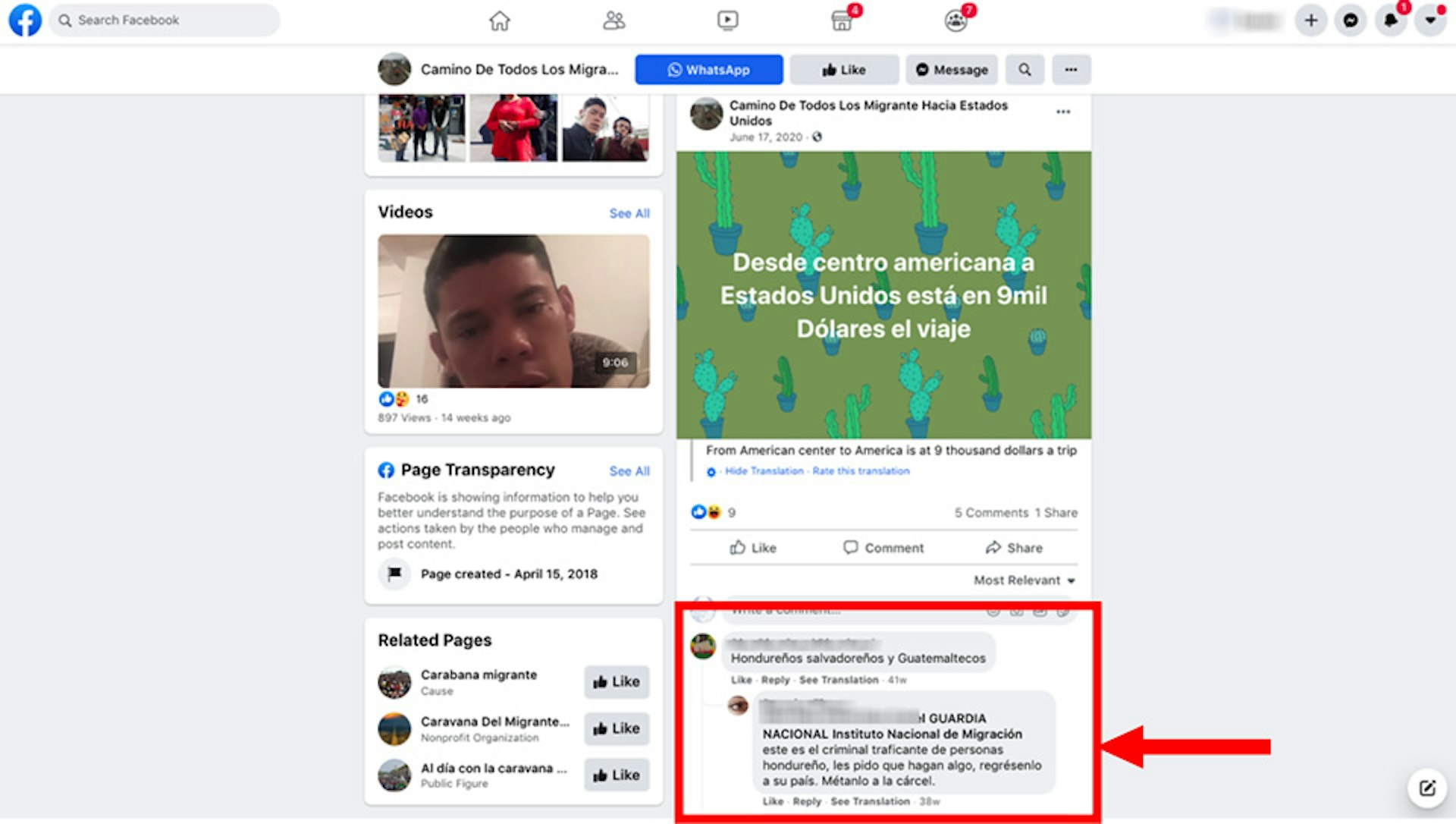 The evidence gathered by TTP is likely only a snapshot of the human smuggling activity taking place on Facebook. But it paints a troubling picture of a company that is failing to enforce its stated policies amid the migrant surge at the U.S. southern border.
Facebook's community standards ban content "that offers or assists in smuggling of humans," and the company has touted its efforts to remove content that "facilitates or coordinates the exploitation of humans." TTP's research, however, shows Facebook continues to leave major holes in its enforcement, providing ample opportunity for human smugglers to exploit the platform's tools.