Apple faces mounting scrutiny of its China-based supply chain after an investigation by The Information, in partnership with the Tech Transparency Project (TTP), found that seven Apple suppliers had ties to suspected forced labor of Uyghurs from the Xinjiang region.
Now, new research by TTP is highlighting another problematic Apple business partner in China: wind turbine maker Xinjiang Goldwind Science & Technology Co., Ltd.
Apple has an extensive partnership with the company, known as Goldwind, which is based in Xinjiang and is one of the largest wind turbine manufacturers in the world. Apple and Goldwind have four wind farm joint ventures—part of Apple's goal of achieving 100% carbon neutrality, including across its China-based manufacturing supply chain, by 2030.
Despite Goldwind's presence in Xinjiang—a region subjected to a years-long Chinese government crackdown against Uyghurs—the company has disclosed very little about its operations and the composition of its workforce. But TTP's investigation found local government media posts indicating that one Goldwind factory in Toksun County, Xinjiang, was in advanced talks in 2016 to receive "labor export" from Hotan Prefecture, another area of Xinjiang with a Uyghur-majority population over 500 miles away. Experts have described such "labor export" programs as a major conduit of forced Uyghur labor in the region.
It could not be determined if the transfer of workers was completed, and the government accounts that posted the information have since been deleted. But the discussion of "labor export" for a Goldwind facility raises troubling questions about whether the wind turbine company has taken part in the exploitation of Uyghurs in its home base of Xinjiang.
TTP's research identified other red flags about Goldwind. The company's founder and chairman, Wu Gang, has personally participated in a Chinese government campaign that promotes ideological education of Uyghurs in Xinjiang and even arranges for Communist Party members to stay in the homes of local Xinjiang families. Human rights groups say the program is used for political indoctrination and surveillance of Uyghurs and other ethnic minorities.
Meanwhile, Goldwind is working closely with the Xinjiang Production and Construction Corps (XPCC), a paramilitary organization that was sanctioned by the U.S. Treasury Department in July 2020 over its "connection to serious human rights abuse against ethnic minorities in Xinjiang." Goldwind signed an agreement with XPCC in December 2020, months after the U.S. sanctions were announced.
TTP's findings about Goldwind add to growing concerns about Apple's business relationships in China and their connection to the Chinese government's repressive practices in Xinjiang, which the U.S. State Department in January designated a genocide.
"The mounting evidence is beyond troubling," Sen. Jeff Merkley (D-Ore.) and Rep. Jim McGovern (D-Mass.), the leaders of the Congressional-Executive Commission on China, said in a statement reacting to TTP's investgation and other recent media reports about Apple's supply chain. The lawmakers called on Apple CEO Tim Cook to divest from Chinese suppliers in Xinjiang implicated in forced labor, and urged the company to engage with U.S. Customs and Border Protection on its China supply chain. "There must be a concerted, tough, and global response to the atrocities being committed in Xinjiang," they said.
Demand for 'full accountability'
Members of both parties also urged action to address the issue.
"Let's be clear: any company that relies on products created with forced Uyghur labor is complicit in crimes against humanity. There is now more evidence that Apple is profiting from the use of Uyghur gulag labor," Rep. Ilhan Omar (D-Minn.) said in a statement. "Importing goods made from forced labor is direct violation of U.S. law, in addition to human rights and labor rights standards. I, along with my colleagues, will continue to advocate for full accountability for these human rights abuses and U.S. corporations' own complicity in them."
In a letter to Tim Cook, Rep. Ken Buck (R-Colo.) pressed the CEO on evidence of links to forced labor in Apple's supply chain and, citing TTP's report, called Apple's partnership with Goldwind "deeply concerning."
"Certainly, Apple has set ambitious renewable energy goals, yet I am greatly concerned about the human cost your company is accruing in pursuing these objectives," he wrote, adding, "I strongly urge you to investigate these reports and take any necessary actions based on the findings of such an inquiry."
The May 10 investigation by The Information—which included research contributed by TTP—revealed an array of Apple suppliers implicated in forced labor involving ethnic Uyghurs, a predominantly Muslim minority in China. The seven companies detailed in the report provide everything from component parts to coatings to assembly services to Apple, showing the breadth of Apple's exposure to the forced labor issue. One supplier even had a Xinjiang facility next to a suspected detention center surrounded by barbed wire and guard towers.
That investigation is part of a growing body of research, by TTP and others, documenting links to forced labor among Apple's China-based suppliers. Apple reportedly severed its relationship with one accused iPhone component maker, O-Film, but has yet to meaningfully address well-documented allegations about others, including Lens Technology, which TTP detailed in January. At the same time, Apple has continued to insist it's found no evidence of forced labor, as it did in a statement to The Information.
The new findings about Goldwind may complicate another Apple initiative in China: its pledge to combat climate change. By relying on a wind energy partner with links to the repression of Uyghurs, Apple could face new pressure over its business dealings in China. It points to a broader dilemma for U.S. companies looking to expand renewable energy projects, given that Xinjiang is a key production base for wind turbines and solar panels.
The issue is poised to escalate in the months ahead as the U.S. and other governments ramp up criticism of human rights abuses in Xinjiang. The U.S. in March joined the E.U., the UK, and Canada in announcing coordinated sanctions against China over the abuse of Uyghurs. Meanwhile, lawmakers in the House and Senate have reintroduced a bill that would ban imported products manufactured "wholly or in part" in Xinjiang unless there is clear evidence that they were not made with forced labor. Apple reportedly sought to weaken the same bill during the last Congress, and it has continued to lobby lawmakers on the measure this year, according to the company's most recent lobbying disclosure.
Goldwind, based in the Xinjiang Uyghur Autonomous Region, is China's largest wind turbine manufacturer and the third largest such company worldwide.
Chinese corporate records indicate that Apple, through its Ireland-registered Apple Operations Limited, has four joint ventures with Goldwind subsidiary Beijing Tianrun New Energy Investment Co., Ltd. Details of the deals first emerged in December 2016, when Goldwind disclosed that it transferred a 30% stake in each of the four projects to Apple. Beijing Tianrun New Energy operates Chinese wind farms.
The joint ventures, which are located across China, reflect Apple's goal of achieving total carbon neutrality. Under the banner, "Clean energy is no longer optional," Apple on its corporate website says that "by 2030, all our products will be made with 100% clean energy," and touts its efforts to transition its suppliers to renewable electricity. (Apple has said it wants to reduce emissions from its supply chain by 75%, with the remaining 25% offset by reforestation efforts.)
"Everything, from our clean energy investments to our partnerships, considers the impacts on the local community. And we continue to ask ourselves how we can make our work an even greater force for good," Apple's vice president for environment, policy & social initiatives, Lisa Jackson, wrote in the company's most recent environmental progress report.
Apple's wind energy joint ventures with Goldwind are Shuozhou Sineng Energy, Nanyang Runtang, Qiaojia Tianqiao Wind Energy, and Zibo Runchuan New Energy. None are located in Xinjiang, but likely use Goldwind products manufactured there. It's unclear if they directly supply power to production partners or if they are intended as emissions offsets.
Senior Apple executives serve on the corporate boards of these ventures alongside Goldwind officials. Jeffrey Berkaw, while serving as Apple China's senior director of finance, sat on the board of each of these joint ventures; following Berkaw's departure in mid-2018, his replacement, Stephanie Hacan Lam, took his place on each of these respective boards, where she remains as of April 2021.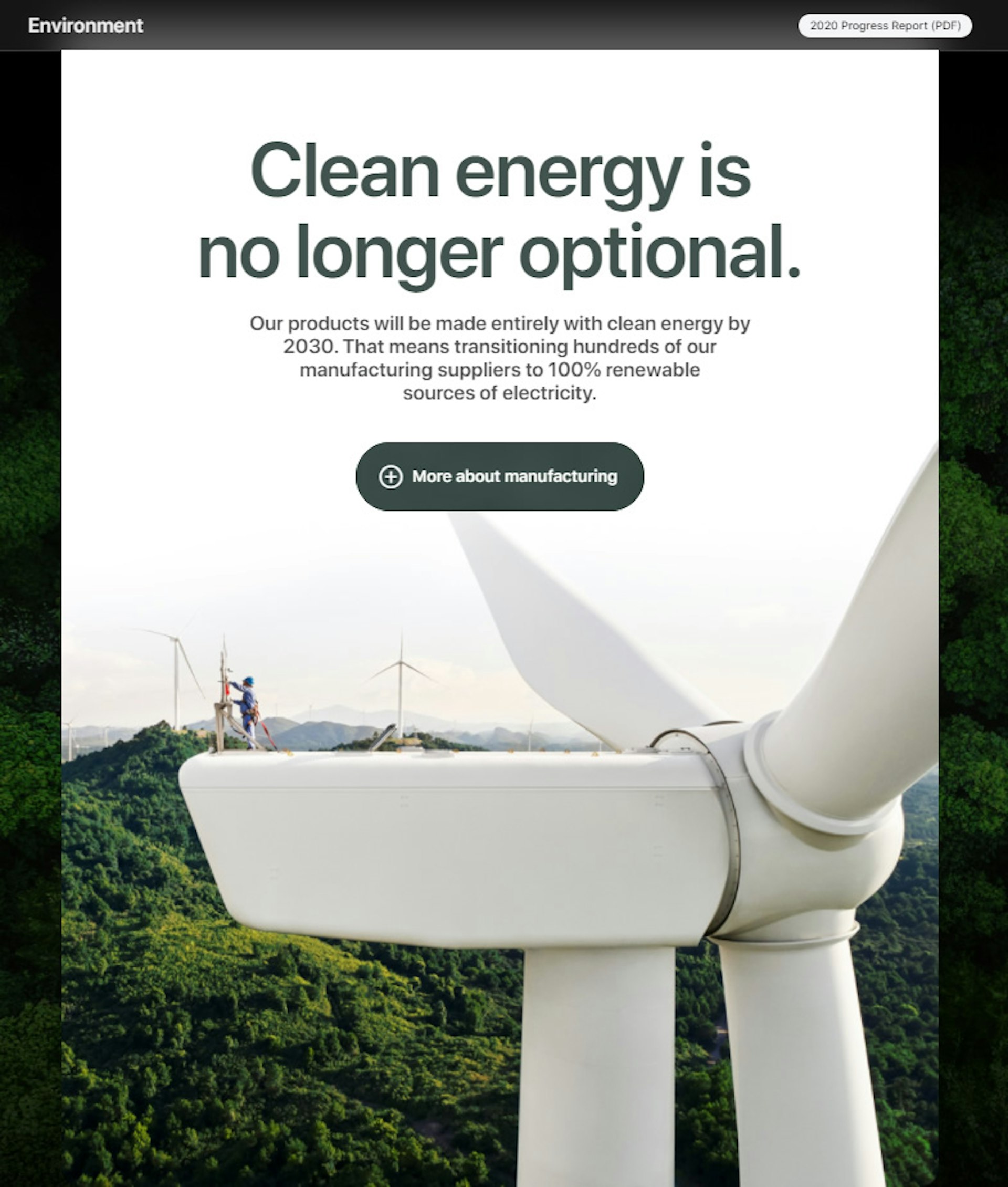 The Xinjiang Uyghur Autonomous Region—Goldwind's home base—is the far-flung region in China's northwest where the minority Uyghur population is concentrated. The region has become a major source of "labor export" or "labor transfer" workers in China.
Under these programs, workers are dispatched in groups to production facilities across Xinjiang and other Chinese provinces. While participation for some is voluntary, peer-reviewed research and numerous reports have detailed how, particularly in the last several years, a substantial number of these workers are likely forced into participation. These workers include "graduated" detainees of reeducation camps.
Goldwind, which is headquartered in Xinjiang and has extensive operations in the region, has revealed very little about its labor force. Still, TTP's research found evidence indicating that at least one Goldwind factory was poised to participate in a "labor export" program—a term that's come to be associated with the use of Uyghur forced labor—in 2016.
The Toksun Goldwind plant—one of the company's 13 subsidiaries in Xinjiang—opened in November 2015 and produces wind turbines. (Goldwind has more than 50 subsidiaries across China, with the biggest contingents in Xinjiang and Beijing.) Now-deleted local government reports show the Toksun factory was engaged with officials from Hotan Prefecture, a majority-Uyghur area of Xinjiang more than 500 miles away, in discussions over the transfer of laborers from Hotan.
First, in late 2015, a public WeChat account operated by the Toksun County government stated that a goal for the county was to "strengthen communication with new enterprises like Goldwind Technology [so as to] do labor export work well." The following January, officials from Hotan Prefecture traveled to Toksun to inspect Goldwind and three other companies to "coordinate labor export work," according to a local government media report. In that report, the Toksun government said it hoped to implement more organized, economically beneficial transfers, and the lead Hotan official said Hotan would "strengthen the organizational and disciplinary education" of workers from the prefecture and dispatch more officials to coordinate the companies' labor demands.
The inspectors' visit to Goldwind and the accompanying statements indicate the talks over transfer of Uyghur laborers from Hotan were in advanced stages in early 2016.
TTP found no public evidence that the transfer of workers was completed. In fact, there is very little information available at all about Goldwind's labor force in Xinjiang. As international scrutiny of the plight of Uyghurs has increased, public records of these "labor export" and "labor transfer" programs have systematically disappeared from the internet. Given Goldwind's size and government connections, however, the company could face pressure to accept forced Uyghur labor as local officials push to meet quotas of transferred laborers.   
During the 2015 inspection, Hotan officials also visited Zhongtai, a chemicals conglomerate that uses labor transfer schemes—with all the signs of forced labor—in at least two of its Xinjiang factories. According to government-run social media account, in 2017, Zhongtai subsidiaries in the Xinjiang cities of Korla and Urumqi received 2,000 minority workers and subjected them to "military-style training activity" and "ideological-political education"—hallmarks of forced labor contingents.
Hotan Prefecture has been particularly prolific in the export of forced laborers. Goldwind's apparent ties to Hotan labor transfers could raise further uncomfortable questions for Apple, given its extensive business relationship with the Chinese company.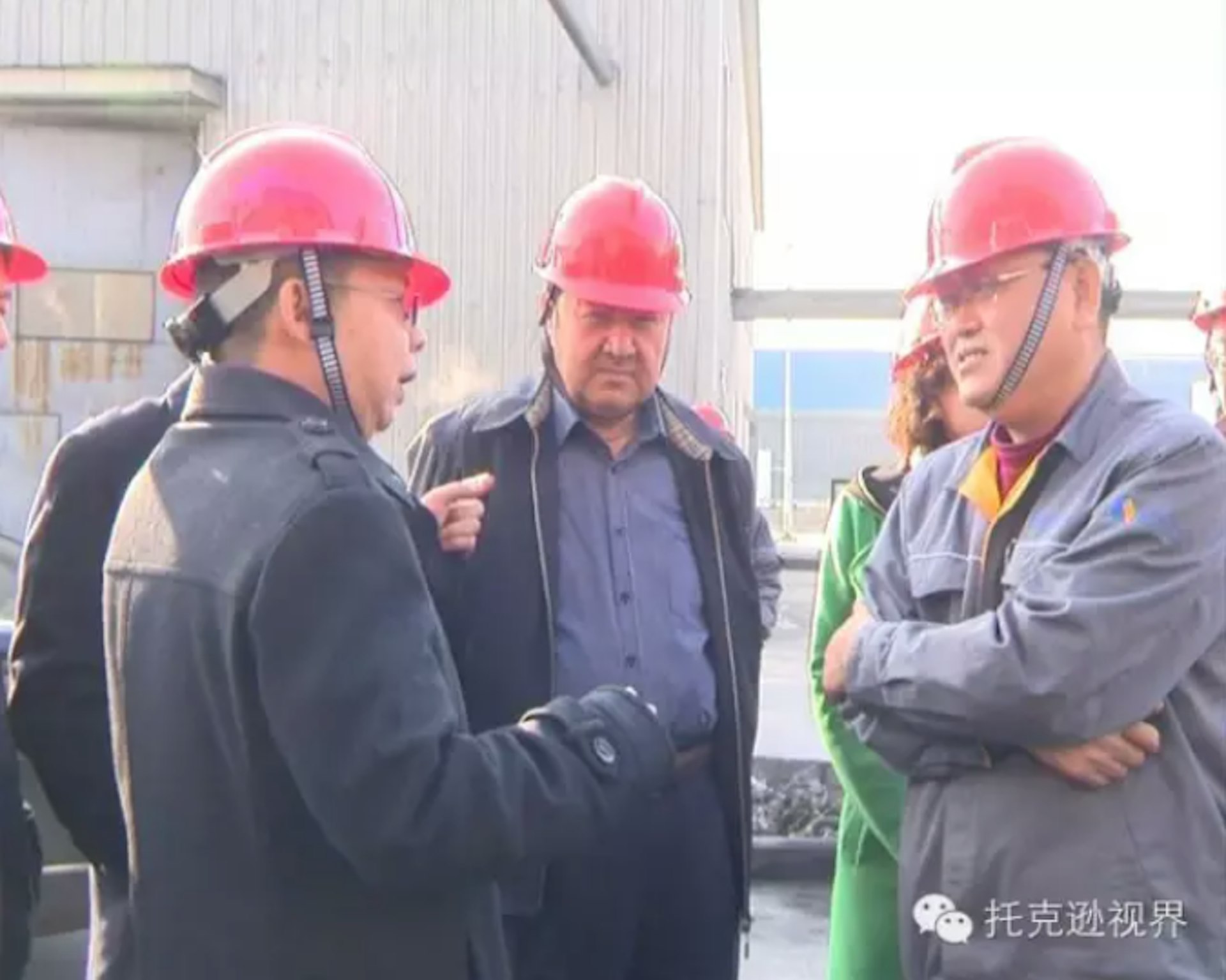 Goldwind has close ties to the Chinese government, which owns about one-fourth of Goldwind's stock, per corporate records as of April 2021.
Wu Gang, the founder and chairman of Goldwind, is a former member of the National People's Congress and maintains strong connections to the party-state as a current member of the Chinese People's Political Consultative Conference. Wu is not a government official, but these roles highlight the close relationship he has cultivated with the government and Communist Party.
Wu has made a point of demonstrating his embrace of oppressive government policy in Xinjiang. In June 2018, Goldwind's account on the Chinese messaging app WeChat posted a corporate update detailing Wu's work in the government's fanghuiju campaign, an invasive political program that forms a key part of China's wider crackdown on Uyghurs:
As the chairman of Xinjiang New Energy (Group) Co. Ltd. and Goldwind Technology, Wu Gang meets the relevant calls of the Xinjiang Autonomous Region government. Six times per year, he goes to southern Xinjiang for poverty alleviation work, living and eating with families in the villages, working and talking together with them.
The official purpose of fanghuiju is to promote ethnic unity, gather information about the needs of the people, and assist in economic development in poorer areas. The name is an abbreviation of "Visit the People, Benefit the People, and Bring Together the Hearts of the People." In practice, however, the campaign reportedly involves dispatching loyal, majority Han Chinese teams to visit minority households, stay in their homes for days at a time, and compile information about them that is used to rank their "trustworthiness."
Researchers have described how the fanghuiju program is used "for surveillance and to monitor potential religious or 'extremist' behaviors in the domestic realm." That makes it a key tool in the wider oppression of Turkic minorities, especially Uyghurs. According to Human Rights Watch, fanghuiju "violates rights to privacy and family life and the cultural rights of ethnic minorities protected under international human rights law." The group has also found that the program facilitates data collection that identifies individuals for extralegal detention by the government.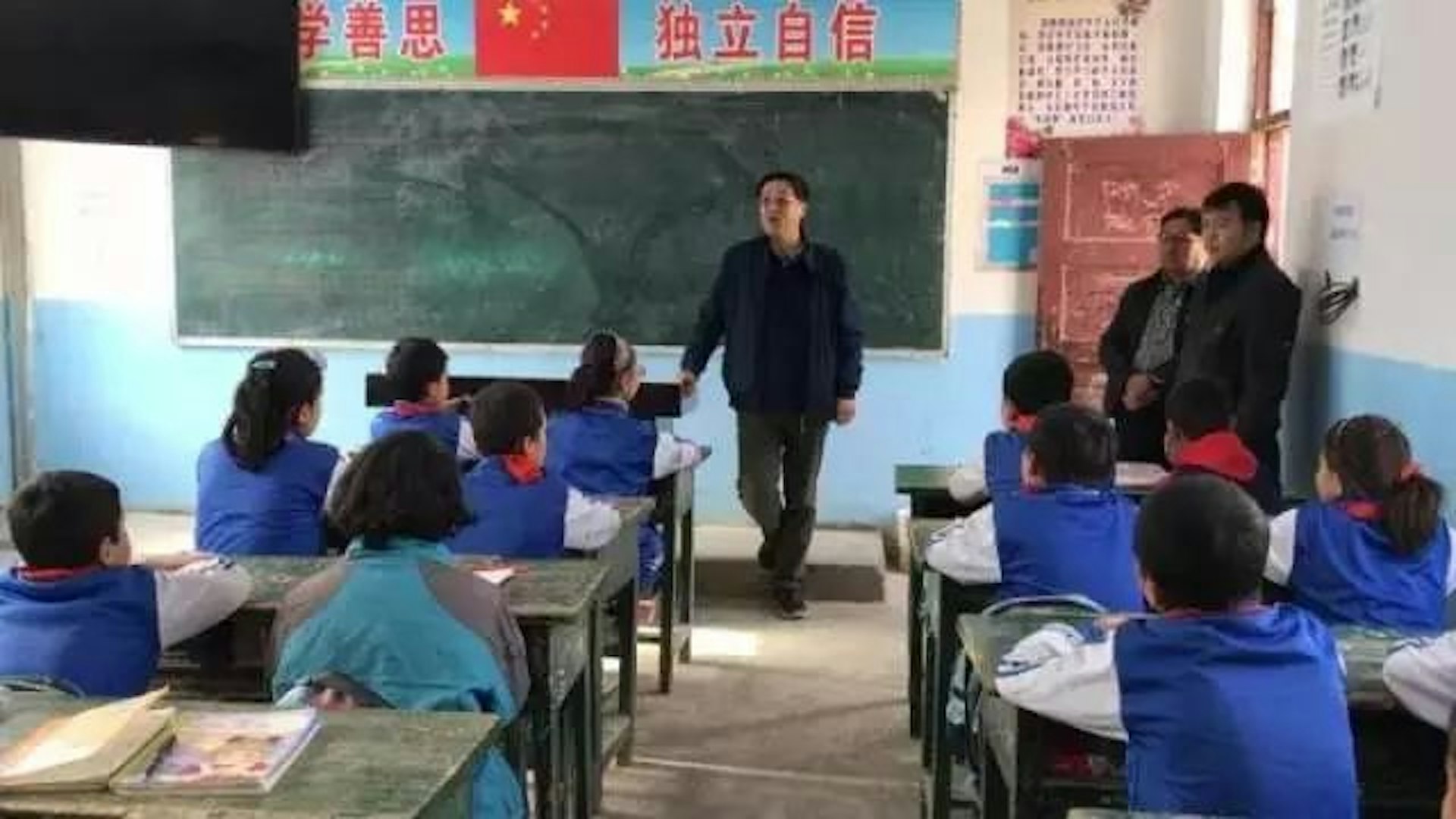 Goldwind's recent deal with the Xinjiang Production and Construction Corps (XPCC) is another potentially troubling connection to the crackdown in Xinjiang.
The XPCC is a quasi-governmental paramilitary organization that controls extensive areas of Xinjiang and regularly uses forced labor in the production of cotton, according to researchers who've studied the region. The U.S. Treasury Department slapped sanctions on the XPCC in July 2020 over its "connection to serious human rights abuse[s] against ethnic minorities in Xinjiang, which reportedly include mass arbitrary detention and severe physical abuse, among other serious abuses targeting Uyghurs." The organization, which is dominated by majority Han, is said to be deeply resented by most Uyghurs.
In December 2020, four months after the U.S. sanctions were enacted, Goldwind signed an agreement with the XPCC 10th Division to provide power to the Division's directly administered settlement of Beitun, according to an announcement found on an XPCC social media account. Beitun, population 84,000, is the site of three high-security detention facilities identified by the Australian Strategic Policy Institute.
That means Apple's partner Goldwind is continuing to do business with a U.S.-sanctioned Chinese paramilitary organization accused of abuses against the Uyghur minority.
Note: This report has been updated to include policymaker reactions.