YouTube is hosting hundreds of militia videos that seek to recruit new members, provide weapons and tactical training, and spread anti-government messages, according to a new investigation by the Tech Transparency Project (TTP) that spotlights the platform's role in facilitating domestic extremism in the U.S.
TTP identified more than 400 videos with pro-militia content on YouTube, some of them with thousands of views. Nearly 180 of the videos were posted during the last two years, 85 of them since the Jan. 6 insurrection, in which a violent mob of pro-Trump protesters, including militia members, stormed the U.S. Capitol.
Amid growing fears of domestic extremism in the U.S., much of the attention has focused on Facebook and its private groups feature, which allows far-right militias to assemble and organize. But YouTube, which tends to fly under the radar in the debate over Big Tech, also plays an important role in giving dangerous militias an online presence, TTP found.
Some of the militia videos identified by TTP promoted violent tactics, such as how to carry out a guerilla-style ambush on a convoy. Other videos openly flaunted their affiliation with the Three Percenters, an anti-government extremist movement. YouTube allowed these videos to stay up even after a number of self-identified Three Percenters were charged in connection with the attack on the Capitol.
TTP also found examples of YouTube profiting from militia videos through advertising and through its Super Chat feature, which lets viewers to pay to pin a comment in a livestream. (YouTube takes a cut of those transactions.) Some of the ads that appeared on militia videos were for major brands like vacation rental site VRBO and makeup brand Charlotte Tillbury, creating potentially embarrassing ad placements for these companies.
Here are key findings from TTP's research:
The investigation identified a total of 435 videos on YouTube that involved the promotion of militias, militia recruitment, or training of militia members.
178 of the videos were created since 2020, including 85 posted after the Jan. 6, 2021 attack on the U.S. Capitol.
Some of the videos focused on warfare tactics and weaponry or showed an affiliation with the anti-government Three Percenters.
YouTube ran ads on some of these militia videos, for brands like VRBO and YouTube's parent company, Google.
TTP also found a video livestream of an anonymous Three Percenter that made money off YouTube's Super Chat feature.
In recent months, some militia videos have spread debunked conspiracy theories about Russia's war in Ukraine.
YouTube's policies prohibit content that "encourages dangerous or illegal activities that risk serious physical harm or death." Like other major social media platforms, it suspended Donald Trump's account in the wake of the Capitol riot, and this year the platform deactivated some channels linked to the far-right Oath Keepers. But as TTP's investigation shows, YouTube is allowing many other self-styled militias to operate freely on the platform, despite the Biden administration's warnings about the national security threat posed by militia extremism and growing fears about the potential for new political violence tied to the 2022 midterm elections.
The militia activity also undercuts YouTube's role as a founding member of the Global Internet Forum to Counter Terrorism, which aims to "prevent terrorists and violent extremists from exploiting digital platforms."
TTP's investigation identified numerous videos on YouTube aimed at militia recruitment.
For example, a video posted by the Irregulars of Ohio Reserve Militia in January 2020 had a video description that read, "NOW SEEKING PATRIOTS." It continued:
The Irregulars of Ohio Reserve Militia (IORM) is now seeking to recruit freedom-loving American citizens to assist in the protection of life and individual liberties!!
The video, which included scenes of men in camouflage firing rifles and throwing flares in the woods, had more than 3,000 views, but linked to a Facebook page that is now inactive. That may be because Facebook removed the group as part of its announced crackdown on U.S.-based militia organizations. It's not clear why YouTube continued to allow the group to operate on its platform; the Southern Poverty Law Center publicly identified Irregulars of Ohio Reserve Militia in its list of extreme anti-government groups in 2020.
Other recruitment videos like "Forge Militia Wisconsin Regiment: JOIN Today (Get Training and Start Teaching)" and "NWL Michigan Civil Defense Militia" featured similar shots of men training with weapons in forested areas, with dramatic music playing in the background.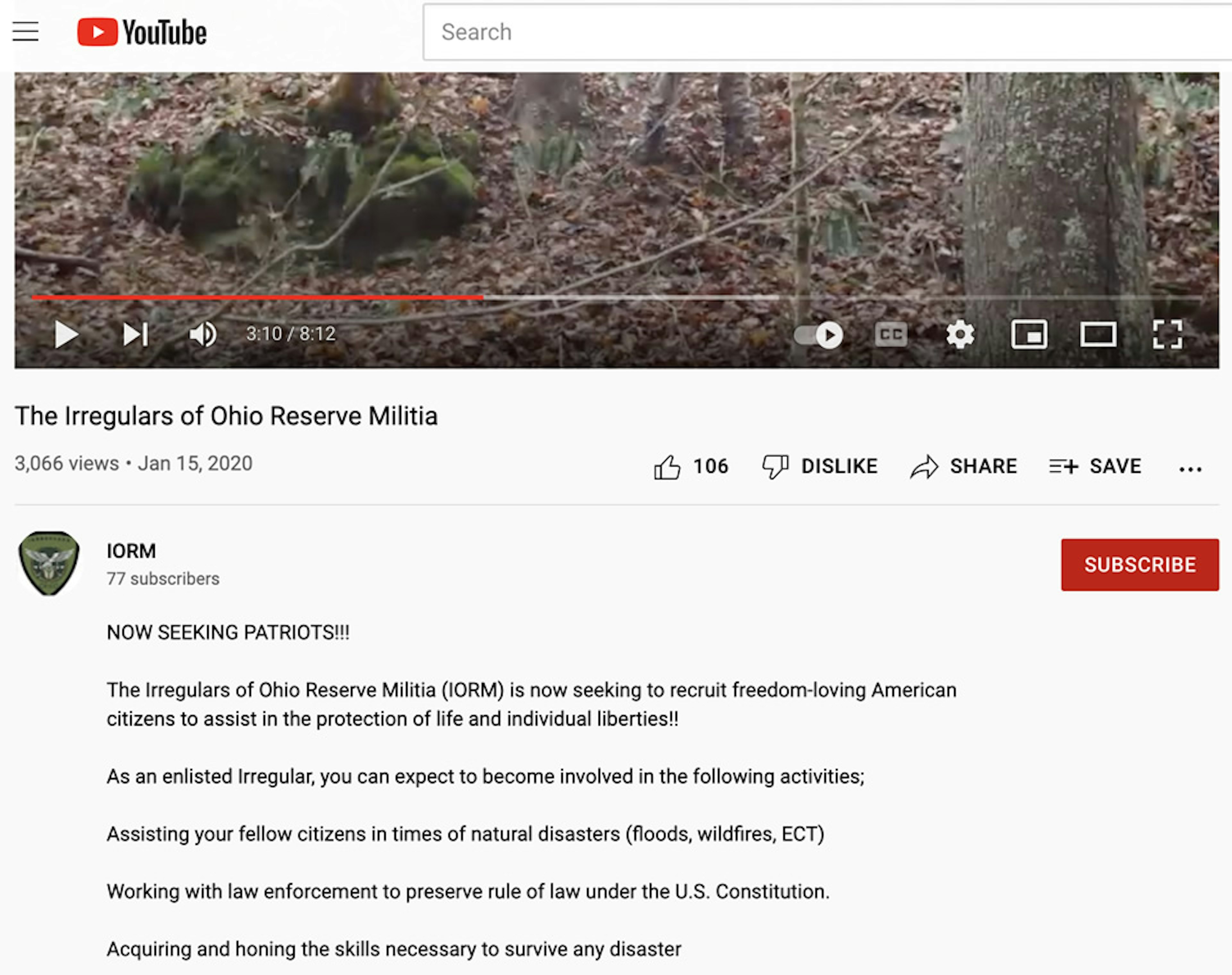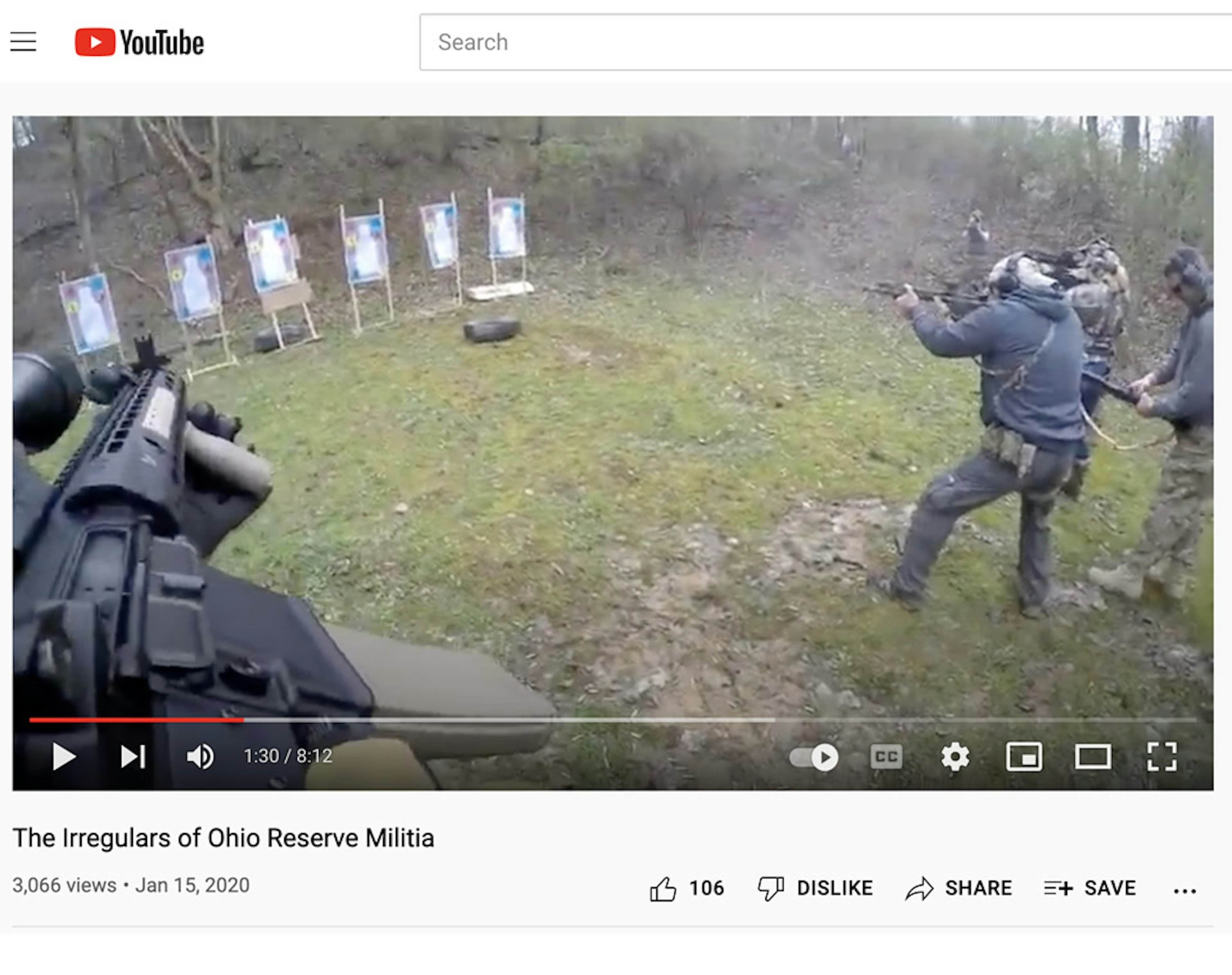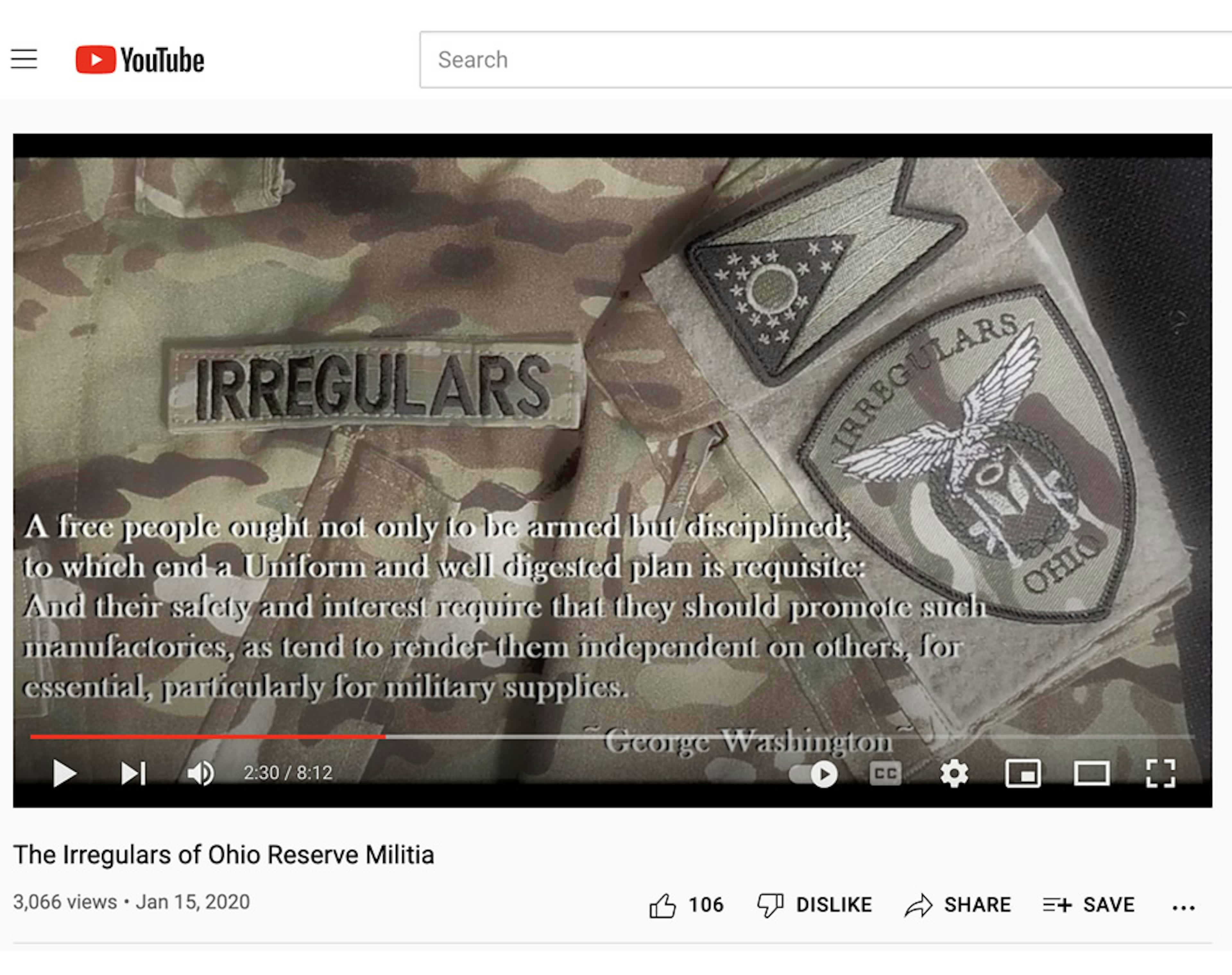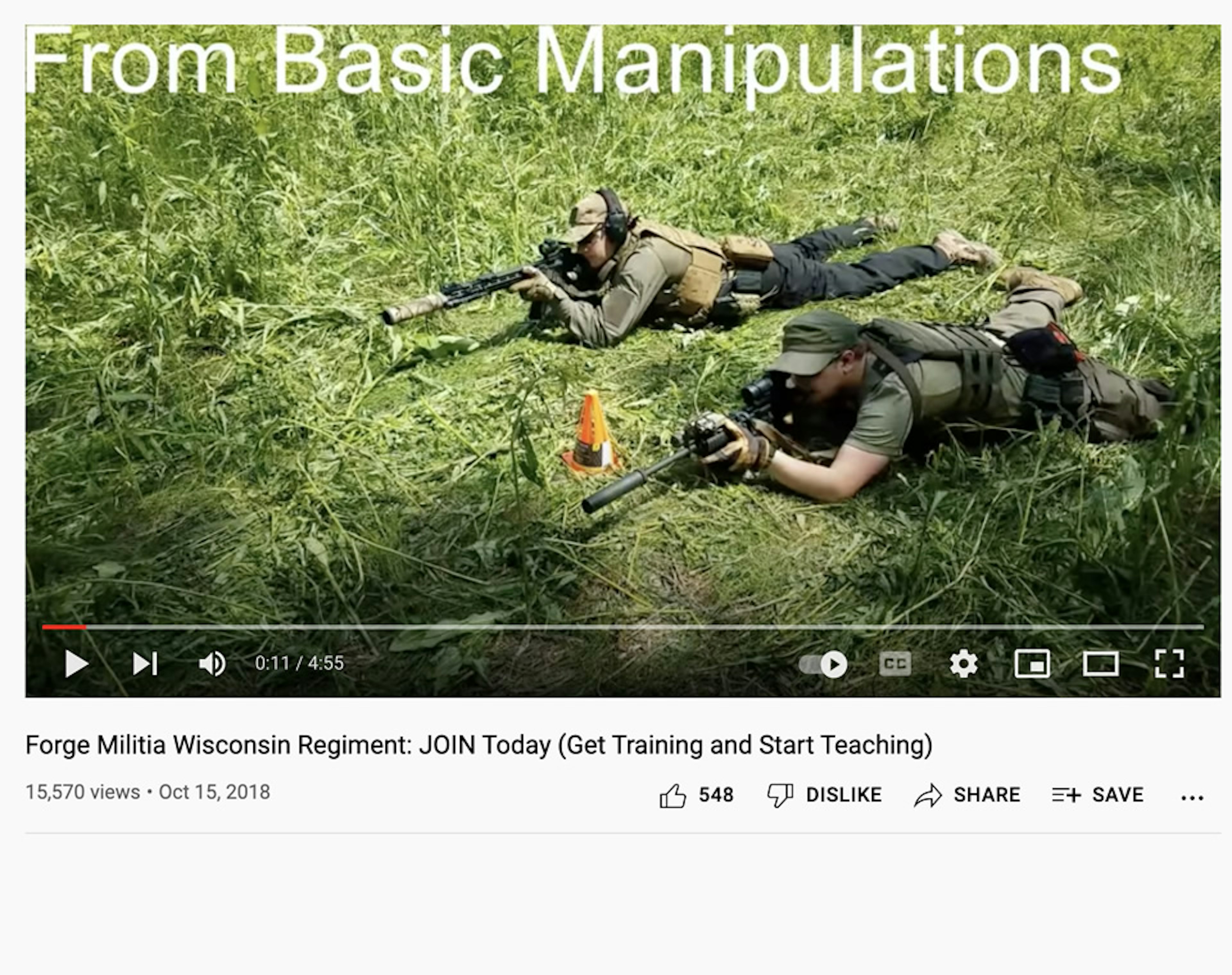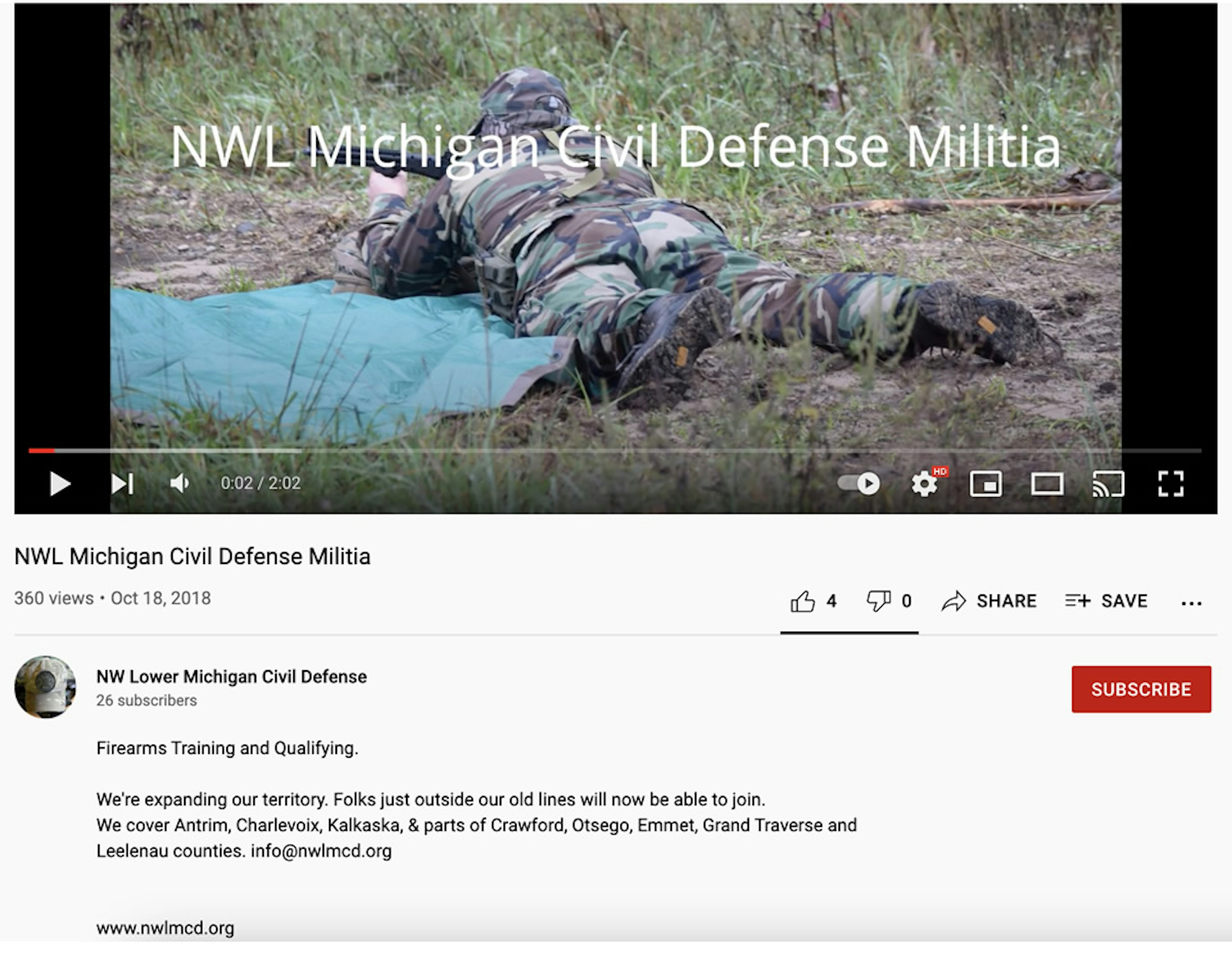 Some of the militia videos identified by TTP made no secret of their affiliation with the Three Percenters, which the Anti-Defamation League defines as anti-government extremists who are part of the militia movement. A number of self-identified members of the Three Percenters have been charged in connection with the Jan. 6 Capitol riot, and Canada last year declared the Three Percenters a terrorist entity—meaning YouTube should be well aware of the group by this point.
Yet a number of videos openly flaunted their Three Percenter connections, with no apparent intervention by YouTube.
One 2017 video was titled, "AP III% (HEROES)," using the common Three Percenter symbol "III%." The video, which showed a montage of images of people firing guns, had a description that read, "Like minded, Live in CA want to protect your rights as an American. Come join us." The final image of the video featured a pair of crossed semiautomatic rifles over a warrior helmet and the III% symbol.
Another video from 2015 was titled simply "Arkansas Three Percent" and flashed the "III" symbol at several points. In the comment section, multiple individuals inquired about how to join the group, with one person writing, "Are y'all accepting members currently." The video linked to a website for the group, which states its mission, in part, as:
We will not allow the rights of our citizens be taken by any enitiy [sic]. We will not allow our citizens to be disarmed for any reason. We will not allow the use of military troops against our citizens for any reason. We will not allow resettlement of refugees by any country that harbors terrorist groups such as Syria and Iraq. We will not allow the Islamic indoctrination of our children that is spreading across this nation.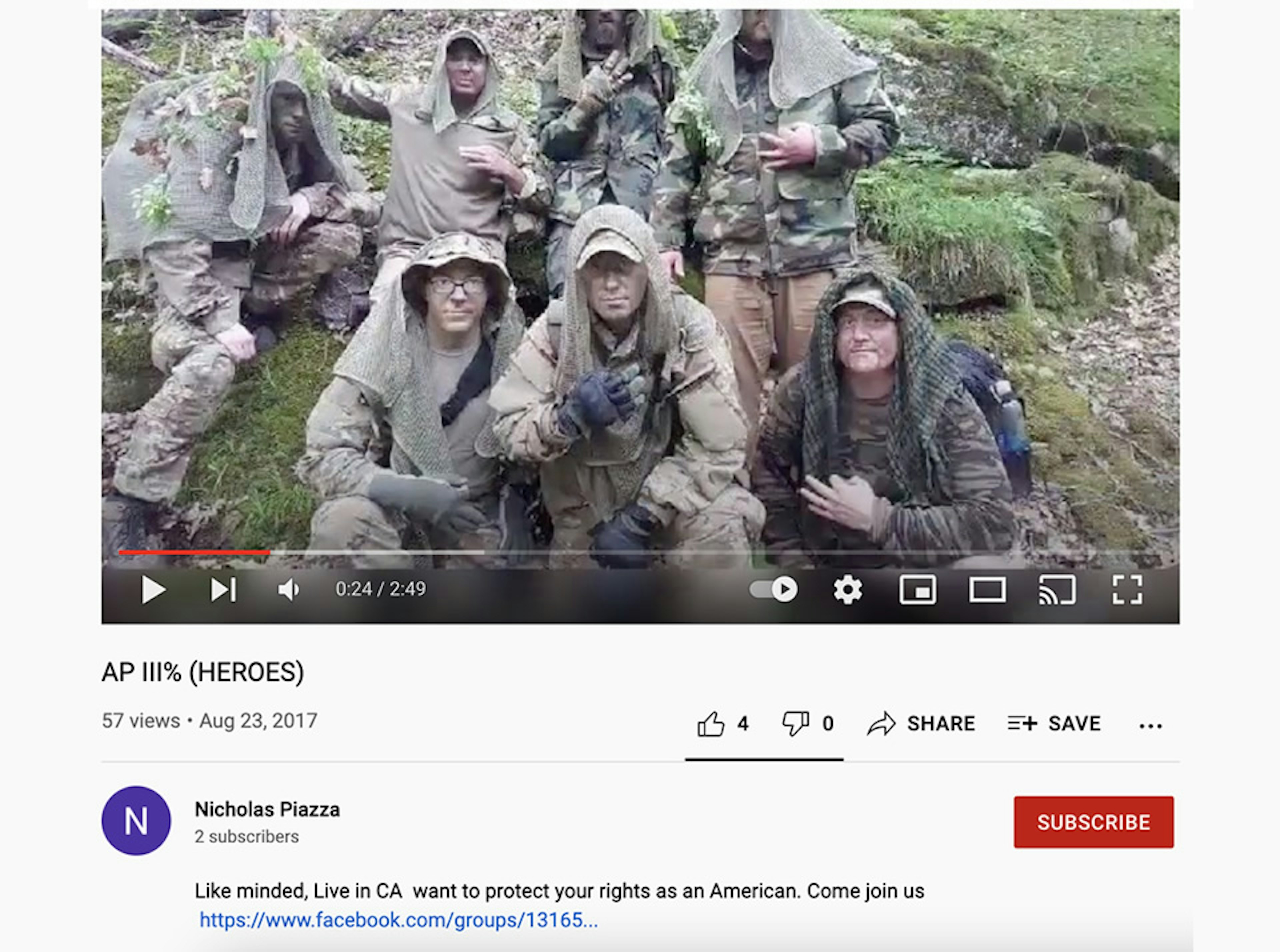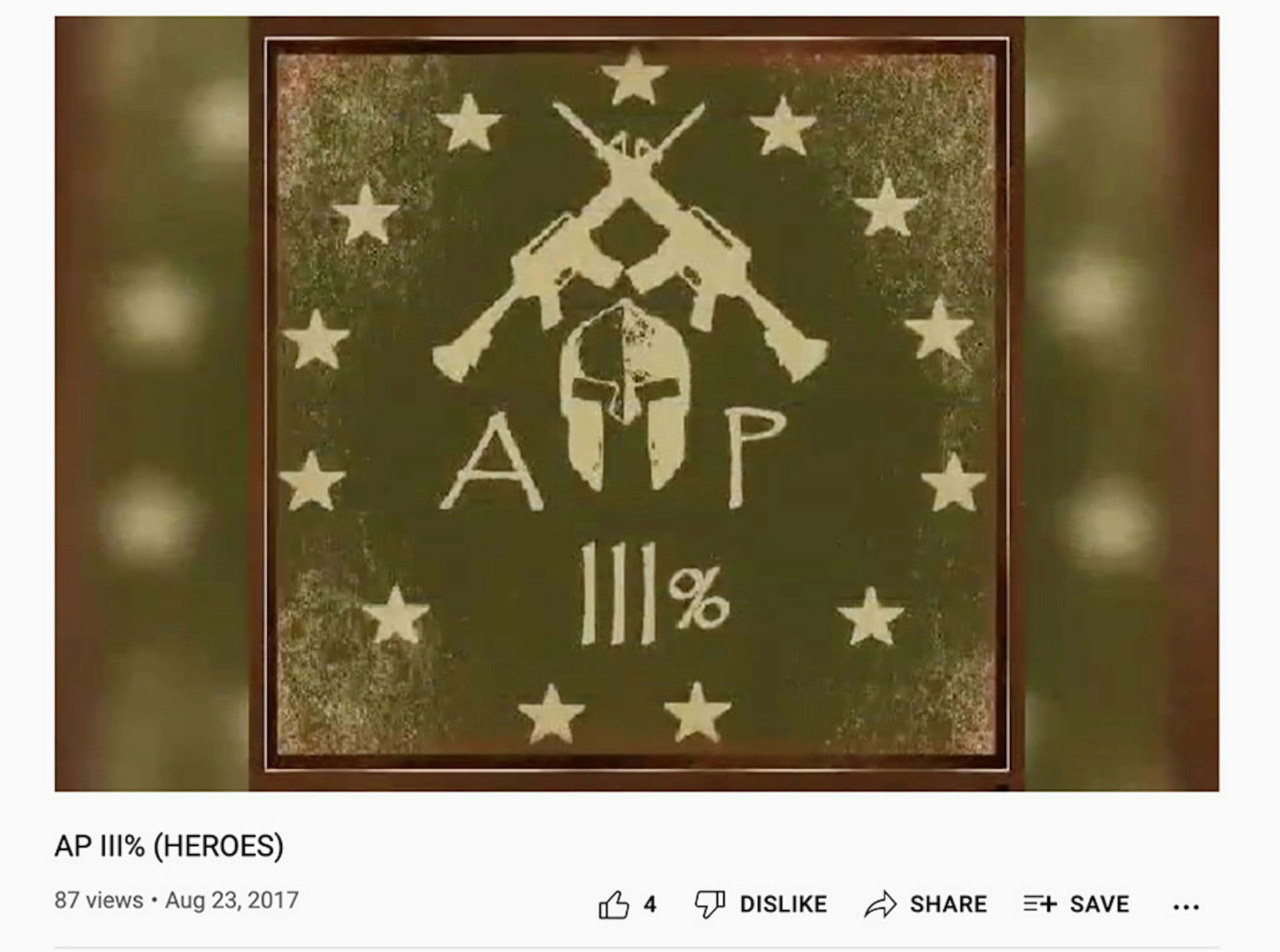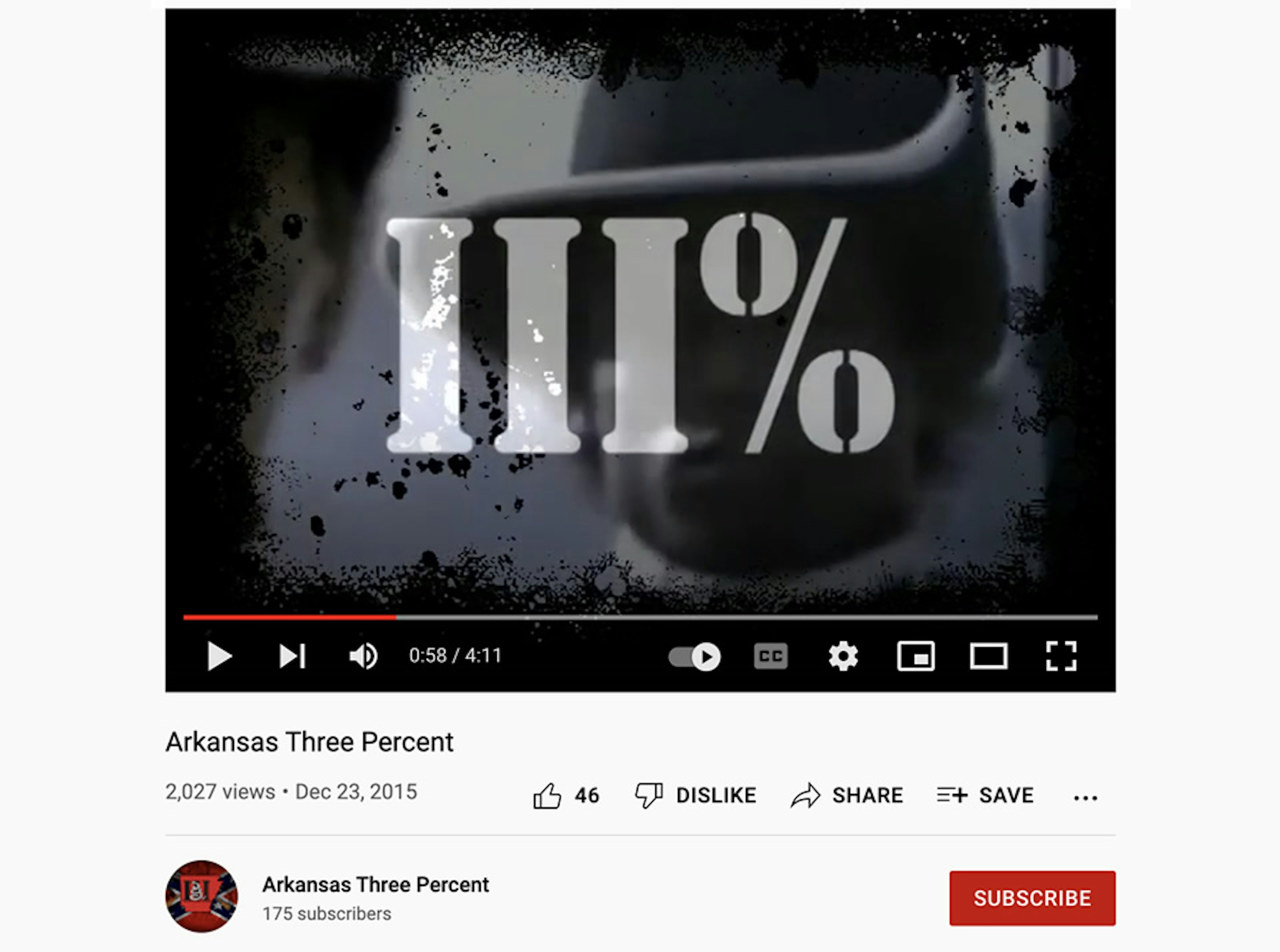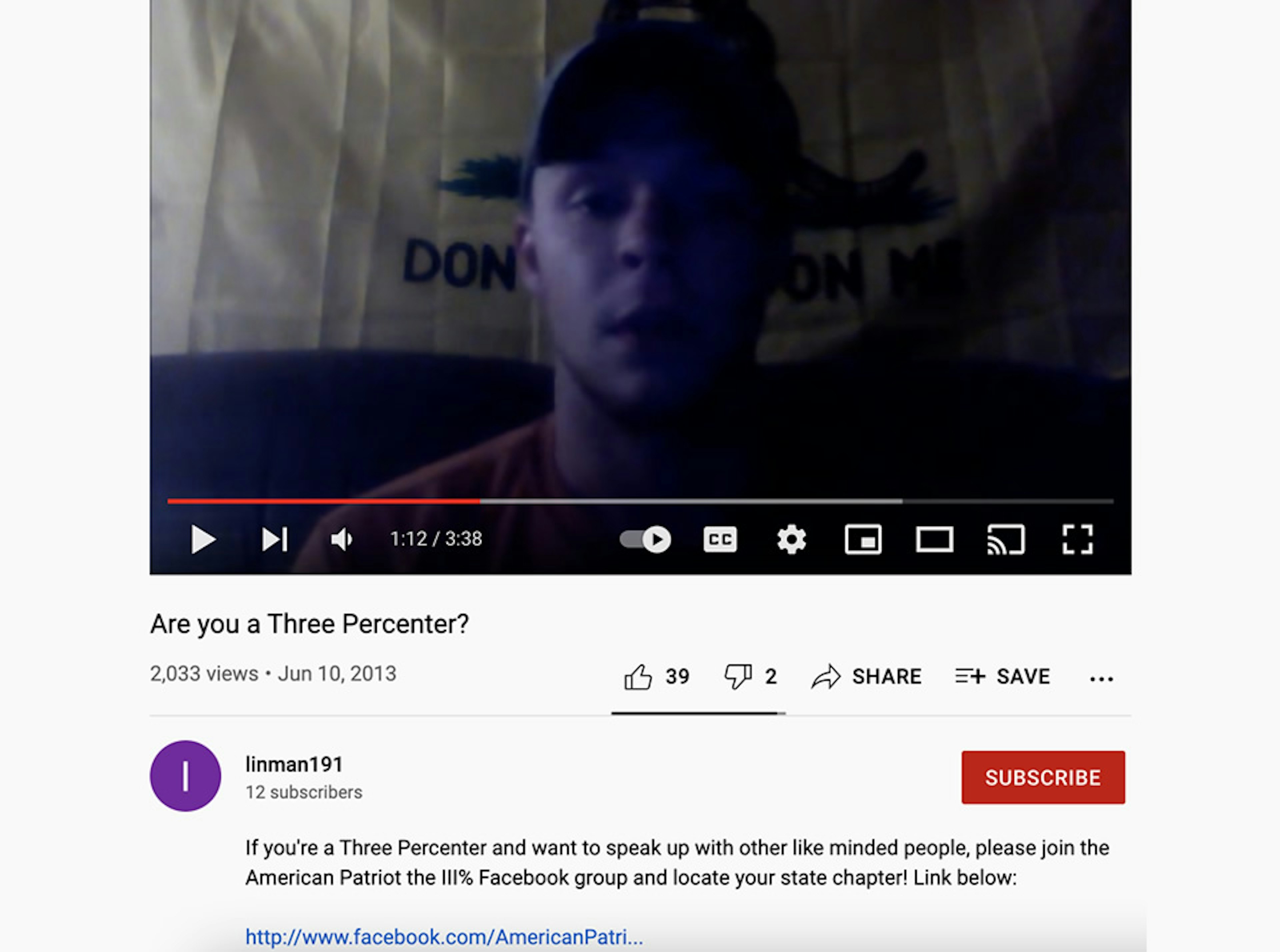 Meanwhile, a channel called "Deadshot III%," which is run by an individual who identifies himself as the leader of the Texas Three Percenters, remained active on YouTube. (One of the group's members was recently found guilty of felony charges for his involvement in the Capitol breach.)
TTP previously highlighted Deadshot III% in a January report about militia activity. In a video called "Jan 6th March," posted two days before the Capitol riot, the channel host, who goes by the name "Deadshot," said, "We're going to fight for our freedom from tyranny, oppression, persecution, government over-reach." In his next video posted on Jan. 7, 2020, a day after the attack, he stated, "We can no longer sit on the sidelines and let our government do what they choose."
Then, just ahead of President Biden's inauguration, the channel posted a video titled "Military and LEO's remember your Oath," in which the host warned law enforcement:
You took an oath to protect the Constitution, not the corruption. … The time has come that you're going to have to choose a side … I'm letting you know that the Texas Three Percenters has always backed the blue, as long as the blue upheld the Constitution and did things legally. So right now I am telling you, it's time to make a decision of which side of the law are you going to be on.
TTP also found videos that offered weapons and tactical advice to militias or showed militia training exercises.
One April 2021 video titled "MILITIA BASICS 101: How to Shoot, Move, & Not Die," from the YouTube channel Wendigo6, gave gear, weapons, and training tips for militia members, including how to ambush a convoy using guerilla tactics. The channel's other video offerings included "Preparing For A Fight: Ammunition Management" and "Tactics vs Strategy – Training vs Meetings- Modern Militia Philosophy and Tips." The latter video—which was posted on Jan. 6, 2021, the same day that a violent mob stormed the U.S. Capitol—had text that referred to the insurrectionists as "pro government Patriots." (Sundar Pichai, the CEO of YouTube parent company Google, condemned the Capitol riot as the "antithesis of democracy.")
In late 2020, EagleDefense, the YouTube channel of a California-based weapons training school, posted nine videos from training sessions it did with a militia based in the state. The videos showed militia members in full camouflage shooting at targets in a series of drills; in one video, someone off camera says, "Move, move, move … The liberals are coming!"
Meanwhile, the YouTube channel for Mountain Man Militia has posted a series of training videos, including one from June 2020 showing a group of men running through a training course while shooting at targets. The channel's other offerings included "Winter Warfare Drills," "Tactical Training at Night," "Molotov Cocktail," and "Are YOU War Ready?"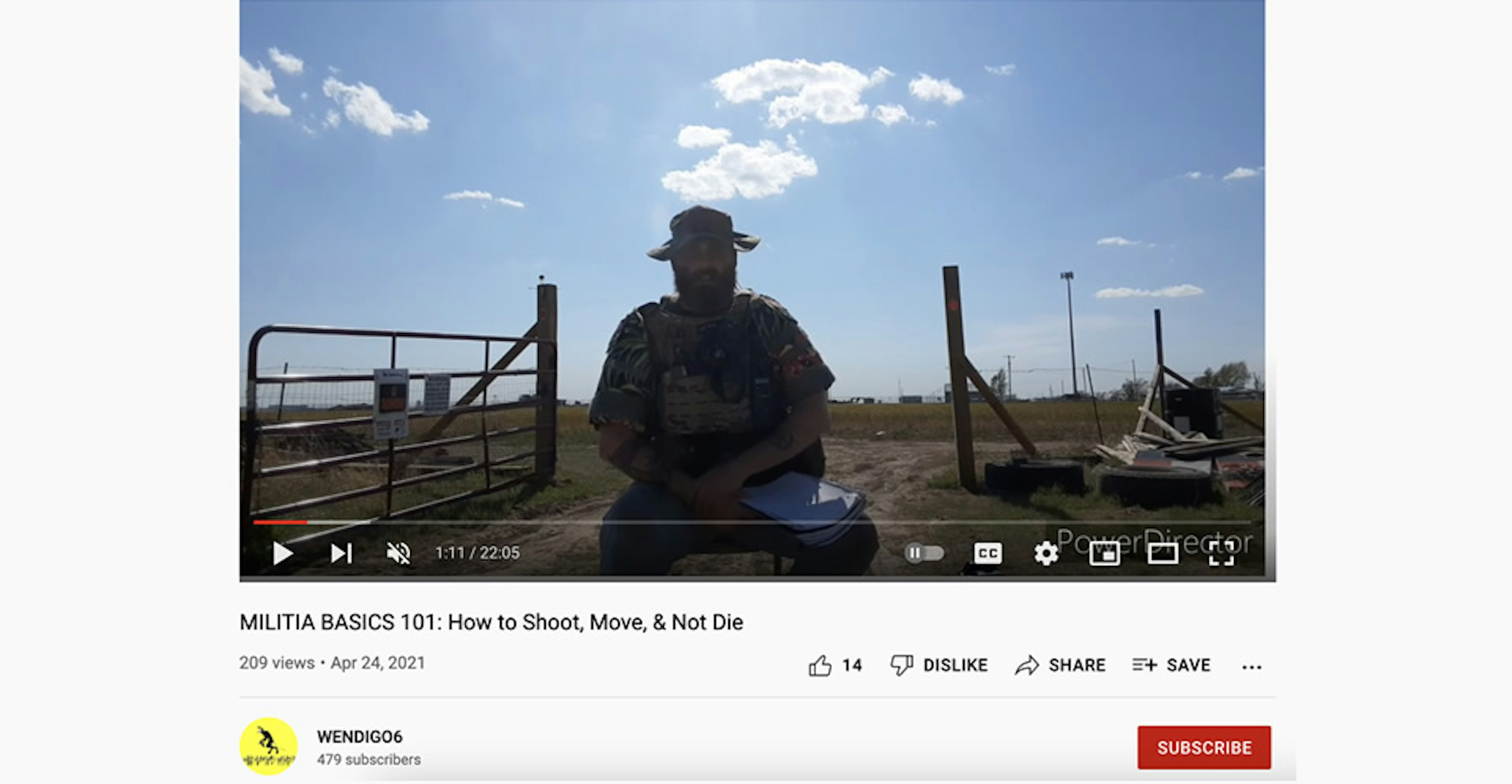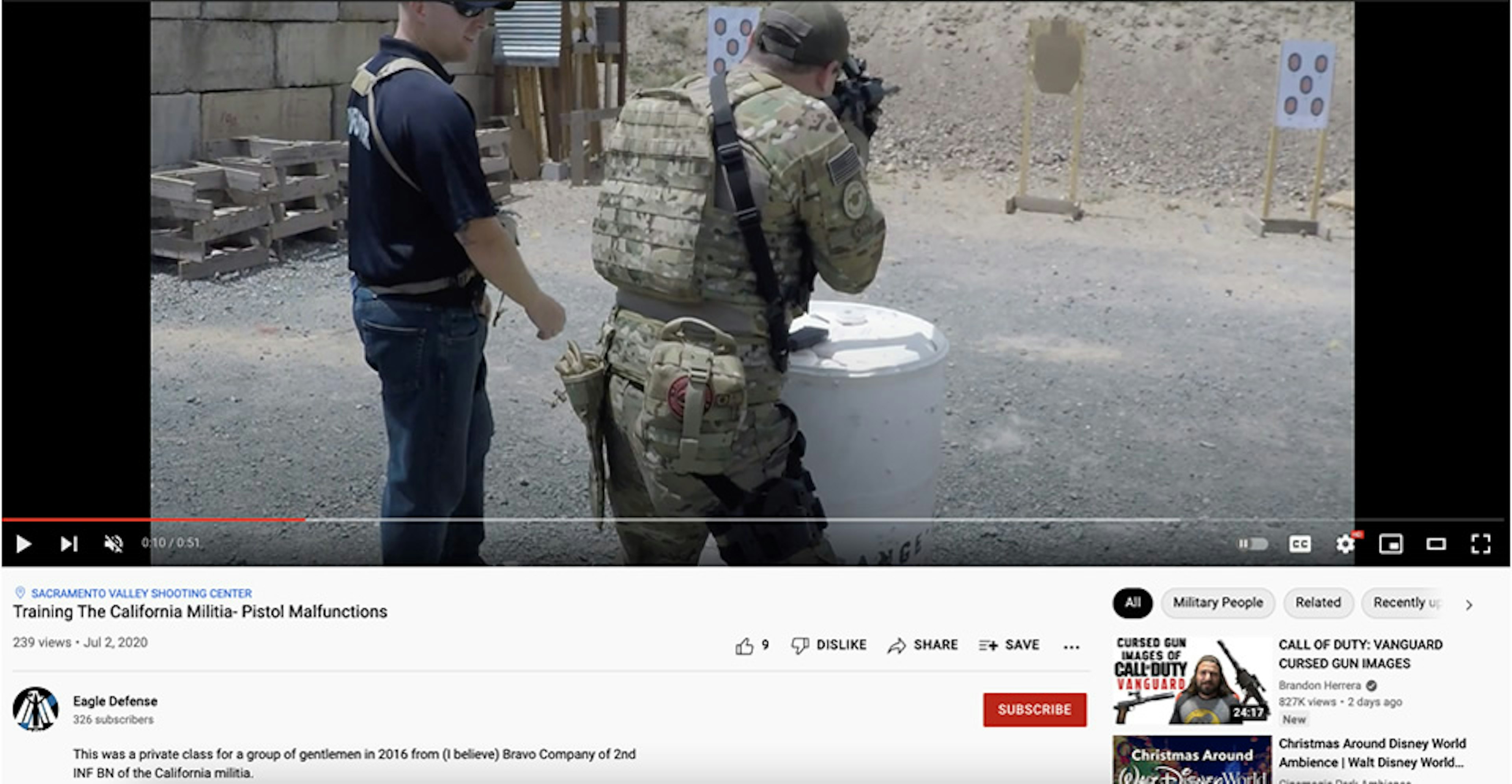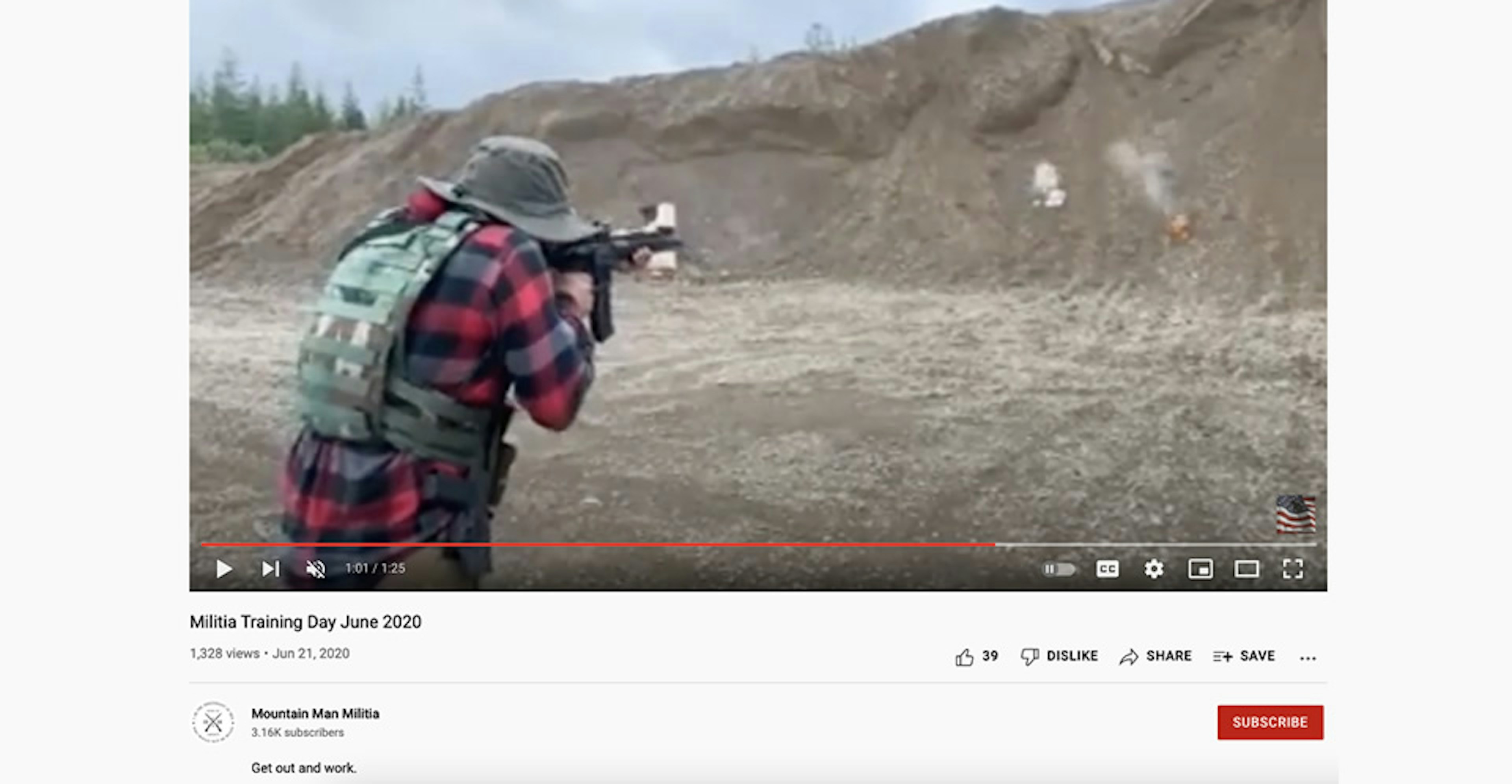 Despite the evident dangers of such content, it's not clear if YouTube would consider these videos worthy of removal or restriction, given that its policies don't directly address militia activity. YouTube has a three-strikes rule for channels that violate its Community Guidelines (with possible permanent removal of repeat offenders) and says it reduces recommendations of "borderline" videos that don't quite cross the line into violating material.
TTP's investigation turned up another troubling issue: YouTube is at times serving up ads for consumer brands into militia content.
For example, in a video titled "III% United Patriots," which sought to recruit new members for the anti-government Three Percenters, TTP spotted an ad for vacation rental site VRBO. The video, which had nearly 35,000 views, described the Three Percenters as "the embodiment of man's desire for freedom" and showed various images of men in camouflage holding rifles.
Meanwhile, the video "Militia Concept: Guerilla Warfare," from the YouTube channel Prepper003, featured an ad for makeup brand Charlotte Tillbury.
YouTube even inserted ads for its parent company Google into militia-related videos. TTP spotted ads for Google Fi, Google's wireless service, in a video of a speech at a Virginia militia muster. The speaker, noting various rifles and guns in the crowd, said, "Firearms, right? That's what makes this country." That video had more than 78,000 views.
During another video titled "Building a Community Security Team," which promoted militias, YouTube ran an ad for Crypto.com, the cryptocurrency exchange that's been on a massive marketing blitz. The video, from the verified YouTube channel SensiblePrepper, had more than 58,000 views; in it, a man speaking to the camera said, "Guys, the national media has really demonized militias, but it's part of what the U.S. was founded on: People that are ready, minutemen who are ready to go."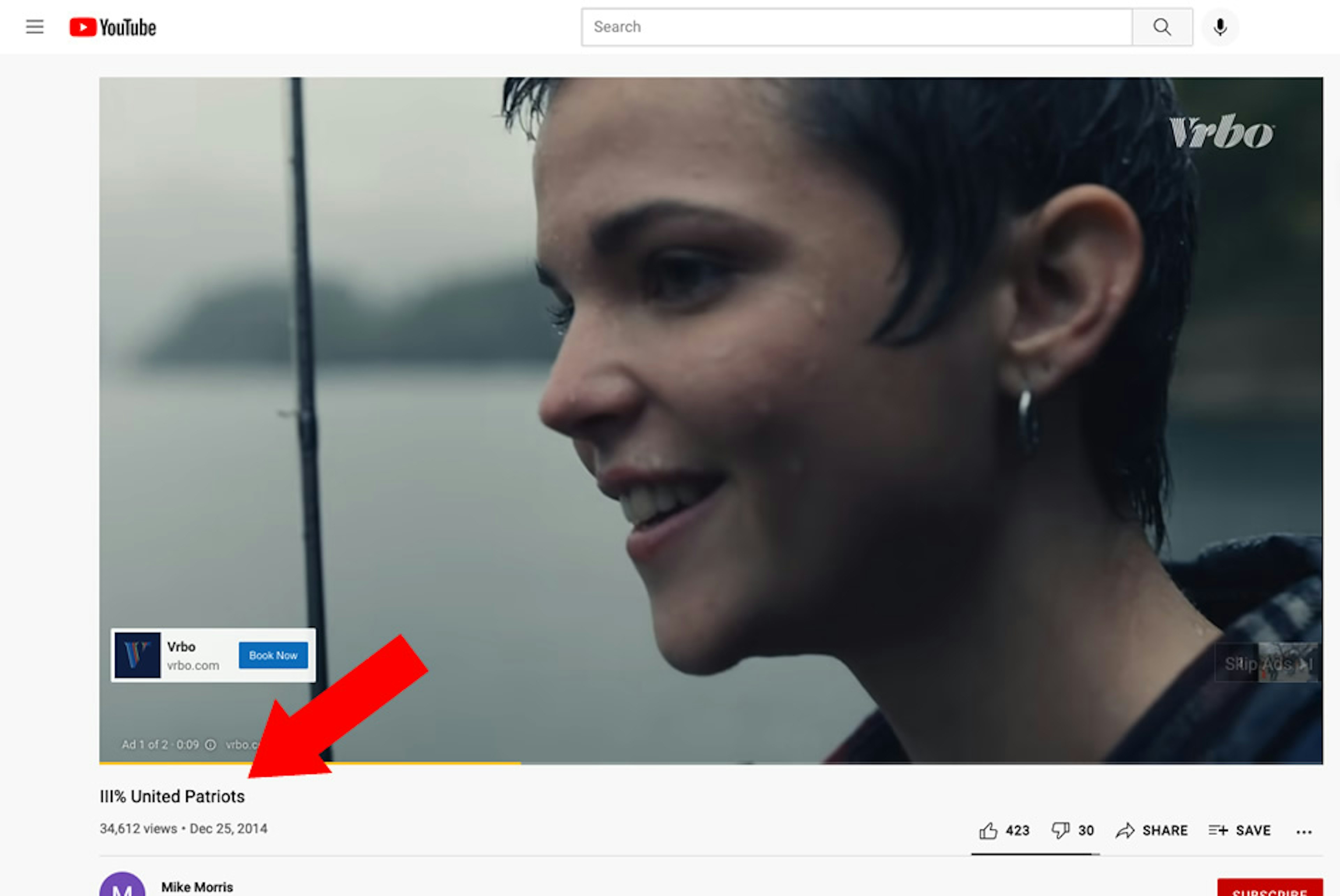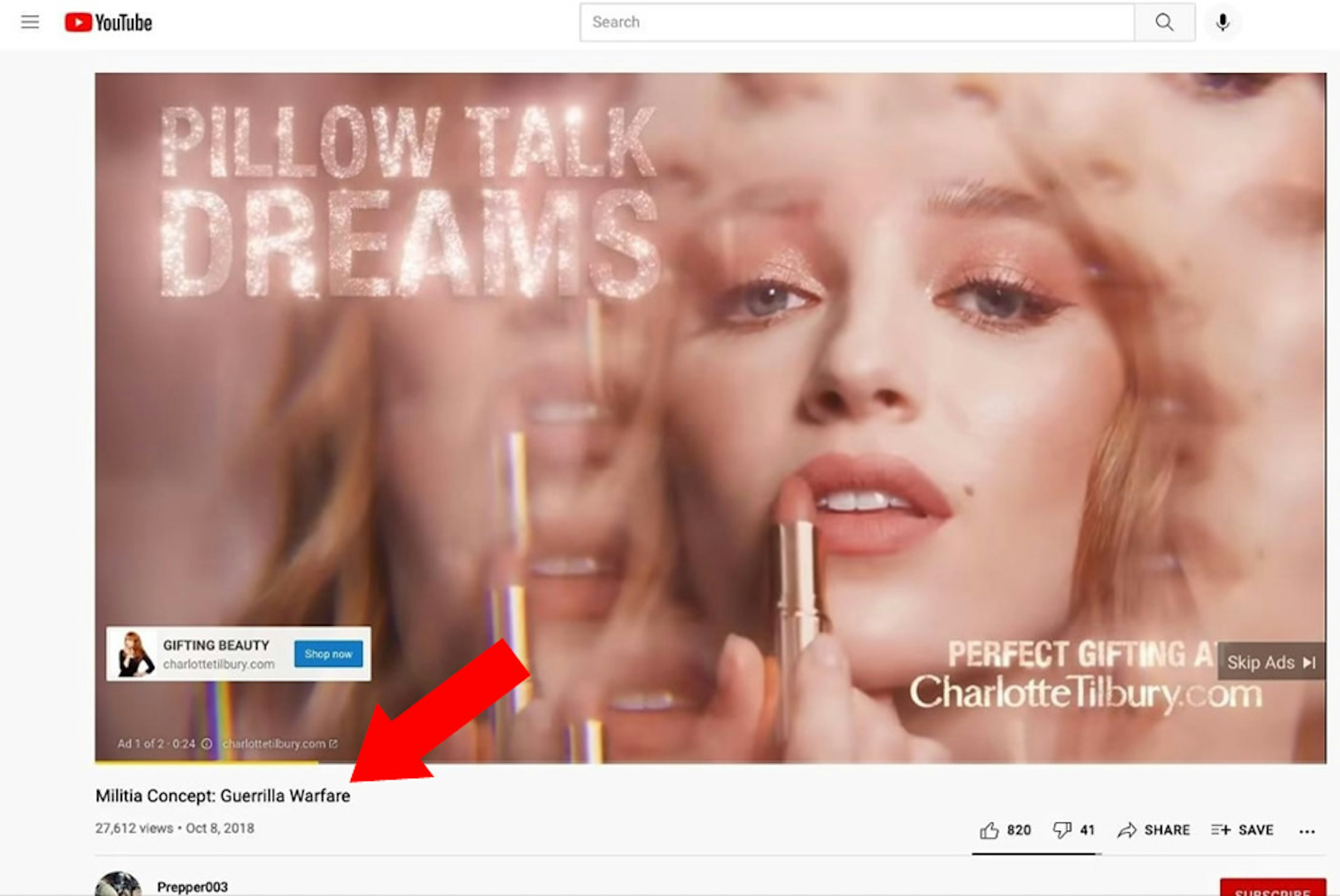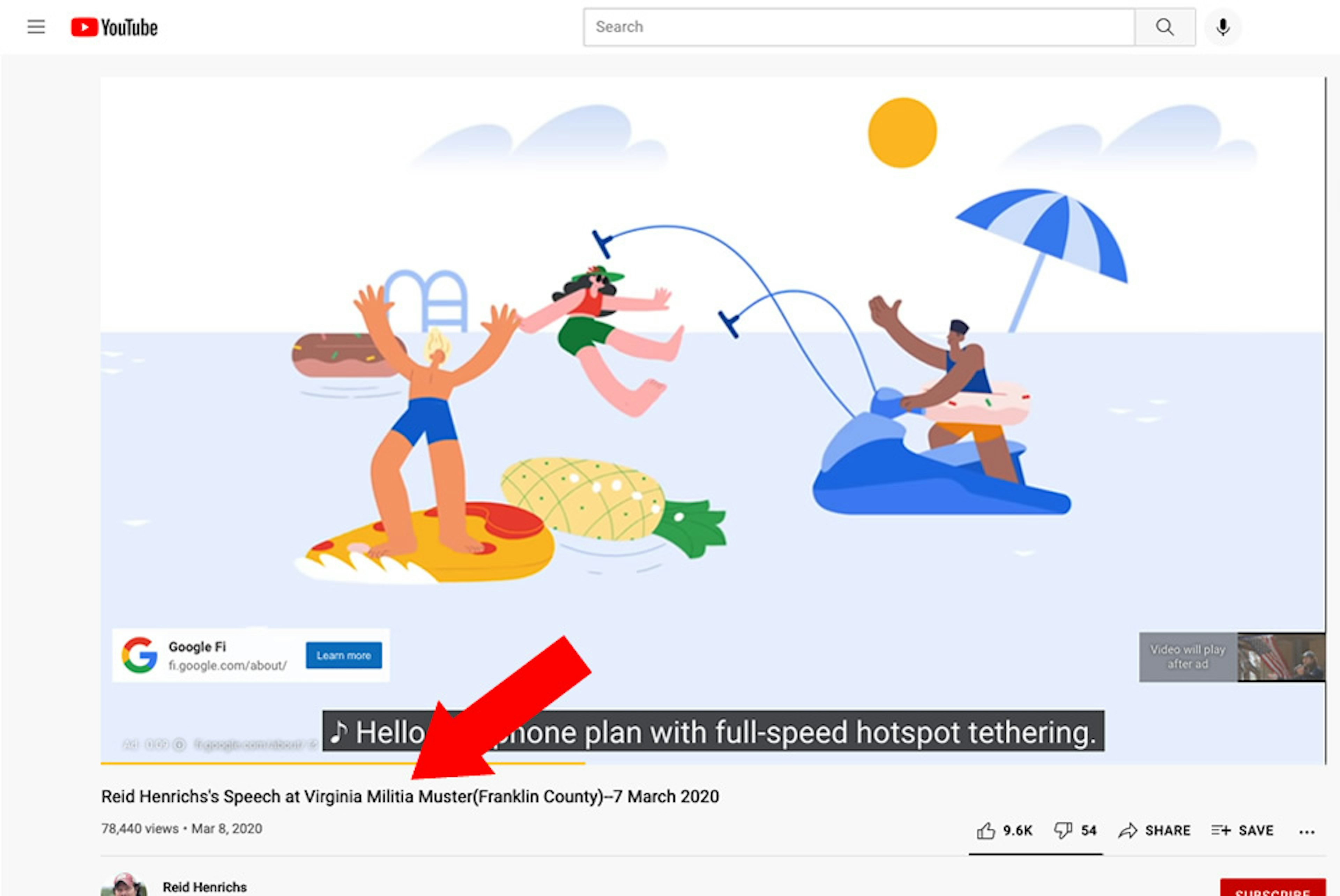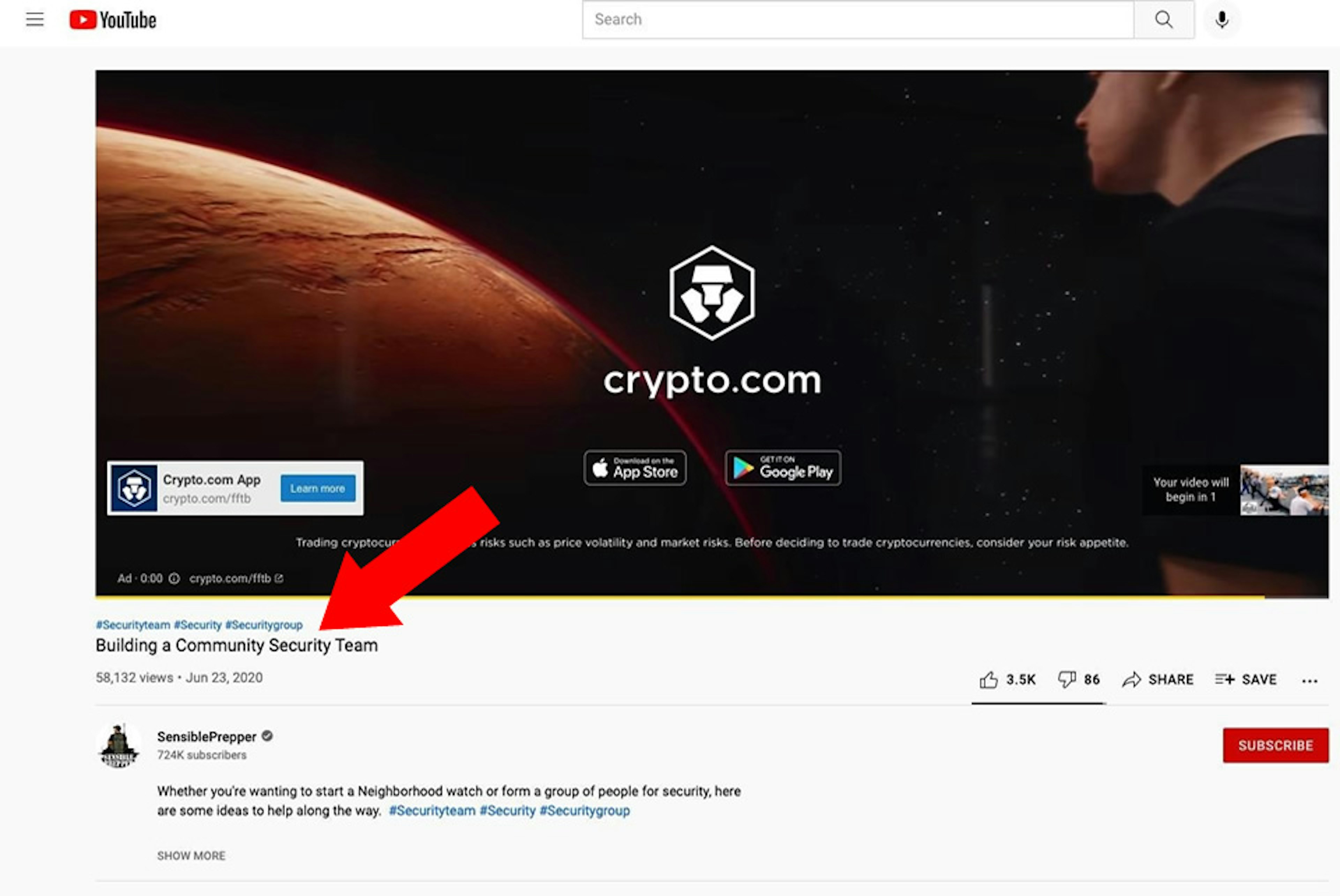 YouTube has faced these kinds of questions about embarrassing ad placements before. A 2018 CNN investigation found that ads for over 300 companies including Amazon, Hilton, and Nordstrom ran on YouTube channels that promoted white nationalists, Nazis, pedophilia, conspiracy theories, and North Korean propaganda. YouTube told CNN at the time that it was "committed to working with our advertisers and getting this right."
In one case, TTP found that YouTube ran an ad for a company called RMA Armament, which sells body armor, in a video that instructed "minutemen" on how to stuff a variety of weapons and ammunition into a "tactical load out bag." This showed YouTube not only monetizing a militia-related video with advertising, but actually directing militia members where to buy military-style equipment.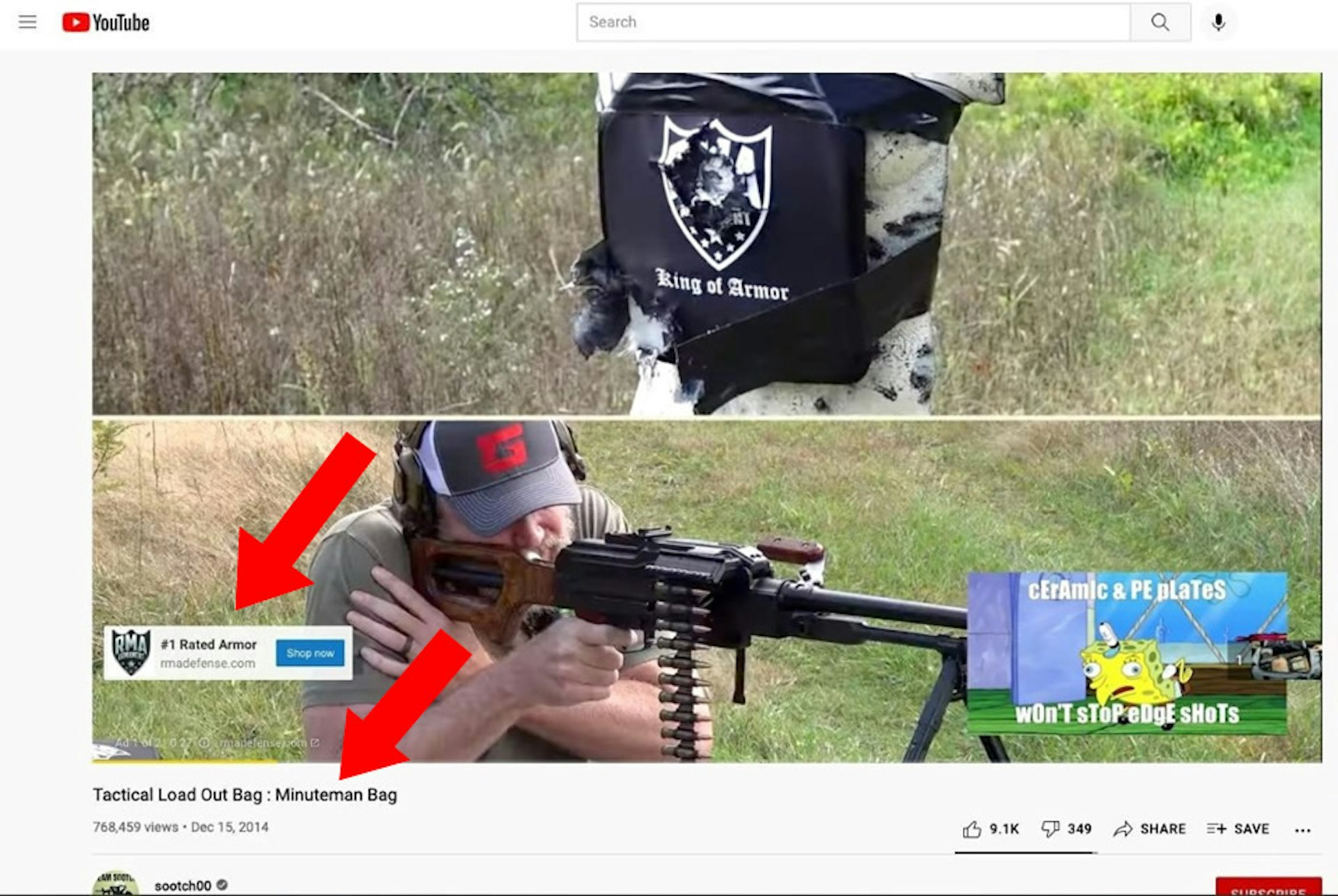 YouTube continues to serve up these awkward ad placements despite establishing an "Intelligence Desk" in 2018 that, according to BuzzFeed News, was meant to "detect inappropriate content early, and either remove it or prevent advertiser messaging from appearing near it." YouTube CEO Susan Wojcicki made reference to the Intelligence Desk in a March 2021 interview, indicating it was still active.
TTP's investigation also found an example of YouTube allowing a channel to raise money off a militia-related video via the Super Chat feature. Super Chat, rolled out in 2017, lets viewers pay to pin a tweet in a YouTube channel's livestream. YouTube takes a 30% cut of the transactions.
During a YouTube livestream of an interview with an "Anonymous 3 Percenter," three viewers donated a combined $30 via Super Chat—not a huge amount of money, but it demonstrates how militia-related videos can leverage this feature for fundraising. (TTP watched a replay of the livestream, which displays the live chat as it appeared alongside the video.) During the interview, conducted on Nov. 1, 2020, the Three Percenter, who described himself as ex-military, spouted conspiracy theories about Black Lives Matter and antifa planning to cause chaos around the 2020 election, and compared the U.S. to countries that experienced political upheaval during the Arab Spring. "I think that boiling point's about to be reached," he said.
The YouTube channel that did the livestream, Rule the Wasteland, also offered T-shirts for sale in the comments section of the Three Percenter video.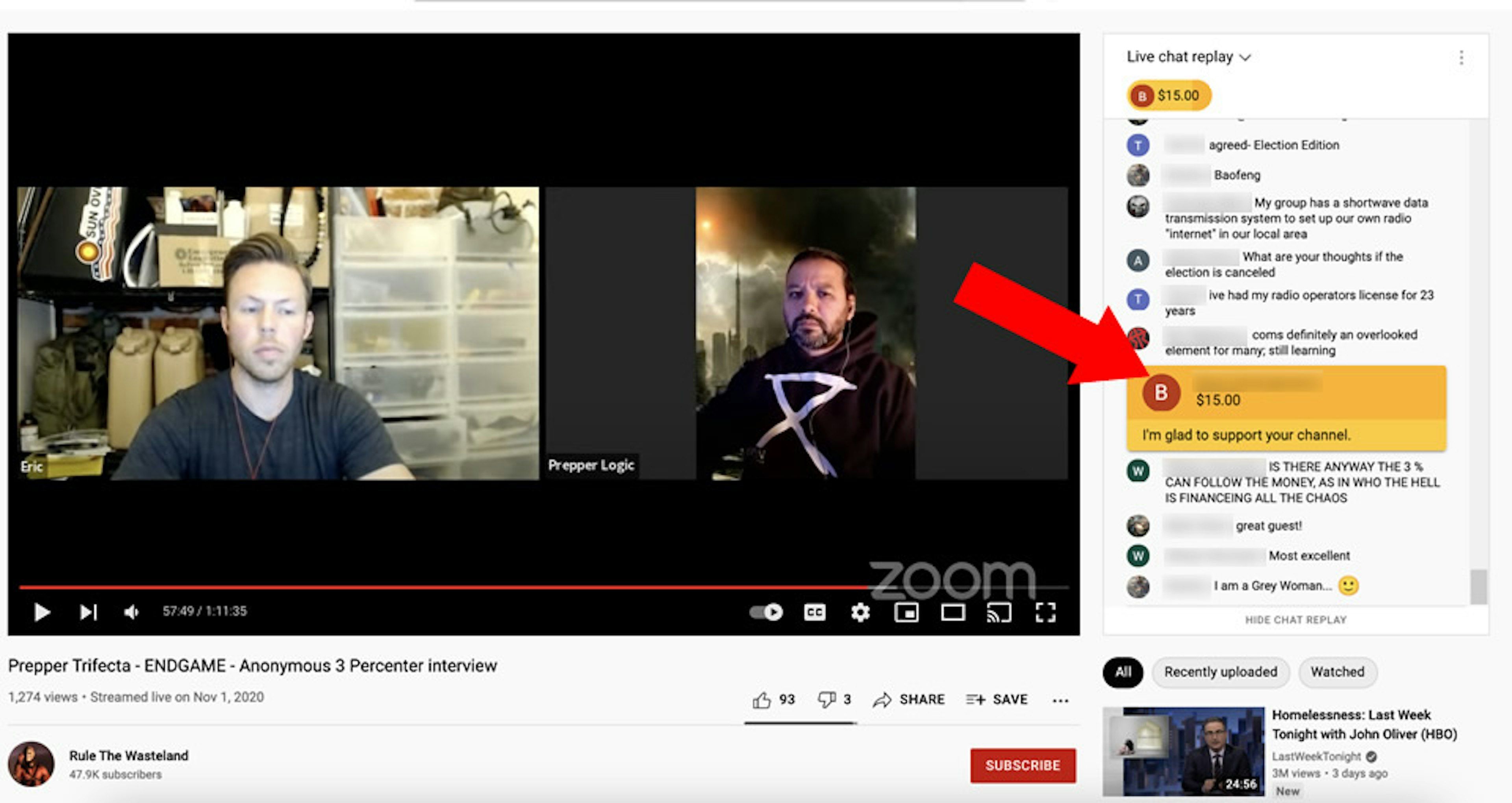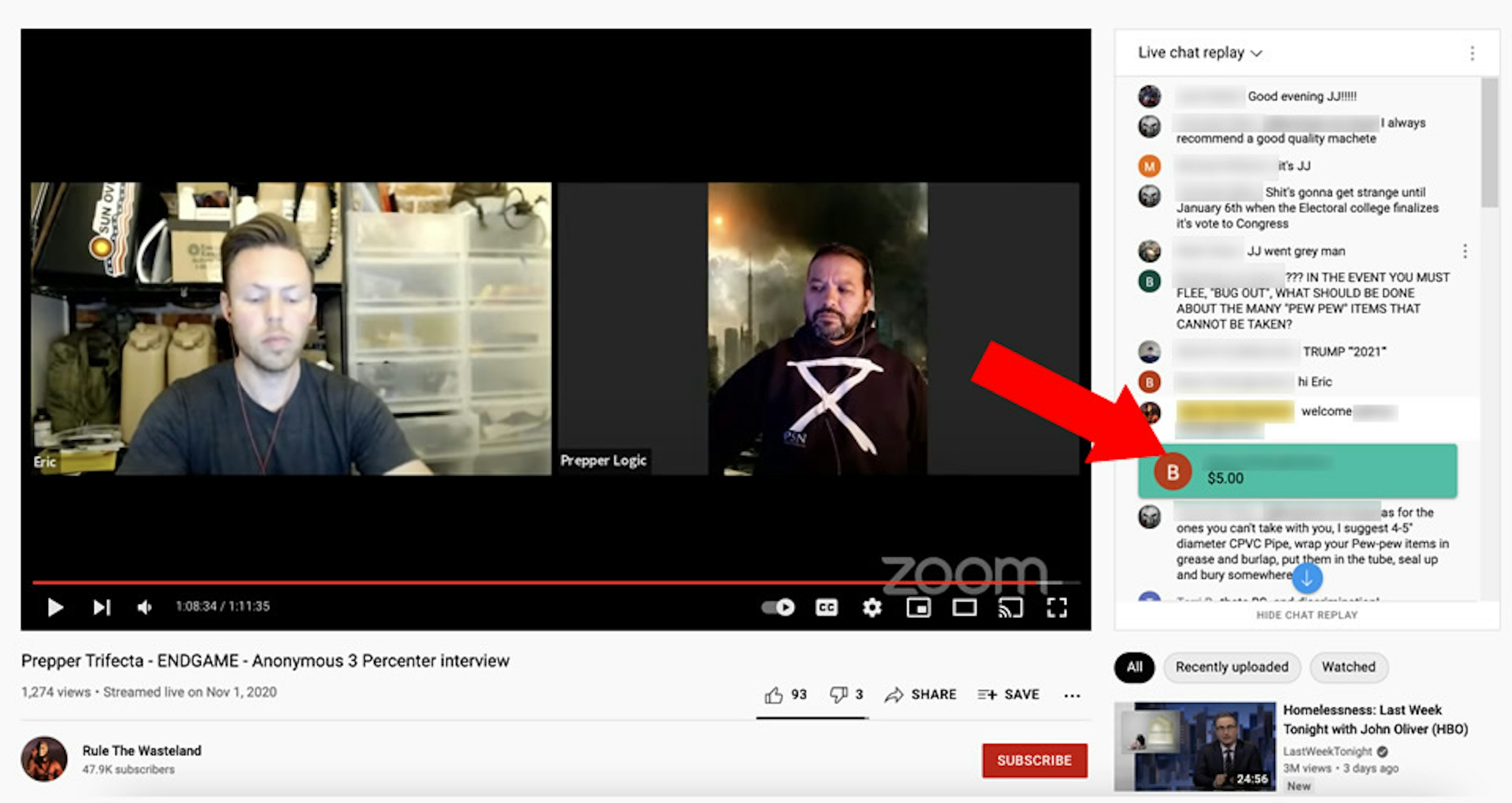 YouTube is aware of the dangers of extremists raising money off Super Chat. A 2018 BuzzFeed report found that far-right and white nationalist figures were helping YouTube channels earn thousands of dollars through Super Chat. A year later, YouTube said channels that "repeatedly brush up against our hate speech policies" would be suspended from using Super Chat.
YouTube said on March 11, 2022 that it had begun removing content related to Russia's invasion of Ukraine that violates its policies against "denying, minimizing or trivializing well-documented violent events." But TTP has found multiple militia-affiliated channels on YouTube sharing misinformation on the war.
For example, in a video posted on March 18 by the YouTube channel SecurityGuy42, the speaker said that a maternity hospital in Mariupol, Ukraine that was infamously bombed by Russian forces was actually the headquarters of the Azov Battalion, a Ukrainian far-right extremist group, making it "a legitimate target." Russian officials have spread the Azov Battalion conspiracy theory on social media, but fact checkers have said there's no evidence for the claim. 
A video posted by the YouTube channel Warthog 71 claimed that Russian forces thwarted "a neo-Nazi attack on nuclear power plants." However, it's been well documented that it was Russian troops that attacked the nuclear power plant referenced, in Zaporizhzhia, Ukraine. Another video posted by the same channel purported to show a newscaster in Ukraine standing in front of rows of body bags; behind him, a live person moved inside one of the body bags. Conspiracy theorists have touted this "newscaster" clip as evidence that "crisis actors" are posing as Ukrainian casualties. After the clip, the host of the Warthog 71 video concluded, "You still want to cry crocodile tears and buy into their Ukraine-Russia narrative? That's on you." However, fact checkers have determined that the clip is actually from a climate change protest in Austria. (Warthog 71's other fare included militia training videos.)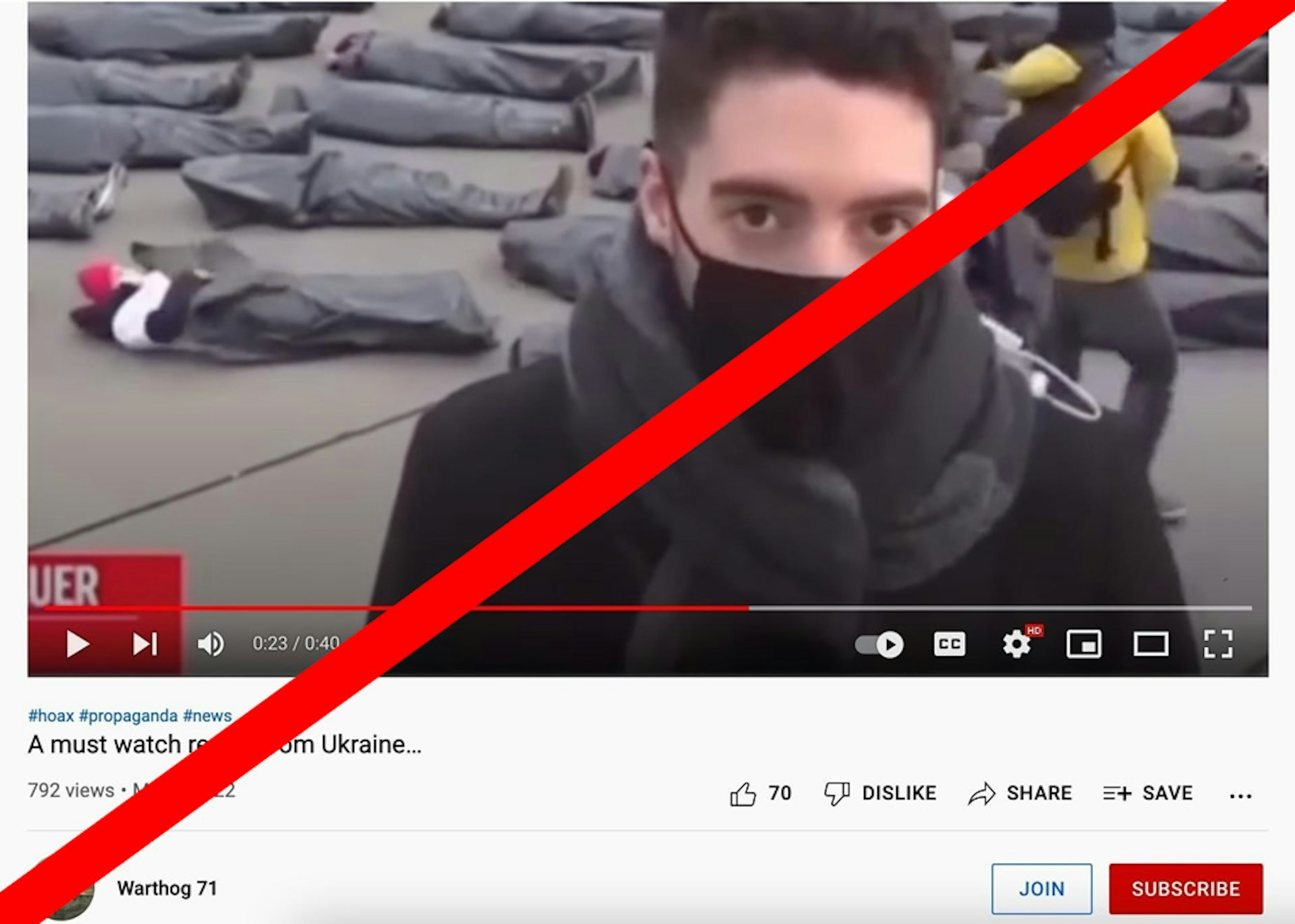 TTP's investigation raises questions about whether YouTube is paying much attention to far-right militias using its platform to organize their movement, spread their anti-government ideology, and disseminate misinformation about the war in Ukraine. While YouTube tends to let its social media peers Facebook and Twitter take the heat when Washington dials of up scrutiny of Big Tech, YouTube's role in promoting extremism and unfounded conspiracy theories warrants its own examination by lawmakers and regulators.