Google is serving misleading ads in English and Spanish to Americans looking for information on how to vote in the upcoming midterm elections, according to a new Tech Transparency Project (TTP) investigation that raises questions about Google's commitment to provide accurate information about voting.
TTP found that search terms such as "voter registration," "register to vote," and "early voting" generated ads that directed users to low-quality, third-party search engines filled with a muddle of useless information or dubious sites that charge a fee to look up voter registration status—something that is entirely free for Americans.
These ads violate Google's policies against abusing its ad network and seeking payment for information that is already available from the government. By leading users down rabbit holes and piling on bogus fees, they could also discourage people from voting—undermining Google's promise to "support" the U.S. midterms and "connect voters with accurate information about voter registration and how to vote."
This is part of a pattern for Google. Two years ago, ahead of the 2020 election, TTP found similar issues with scammers using Google search ads to mislead people about voter registration. Our researchers have also documented scam ads targeting Google users who searched for information about federal stimulus checks and student loan forgiveness.
Now, the dynamic is playing out again with the midterm elections, including with Spanish-language ads targeting Hispanic voters, a critical and fast-growing voter bloc.
For this investigation, TTP conducted a series of Google searches for voting- and election-related terms and examined the ads that Google served on each of those searches.
To develop the list of search terms, TTP used Google Trends, selecting the top five search queries related to "voting" and "midterm election." TTP added "midterms cancelled," which was a "rising" search term at the time, according to Google Trends, as well as three queries related to midterm races in Florida, Texas, and Arizona.
For the searches, TTP used a clean, logged out version of the Google Chrome browser with no prior browsing history to avoid biasing results. Our researchers did a Google search for each term, in English and Spanish, on three different virtual private networks (VPNs). (The VPNs made it appear that we were searching from Florida, Texas, and Arizona.) TTP recorded every ad that ran on the first ten pages of search results, collecting a total of 291 ads.
Of the 291 ads, nearly 1 in 10 (27) directed users to so-called search arbitrage sites that feature low-quality search results larded with ads. These sites advertise on Google to generate clicks. But the low-quality search results mean that users are less likely to find the voting information they seek and may eventually grow frustrated and give up.
Some of the Google ads made it appear they would link directly to voter registration resources, only to take users to search arbitrage sites.
For example, when a user searched for "Register to vote in Arizona," Google served an ad that read, "How Do I Register To Vote In AZ - Find Results Now." But the ad took the user to an ad-filled search page on gopher.com, not a voter registration site.
A similar ad served to our Texas-based user read, "Registration Form to Vote." But instead of linking to a voter registration form or site, the ad directed the user to a search results page on Info.com. The first ad on that page was for another search arbitrage site.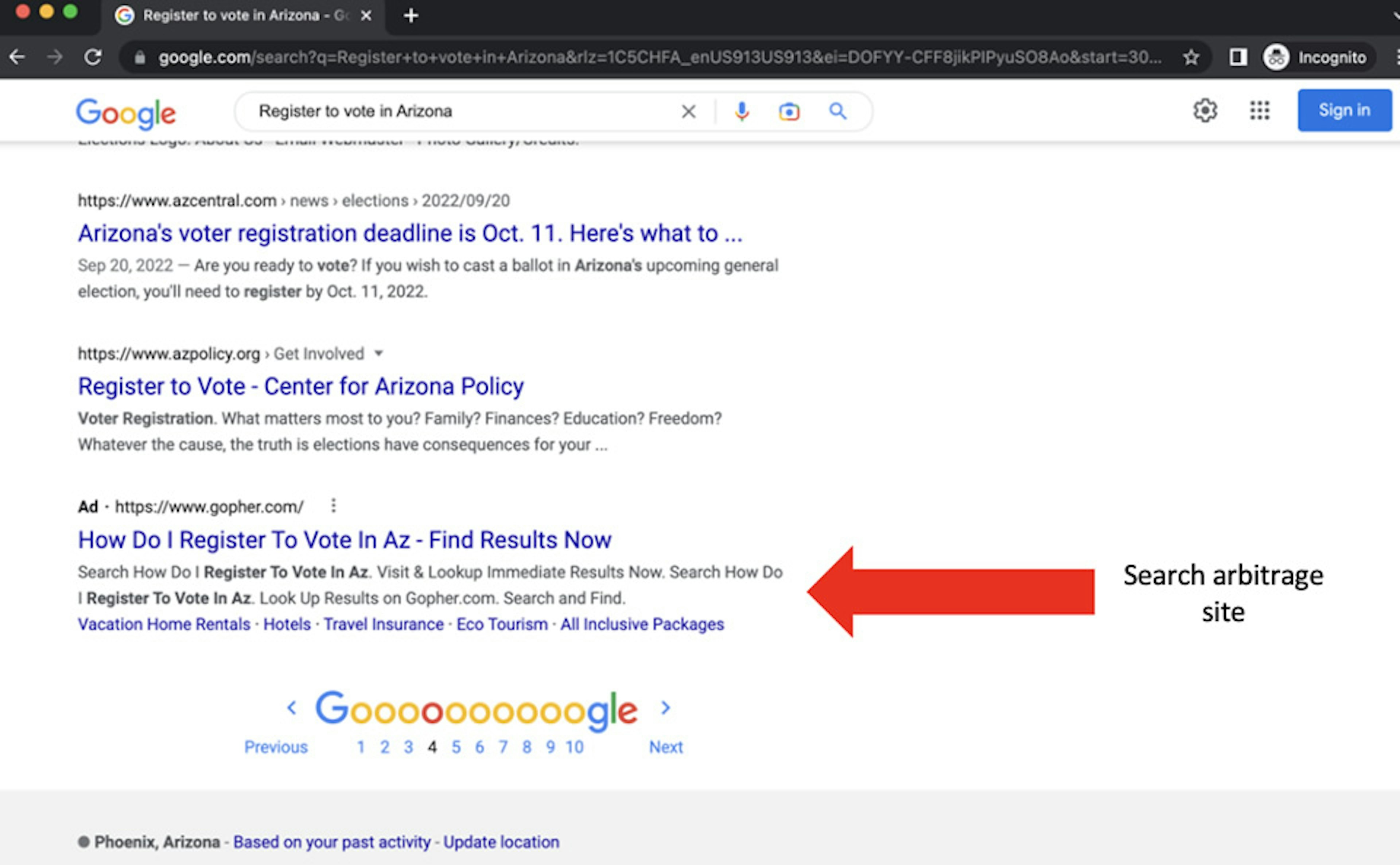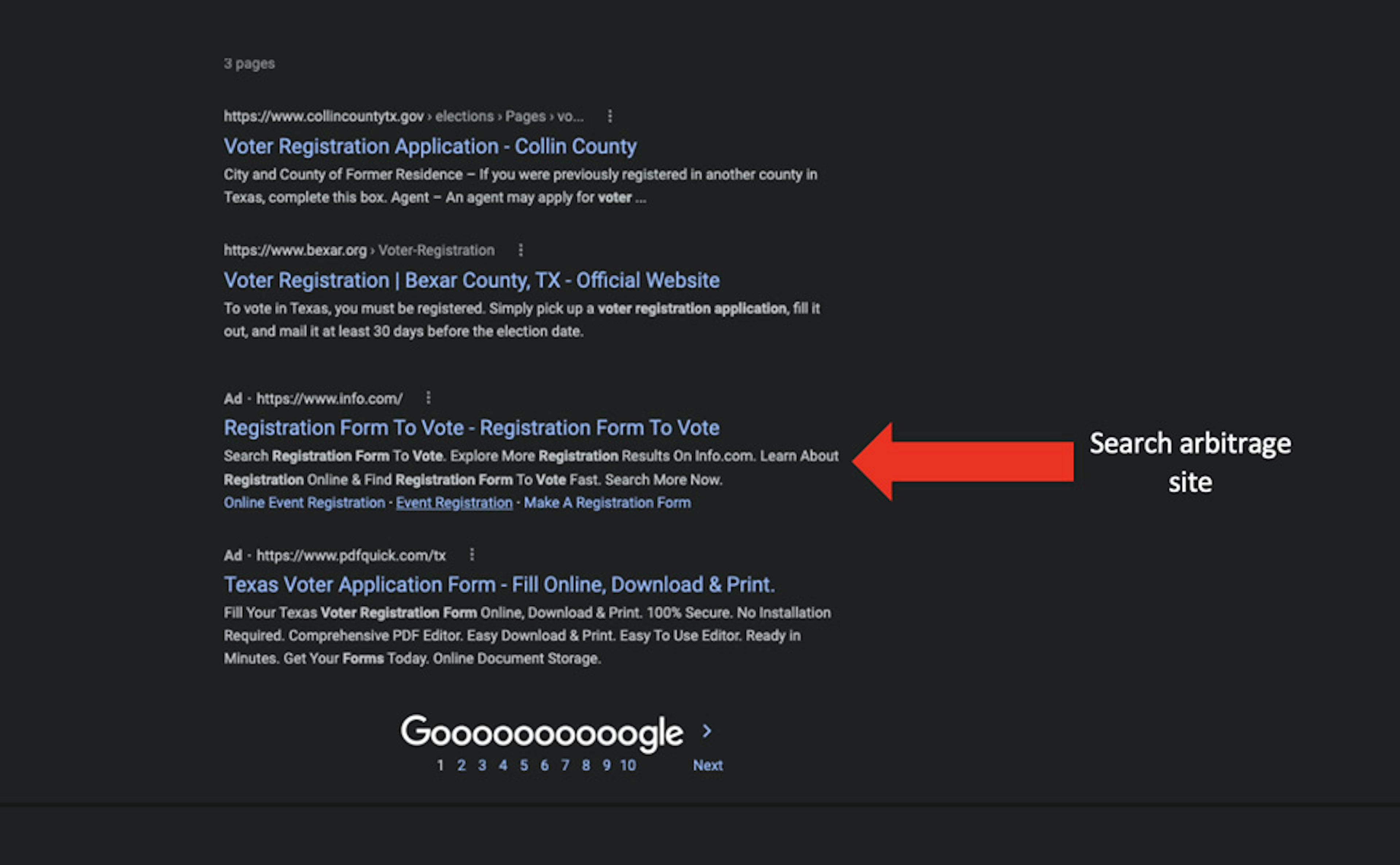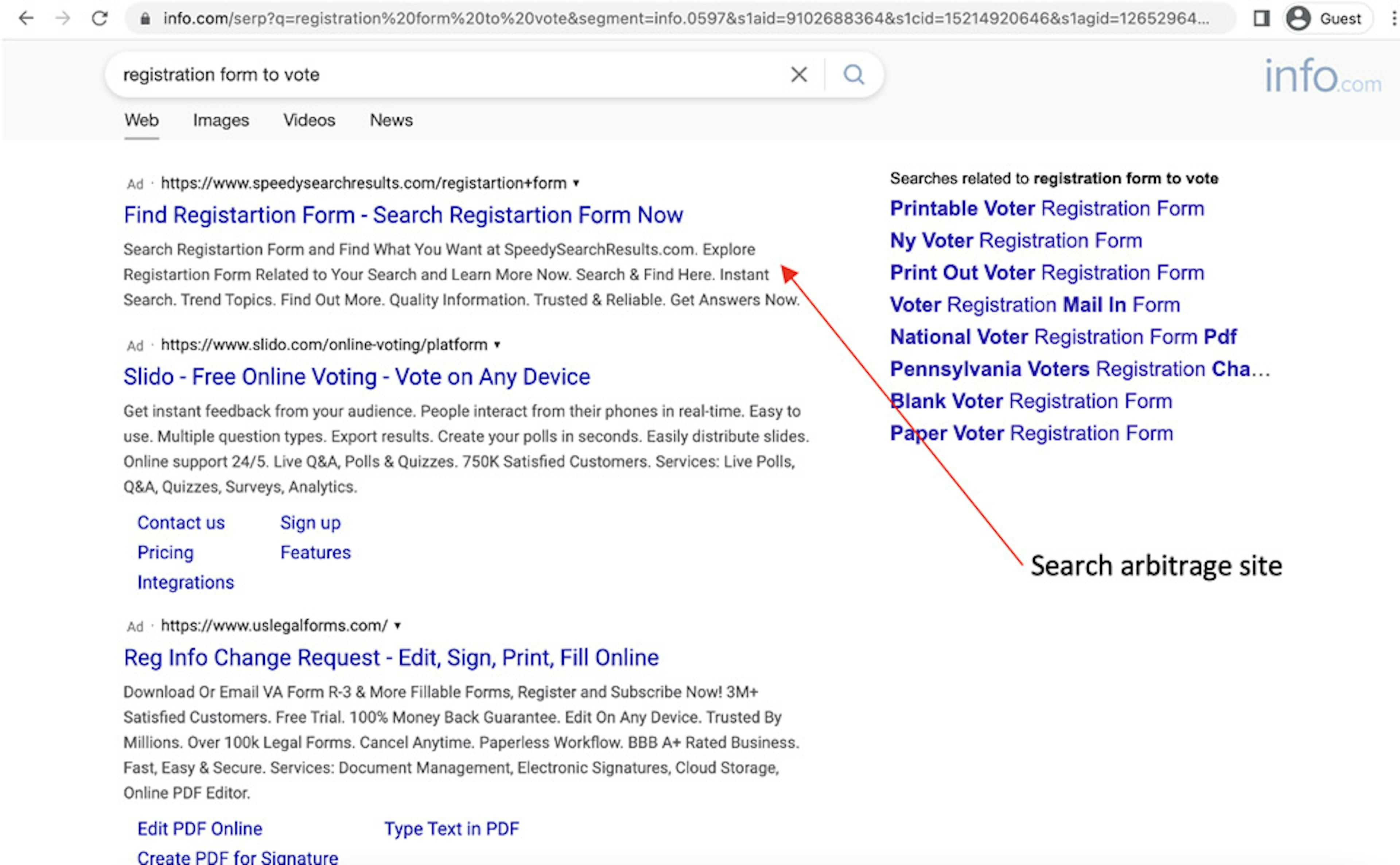 This was a common occurrence: TTP found that these search arbitrage sites often pointed to other arbitrage sites—making it easy for users to get trapped in an endless cycle of fruitless searching.
Take the ad for "Registrarse Para Votar En USA – Phoenix Results" ("Register to Vote In The USA"). It directed the user to a find-info.com page filled with ads. Clicking on one of those ads, for "Como Inscribirse Para Votar En USA – Search it Now" ("How to Register to Vote in the USA"), took the user to an answersme.net page filled with yet more ads. Clicking on one of those ads took the user to a page on info.com. And so on and so on.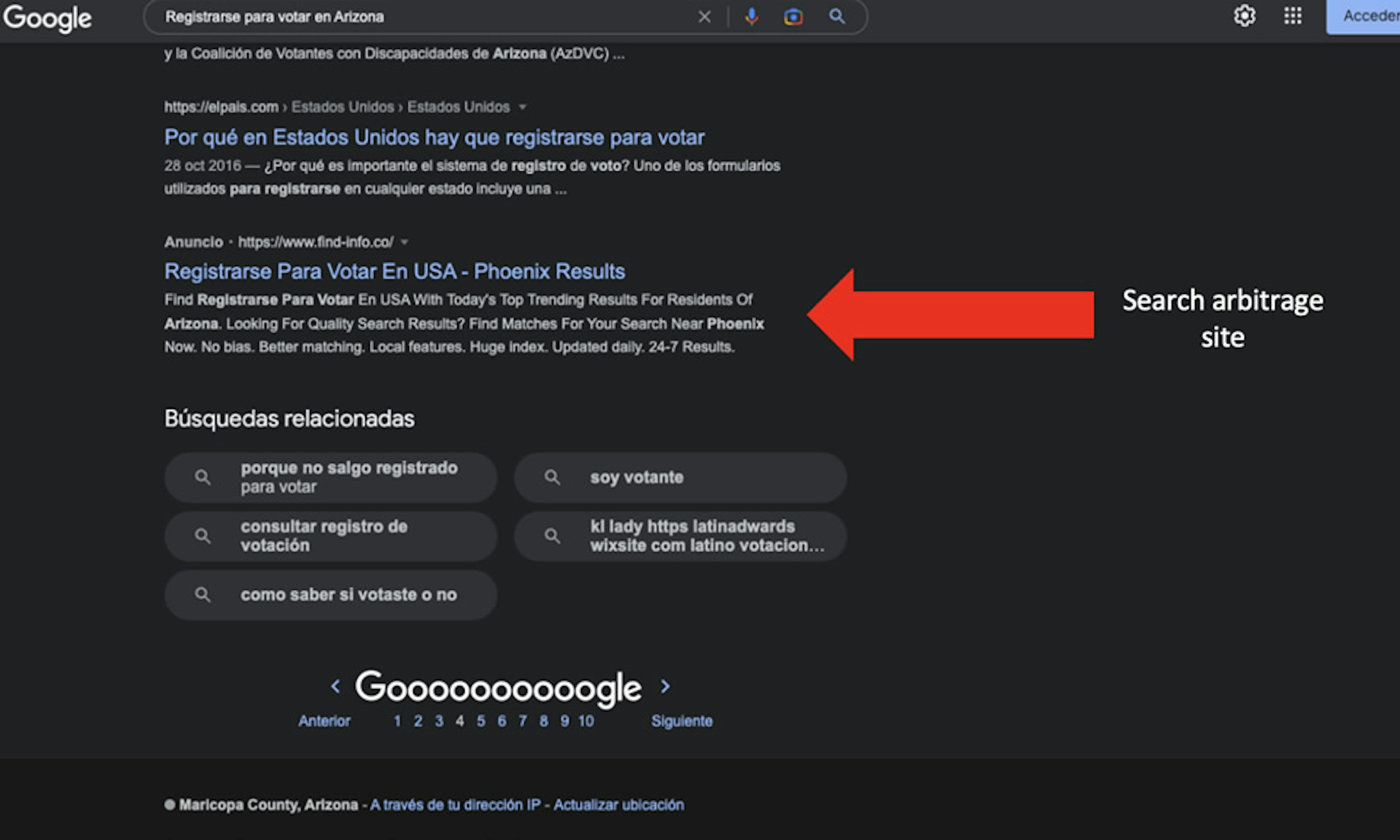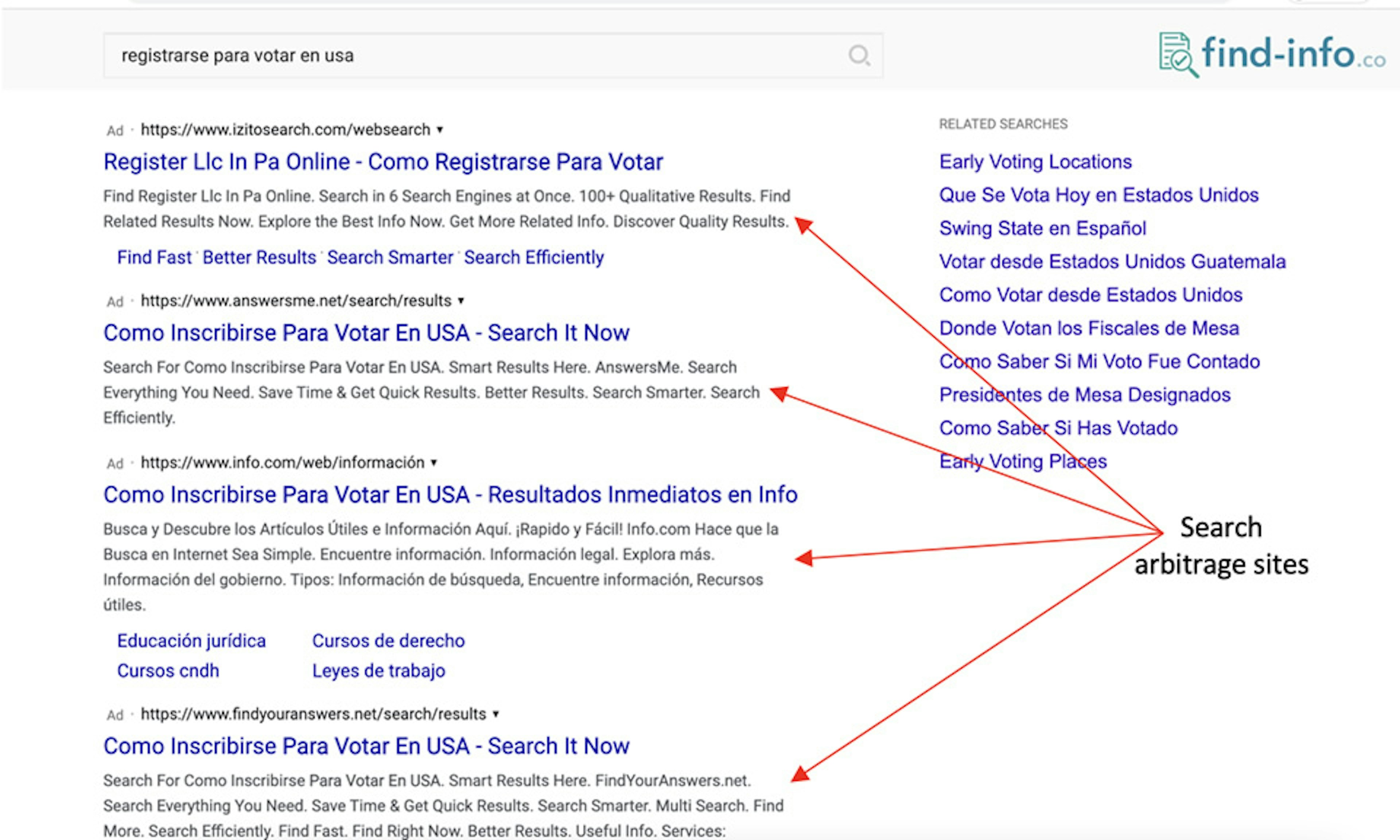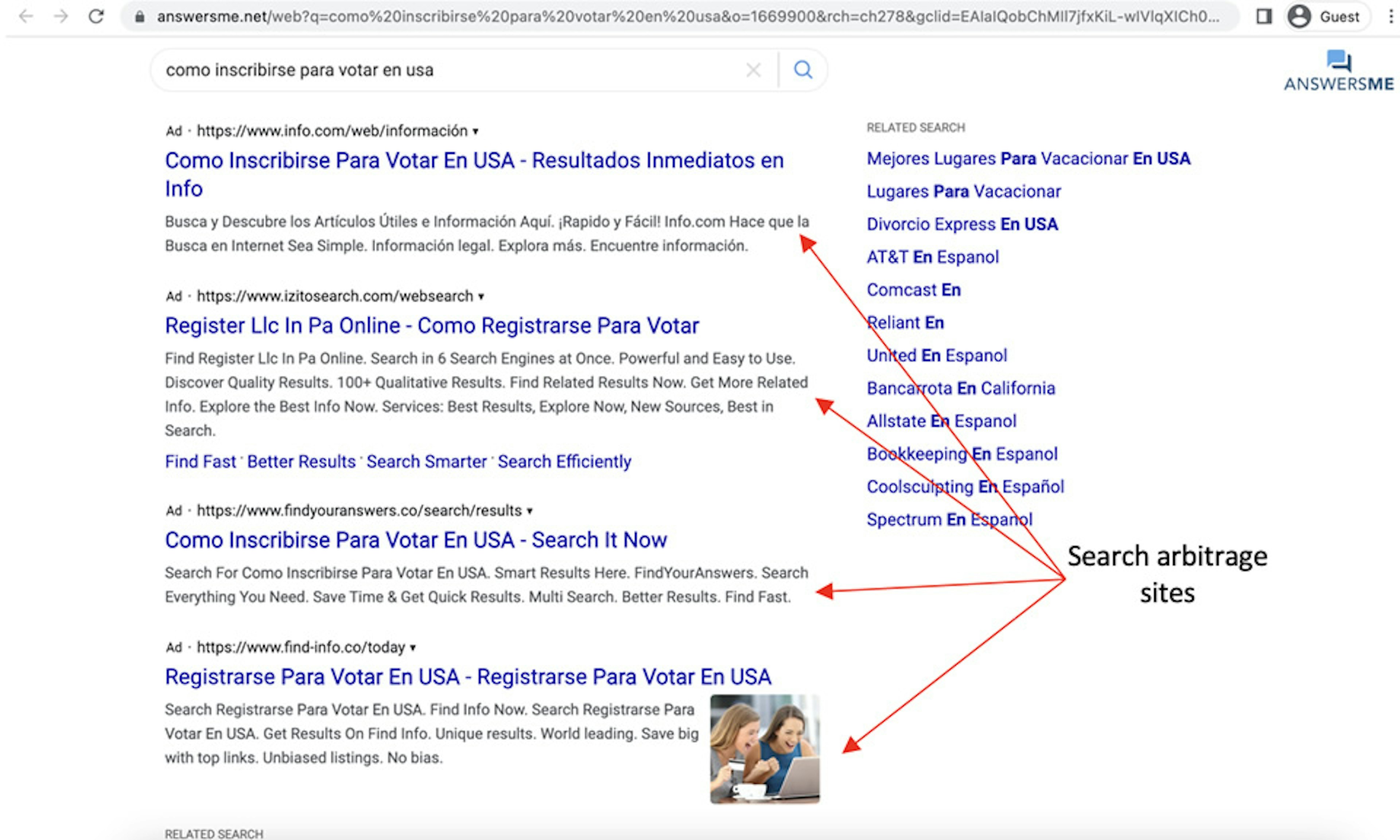 Google's policy expressly prohibits the practice of search arbitrage, which the company defines as "promoting destinations for the sole or primary purpose of showing ads."
TTP also came across ads for a dubious records site that charges users to check their voter registration status—something that people can do for free on any number of state and non-profit websites.
When our Florida-based test user Googled "Registro de votantes" ("Register to vote"), an ad popped up that read, "Registros De Votantes – Solo Ingresa El Nombre" ("Register to Vote – Just Enter the Name"). The ad directed to a website called PublicRecordsReviews, which prompted the user to fill in their name, then redirected to another site called TruthFinder, which took the user through another 10 minutes of entering and verifying information. Only at the very end of the process did the site inform the user they have to pay $23 to $28 to check if they're registered to vote.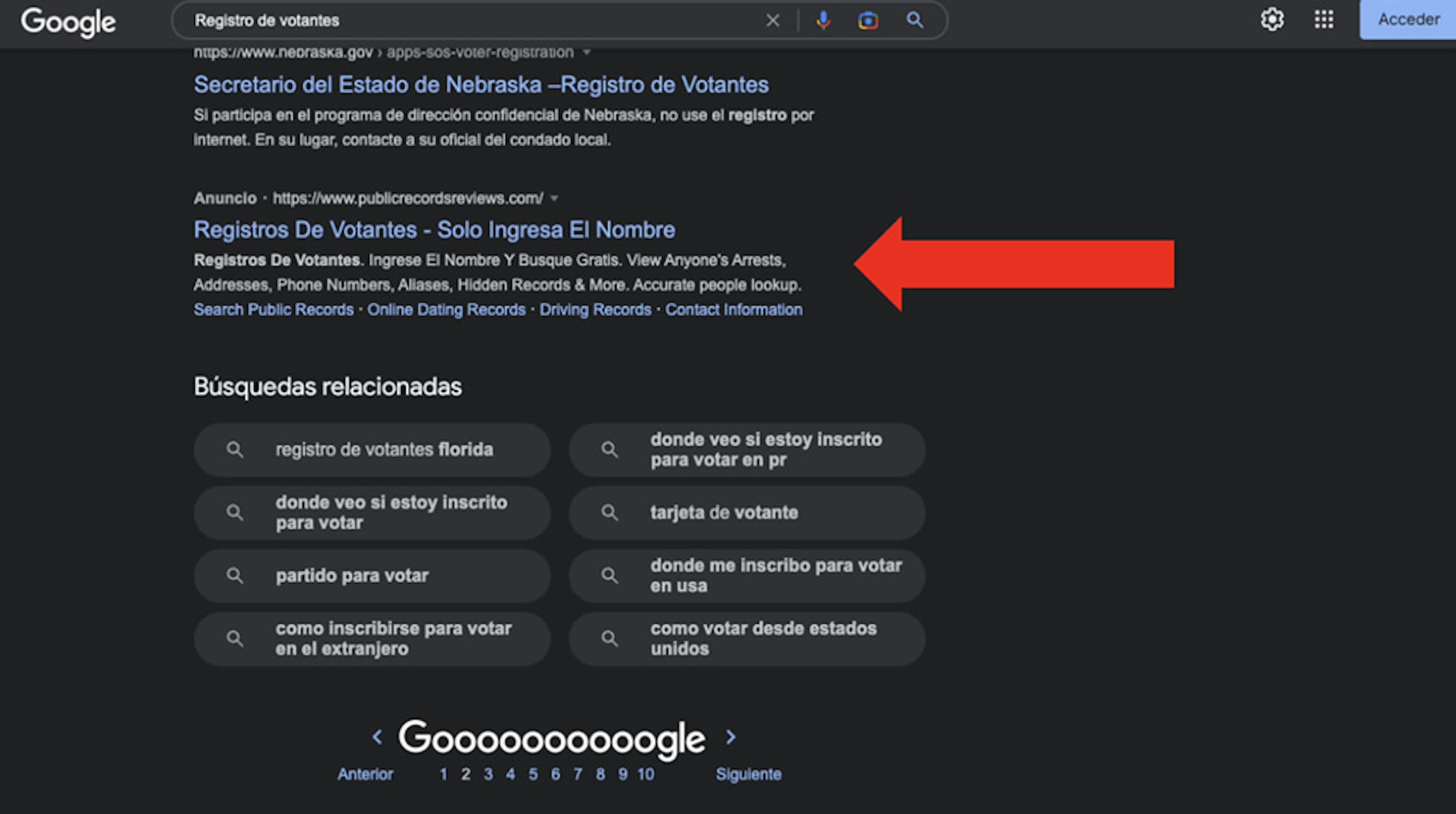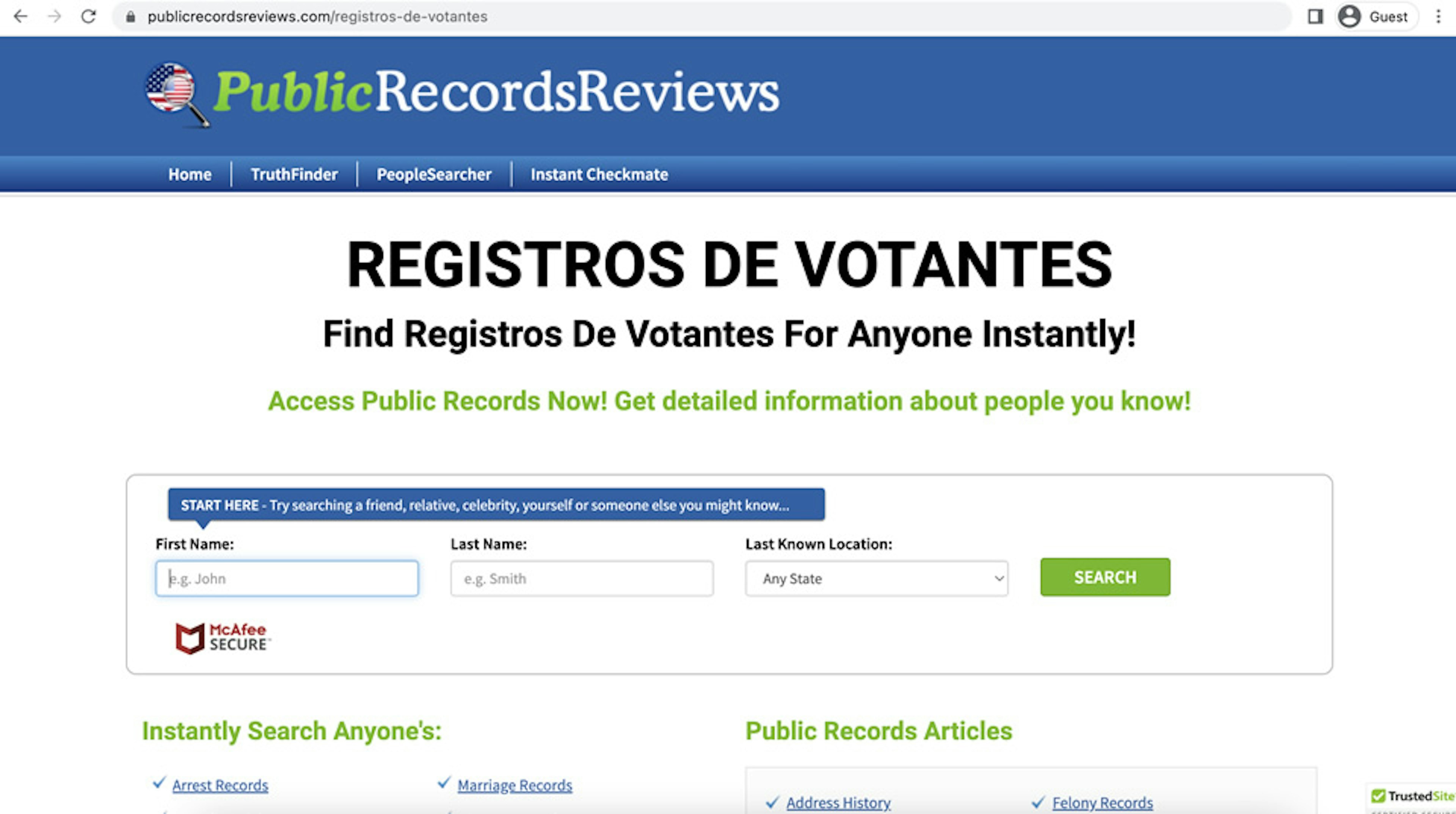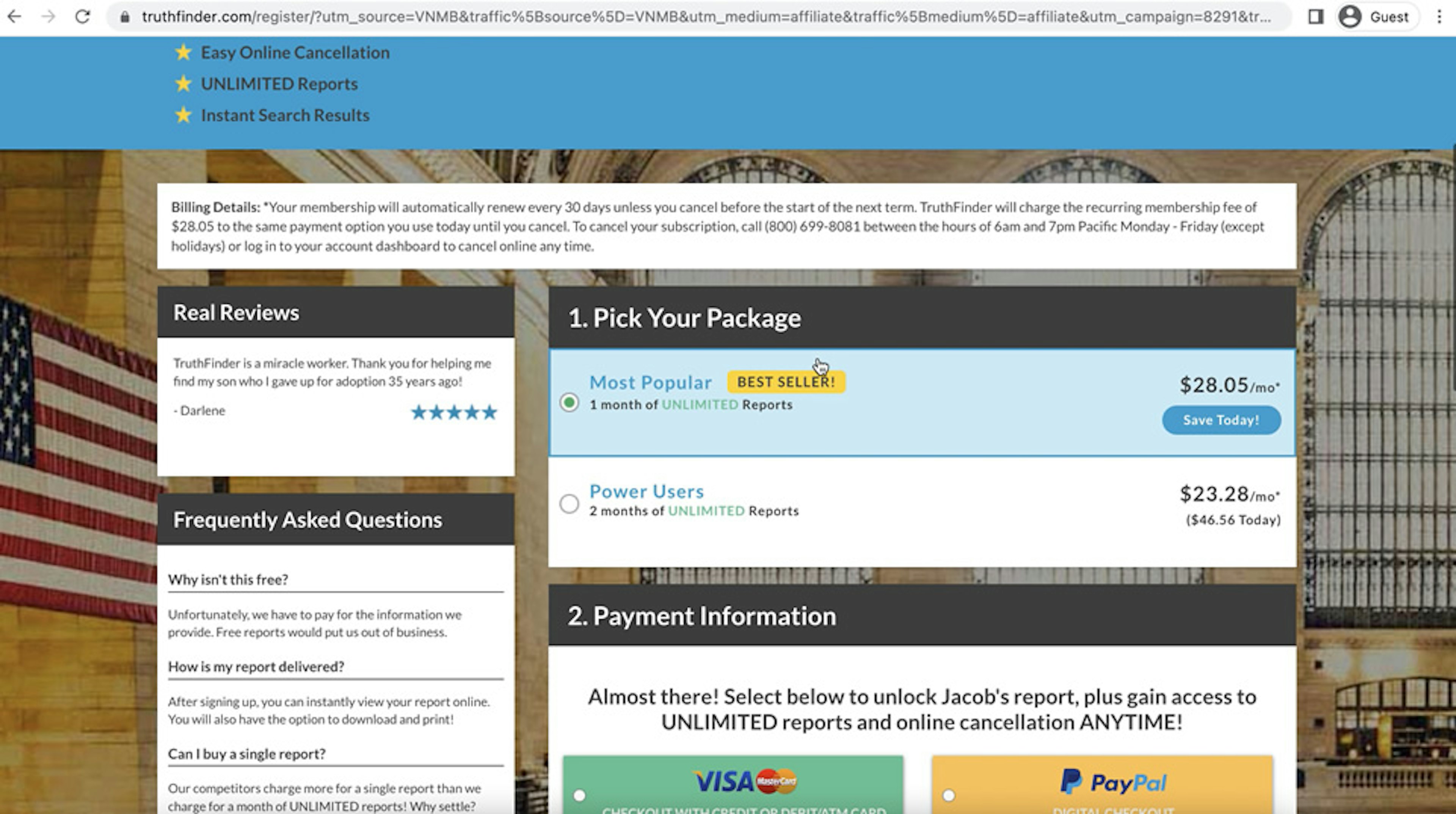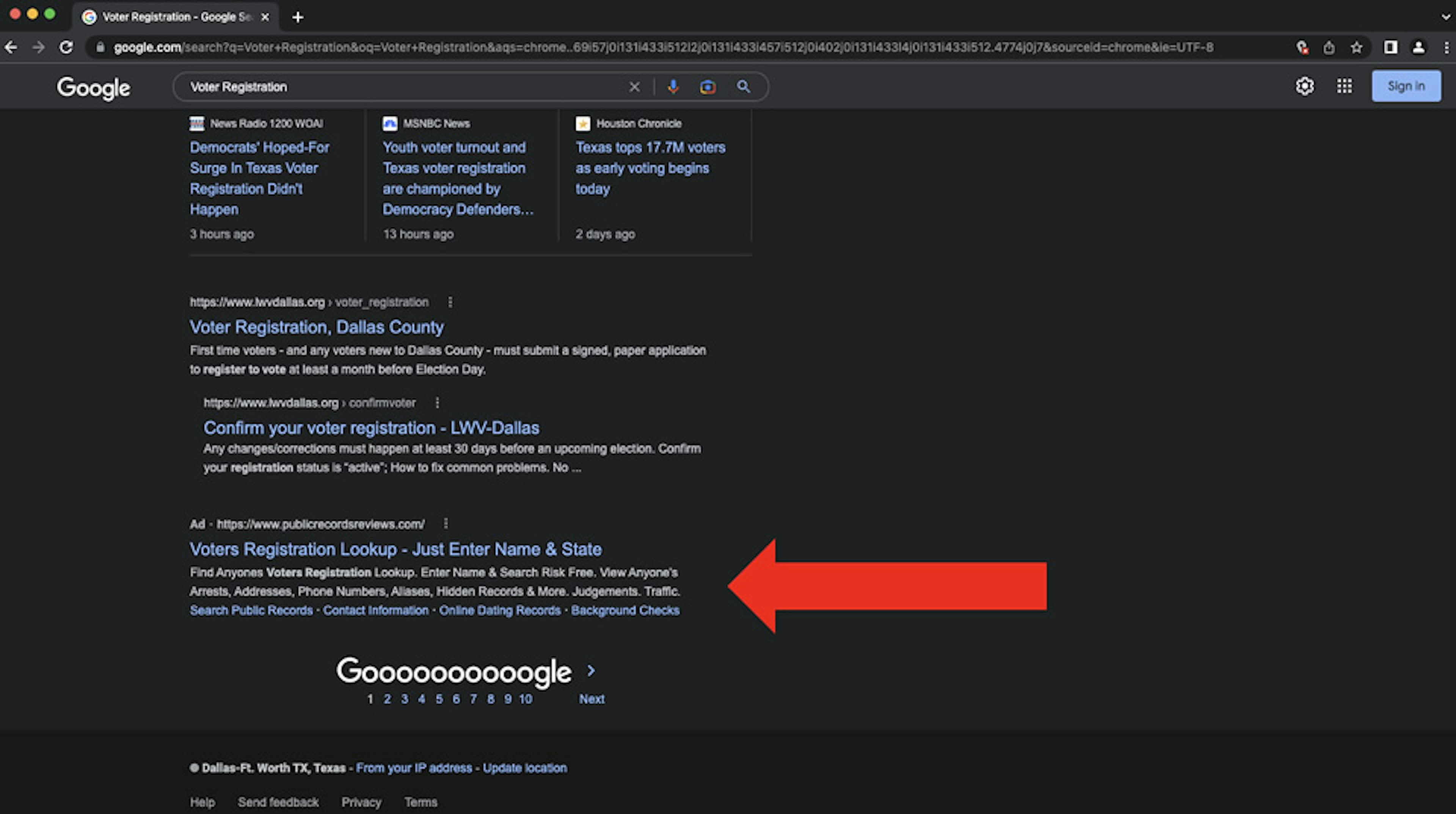 During its investigation, TTP also encountered an English-language ad ("Voters Registration Lookup – Just Enter Name & State") that directed users to the same website and took them through the same process, eventually asking for payment.
These ads violate Google policy, which bars ads that offer to assist "with applying or paying for official services that are directly available via a government or government delegated provider."
TruthFinder, the entity at the center of the ad campaign described above, is the subject of hundreds of complaints on the Better Business Bureau's website, including more than 300 complaints in the last three years. Customers have complained about reports containing inaccurate information, unfair billing practices, and more.
One complaint from October 2022 reads, "false info, scam, reoccurring charges that were not agreed to." TruthFinder responded on the BBB site, saying that inaccurate reports are "rare" and that the company's billing practices are "conspicuously explained" in its terms of use. Another user complained in September that they had an erroneous charge and tried to call the company numerous times only to get a message that the service was experiencing "technical difficulties." TruthFinder responded with similar language outlining its terms of use and said there are multiple ways to cancel an account.
Google claims it wants to be an authoritative source of information about the U.S. midterm elections, but the company is allowing and profiting from ads that can mislead Americans about voting. Until Google does a better job of enforcing its own ad policies on elections and voting, the company will continue to lead voters astray.