Google is helping scammers target Americans searching for information on student loan forgiveness, according to a Tech Transparency Project (TTP) investigation that highlights how the search giant allows the exploitation of vulnerable users.
President Biden has said he's nearing a decision on canceling some student loan debt, an issue that affects tens of millions of people. An estimated one in five Americans hold student loans, used to cover the soaring costs of higher education.
But anyone who turns to Google to find out more about Biden's plans or student loan relief more generally may encounter ads for services that charge questionable fees, impersonate government agencies, or try to harvest personal data for unclear purposes, TTP found.
Many of these ads appear to violate Google's own policies or fit the description of student loan scams as defined by the Federal Trade Commission. Some of the companies behind the ads are the subject of multiple consumer complaints to the Better Business Bureau.
This is not a new issue for Google. The U.S. government warned the company back in 2015 to be on the lookout for student loan scams seeking to lure distressed borrowers. At the time, Google said it works hard to "keep our advertising ecosystem clean."
But TTP's investigation shows that Google hasn't made its users safe from student loan scammers that put people's money and data at risk, raising questions about the company's promises to remove bad actors from its core advertising business.
President Biden is mulling over how to help the millions of Americans burdened with student debt, which totals $1.6 trillion. On the campaign trail, Biden said if elected he would immediately cancel at least $10,000 worth of student debt per person.
Since taking office, he has focused primarily on expanding pre-existing student debt relief programs. But he's said repeatedly that he's taking a look at student loan forgiveness. Recent reports suggest the president will make a decision later this summer. 
Biden's evolving stance on the student debt issue has attracted interest from Americans grappling with education loans. TTP set out to test what a Google user might experience when searching for information on this topic.
To start, TTP used Google Trends to compile a list of the top 20 student loan-related search queries, including "student loans," "Biden loan forgiveness," "student debt forgiveness," and "cancel student debt." Then, using a clean instance of a Google Chrome browser, TTP ran searches on each phrase and recorded all of the ads displayed alongside the first ten pages of search results.
In total, the investigation captured 242 ads placed by Google. Of those, TTP identified 29 as violating Google's policies or having scam characteristics—nearly 12% of the data set. That means more than one out of every 10 ads in these searches were of questionable quality.
Take the ad for Modify Student Loans, which appeared on a Google Search for "student loan forgiveness." Clicking on the ad directed users to a website where they are prompted to enroll in something called the "Federal Student Loan Forgiveness Program." Users then get presented with a contract requesting credit card information for a $39-per-month "24-hour support and the Department of Education's Annual Re-Certification."
According to Federal Trade Commission guidance on how to avoid student loan scams, it is "illegal for companies to charge you before they help you. If you pay up front to reduce or get rid of your student loan debt, you might not get any help — or your money back."
The government, meanwhile, offers a free tool to sign up and recertify an income-driven repayment plan, which can reduce monthly payment amounts.
Watch how it works:
The Better Business Bureau launched an investigation of Modify Student Loans in April 2021 based on reported scam activity, specifically that the business was "charging advanced fees and potentially providing services without proper licensing." BBB said the company did not respond to its requests for information about fees, licensing, sales scripts, and other business data.
Given that record, it's not clear why Google served up ads for this business. Google's advertising policies prohibit "enticing users to part with money or information through a fictitious business that lacks the qualifications or capacity to provide the advertised products or services."
TTP noticed that the Modify Student Loans website had a "coming soon" feature that will allow people to submit pay stubs or the first two pages of their tax return as proof of income—a feature that raises data security concerns. Google's policies bar advertisers from collecting personal data for "unclear purposes or without appropriate disclosures or security measures."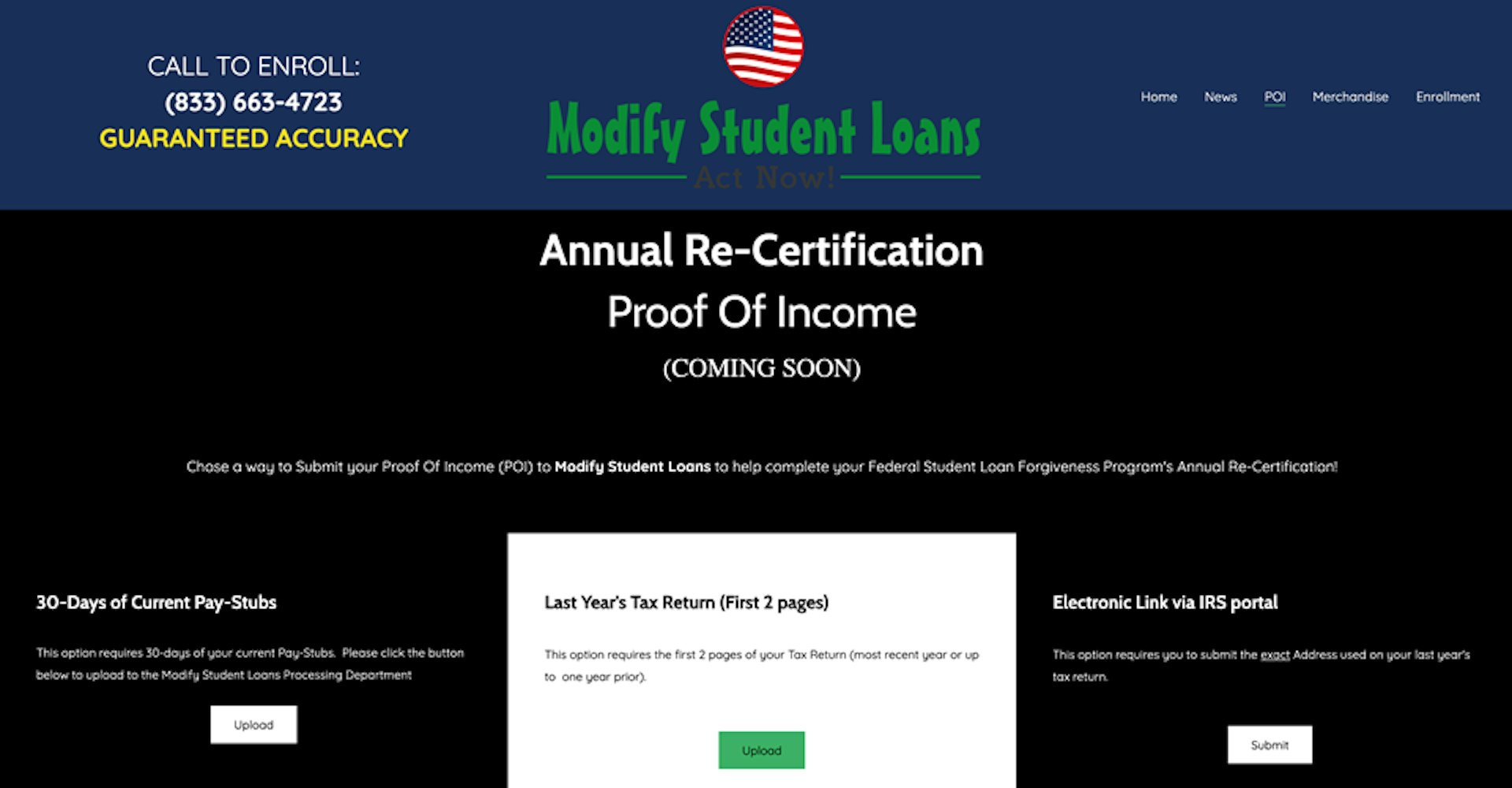 Google also served up an ad for the Credit & Debt Management Institute (CDMI) on a search for the phrase "student loan repayment." The ad read, "Owe Student Loan, Don't Pay" and "Learn About the New Government Program, and How You Can Benefit From It." Clicking on the ad directed users to CDMI's website, but the site made no mention of a government program as promised in the ad.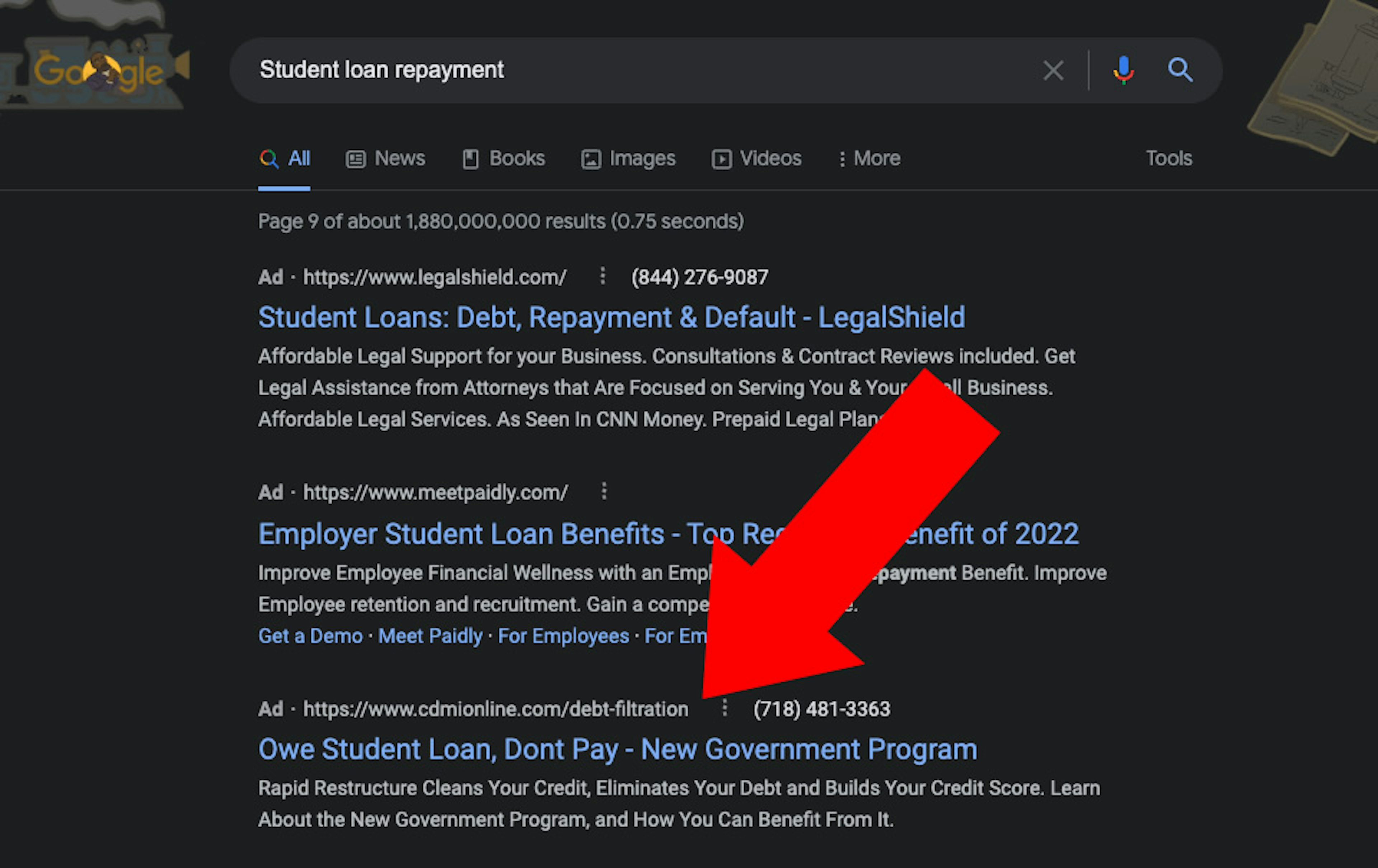 Instead, CDMI claimed it can improve people's credit scores. Customers were offered the choice of different plans, ranging in price from $1,250 to $5,000—with an upfront payment required. This appears to be the kind of tactic that the FTC warns consumers to avoid.
On its website, CDMI used language like, "We guarantee the boosting of your score to 620," but in response to a customer complaint to the Better Business Bureau, it wrote, "We are not a credit repair company." Google's policies bar advertisers from "making inaccurate claims or claims that entice the user with an improbable result," and taking money from users without being able to provide the service.
TTP identified another Google search ad with the message, "Bye student loans - $0 payment." The advertiser, Lead Source USA, said it can "drastically lower or eliminate" student loan payments but said its forgiveness programs are only "available for a limited time."
That "limited time" offer may be a red flag. According to the FTC, student loan scammers "say you could miss qualifying for repayment plans, loan consolidation, or loan forgiveness programs if you don't sign up right away." The agency warns consumers not to be rushed.
TTP filled out a contact form on Lead Source USA and received an email from a representative of another entity called Trust Arrow USA, who urged us to get in touch as soon as possible. The email touted Trust Arrow's A+ rating from something called the Consumer Loan Bureau.
The Consumer Loan Bureau website gave the impression that it's a federal government agency, but it is not part of the government. A banner at the top of the site featured an American flag and text that read, "official website of the United States Consumer Loan Bureau Department." (The design is remarkably similar to what you can find on a real Department of Education site.) The Consumer Loan Bureau also referred to itself as "a United States consumer advocacy agency." TTP was only able to find one rating on the Consumer Loan Bureau site—for Trust Arrow.
Posing as a government agency is a tell-tale sign of a student loan scam, according to the FTC, which warns that "scammers use official-looking names, seals, and logos" to attract consumers. Google's ad policies, meanwhile, prohibit "misstating information about the advertiser's business" and "making misleading statements, obscuring, or omitting material information about your identity, affiliations, or qualifications."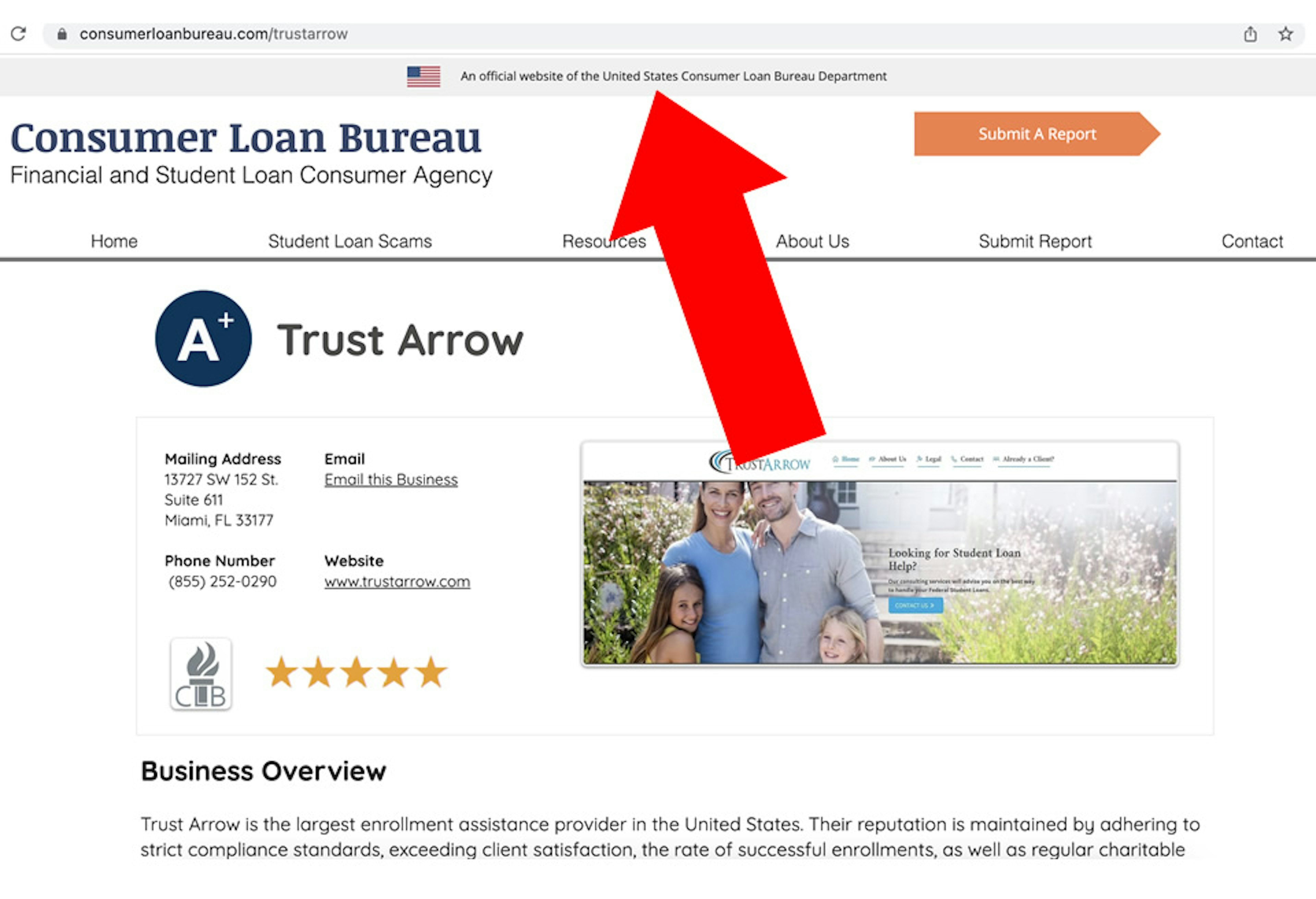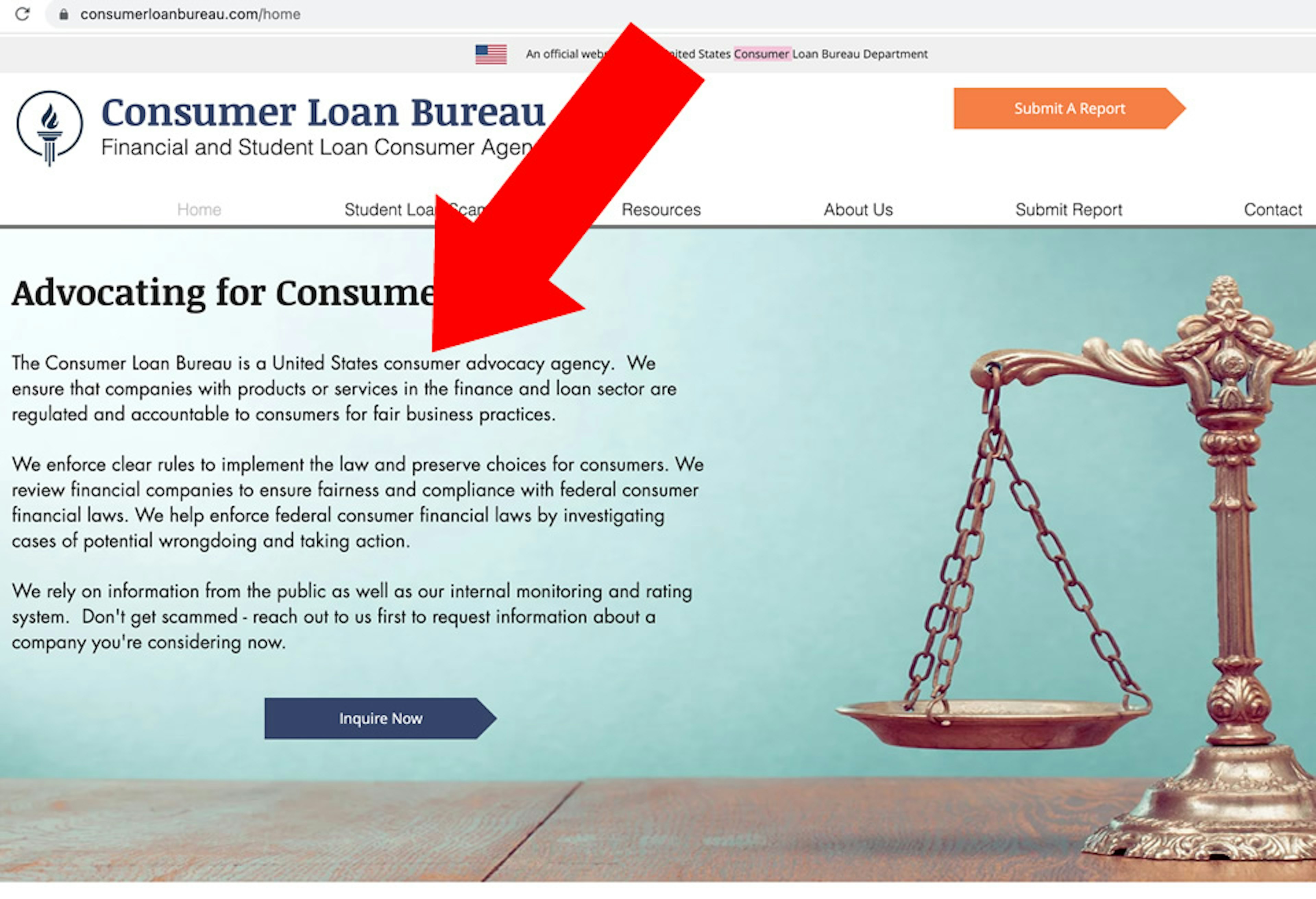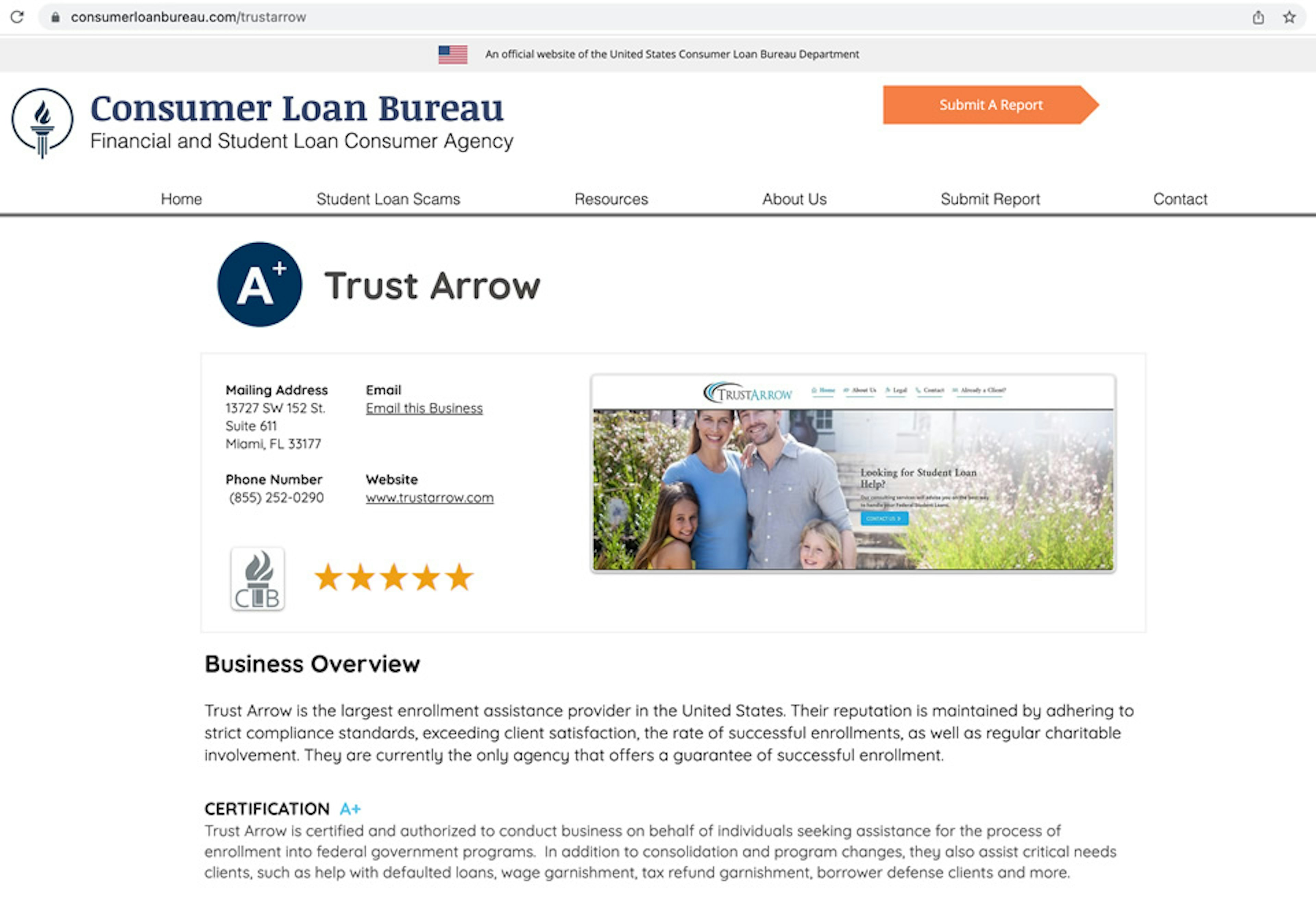 A Better Business Bureau alert indicates that Lead Source USA and Trust Arrow USA are part of a web of student loan entities linked to a single individual. One of the Trust Arrow entities has racked up 18 complaints on the BBB site.
One of the complaints accuses Trust Arrow of "Fraudulent representation of being associated with Department of Education and saying they are authorized by the DoE to process student loan refinance." Another person writes: "I was scammed" and "these people told me that they could consolidate my student loan debt and after so many months it would be a thing of the past." Another complained: "I was told they would be handling my loans. I am now left with all my loans still on default and I've paid them $1000. I would like my money back now."
Trust Arrow denied it was a scam in responses to complaints on the BBB site and defended its practices, writing, "Our service is valuable and well reputed. We stand by and fulfill all our services and obligations to customers, as our contract obligates us."
As noted previously, Google says it doesn't allow advertisers that entice "users to part with money or information through a fictitious business that lacks the qualifications or capacity to provide the advertised products or services."
TTP's investigation also found a dozen search ads that appeared to be coming from the same network. The ads had messages like "Student loan forgiveness – Apply now become debt free" and "Student Loan Forgiveness – Call Now – See If You Qualify" and linked to a pair of websites, Student Loans Resolved and FSD, which evidently stands for Forget Student Debt.
The two websites indicated they were affiliated with Documents Done Right and Allied Financial Services. An entity called Documents Done Right has 73 complaints listed at the Better Business Bureau. One typical complaint reads, "Scammed me. Hired them to help with student loans. They did nothing." Documents Done Right responded to the complaints, saying the customers had signed an agreement and received the requested documents. According to the BBB, the company is no longer in business as of November 2019. Documents Done Right has also racked up a number of scam complaints on Reddit.
Allied Financial Services, meanwhile, has 49 complaints lodged against it at the BBB. One complainant wrote in Feb. 2022 that they paid nearly $800 and couldn't reach the company after that, warning, "I believe this is a scam." The company responded that the customer was "confused about his program process" and that the matter had been resolved, but the customer disagreed.
Both the Student Loans Resolved and Forget Student Debt websites asked visitors to fill out a questionnaire with their name, email, phone number, student loan debt and credit card debt, to receive a free consultation. But a close read of the sites' privacy policies indicates they reserve the right to make user data available to a vague and broadly defined category of "agents, website vendors and/or contractors who may use it on our behalf or in connection with their relationship with us." Google's policies say advertisers should not misuse personal information or "collect it for unclear purposes."
After filling out the questionnaire on Student Loans Resolved, TTP received an email from "Mason at Allied" prompting us to schedule a call with a specialist. But Gmail's own security systems flagged the email with the warning, "This message seems dangerous," adding, "Similar messages were used to steal people's personal information. Avoid clicking links, downloading attachments, or replying with personal information."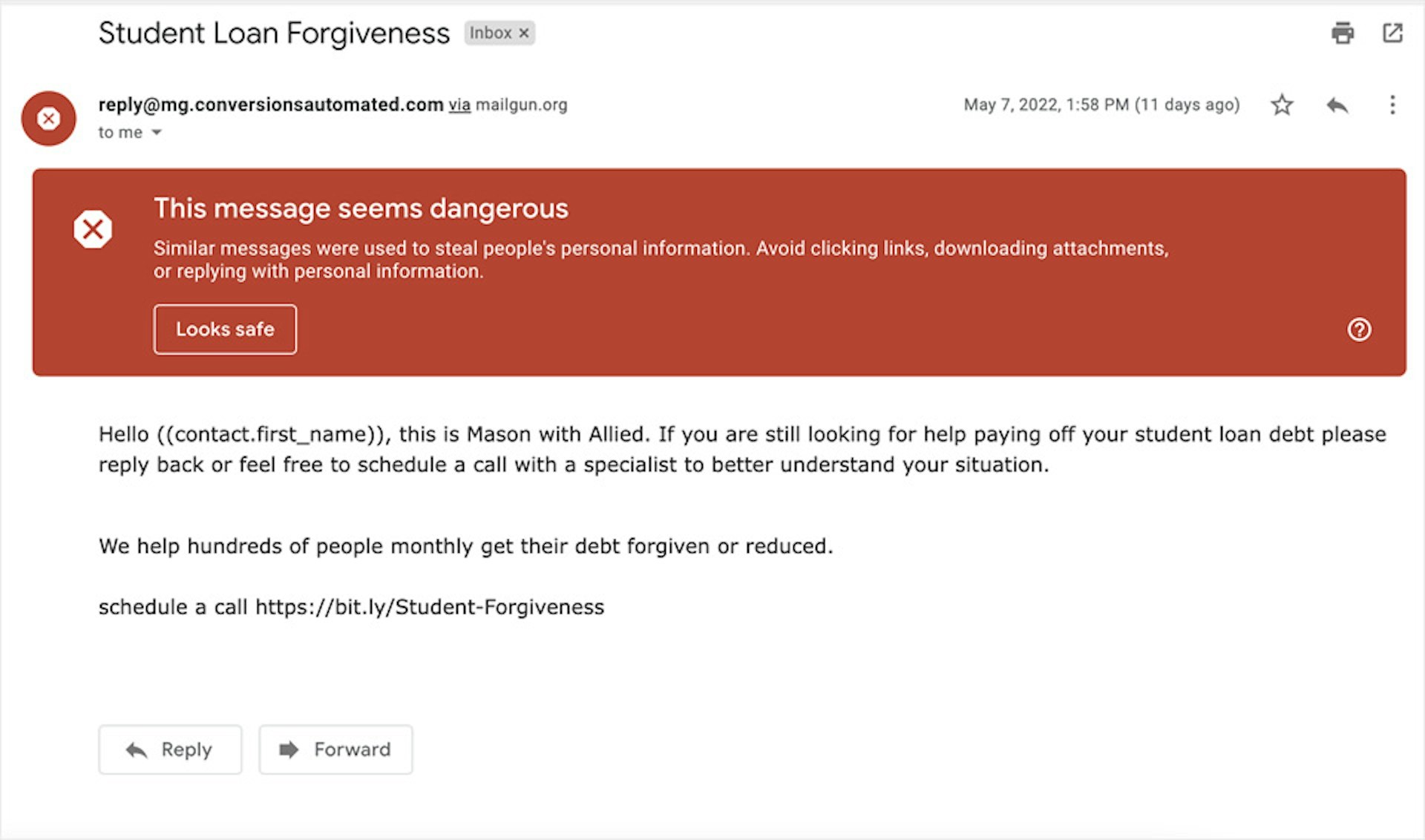 TTP's investigation shows that Google, by subjecting Americans to scam ads when they search for information on student loan forgiveness, allows questionable actors to prey on people who may already be in a financially vulnerable position.
This is a chronic problem not just isolated to student loan-related queries. Previous TTP reports found scam ads on Google when users searched for information related to stimulus checks and voting information.
Google has policies in place that prohibit these kind of ads from appearing, but until it improves its enforcement of these policies, scammers will continue to run rampant on its platform.