Google has failed to remove exploitative ads that prey on Americans seeking information on how to vote, according to an investigation by the Tech Transparency Project (TTP) and Common Cause, despite the company's pledge three months ago to clean up the problem.
The investigation found that searching for terms like "absentee ballot," "early voting," and "vote by mail" in a selection of battleground states generated more than 70 ads for sites that try to plant unwanted software on people's browsers or direct them to low-quality search sites that serve up questionable results. This could frustrate some voters and lead them to abandon their search for election information altogether.
After TTP first highlighted the problem in a June report, Google told media outlets it had removed some of the ads that charged large fees to register to vote or sought to harvest user data. But the new research shows that Google is allowing some kinds of misleading ads to continue, just weeks before the November election, at a time when many people are preparing to vote by mail or visit early voting locations.
The dynamic underscores how Google is unable—or unwilling—to fix problems in its advertising apparatus, even on a topic like voting that is the subject of intense national attention and that Google has promised to monitor closely.
"Common Cause is dedicated to protecting eligible voters from being disenfranchised, and that includes online deception and misinformation," said Jesse Littlewood, Vice President for Campaigns, Common Cause. "The Tech Transparency Project first highlighted problems with Google's advertising product with voting-related searches back in June. But this research shows these problems continue to persist on the platform."
New Google searches between Sept. 3 and Sept. 22 found that users seeking basic information about voting are still inundated with confusing and exploitative ads.
The research identified at least 73 ads for so-called browser hijackers and "search arbitrage" sites targeted to users searching for "absentee ballot," "early voting," "vote by mail," "how to vote," "register to vote," and other election-related terms in the battleground states of Pennsylvania, Arizona, Texas, Georgia, Colorado, North Carolina, and Florida.
Browser hijackers are deceptive browser extensions that prompt people, often unwittingly, to install software that routes them to ad-laden sites and may mine their personal data. Search arbitrage sites are low-quality search sites that take out ads on Google to lure users and often serve up sketchy results, including links to other arbitrage sites and browser hijackers. The goal in both cases is to keep users on search pages as long as possible so that they see more ads.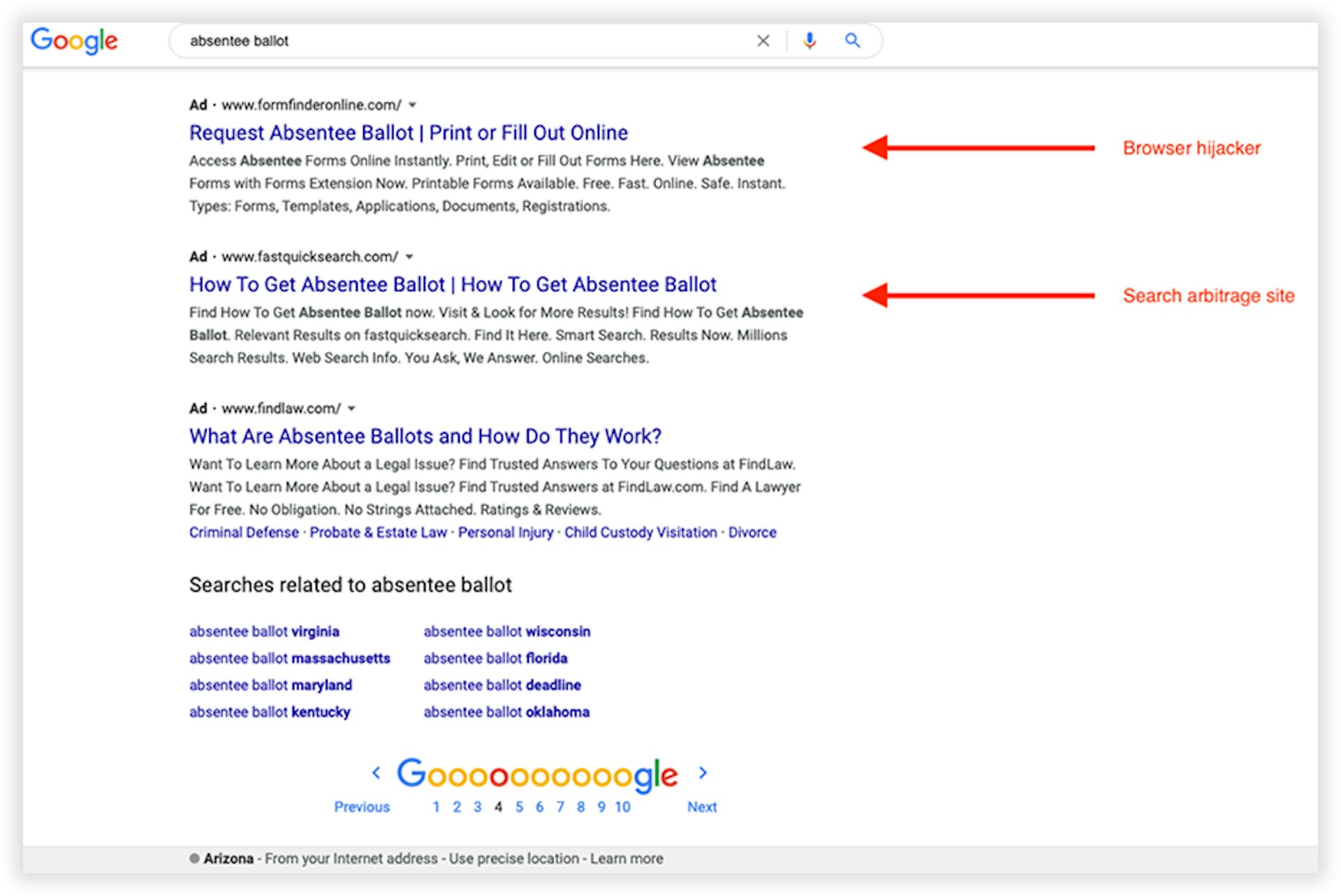 These types of sites appear to violate Google's advertising policies, and run counter to Google's pronouncements about protecting election integrity. Google has pledged to provide voters with "authoritative and objective information" and "tackle abuse on our platforms and help you navigate the democratic process before you head to the ballot box on November 3." 
The fact that such manipulative ads continue to pop up on voting-related searches is all the more alarming, given that Americans are showing a surge of interest in mail-in ballots amid the coronavirus pandemic as well as early voting.
Browser hijacker sites frequently promise easy access to government forms or other types of information. People who follow the instructions, however, often unwittingly allow their browser settings to be modified in a way that routes them to a succession of low-quality sites that serve up more and more ads.
Developers of these browser hijackers can use the extensions to mine and sell user data, including to cybercriminals.
Some 13 of the ads identified by the investigation pointed to a site called "Form Finder Online." The site tells users that their absentee ballot form is available and presents them with a download button, but clicking the button doesn't lead to any election documents. Instead, it leads users to the installation page for a browser extension called GetFormsOnline. Installing that extension automatically prompts users to install another extension that changes the default search engine in their browser, routing them to an ad-choked arbitrage site to continue their search.
Watch how it works:
This activity is continuing despite Google's strict policy regarding unwanted software. The company states, among other things, that software marketed through Google should not be "deceptive," "trick users into installing it," or fail to inform users of "all of its principal and significant functions."
A total of 60 of the problematic Google ads identified by the investigation pointed users seeking voting information to low-quality search arbitrage sites.
The experience of a Google user in Arizona provides one example of how this works. A user searching for "polling place" from Maricopa County, Arizona, encountered three ads for search arbitrage sites on the first page of Google results. Clicking on any of these links took the user to pages that are designed to resemble Google, but are laden with ads that often point to other search arbitrage sites and browser hijackers.
And the design of these arbitrage sites could mislead users. The ads are shown first, followed by the related search block, which is typically the end of the results in a quality search engine. A user would have to scroll down after related searches to get to the actual organic search results responding to their query.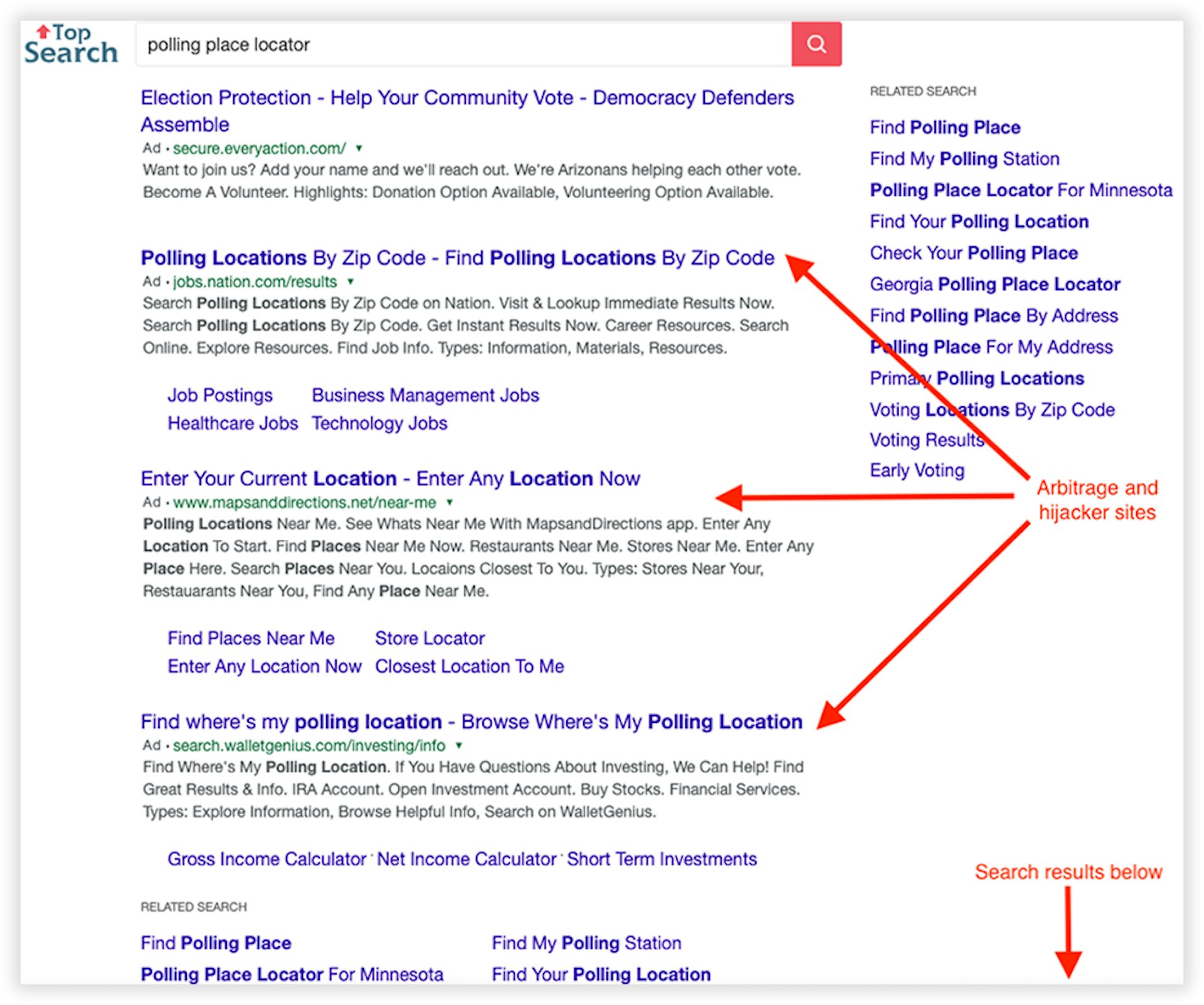 It's easy to see how this kind of morass could cause a voter to give up their search without finding the information they need.
As TTP pointed out in June, these ads appear to violate Google's policies.
Google explicitly bans "driving traffic (through 'arbitrage' or other methods) to destinations with more ads than original content, little or no original content, or excessive advertising." The company also prohibits ads that direct users to "doorway, gateway, [and] other intermediate pages that are only used to link to other sites."
This isn't the first time Google has faced questions about the quality of its search ads. TTP earlier this year found that the company was allowing scammers to target anxious Americans searching for information about coronavirus stimulus checks. That report also included examples of browser hijackers and search arbitrage sites.
Google's recent design decisions may have made the problem worse. The company in January gave search ads the same type face and color scheme as organic search results, likely making it harder for some people to distinguish ads from other kinds of content.
For a company that trumpets its belief that "American democracy relies on everyone's participation in the political process," Google has been notably slow and ineffective in its efforts to clean up ads that could discourage Americans searching for how to vote.