Google is serving misleading ads for so-called crisis pregnancy centers to users searching for information about how to get an abortion, according to a new Tech Transparency Project (TTP) investigation that highlights the search giant's failures to enforce its own advertising policies.
The ads identified by TTP suggest they can help women obtain an abortion, with messages like "Free Abortion Pill" and "First Trimester Abortion." But they link to crisis pregnancy centers, fake clinics that pose as abortion providers to lure in "abortion-determined" women. The centers do not offer abortions but instead try to encourage women to carry unwanted pregnancies to term.
These ads appear to violate Google's policy on misrepresentation, which prohibits ads that "deceive users" by "providing misleading information about products, services, or businesses." Google also bars ads that pretend to "provide critical services that result in a delay to the user receiving treatment or medical help."
The findings raise questions about Google's process for vetting ads on its platform. Over the past two years, TTP has documented a number of cases of Google allowing search ads that violate its polices, by pushing scams related to federal stimulus checks, voter registration, and most recently, student loan debt relief.
The crisis pregnancy center ads examined by TTP included a small-type label that reads, "Does not provide abortions," but it's easy to miss, with the eye drawn instead to the bolded, blue text of the ad's misleading headline.
Google began requiring such labels on abortion-related search ads in 2019. In the wake of the Supreme Court decision striking down Roe v. Wade, Google indicated it would do the same with abortion-related search results and Google Map locations. But TTP's investigation shows that even when such labeling occurs, Google still allows abortion-related content that violates its own policies to reach users.
For this investigation, TTP conducted a series of Google searches for an abortion provider and examined the ads that Google served on each of those searches.
TTP used a clean, logged out version of the Google Chrome browser with no prior browsing history to avoid biasing results. For location-specific searches, our researchers used a virtual private network (VPN) service to make it appear as if they were searching from a location relevant to the search.
We quickly found more than a dozen questionable crisis pregnancy center ads. For example, when our test user searched for "Where can I get an abortion in Illinois," Google served an ad for a "Free Abortion Pill." But the ad was for Prestonwood Pregnancy Center, a crisis pregnancy center based in Texas.
Prestonwood offers pregnancy tests, ultrasounds, and testing for sexually transmitted diseases. While some of the content on the Prestonwood website purports to provide information about abortion, the center's "About Us" page contains a disclaimer that states it does not offer abortions or abortifacients (drugs that can induce an abortion).
Like other crisis pregnancy centers, Prestonwood Pregnancy Center is religiously affiliated. At one point, it operated a clinic across the street from a Planned Parenthood facility in the Dallas area—a common tactic of these centers.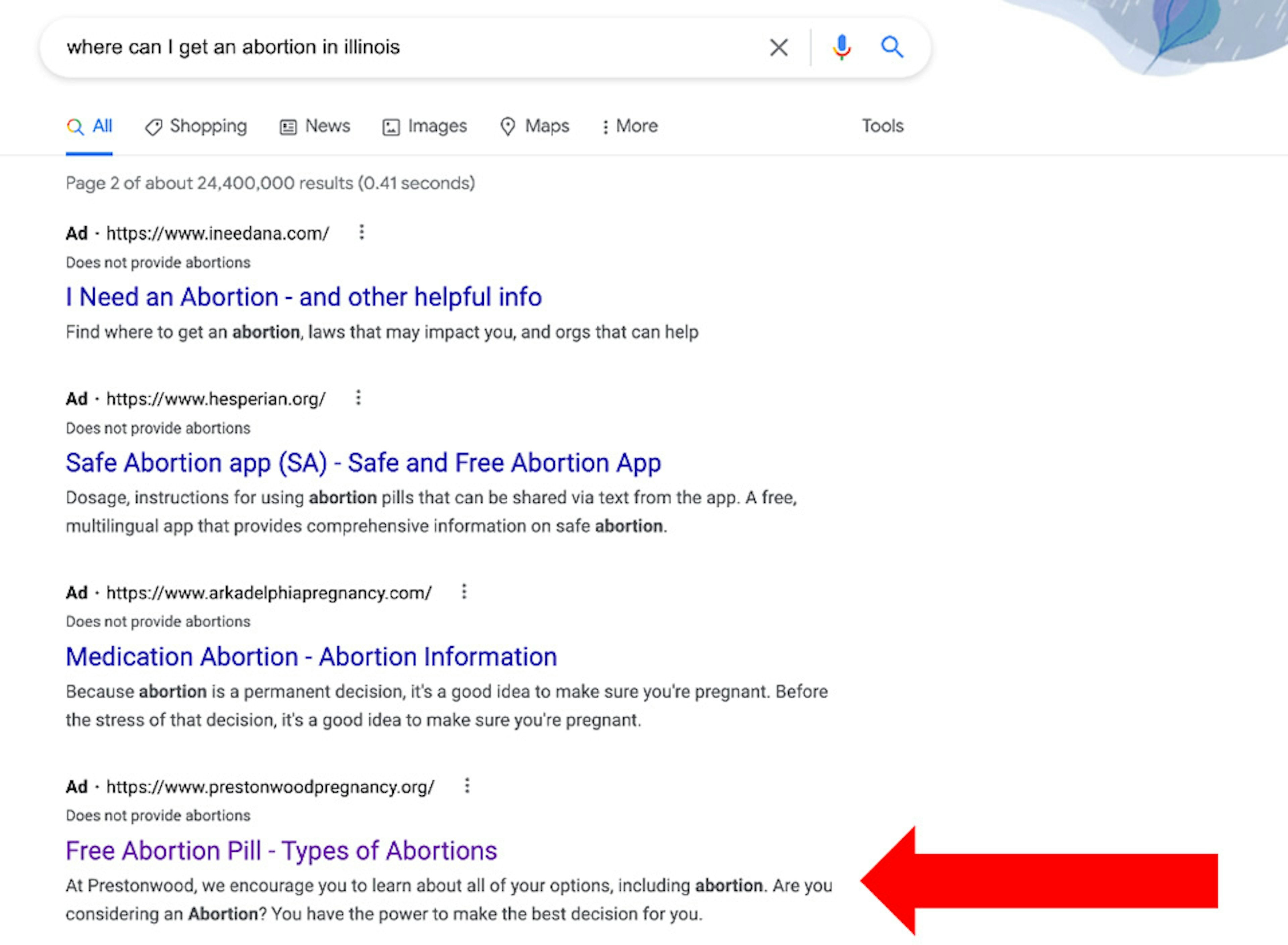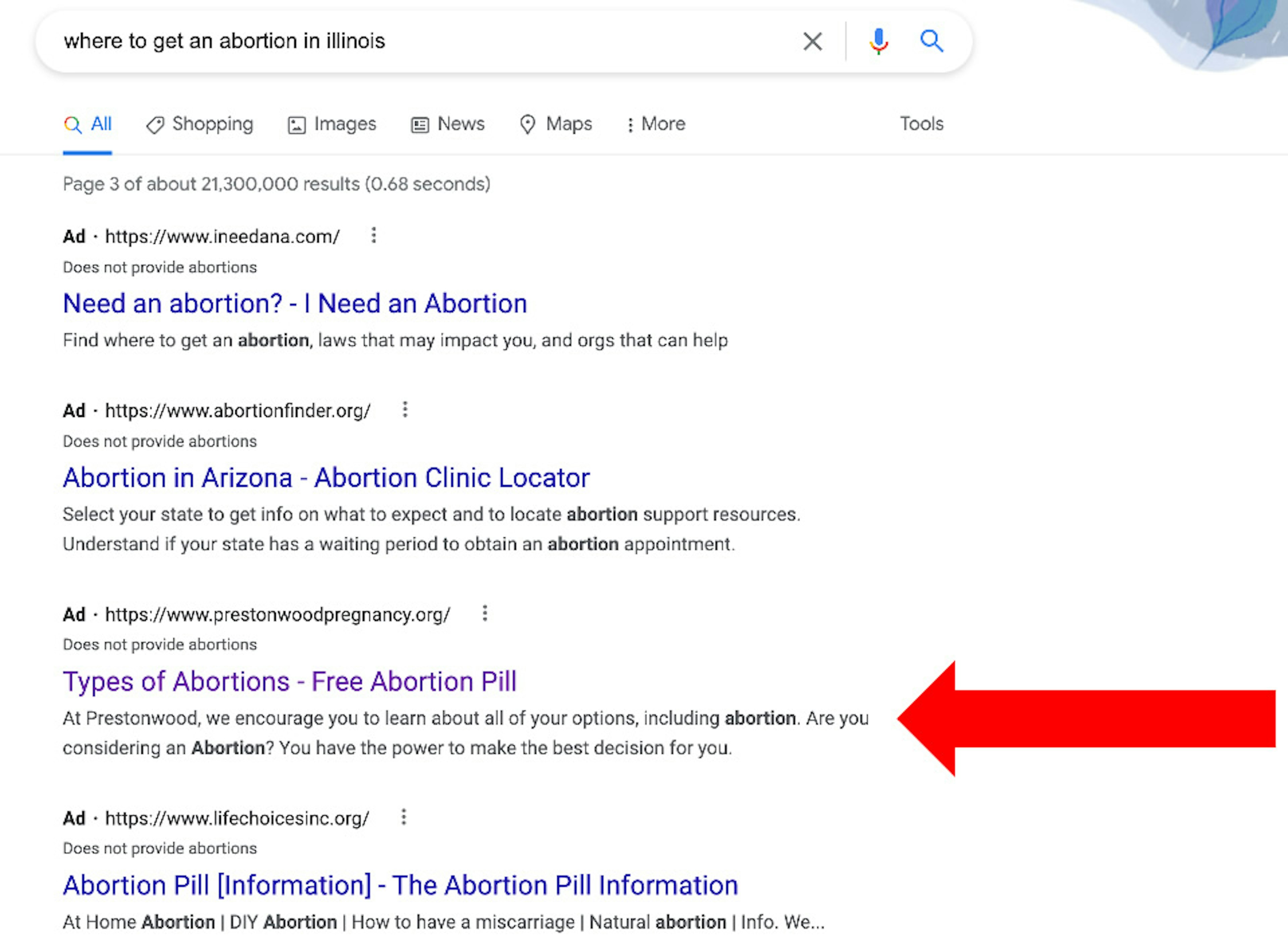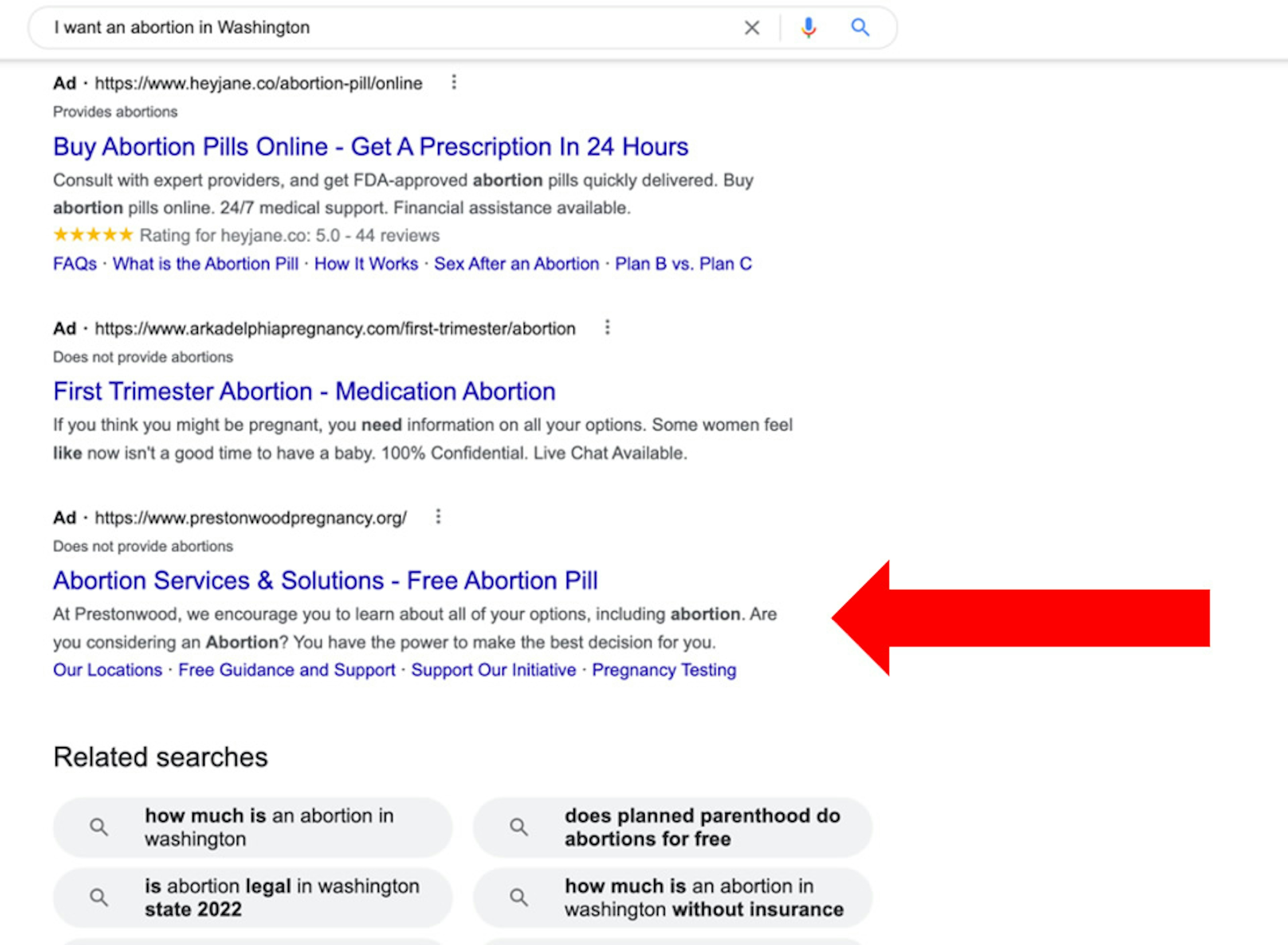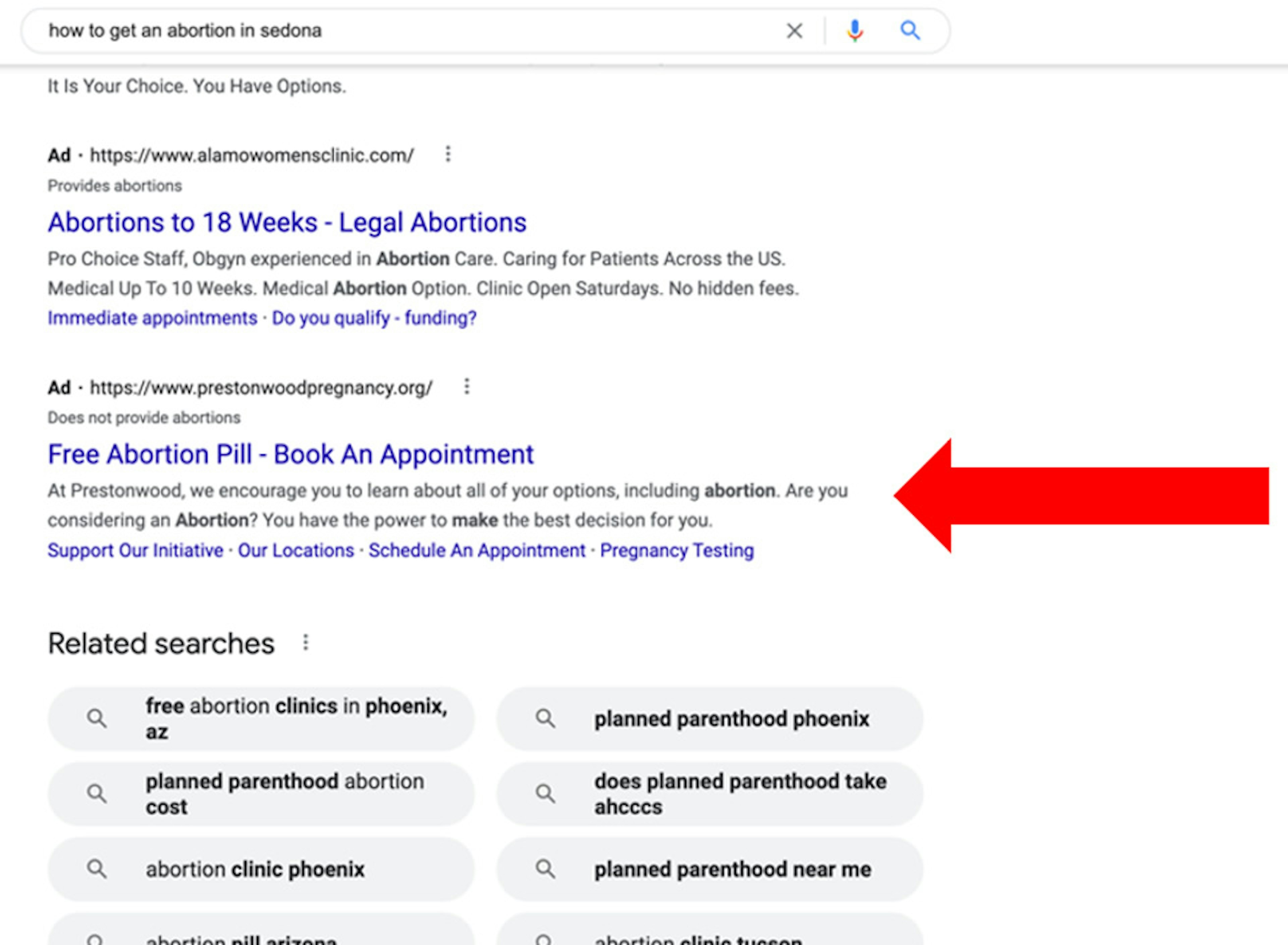 Prestonwood ads featuring the "Free Abortion Pill" phrasing turned up repeatedly in TTP's tests. The ads appear to be a clear violation of Google's policy against "giving misleading information about products, services, or businesses." They may also violate Google's prohibition against "Pretending to provide critical services that result in a delay to the user receiving treatment or medical help."
Google is allowing this misrepresentation even though it knows that Prestonwood Pregnancy Center does not provide abortions. Google affixed a label stating as much on the Prestonwood ads. According to Google, advertisers seeking to run abortion-related search ads must go through an application and certification process to determine if they do or do not provide abortions, to allow for proper labeling. That means Google is well aware of Prestonwood's profile, but did not stop the organization from running misleading abortion ads.
The "Free Abortion Pill" language of the ads may be an effort to counter Google's labelling. Users who read the "Does not provide abortions" label could interpret it to mean that Prestonwood does not provide in-office surgical procedures, but does offer abortion pills, which are typically taken at home.
When TTP did another search for "I want an abortion in Washington," Google served an ad with  the message "Ending a Pregnancy Naturally," suggesting it can assist with an abortion.
Clicking on the ad takes users to the website of an organization called Life Options, based in Washington state. Life Options calls itself a "trusted pregnancy and sexual health center, providing professional and confidential care at no cost to you." But a review of its website shows it does not offer abortions—only pregnancy tests, ultrasounds, STD tests, and "options education."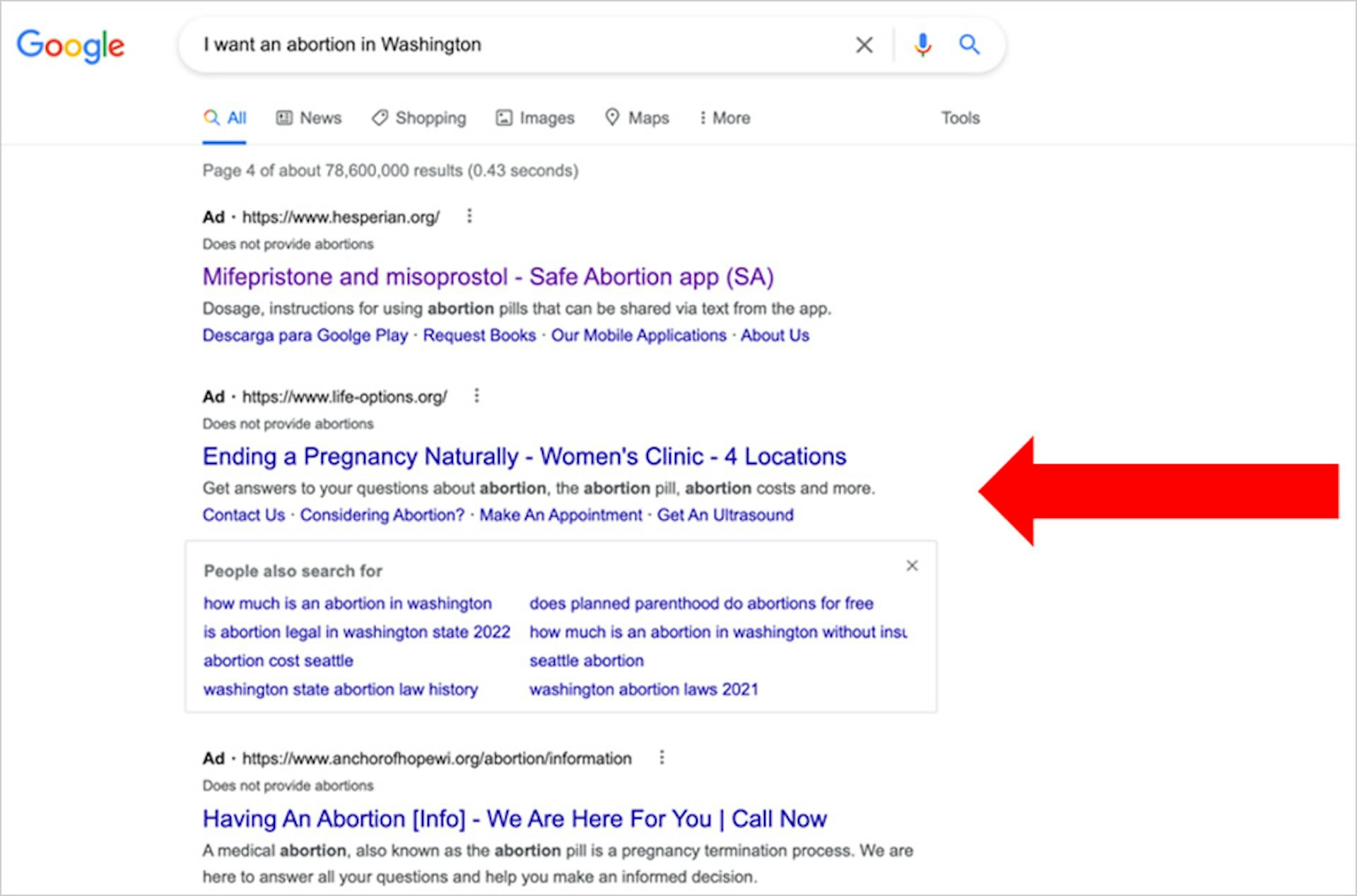 Other TTP searches for abortion providers generated Google ads for a Virginia-based organization called Mosaic.
One Mosaic ad targets those "Facing an Unplanned Pregnancy" and "Considering OTC Options," implying it can help women terminate their pregnancy with over-the-counter products. Another ad reads "No Insurance Needed – Call Now – Abortion in Virginia," suggesting it can help uninsured women get an abortion.
Clicking the latter ad takes users to a page on Mosaic's website that reads, "NO COST & NO INSURANCE NEEDED," repeating the ad's message. However, a small disclaimer at the bottom of the page states, "We do not perform nor refer for abortions." Instead, Mosaic offers services typical of a crisis pregnancy center: pregnancy tests, ultrasounds, and STD testing.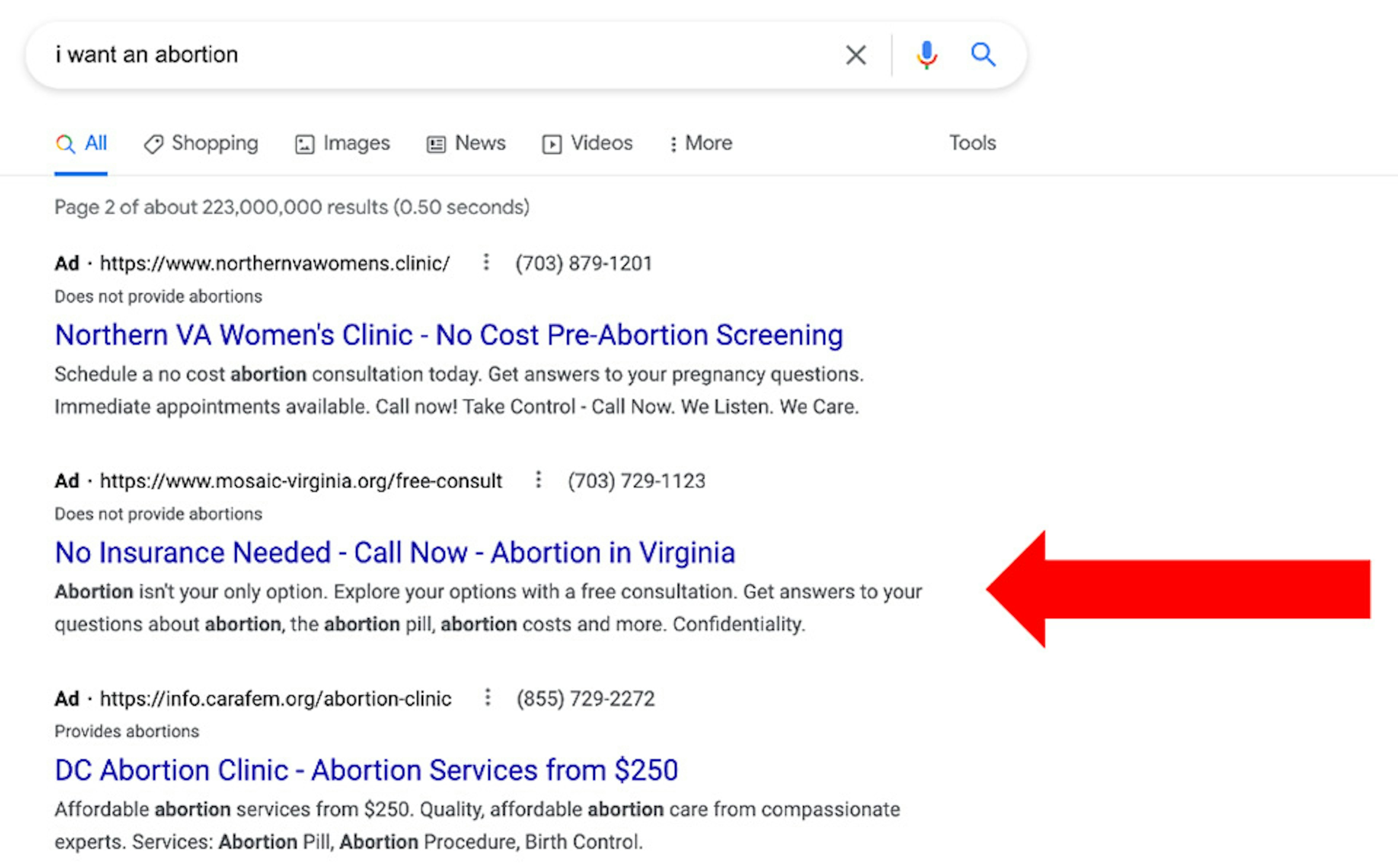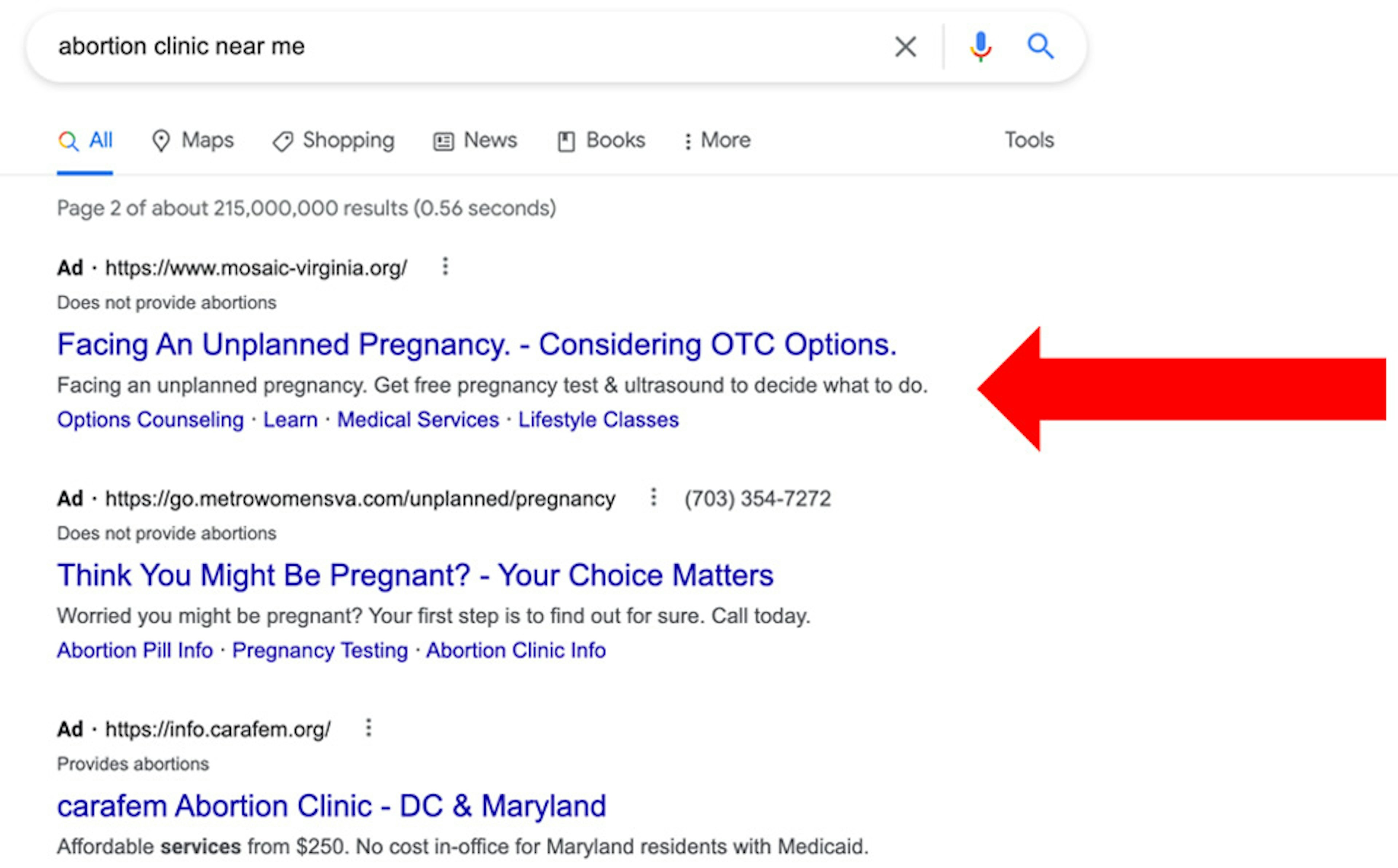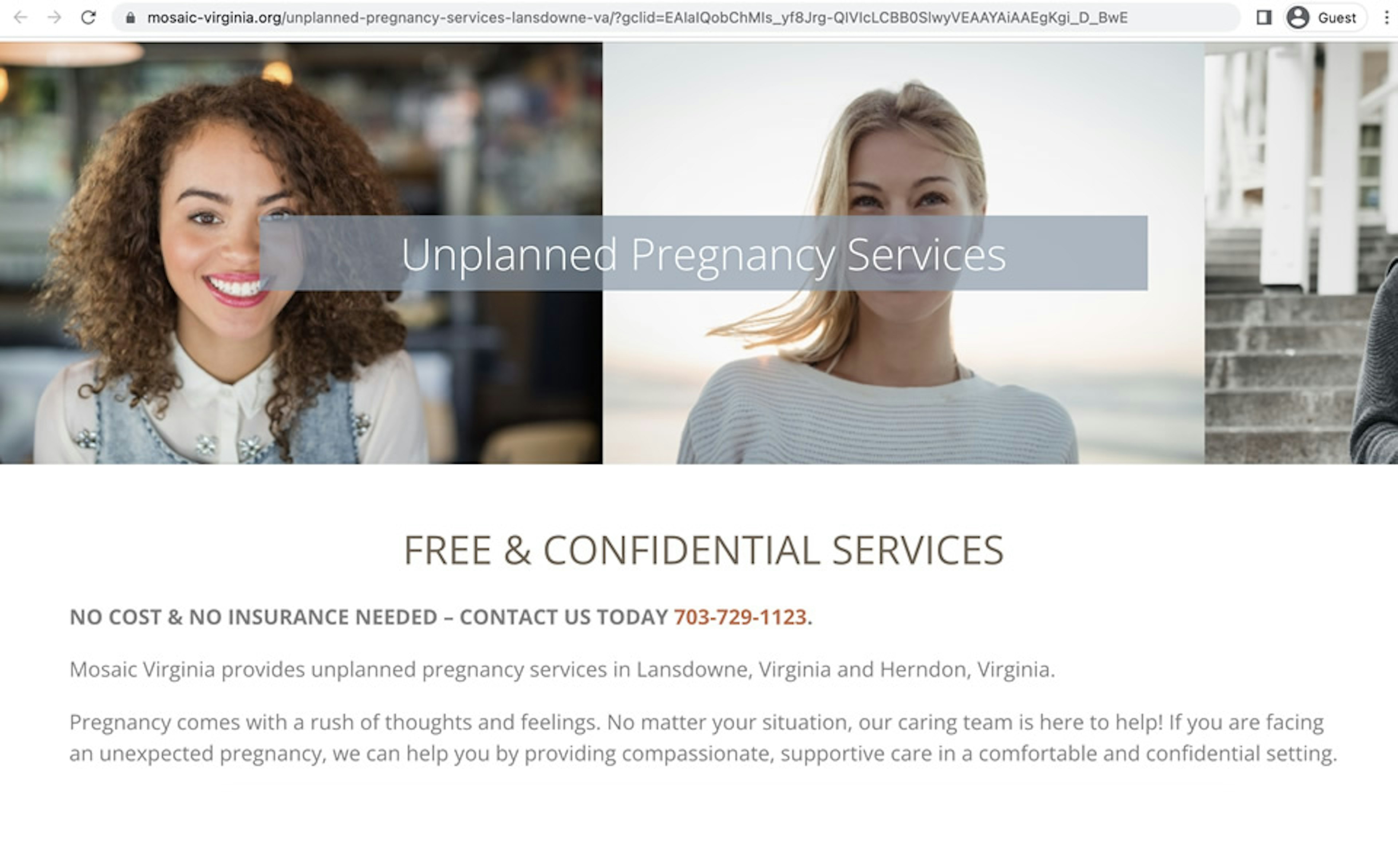 Google knows that Mosaic does not provide abortions because it put a label on these ads indicating as much. It's not clear why Google failed to catch the misrepresentation.
Google has said that its systems "continuously monitor ads and content for policy compliance" through a "combination of people and technology," and it also boasts an interdisciplinary team that reviews "everything from the ad creative to the landing page." In the case of Mosaic's "No Insurance Needed" ad, the headline suggested an abortion service while the ad's landing page made clear the organization does not provide abortions—which Google, according to its own procedures, should have caught.
The "no insurance needed" and "free" language in the crisis pregnancy center ads examined by TTP appear to be aimed at a certain demographic. According to the Guttmacher Institute, a nonprofit research center that focuses on reproductive rights, "Women who seek care at crisis pregnancy centers are disproportionally young, poorly educated or poor," and "are likely to be drawn to crisis pregnancy centers' prominent advertisements of their free services."
Another Google search ad identified by TTP reads, "First Trimester Abortion – Medication Abortion," which linked to the Pregnancy Resource Center for Southwest Arkansas. This crisis pregnancy center states on its website that it does "not offer, recommend or refer for abortions."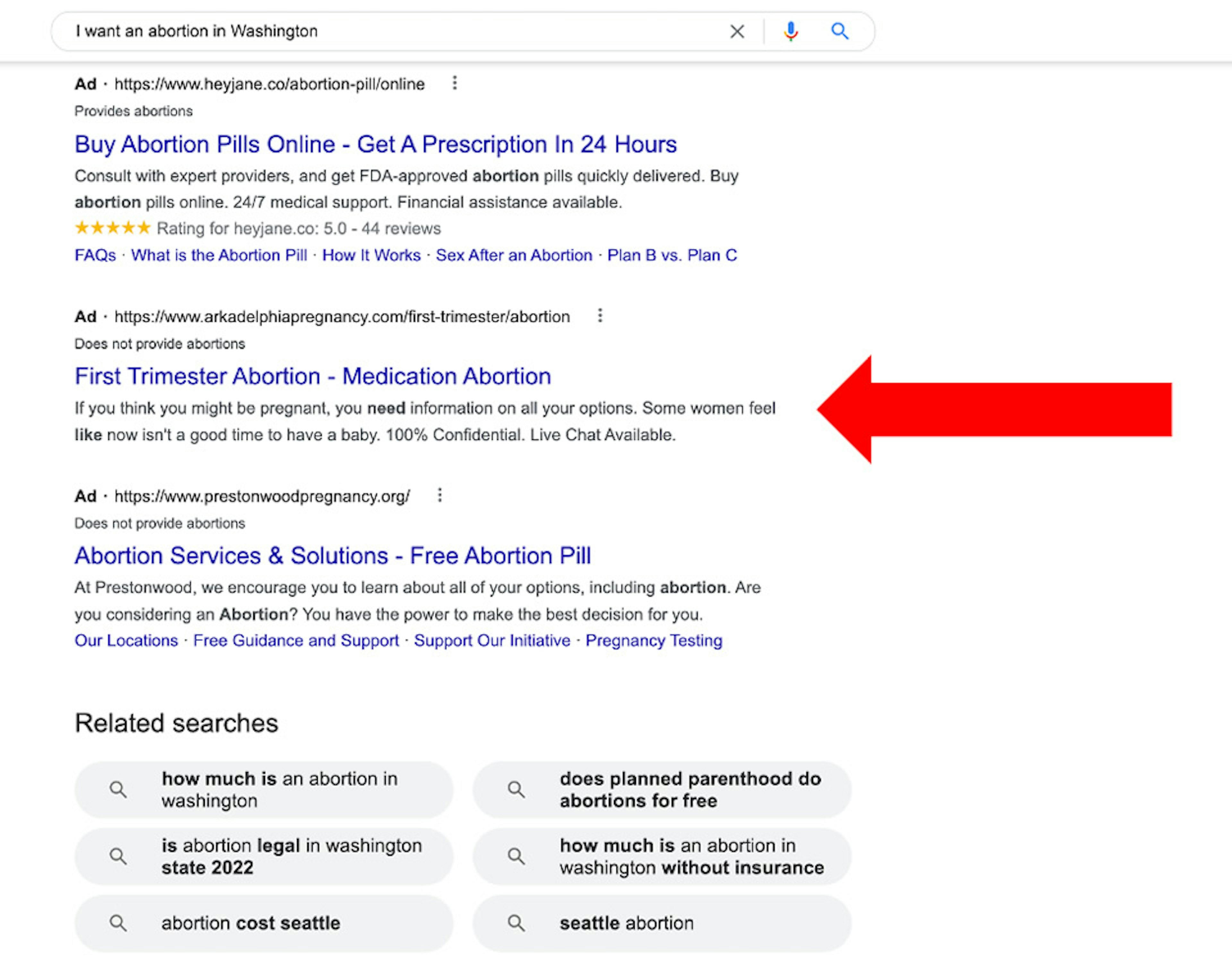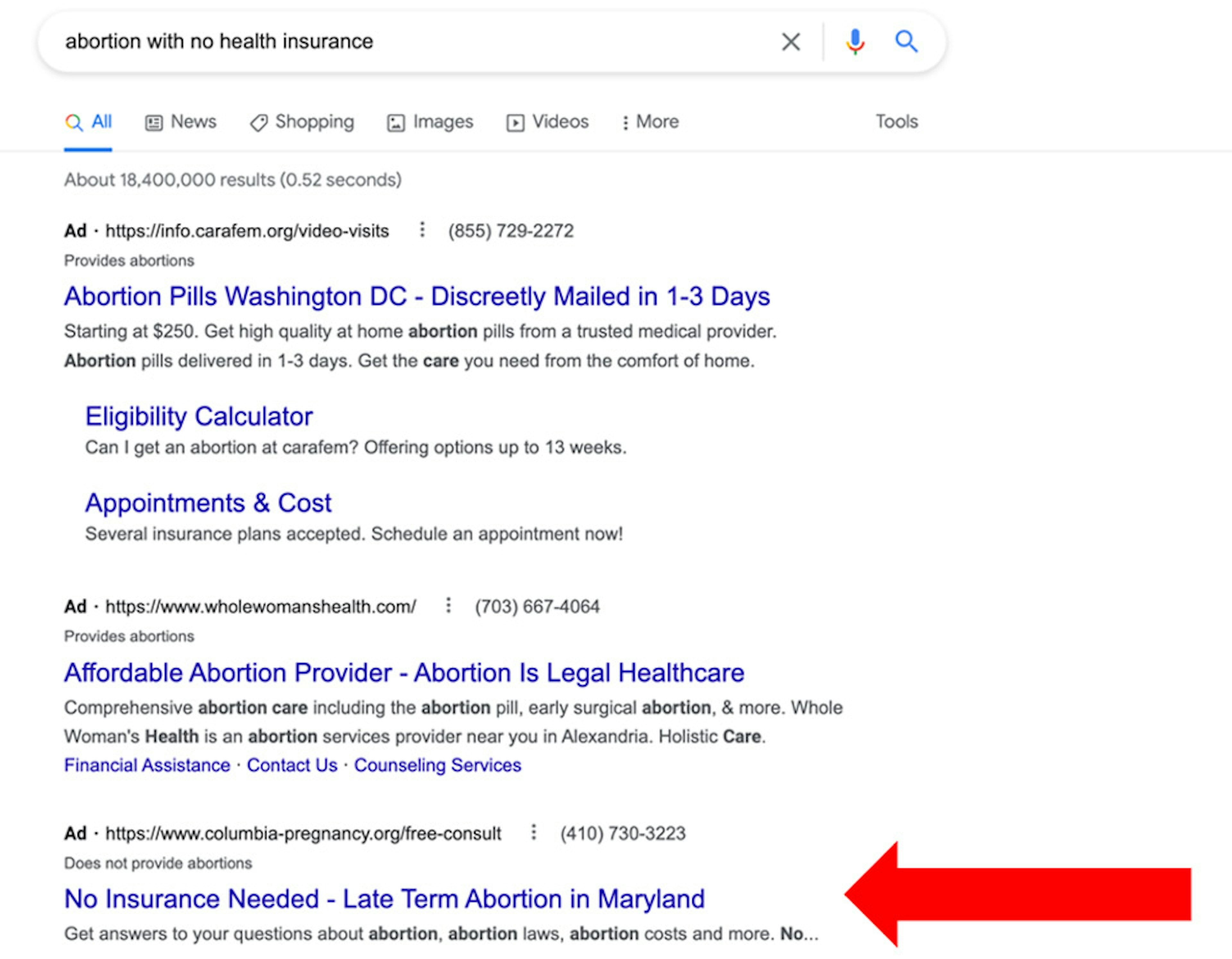 These ads are strikingly similar to ads from clinics that do perform abortions. Typical abortion clinic ads read, "Atlanta Women's Health Center – Abortion Pill Available," "Abortion Clinic in WA – First Term Abortion," and "Where to get an abortion – Need an Abortion in Arizona?" Crisis pregnancy center ads often mimic that language and appear alongside ads for true abortion providers in Google searches, creating potential confusion for users.
Google's handling of abortion-related advertising has been mired in controversy for years. When the Guardian in 2019 revealed that a loophole in Google's labelling policy allowed crisis pregnancy centers to post misleading ads if they don't use the word "abortion," Google defended its transparency efforts and said, "Our policies already prohibit misrepresentation in ads and if we find ads that violate our policies, we immediately remove them."
But TTP's investigation shows that Google is failing to enforce its misrepresentation policies when it comes to abortion-related advertising. Today, as Google scrambles to show it's protecting its users in the wake of the Supreme Court's overturning of Roe v. Wade, the company has shown yet again that it doesn't effectively moderate its platform—and enforce the rules it already has on the books.