For a self-described family-style company in Grandview, Missouri, that fixes water heaters, sewer lines, and frozen pipes, Morgan Miller Plumbing has a lot of opinions about the country's biggest tech firms—and why they shouldn't face new rules and regulations.
The plumbing company's CEO wrote to a newspaper warning that if Congress restricts how internet companies collect data, it could "hurt our company and millions more small businesses that use these platforms and tools." She excoriated Missouri's attorney general for joining the antitrust lawsuit against Google.
The company even popped up in Facebook's recent public relations campaign against Apple's new iPhone privacy update, with founder Jeff Morgan saying the changes would add "insult to injury" by forcing his business to spend more after a tough 2020.
It may seem odd that a business that spends its days repairing kitchen faucets and garbage disposals in the Kansas City area is so devoted to the defense of the major online platforms and willing to wade into the details of internet policy. But it's not exactly a coincidence.
The plumbing company's CEO, Stella Crewse, sits on the board of the Connected Commerce Council, a nonprofit group in Washington, D.C., that bills itself as a voice for small business but appears to be little more than a front for the interests of tech giants like Facebook, Google, and Amazon, as the Tech Transparency Project (TTP) reported in 2019.
Tech giants use groups like the Connected Commerce Council to cultivate a hand-picked group of small business owners who can amplify their stances on privacy, antitrust, and other hot-button issues—without the industry's fingerprints on it. The tech companies then point to this seemingly spontaneous grassroots support to push back against accusations that they've become monopolies that exercise too much power and stifle competition.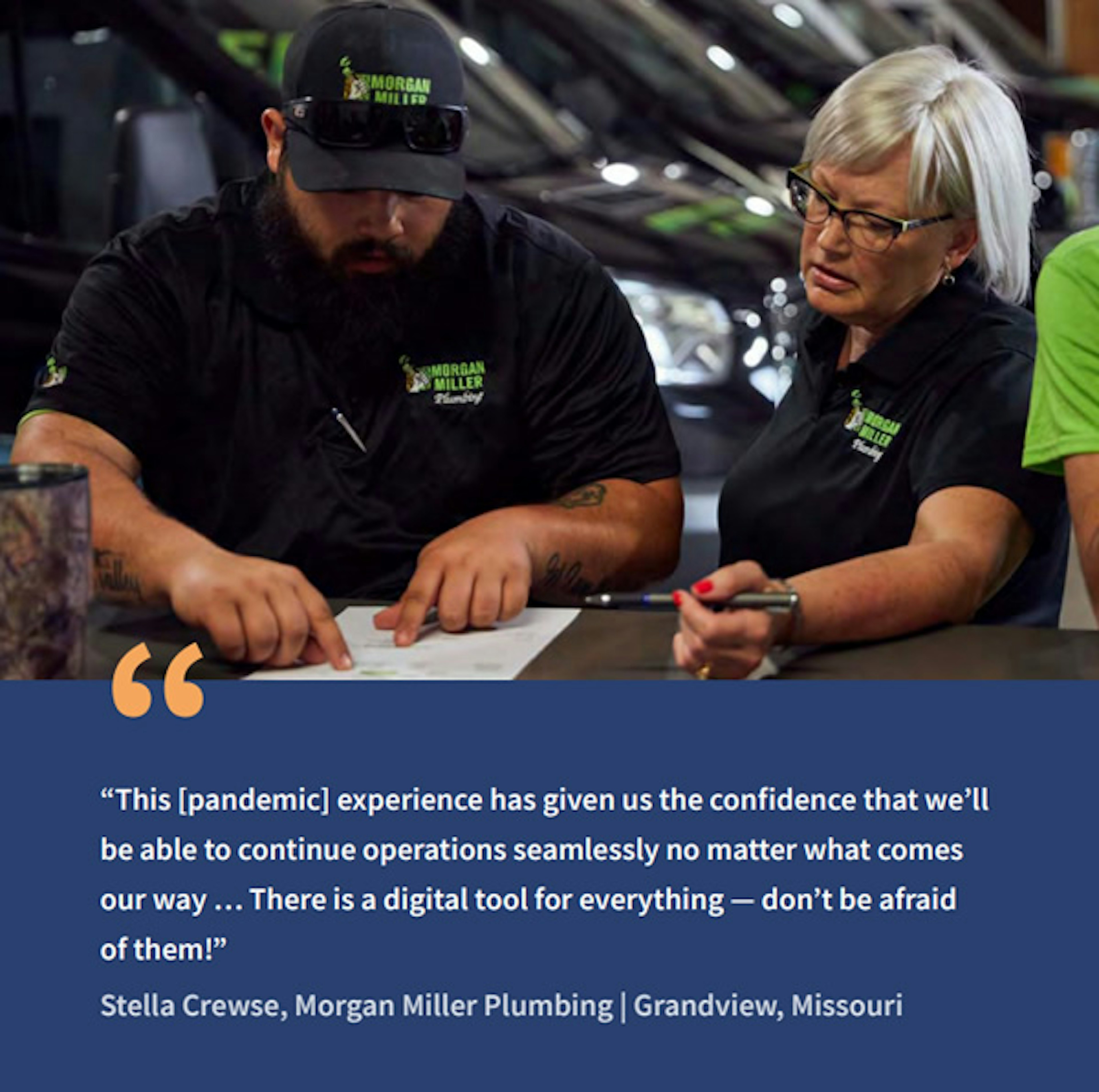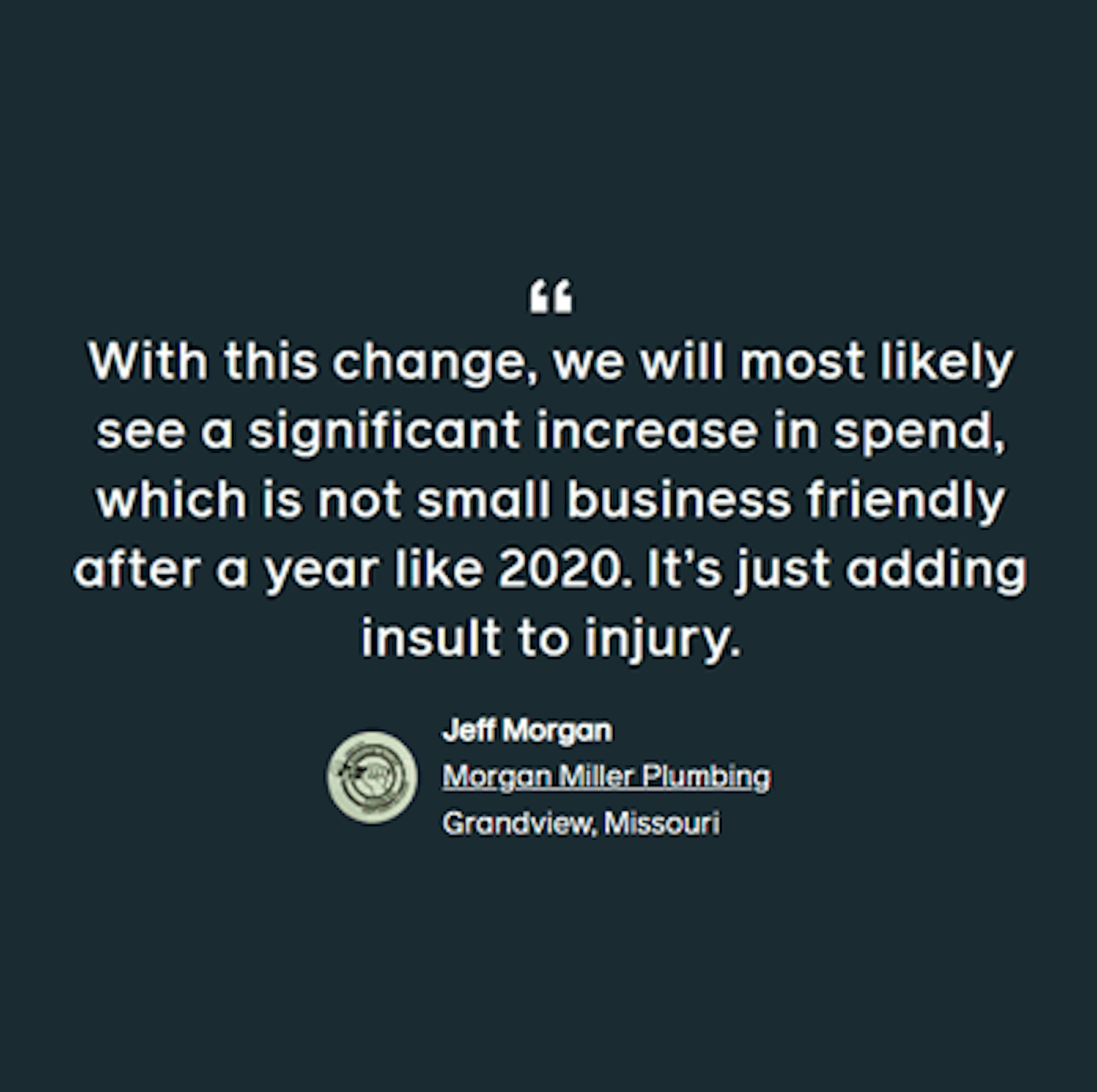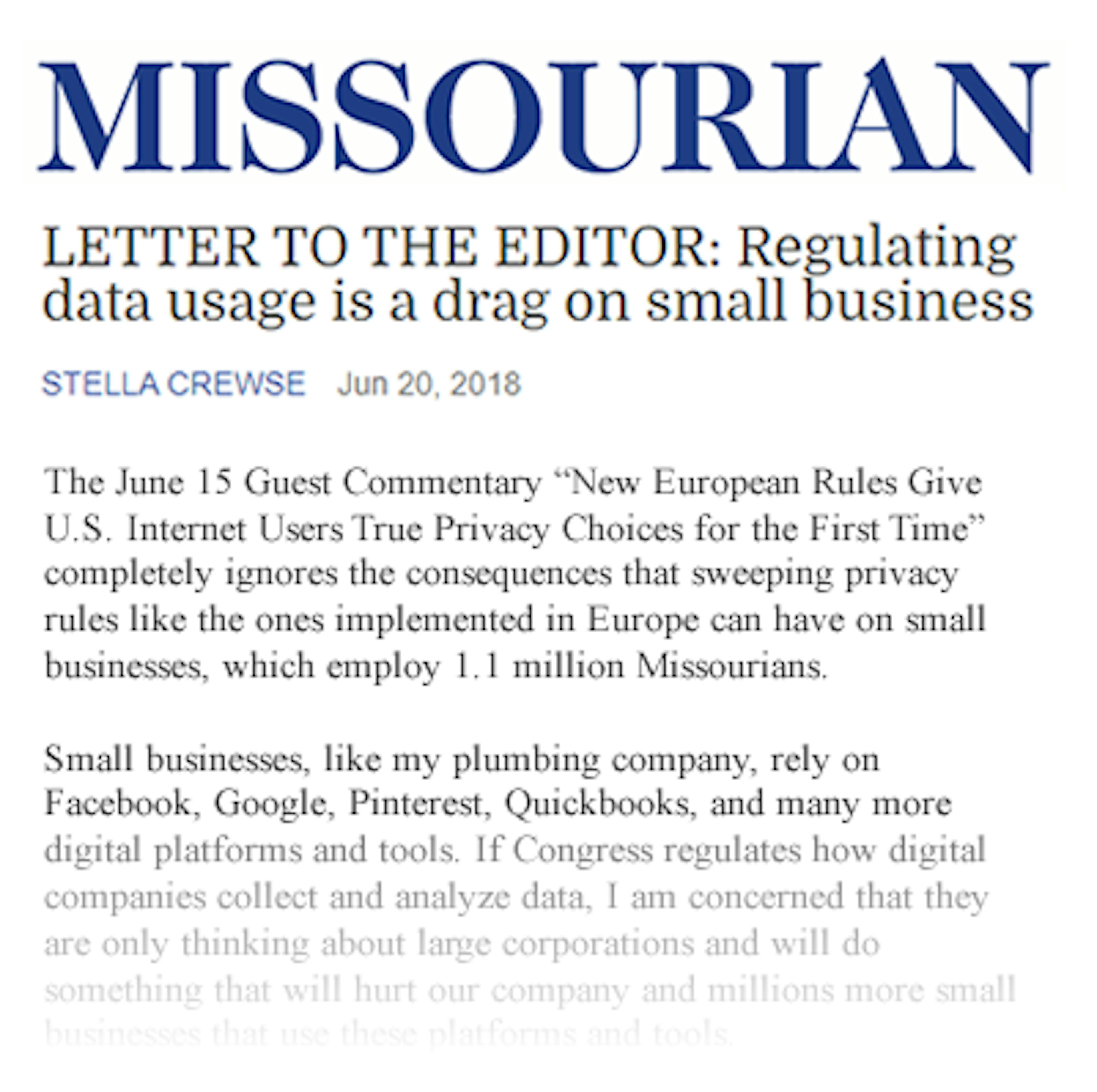 Notably, Big Tech taps many of the same small businesses again and again to advance its agenda. Google, for example, promoted and profiled Morgan Miller Plumbing in a recent campaign touting the benefits of its online tools for small businesses. The profile linked to a joint Google-Connected Commerce Council report about how such tools have become a "digital safety net" during the Covid-19 pandemic.
The long-term effectiveness of this strategy remains unclear. Critics derided Facebook's P.R. blitz against Apple—which cast small businesses, not Facebook, as the primary victim of the iPhone privacy update—as "misleading" and "tone deaf." And some small businesses are actively opposed to Big Tech. A collection of merchant groups, for example, recently formed a national coalition to advocate for tougher antitrust laws against Amazon.
But the tech giants have so far shown little sign of abandoning their favored small business defense. Google and Amazon, for example, have deployed the tech-regulation-is-bad-for-small-business argument as they push back against antitrust bills making their way through Congress, and the Connected Commerce Council has adopted the same tactic.
As TTP's research shows, tech-backed groups have been making use of this strategy in numerous policy debates in Washington, the states, and Europe.
The Connected Commerce Council (3C) advocates on behalf of more than 10,000 "digitally empowered" small business owners with the "support and expertise" of Facebook, Google, Amazon, and mobile payment processor Square, according to its website. Public records in Washington, D.C., show the group was registered on May 30, 2018. Jake Ward, 3C's president, previously co-founded the Application Developers Alliance, which counts Google and Facebook as members.
From the start, 3C acted as a vehicle for Big Tech to influence policy debates. A few months after its launch, in September 2018, the group and its four publicly disclosed tech company backers announced a multi-state training program called "Skills Connect," designed to "improve small businesses' understanding and access to digital tools."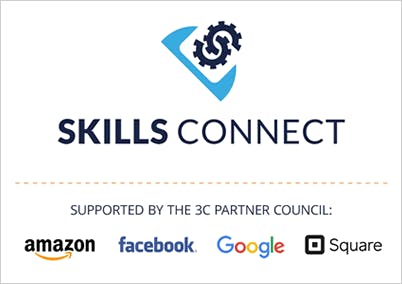 The program, however, had a clear agenda in Washington. In the announcement about Skills Connect, 3C said it wanted to help the Federal Trade Commission "better understand the role of digital tools and technologies for America's economy and small businesses." The FTC at the time had begun to host a series of hearings examining Big Tech's impact on competition, consumer protection, and privacy.
To provide that "better" understanding of digital technology, 3C submitted comments to the FTC, anonymously citing small business owners who lavished praise on tools provided by the major tech companies and expressed concern about tech regulation.
"Our a-ha moment was when we started playing around with Facebook," said one. "Facebook delivered almost immediate growth in our day-to-day bookings." Another anonymous business commenter wrote, "The real advantage of digital, like with Facebook and YouTube, is that people get a real feel for your company and your people." A third commenter went further, criticizing Congress for its questioning of Facebook CEO Mark Zuckerberg in April of that year:
"When I watched the politicians interrogate Mark Zuckerberg it was very obvious that they know very little about how Facebook advertising and the Facebook ecosystem – including millions of small businesses – actually works. If misinformed policies undermine the ecosystem it will drastically harm small companies that rely on that ecosystem.
The document metadata from 3C's various FTC filings show that they were all authored by Jonathan Potter, a communications strategist who previously led the Application Developers Alliance, which represents companies including Google and Facebook. Potter launched the alliance with Jake Ward and ran the group as president from 2012 to 2015. In another sign of Potter's cozy relationship with Big Tech, a former Google executive posted on Potter's LinkedIn page that Potter had "worked closely with us at Google on many projects."
The FTC comment campaign was just a warmup for 3C, which has flown members into Washington to meet with congressional staff and regulators, and generates a steady stream of letters to lawmakers and newspapers defending Big Tech companies.
In June 2019, the group recruited small business owners to express concern about the House Judiciary Committee's antitrust investigation of Big Tech. The statement urged the committee to "consider the importance of companies like Facebook, Amazon and Google to America's small businesses" and included testimonials from business owners like Myles Hagan of Geoff's Farmhouse Tables in South Carolina:
"Without companies like Facebook, Google, and Amazon, I would not have been able to find a customer base beyond the borders of my beloved Palmetto state. Small businesses like mine tend to get hurt when Congress goes after the big guys."
The statement also promised to send lawmakers a Deloitte study showing the "importance of access to digital tools for American small businesses." That study appears to have been a report commissioned by Google. House Judiciary lawmakers ultimately concluded in Oct. 2020 that Google, Facebook, Amazon, and Apple had abused their monopoly power and called for sweeping antitrust reforms.
Similar 3C tactics followed. The group last year encouraged small businesses to write to their home state governors, warning them that legal and regulatory crackdowns on Big Tech could prevent the companies from serving businesses during the Covid-19 pandemic. It even suggested specific text: "Government regulation and court-ordered solutions will inevitably slow down our recovery and add fear and uncertainty," the template read.
It added: "It will be difficult enough to recover from the current crisis without pulling the rug out from businesses that use online tools and digital technology." The group said more than 3,700 small businesses took part in the letter-writing campaign.
Despite that effort to gin up grassroots support for Big Tech, the Justice Department and two groups of states filed antitrust lawsuits against Google in late 2020, accusing the company of anti-competitive tactics, and the FTC and nearly every state in the country also launched antitrust lawsuits against Facebook (which were recently tossed by a federal judge).
Meanwhile, 3C expanded its operations to Europe late last year. It criticized the European Commission's introduction of new digital rules for tech platforms, saying that, without changes, the legislation "will undoubtedly disrupt how digitally-powered small businesses conduct business during the current struggle, and will hinder small business recovery that we all hope will begin very soon."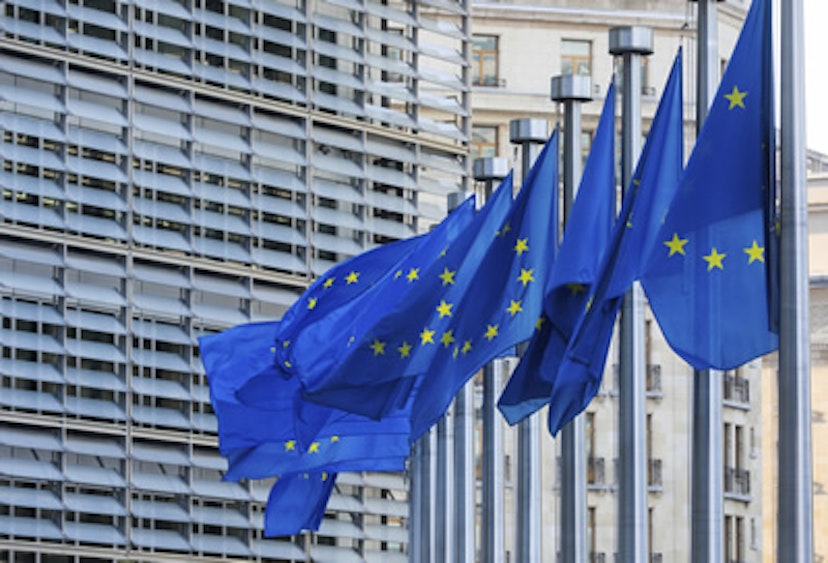 The current president of 3C, Jake Ward, has led or been involved with other nonprofits that count big tech companies such as Google and Facebook as financial supporters or clients.
From 2011 to 2017, Ward co-founded and served as president of the Facebook- and Google-supported Application Developers Alliance. While it appears that ADA was originally formed without Facebook's participation, by 2016 the social network was listed as a full corporate member, according to archived records from the ADA website.
Not long after 3C launched, Ward incorporated a second nonprofit called the Data Catalyst Institute (DCI), in November 2018. With a mission to "inform and shape data privacy policies that provide meaningful protection and promote economic and social good," DCI counted 3C, Facebook, and Google as funders. The group operated out of the same address as 3C, the site of a WeWork co-working facility.
DCI put out policy analysis and commentary on data privacy regulations that almost always supported the positions of its funders. For example, the group blasted the California Consumer Privacy Act, saying it "threatens the livelihoods of small publishers that rely on advertising to generate revenue and pay the costs of their businesses."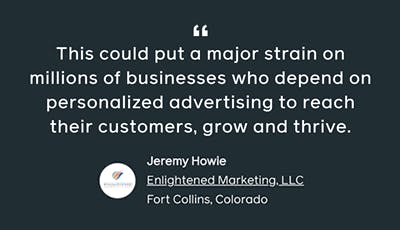 Many of the small business owners who are part of 3C are also closely connected to Facebook. Jeff Morgan, the founder of Morgan Miller Plumbing who was deployed for Facebook's recent attack on Apple's iPhone privacy changes, is a member of the Facebook Small Business Council and, according to his company bio, has visited Facebook headquarters several times to share online marketing ideas with other small businesses.
Another 3C board member, Jeremy Howie, is the CEO of Enlightened Marketing, which specializes in helping companies advertise on Facebook. Like Morgan, Howie is a member of the Facebook Small Business Council and was featured in Facebook's P.R. campaign against Apple, with a quote saying the iPhone privacy update "could put a major strain on millions of businesses who depend on personalized advertising to reach their customers, grow and thrive."
He's visited Facebook headquarters, met with Chief Operating Officer Sheryl Sandberg, and "taken part in several high level internal Facebook beta tests," according to his firm's website.
Howie, Crewse, and Victoria Wise, a third Connected Commerce Council board member who serves on the Facebook Small Business Council, all hosted seminars for 3C's "Skills Connect" initiative in 2018. Howie took part in another Skills Connect event in 2019 that featured a session on the California Consumer Privacy Act with Margaret Gladstein of Capitol Advocacy, one of Google's outside lobbying firms. Gladstein's official bio makes clear her agenda with CCPA and other privacy issues, saying she's "advocating for business' ability to collect, retain, and utilize customer information."
Google has recently used 3C to push out white papers making the case that digital tools and marketplaces have been critical to keeping businesses open during the Covid-19 pandemic. The subtext of the Google-funded papers is that regulations targeting Big Tech on privacy and competition risk harming America's small businesses, which have come to rely even more on the online platforms during coronavirus lockdowns.
In May 2020, Google partnered with 3C to release a report titled "Digitally Empowered: How Digital Tools Power Small Business Amid COVID-19." It touted the "remarkable resilience" of U.S. small businesses in adapting to the crisis, citing the use of digital tools. Google and 3C followed up with a September report titled "Digitally Driven," which profiled small business owners who had found a "digital safety net" during the Covid-19 crisis.
One of those business owners, Chad Price, the founder of Austin-based Kettlebell Kings, talked up the role of online advertising in helping his firm weather the pandemic. "It is precisely because we had invested in Google Ads and Analytics ahead of time that we were able to do this," he is quoted as saying. "If we didn't have that data, we'd just be spending more money and getting less results. We'd be throwing it into the abyss."
Google is no stranger to the strategy of using small business front groups to advance its agenda. A May 2018 TTP report found that Engine, a San Francisco-based nonprofit that claims to be the "voice of startups in government," was little more than a creation of Google and its corporate parent, Alphabet Inc.
Facebook has been embracing a similar strategy. Many of the small business owners who were featured on Facebook's web page attacking Apple's iPhone privacy update are members of organizations created by the social network. At least 10 of them are part of Facebook's Small Business Council, which gets special access to Facebook staff and products. "There is no possible way that our company could have reached the level of success that it has today without personalized ads," one of them, Monique Wilsondebriano of the Charleston Gourmet Burger Company, said in a video. (The link to the Apple attack page now redirects to generic content promoting Facebook's ad business.)
At least three Facebook Small Business Council members—Wilsondebriano, Victor Lezama, and Noni Banks—are also part of Facebook's Leaders Network. 
Meanwhile, 3C is heavily promoting the argument that the tech antitrust bills advancing in Congress are bad for small business. The group announced that more than 6,000 "small businesses and their supporters" sent a letter to Congress warning that digital tools offered by companies like Facebook, Google, Amazon, and Apple will be "more expensive and less effective" if the bills become law. In the days before the announcement, 3C solicited people to sign the letter in a series of Facebook ads, including one that read, "Stand Up for American Free Enterprise," against a backdrop of Chinese President Xi Jinping and China's flag.
That echoes the messaging of another advocacy group, American Edge Project, which is backed by 3C and Facebook and has been making a national security argument that policymakers should protect American tech companies to ensure the U.S. doesn't fall behind China in the global technology race.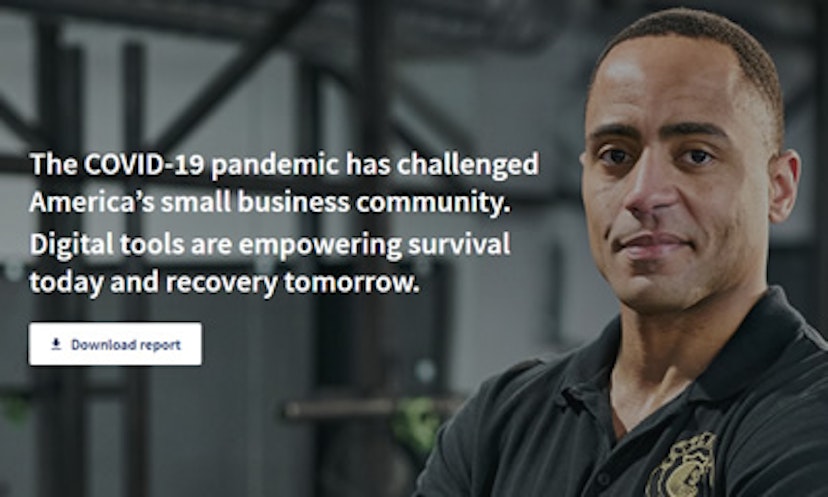 Op-eds and questionable surveys
Another prominent defender of Big Tech is the Small Business Roundtable (SBR), a coalition of business groups and nonprofits that launched in April 2018. Founded by two Democratic operatives, Rhett Buttle and John Stanford, it makes no disclosures about funders on its website. However, SBR has extensive partnerships with Facebook and PayPal. The group has released several joint reports with Facebook, and regularly advocates for Big Tech's policy agenda, framing the positions as good for small business.
Less than a year after it launched, SBR joined with 3C and the Small Business & Entrepreneurship Council to host an event endorsing a national privacy law, an idea being pushed aggressively at the time by Facebook, Google, and other tech companies. The tech giants were lobbying for federal privacy legislation that could preempt the recently passed California Consumer Privacy Act and create a set of watered-down standards giving the companies more leeway over how they collect and use personal information.
In January 2019, SBR's co-founder Buttle, the group's chair Karen Kerrigan, and 3C President Jake Ward teamed up again to call for a national privacy law, publishing a joint op-ed warning that small businesses "cannot afford to navigate a unique privacy regulation for each state, and their ability to grow and compete is undermined by the morass of state laws that require armies of compliance lawyers." It continued:
It's time for Congress to act. They must provide one privacy law that protects all Americans, including those who operate businesses that utilize data. But lawmakers should not be too hasty; they must legislate carefully and learn from recent missteps in the European Union and in California — especially about the unintended consequences that have disproportionately harmed small businesses.
SBR also has an extensive collaboration with Facebook. In May 2020, the two released a joint report on the "State of Small Business," meant to examine how small businesses are faring during the pandemic. The report, citing a survey of 86,000 small business owners and employees, found that businesses facing unprecedented Covid challenges have adapted to the crisis by turning to online tools like Facebook Marketplace and digital payments.
A closer look at the report's survey methodology, however, reveals that the respondents were made up entirely of Facebook users, with an "over-sample" of Facebook business page administrators, Marketplace sellers, and advertisers. Despite the questionable methods, the report managed to generate some organic media coverage. Sandberg also promoted the study in a statement and series of op-eds, and Facebook spread it in sponsored content posts. A second SBR-Facebook report followed in January 2021.
Kerrigan, who is both chair of SBR and president of the Small Business & Entrepreneurship Council, has also been a reliable supporter of Facebook. In a July 2020 opinion piece, she cited the Facebook small business study and said social media platforms have "become a lifeline during COVID-19," adding that "small businesses need access to the vast tools provided by big tech to penetrate markets, reach potential customers and close sales."