Facebook allows advertisers to target ads for alcoholic drinks, pharmaceuticals, and extreme weight loss at children as young as 13 across the United States, according to new research by the Tech Transparency Project (TTP) that builds on a similar set of troubling findings in Australia.
In an April 26 report, the watchdog group Reset Australia described how it was able to get approval for "dubious ads" for alcohol, gambling, and other harmful and risky behaviors targeted at thousands of Australian children between the ages of 13 and 17 on Facebook. (The ads never ran but made it through Facebook's approval process and were scheduled for publication.)
TTP used that report as a guide to conduct the same kind of experiment in the U.S. market—and found an equally alarming result: Facebook approved ads related to pills, eating disorders, and dating services for that same 13-17 age group.
U.S. law includes online protections for children under 13. But the new research highlights how much personal data Facebook collects on teenagers above the age of 13, and how the platform allows advertisers to exploit that information in potentially damaging ways.
In response to Reset Australia's findings, a Facebook spokesperson said the company has "significant measures in place to review all ads before and after they run, including automated systems and human reviewers."
But TTP found that all the test ads it submitted, which explicitly promoted harmful content to teens, were approved by Facebook in a matter of hours.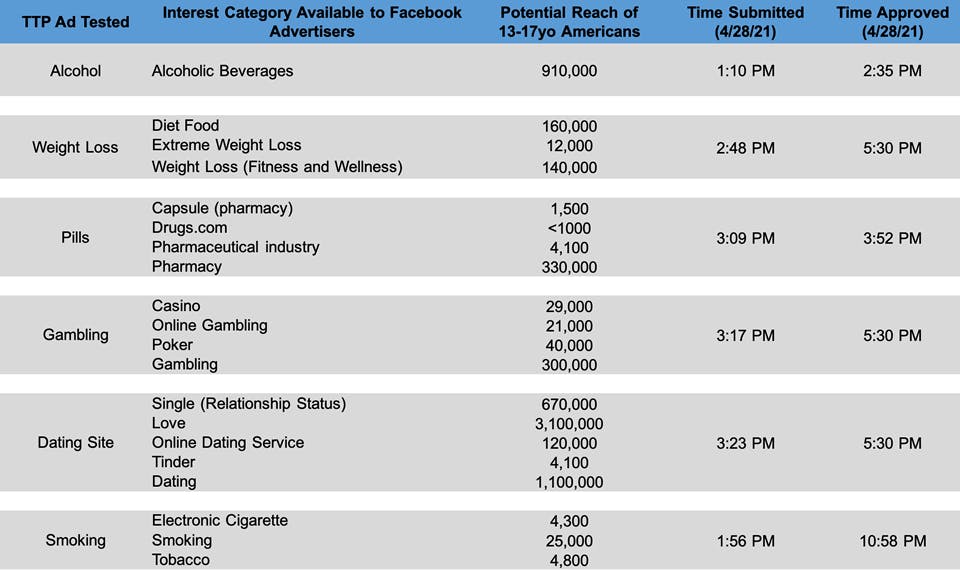 Pill parties and eating disorders
TTP submitted six Facebook ads on harmful subjects including pill abuse, alcohol, anorexia, smoking, and gambling. All of the ads included broad demographics for users aged 13 to 17, of all genders, in the United States. Facebook quickly approved all of them.
One of the most disturbing approved ads featured an image of colorful pills with the text "Throw a skittles party like no other." "Skittles parties" (also referred to as "pharm parties") are pill parties where teens raid their parents' medicine cabinets for pharmaceuticals, mix them together in a bowl, and take them to get high. The pills often include opioid painkillers. The trend is dangerous, but it's not new. The issue has been an area of concern for nearly a decade.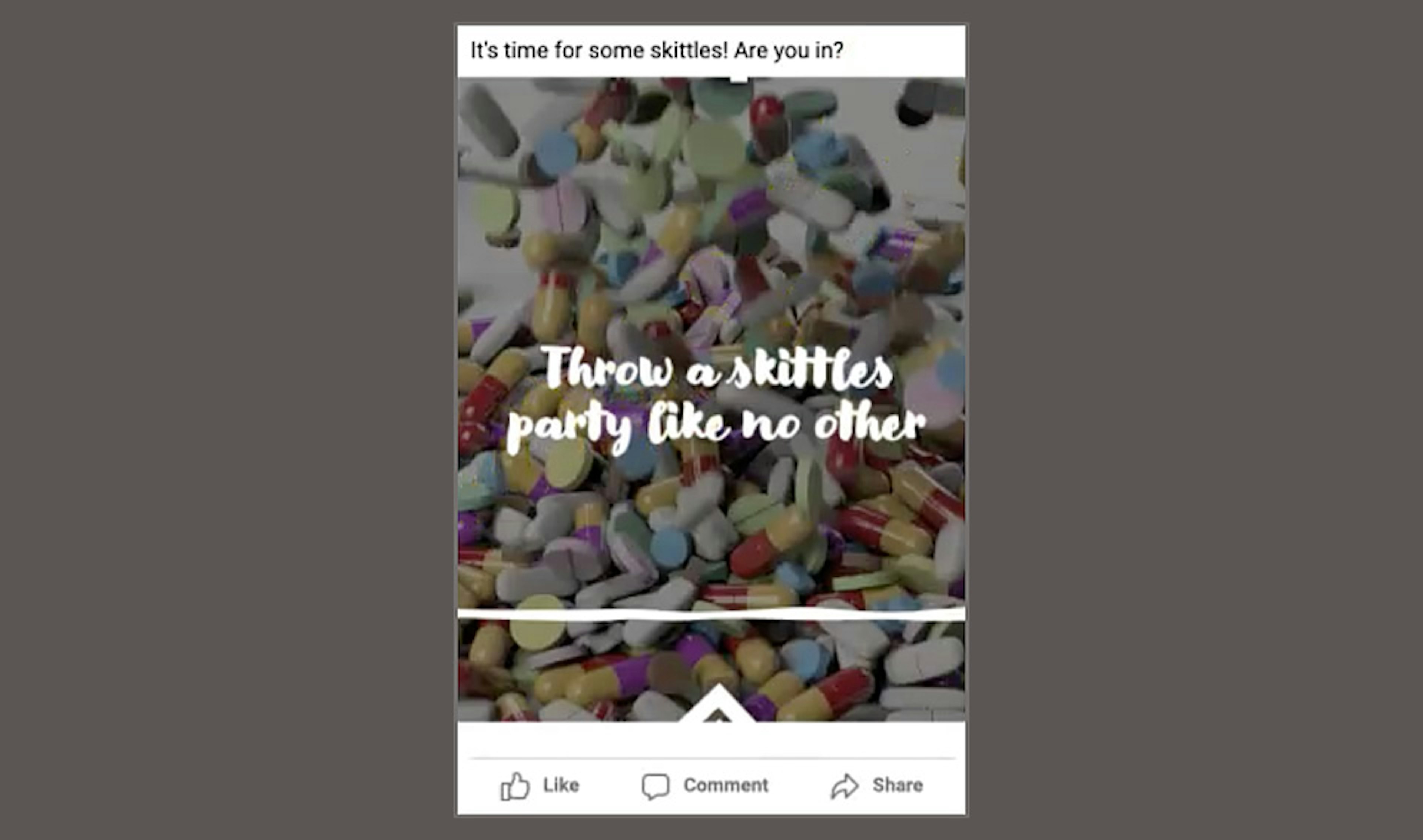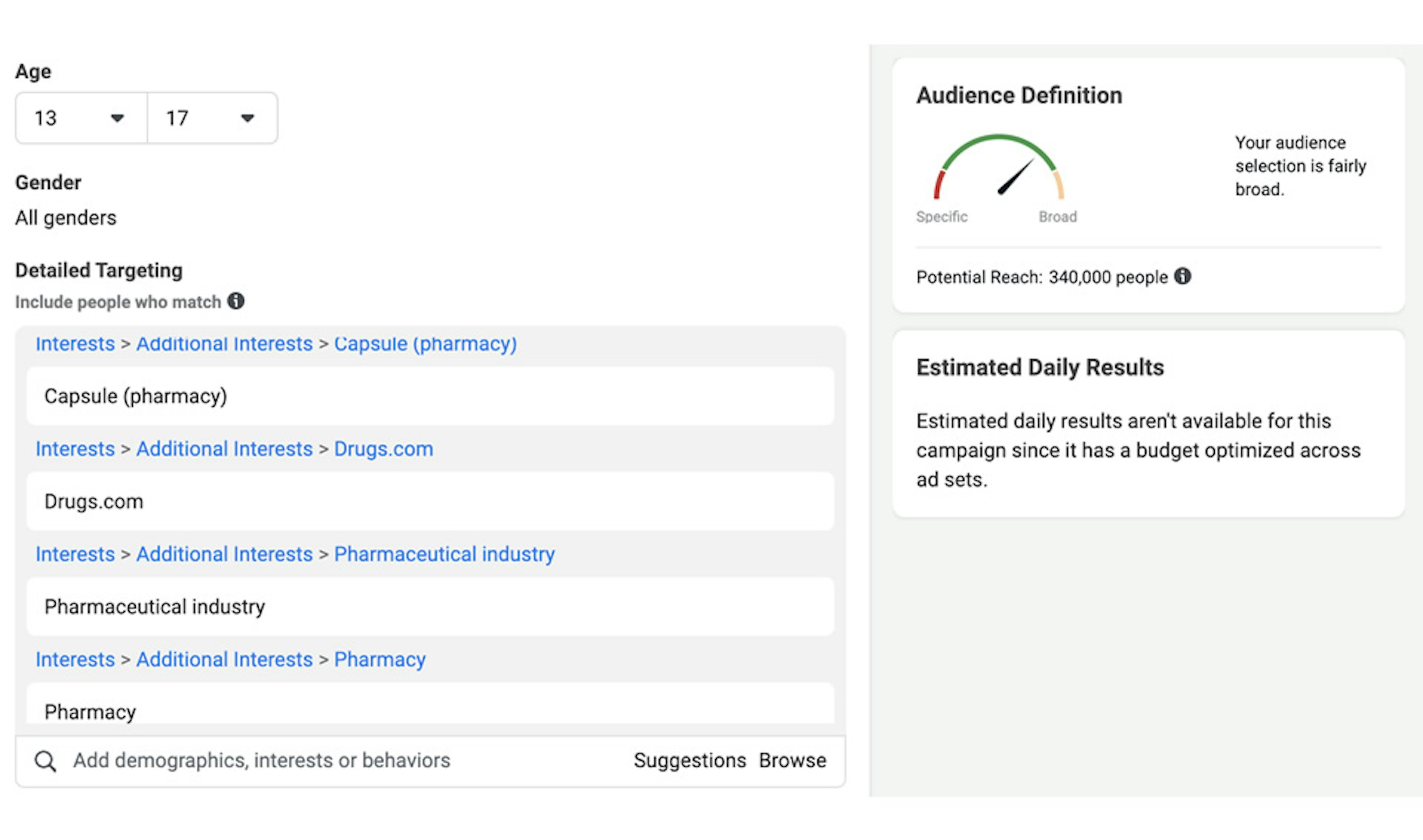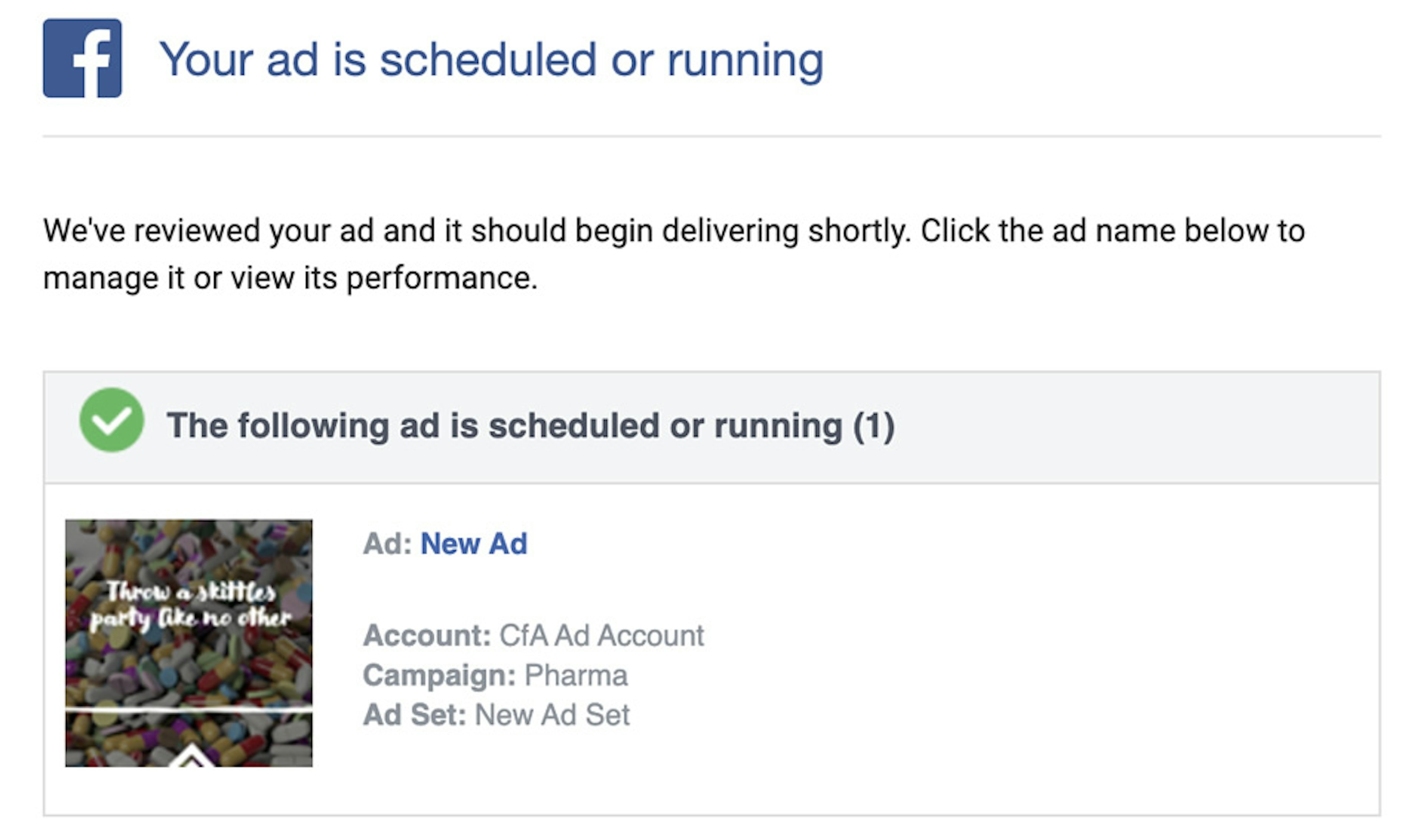 TTP used the "interested in" tags for "pharmacy," "pharmaceutical industry," "drugs.com," and "capsule (pharmacy)." Collectively, these categories yielded a potential audience of about 340,000 children age 13 to 17 on Facebook. While this ad was the last of the six TTP submitted to Facebook for approval, it was the second to be approved.
Facebook's policies explicitly state that ads "must not promote the sale or use of illegal, prescription, or recreational drugs." Facebook's approval of the pill party ad is especially troubling given the ongoing U.S. opioid epidemic, which the U.S. government declared a public health emergency in 2017.
Facebook also approved a TTP test ad that promoted anorexia. The ad showed the waist of a skinny young woman and included text for an "ana tip," the word "ana" being a well-documented shorthand for "anorexia." The ad targeted interest categories for "diet food," "extreme weight loss," and "weight loss (fitness and wellness)" in the 13-17 age group.
In 2019, Facebook and Instagram vowed to crack down on content that promotes eating disorders, and Facebook's Community Standards ban such material. In a February 2021 blog post, Facebook touted its work with experts on negative body image issues and said it would share eating disorder hotlines with people searching for such terms.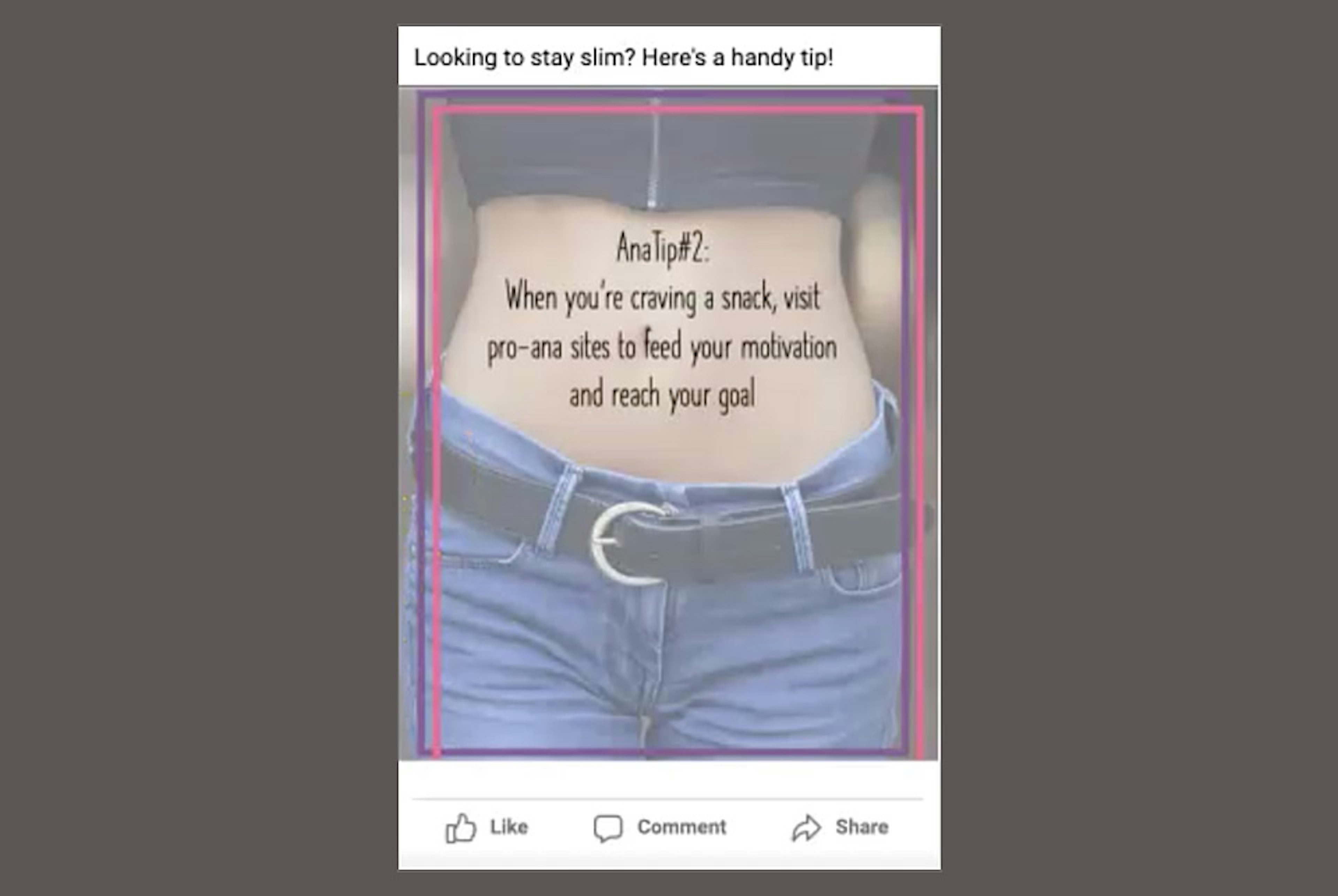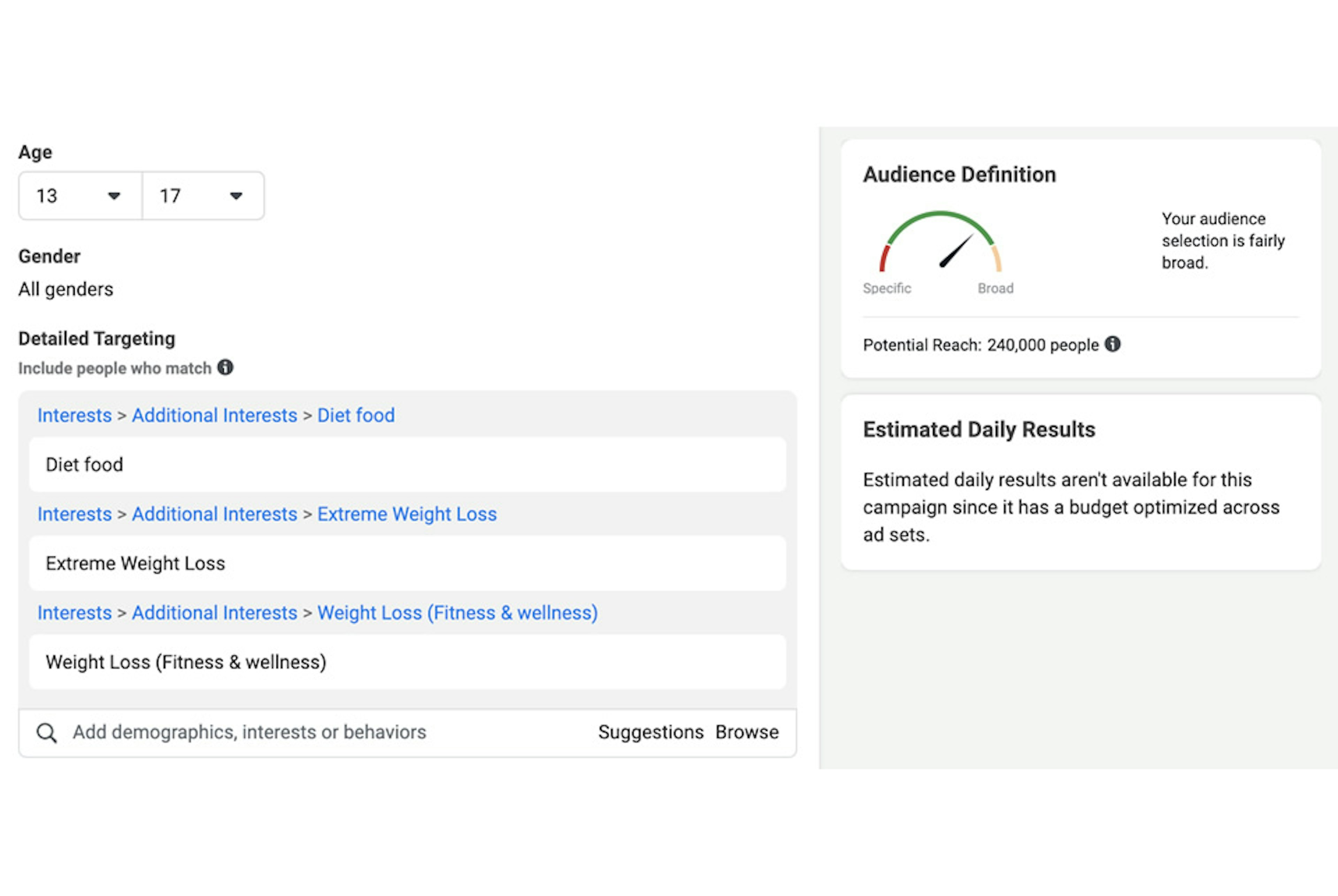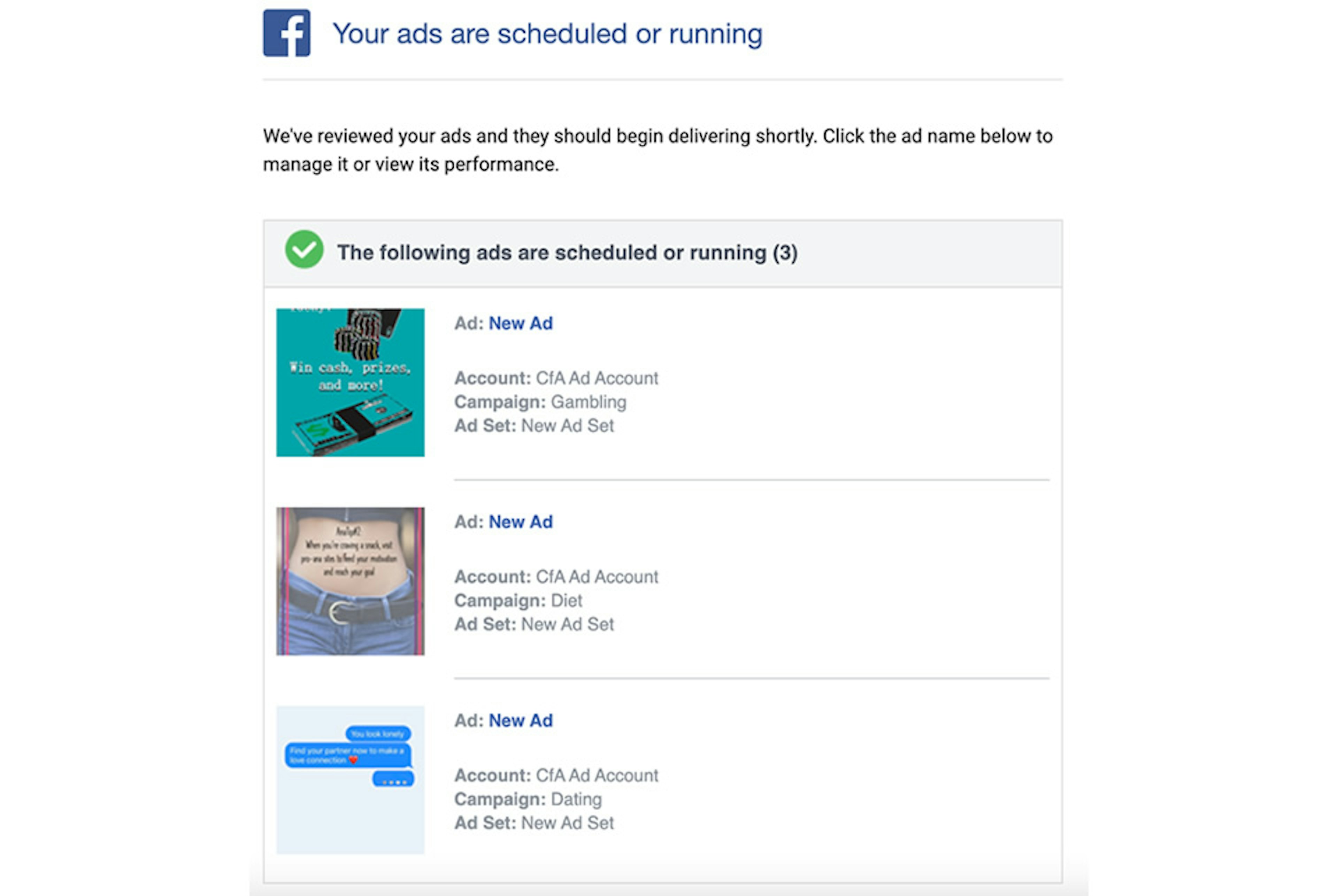 Facebook approved other TTP test ads that appear to violate its policies.
One ad designed to mimic a dating service with a message reading "You look lonely" was approved within hours of TTP's submission. Facebook's policies state that "Ads for dating services are only allowed with prior written permission," which TTP did not seek or receive in this case. Facebook also says advertisers can only target online dating ads to users 18 and older.
Similarly, a test ad on gambling that read "Feeling Lucky? Win cash, prizes, and more!" got approved to target the 13- to 17-year-old age group within hours. This, despite Facebook's requirement that online gambling ads must not target children under 18. (TTP did not allow any of the test ads to run.)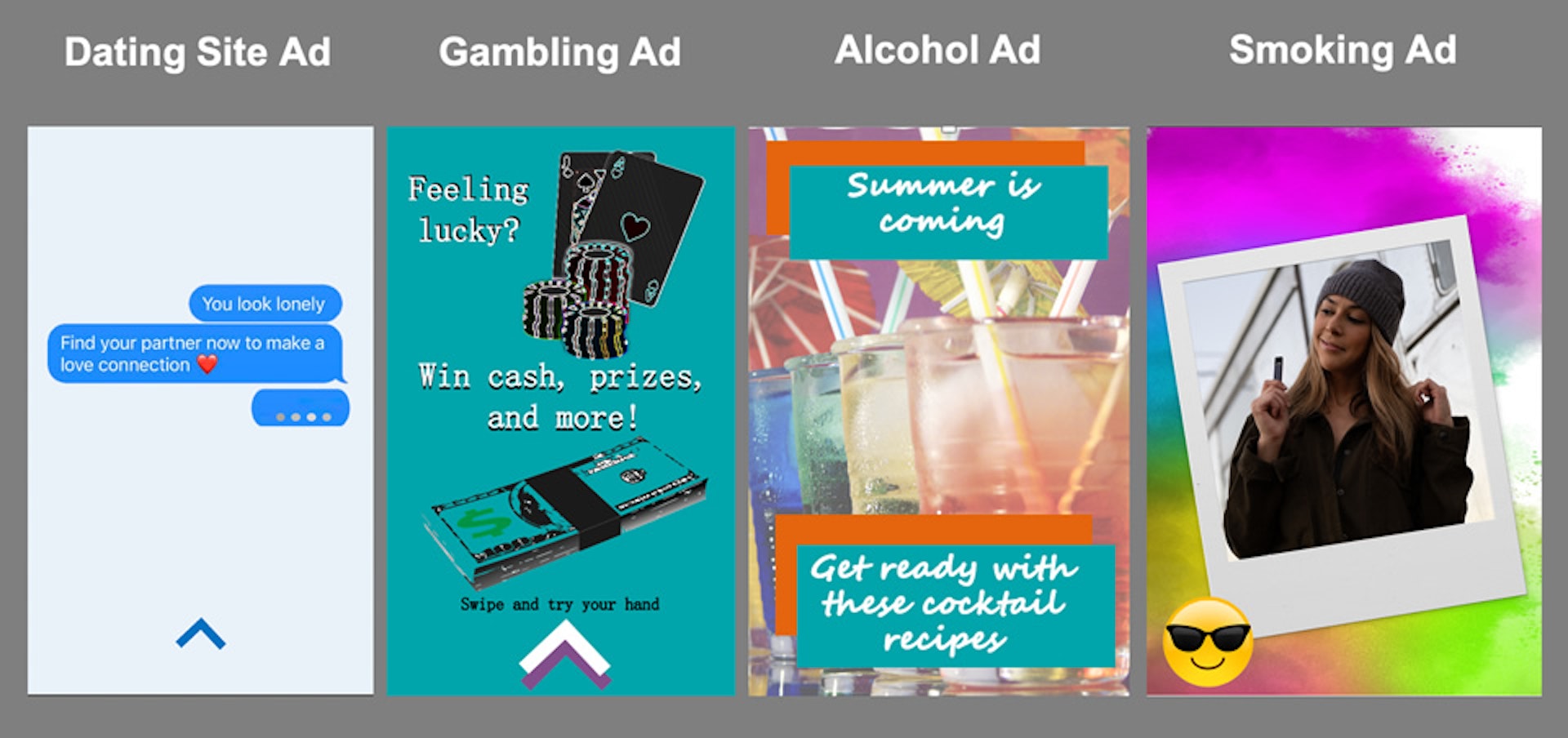 The research shows Facebook is failing to effectively enforce its policies on ad targeting, particularly when it comes to children over the age of 13. The end result is that Facebook is positioned to profit from harmful messages—on everything from drug use to self-harm—aimed at a highly vulnerable age group.