For the past eight years, a hand-picked group of politicians, policy analysts, entertainers and executives has quietly gathered in the mountains of Big Sky, Montana, on the third weekend of July for an exclusive retreat.
Summoned by former Google CEO Eric Schmidt, guests ranging from Austria's chancellor to Sen. Cory Booker to Lady Gaga have met on the grounds of the Yellowstone Club, a swanky private community that includes a ski resort, golf course, and thousands of acres of lush land where wealthy and high-profile members can hike, bike, fish, and ride horses.
Attendees appear to be under strict orders to keep the event secret, and almost nothing has been published about the yearly conclave. But a review of flight records, combined with glimpses of oblique social media posts, enabled the Tech Transparency Project (TTP) to piece together a partial view of the exclusive gathering. The picture that emerges is Schmidt using the celebrity-studded retreat as a form of soft power, helping Google advance its interests with cowboy hats and intimate concerts rather than the traditional tools of corporate influence.
Google reported spending nearly $12 million on lobbying in Washington in 2019, but the Rocky Mountain retreat has provided an unmatched—and far less transparent—way for Google to polish its image with people who are in a position to help the company.
Schmidt's recent move to end his formal ties with Google, and the ongoing coronavirus pandemic, may interrupt Google's Big Sky tradition this summer. Schmidt, a Yellowstone Club member, appears to have hosted the event every year since at least 2012, with flight records showing Google's fleet of Gulfstream and Boeing jets shuttling attendees in from the East Coast and the West Coast.
Eric Schmidt
Despite stepping down as Google CEO in 2011, Schmidt has remained one of the company's most prominent public faces, serving at various times as Alphabet executive chairman, board member and technical adviser and continuing to be a major shareholder. His efforts to advise federal and state officials in recent years have prompted concerns that he is pushing Google's interests with the government.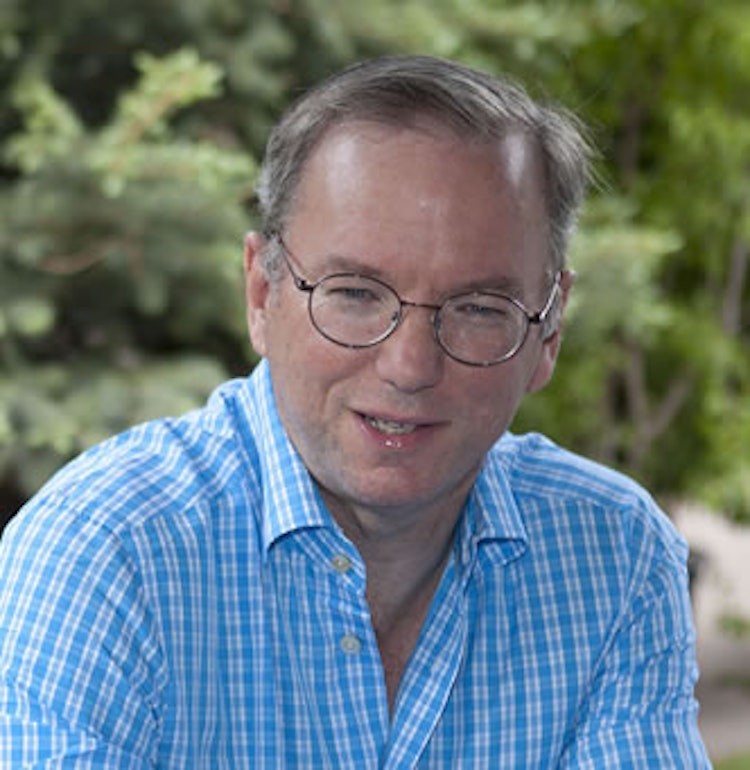 TTP's review of the Big Sky retreat shows how Google made the most of the event at "the world's only private ski, golf and adventure community," inviting current and former government officials, economists, artists and others to spend their days listening to Schmidt and his engineers, hanging out with the likes of Lady Gaga and enjoying private concerts from artists such as Leon Bridges.
Former Chilean finance minister and presidential candidate Andrés Velasco poses with Lady Gaga at Schmidt's 2014 Yellowstone Club retreat.
There is strong evidence that Schmidt has used the conference to lobby a captive audience of influential people on Google products that face the threat of federal regulation or seek a foothold in the government sector. One foreign politician who has spoken about his attendance at the event noted that Google staff were brought in to discuss company projects with attendees.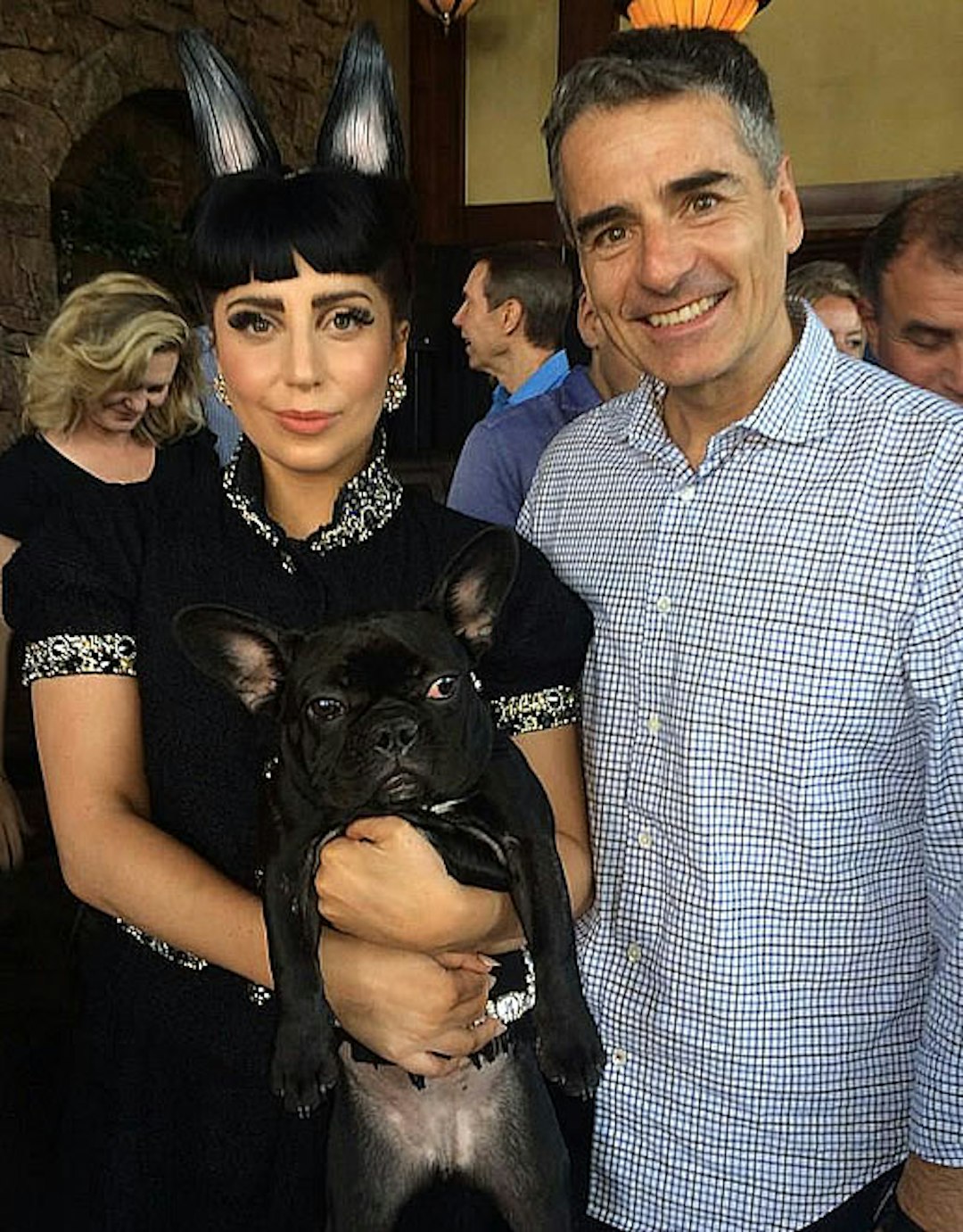 An analysis of social media posts from the Yellowstone Club and rural Montana during the days of Schmidt's summits reveals a list of influential elites who likely attended the events; the presence of some attendees can be verified from details in press reports. Taken together, the probable guest list provides further evidence that the get-togethers are about more than mountain air.
Confirmed recent attendees have included the Austrian chancellor, who was pushing to implement a new tax on tech giants in the European Union. Another guest, then-MSNBC host and NBC Today Show correspondent Ronan Farrow, later did a favorable report on a Google initiative. Attendees' descriptions of the conference also indicate that it is affiliated with Google's in-house think tank, which is linked to numerous associates of former Secretary of State Hillary Clinton, whom Schmidt advised during her 2016 presidential campaign.
TTP tried to reach the two dozen people identified in this report as likely attendees of the Yellowstone retreat, but did not receive any responses to a request for comment.
Google is already known to host a lavish summit called Google Camp, where celebrities, politicians, and executives gather at a resort on the coast of Sicily each year to enjoy musical performances, visit local attractions, and discuss topics like climate change and education. Past Google Camp attendees have included Tom Cruise, Prince William, Katy Perry, Michael Jordan, and Leonardo DiCaprio.
That event—and other annual gatherings of rich and famous people in tech, media, and government, such as the Allen & Company Sun Valley Conference in Idaho—are widely known and well-documented by the press and paparazzi. But the Yellowstone Club summit has been shrouded in unusual secrecy.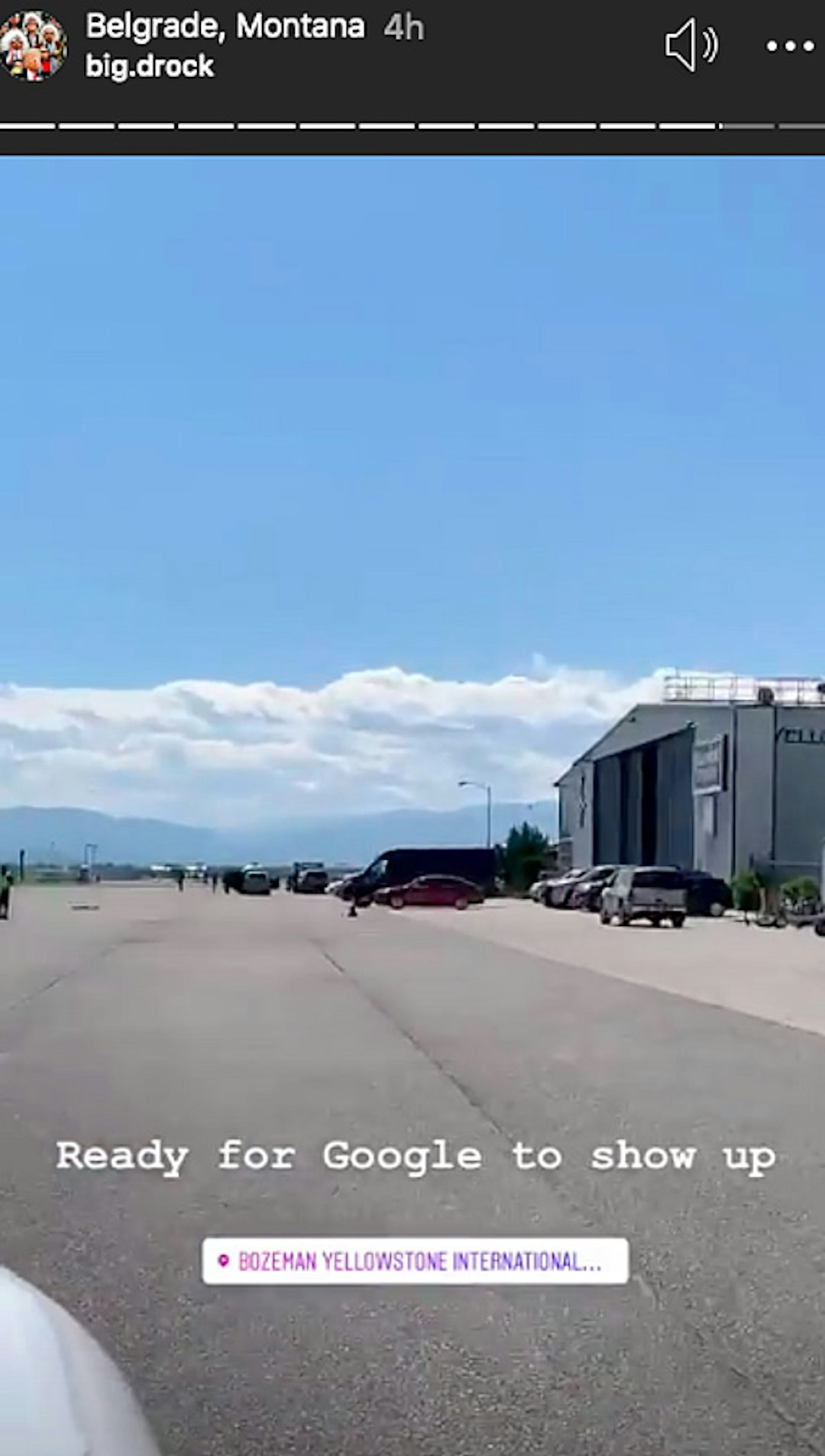 One reason why the event has maintained such a low profile is because the Yellowstone Club is on private grounds. Membership in the club is limited to owners of multimillion-dollar properties at Yellowstone, who also pay annual dues of more than $40,000. Yellowstone employs a security team run by a former Secret Service officer and is so insistent on isolating itself from the outside world that it uses its own fire department and emergency medical services.
English-language media reports have only noted the existence of the event in passing. In August 2013, the "three-day, private Aspen Institute-style conference in Yellowstone, Mont." received a one-sentence mention in a New York Times profile of then-U.S. Senate candidate Cory Booker and his relationship with Eric Schmidt.
Outside observers have occasionally acknowledged the event, including an employee of a charter aviation company who noted the expected arrival of the Google fleet in a July 18, 2019, Instagram video taken from outside the Yellowstone Jet Center at the Bozeman airport.
Attendees appear to be strongly discouraged from mentioning where they are, and Google and the club have rebuffed news outlets that have asked questions about the summit. When the Austrian chancellor, Sebastian Kurz, attended the 2018 event at Yellowstone, the Austrian media was only able to find out that the conference's agenda touched on vague topics such as "international trade relations," "Trump," and "technological progress."
But former Chilean finance minister and presidential candidate Andrés Velasco—one of the few attendees who have publicly spoken about the event—has referred to it as a "Google Ideas" summit. Google Ideas was the original name of Jigsaw, a Google think tank headed by Jared Cohen, a former aide to Clinton at the State Department. Much of Jigsaw's work is focused on foreign policy, and it carried out numerous missions in coordination with the Clinton-run State Department.
Velasco, who has said he was invited to the event at least three times, said the group of 30 or 40 people listened to speakers from various backgrounds, including scientists, artists, politicians, and diplomats.
"This is the third time that they have invited me, although economists and politicians are a minority," he said in 2014. "Last year the inventor of Google Glass [was there] and this year one of those who spoke is who is working on that Google car that does not need a driver. One of the main courses this year was a conversation between [American artist] Jeff Koons and Lady Gaga."
'The 40 Most Interesting People'
Billionaire investor Ron Burkle—part of the ownership group behind the Yellowstone Club and a conference attendee—has said that Schmidt chooses his guests based on how interesting he thinks they are. "Eric Schmidt has this retreat every year…for the 40 most interesting people, according to him," Burkle said in 2017, in an apparent reference to the Yellowstone Club summit. "I quickly pointed out that it's at my place, or I wouldn't be there."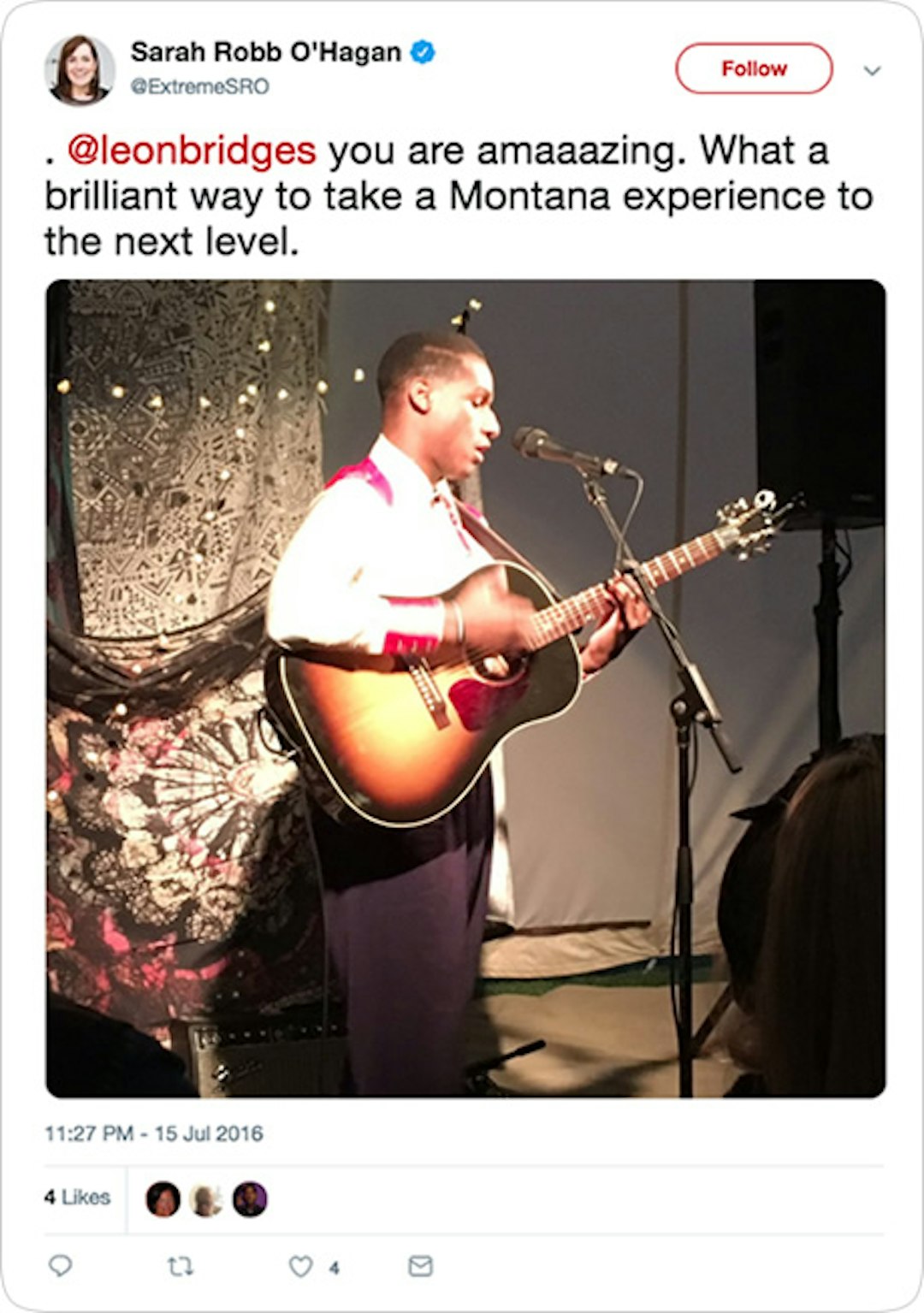 The crowd Schmidt gathers also gets a unique opportunity to take in intimate performances from top-tier entertainers. In 2016, Grammy-nominated R&B artist Leon Bridges appears to have performed an after-hours concert for Schmidt's guests. The Google event also coincides with the Yellowstone Club's annual rodeo invitational, which conference participants sometimes attend.
Burkle also appears to fly guests in for the weekend, including celebrity couple Mila Kunis and Ashton Kutcher. Kunis' comments about the event suggest that many of the attendees have been people in Hillary Clinton's orbit. Schmidt has strong ties to Clinton, and was an adviser to her 2016 presidential campaign, a role that was already in the planning stages as early as 2014.
"I go to conferences all the time. I go to Yellowstone and I'm very privileged that I get to be a part of these amazing groups. The most brilliant people that I've ever had the luxury to talk to have always been in [Hillary Clinton's prospective] cabinet," Kunis said in 2016.
Several other people who have attended the conference have also brought high-level foreign policy expertise, including former U.S. Ambassador to Russia Michael McFaul and Ian Bremmer, a Washington insider who founded a consulting firm called the Eurasia Group.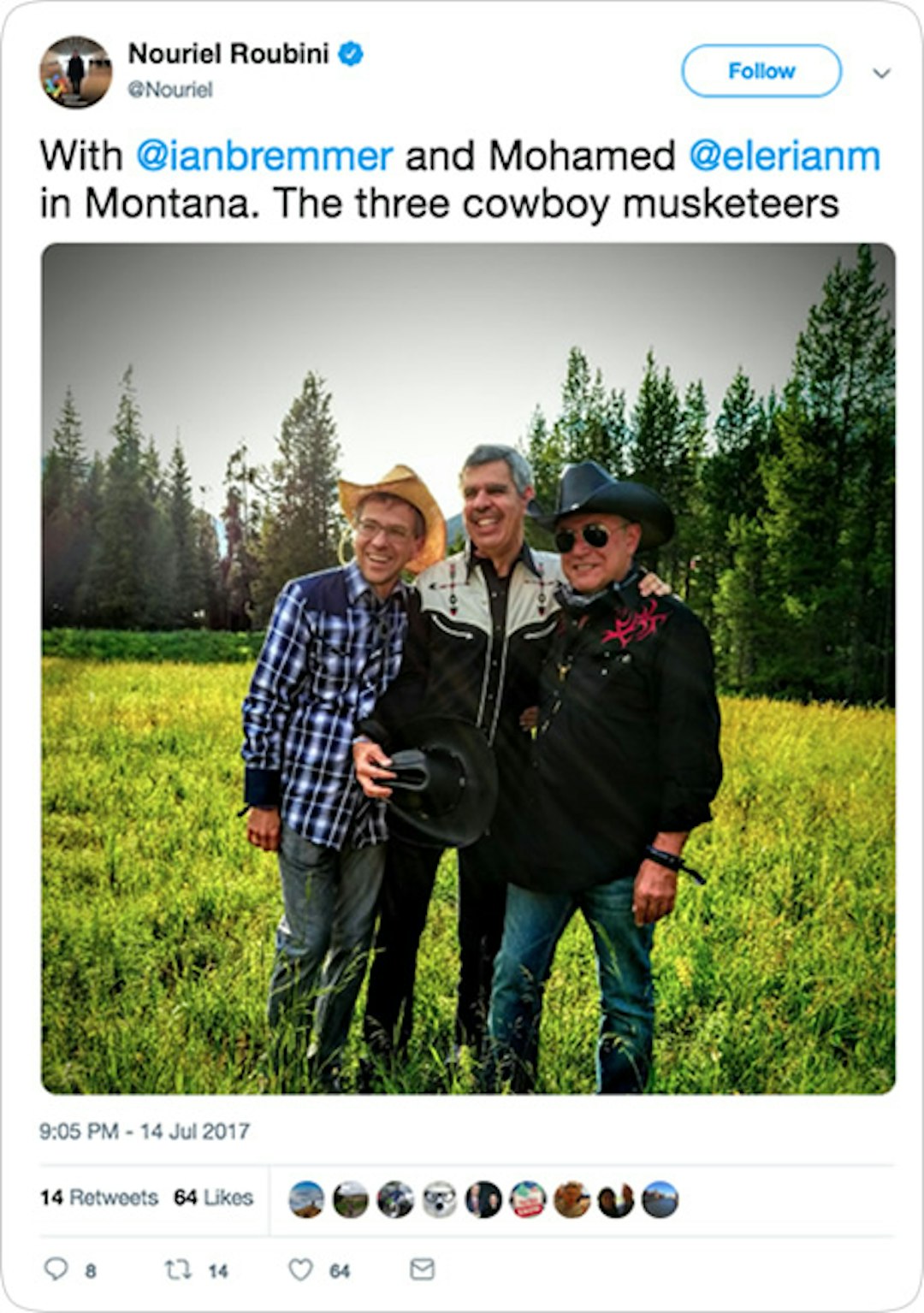 Four attendees at the 2012 summit had existing or fledging relationships with Schmidt: Booker, then the mayor of Newark, New Jersey; Peek.com founder Ruzwana Bashir; Huffington Post founder Arianna Huffington; and Anne-Marie Slaughter, who was a top adviser to Clinton at the State Department and now heads the New America Foundation, a Google-friendly think tank where Schmidt served as chairman and has been a top donor.
At the time of 2012 conference, Schmidt was invested in a start-up founded by Booker called Waywire that aimed to "collect, curate and share" videos, and he flew Booker to the Montana summit on a private plane. Schmidt also invested in Bashir's company Peek.com prior to its 2012 launch, and the company has since built a business partnership with Google. Huffington has spoken at multiple Google events, and Schmidt has helped her promote her wellness company Thrive Global.
The Yellowstone Club event also appears to feature attendees with backgrounds in economics such as Nouriel Roubini, who served in senior roles on the White House Council of Economic Advisors and in the Treasury Department during Bill Clinton's presidency, and Mohamed El-Erian, the former CEO of investment giant PIMCO who also served on the board of the New America Foundation.
Other likely guests of Schmidt have included Frances Townsend, President George W. Bush's Homeland Security adviser, poet Kate Tempest, Massachusetts Institute of Technology professor Erik Brynjolfsson, economist Dambisa Moyo, former U.S. attorney for the Southern District of New York Preet Bharara, soul singer Niia, and author and entrepreneur Sarah Robb O'Hagan.
Mixing Business and Pleasure
Schmidt's summer gathering at the Yellowstone Club provides a comfortable venue for building personal ties to government officials and their key advisers. But Schmidt may have also used the Big Sky summit to advance more specific policy and public relations goals.
When Schmidt invited Austrian Chancellor Kurz to attend the conference in 2018, the country held the presidency of the Council of the European Union and was pushing the EU to adopt a 3% tax on the revenues of large tech companies like Google. The plan was expected to target revenue from specific activities such as internet advertising, but details about how advertising would be defined and whether the plan would also tax revenue from the sale of personal data were still being negotiated.
While that EU tax was ultimately not adopted, Schmidt was unable to dissuade Kurz from pursuing the issue entirely, as Austria is now implementing its own tax on digital advertising revenues. However, the Austrian proposal did not contain the tax on the sale of user data that was discussed in the EU version and was included in similar legislation in France. (The issue of a digital tax is still under debate in Europe.)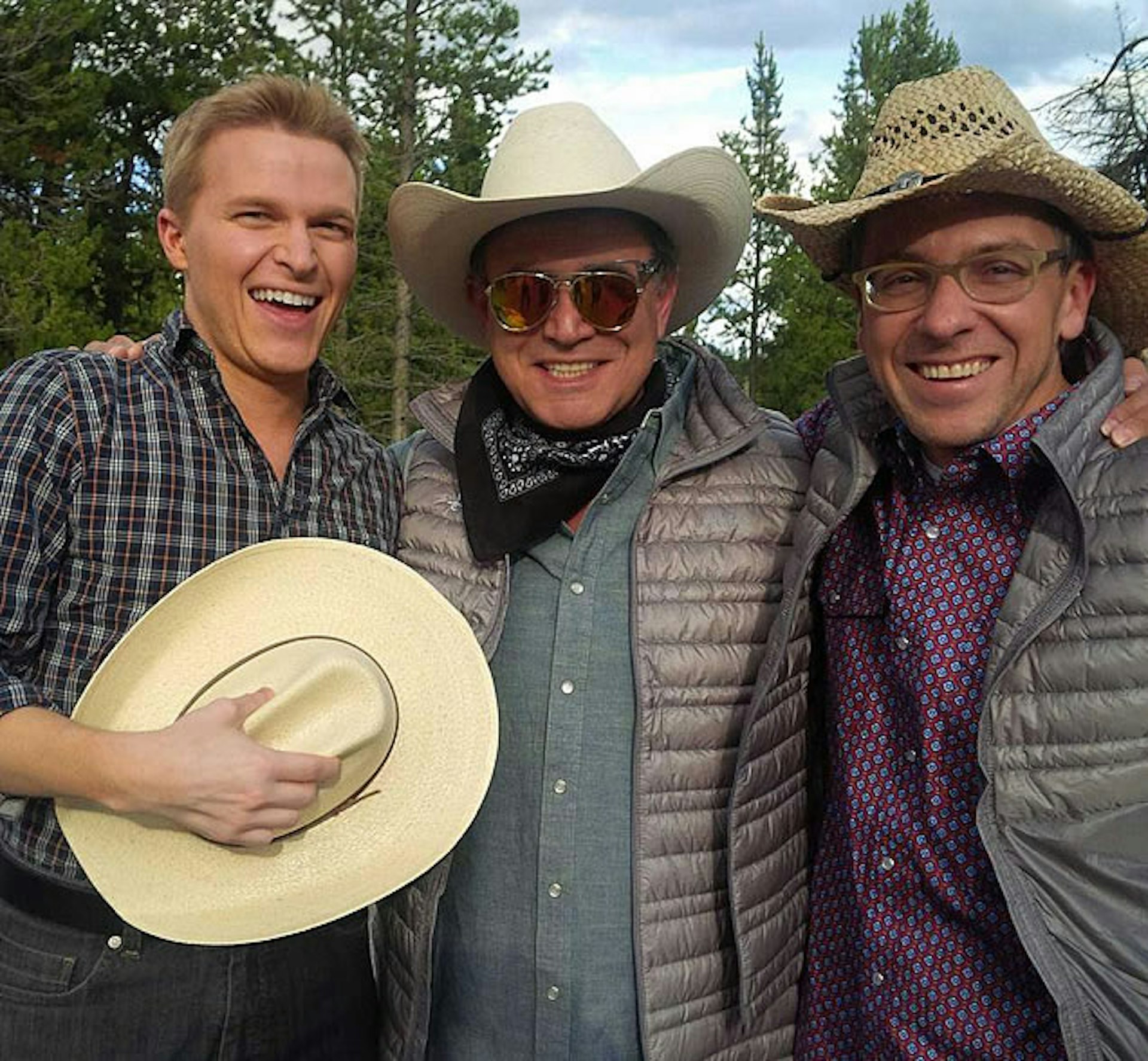 Google has also been covered by at least one journalist who has been a guest of Schmidt's at Yellowstone. After attending the Montana retreat in 2014 (and likely 2013 and 2015 as well), Ronan Farrow served as NBC's correspondent for a November 2016 piece on Google's efforts to target anti-ISIS videos toward internet users whose search history indicates they are in danger of being radicalized by the violent extremist group.
Frances Townsend, the former Bush adviser who is a leading Republican voice on security issues, appears to have been among Schmidt's guests at the Yellowstone Club in July 2017. The month before, a nonprofit group she helped launch called the Counter Extremism Project (CEP) had criticized a Google announcement that it would devote more resources to removing extremist content, arguing that it "lacks specifics."
Townsend has maintained a longtime relationship with Google, accompanying Schmidt and Jared Cohen on a 2015 trip to Saudi Arabia to discuss "future potential business cooperation" with Prince Al-Waleed bin Talal. And she appears to have been invited back to the Montana retreat in 2018 as well, perhaps in an effort to temper the CEP's continued criticisms of Google-owned YouTube. Just days before the gathering, CEP published a report that found that more than 5.5% of YouTube videos that appeared for six search terms it analyzed contained extremist content.
Google appears to shuttle many of the conference guests into Montana on private planes. Flight records show that jets owned by Google and its executives have flown into Bozeman on conference weeks from Mountain View, San Francisco, San Jose, Los Angeles, the New York area, Boston, Washington, D.C., and other locations.
The company fleet of Gulfstream and Boeing jets—which includes a reconfigured Boeing 767 that seats up to 50 people—appears to make between four and seven round trips for attendees each year, amounting to a total of at least 95 flights between 2012 and 2019 that likely carried conference guests. (The FAA data shows 114 flights by Google-associated planes that either arrived in or departed from Bozeman around the third weekend of July between 2012 and 2019. Of these flights, 95 likely carried passengers to or from the Yellowstone Club retreat. The remaining 19 trips arrived at or departed from Bozeman at times that make it unlikely that they were carrying conference guests.) 
In 2018 and 2019, a KaiserAir charter plane typically used by the National Hockey League's San Jose Sharks also appears to have carried guests from Mountain View to Bozeman and back. The San Jose Sharks are majority-owned by Hasso Plattner, a co-founder of software company SAP.
The following people have likely attended Schmidt's Yellowstone Club summits, based on prior reporting or social media posts that place them at or near the Yellowstone Club during the dates of a summit: