Western business leaders have distanced themselves from Saudi Arabia and its leader, Mohammed bin Salman, in the wake of the murder of journalist Jamal Khashoggi by Saudi operatives. Representatives from Uber, Viacom, JP Morgan, Ford, Blackrock, and other major companies have pulled out of the Saudi government's Future Investment Initiative (FII) conference, informally dubbed "Davos in the Desert."
After nearly two weeks of silence, during which executives from more than a dozen other companies pulled out of the conference, Diane Greene, the CEO of Google Cloud, eventually followed suit in in pulling out of the FII meeting.
However, Google's initial hesitance to drop out of the conference, as well as its unwillingness to comment on the Khashoggi episode even as other tech companies expressed their concern, hints at the company's deep economic entanglements with Saudi Arabia.
Google's aggressive, decade-long courtship of the Saudi government has begun to pay off, unlocking contracts in the middle east that could ultimately be worth billions of dollars
Earlier this year, Google joined other tech firms in fêting Mohammed bin Salman during his visit to the United States. At the time, the Saudi state energy company, Aramco, was reportedly in talks with Google about a joint venture to build a tech hub in Saudi Arabia. Google edged out Amazon, which is better established in the cloud business, to cement a partnership with the country.
In April 2018, Google announced a deal to build several "Innovation Hubs" across Saudi Arabia. The company also held "Google Developers Roadshow" events in Riyadh, Taif, Jeddah, Medina, and Khobar, Saudi Arabia, the same month.
The details of Alphabet's investment in Saudi Arabia, which analysts have described as "unusual," remain shrouded in secrecy. In April 2018, Google's chief executive, Sundar Pichai, confirmed the company had already begun building data centers in Saudi Arabia. But the Google Cloud website makes no mention of a cloud region in Saudi Arabia.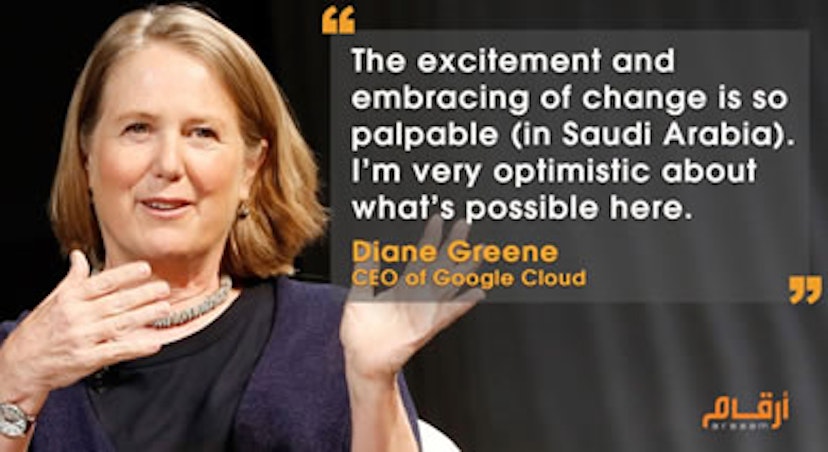 Technology companies previously shied away from building data centers in the Persian Gulf because the countries' privacy laws could allow the government to access user data without a court order. But Google has softened its stance on yielding to demands of authoritarian nations where it hopes to do business.The Intercept recently reported that the company had plans to launch a censored version of its search engine in China, over the protests of its own engineers, after quitting the market a decade earlier over its surveillance of dissidents' email accounts.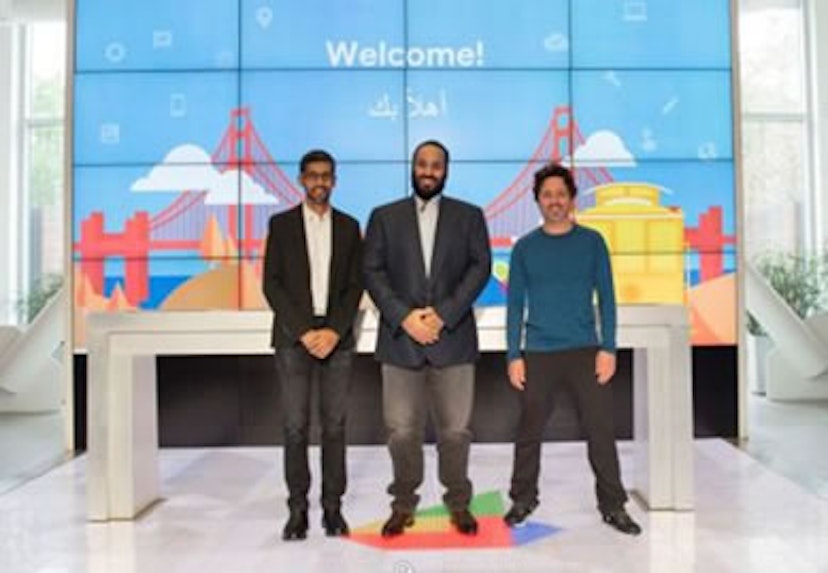 In Saudi Arabia, Google has been willing to turn a blind eye to human rights abuses for longer. In January 2015, then-Google CEO Eric Schmidt delivered the keynote address at the Global Competitiveness Forum in Riyadh, another Davos-like event hosted by the Saudi government.
Schmidt's speech took place the same month that imprisoned Saudi blogger Raif Badawi received the first phase of a highly publicized 1,000-lash sentence for criticizing religious leaders in the country. The previous month, cases that were brought up in a special "terrorism court" against two Saudi women who had been arrested for driving were also featured in international headlines.
A representative for Human Rights Watch argued that "Mr. Schmidt has a clear moral obligation to feature the plight of Raif Badawi and other Saudi bloggers and call on Saudi authorities to release him unconditionally and without delay." However, there is no record that Schmidt addressed free speech or human rights issues during his speech, and Google did not respond to press inquiries regarding Badawi ahead of the speech.
During the 2015 trip, Jared Cohen, head of Google's Jigsaw unit and a frequent travel companion of Mr. Schmidt, met with King Salman and Crown Prince Mohammed bin Salman, who had both ascended to their positions just days earlier. It appears likely that Schmidt was with Cohen during the meeting with the king and crown prince.
Schmidt, Cohen, Cohen's chief-of-staff Dan Keyserling, and Google's policy and government relations manager for the Middle East and North Africa Khaled Koubaa also met with Prince Al-Waleed bin Talal during the 2015 visit to discuss "future potential business cooperation" between Google and Prince Al-Waleed's Kingdom Holding Company. Schmidt previously met with Prince Al-Waleed twice in 2013, as well as once in 2011.
A few years earlier, in 2011, Cohen also spoke at the Global Competitiveness Forum, and in 2010, Schmidt met with Saudi Arabian General Investment Authority (SAGIA) governor Amr Al-Dabbagh.
Google's relationship with the Saudi Arabian government dates back to at least 2004, when Schmidt and company co-founders Larry Page and Sergey Brin joined Bill Clinton and other guests of the former president on a trip to Saudi Arabia at the invitation of Al-Dabbagh and then-Crown Prince Abdullah bin Abdulaziz Al Saud. The visiting delegation flew into the country on the crown prince's Boeing 767.
Google's aggressive courtship of the Saudi government for more than a decade has begun to pay off, unlocking contracts in the middle east that could ultimately be worth billions of dollars to the company.