Google is quietly using a renegotiation of a free trade agreement with Mexico and Canada to push for the inclusion of a controversial provision of U.S. law that has shielded child sex-trafficking sites from prosecution.
The stealthy move represents an end-run around efforts by parents of children trafficked on Backpage.com and other sites to get the U.S. Congress to amend the 1996 law, which they say was never intended to protect the sale of children for sex. Several bipartisan bills have recently been introduced in Congress to reform Section 230 of the Communications Decency Act, which gives internet services broad immunity for crimes committed by users on their services.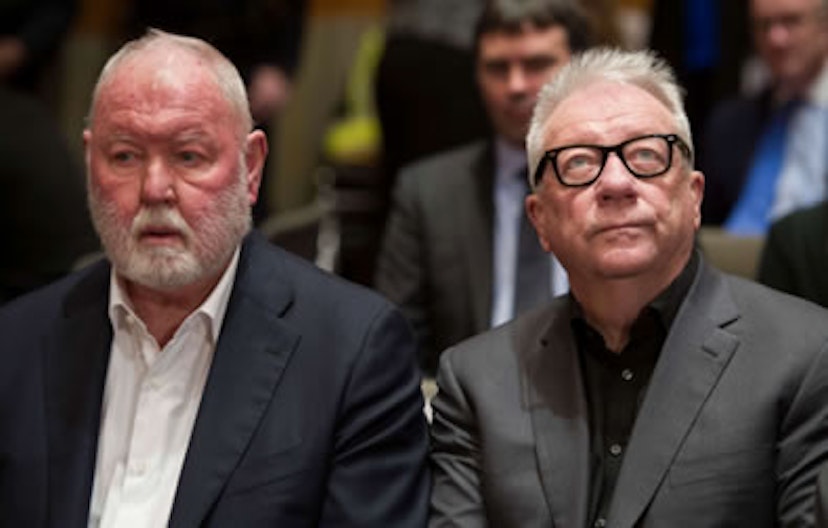 Google and the groups it finances have vigorously opposed the legislation, which would clarify that the provision cannot shield a website from federal trafficking laws and make them responsible for knowingly allowing children to be traded for sex on their platforms. They have argued that such a carve-out would chill free speech online.
Its latest move, however, could circumvent congressional and state efforts entirely by enshrining the blanket immunity in an international treaty. It would also export it to Mexico and Canada.
The move could represent a major step forward in Google's efforts to get other countries to adopt similar measures exempting them from liability, even as pressure grows to reform the law at home.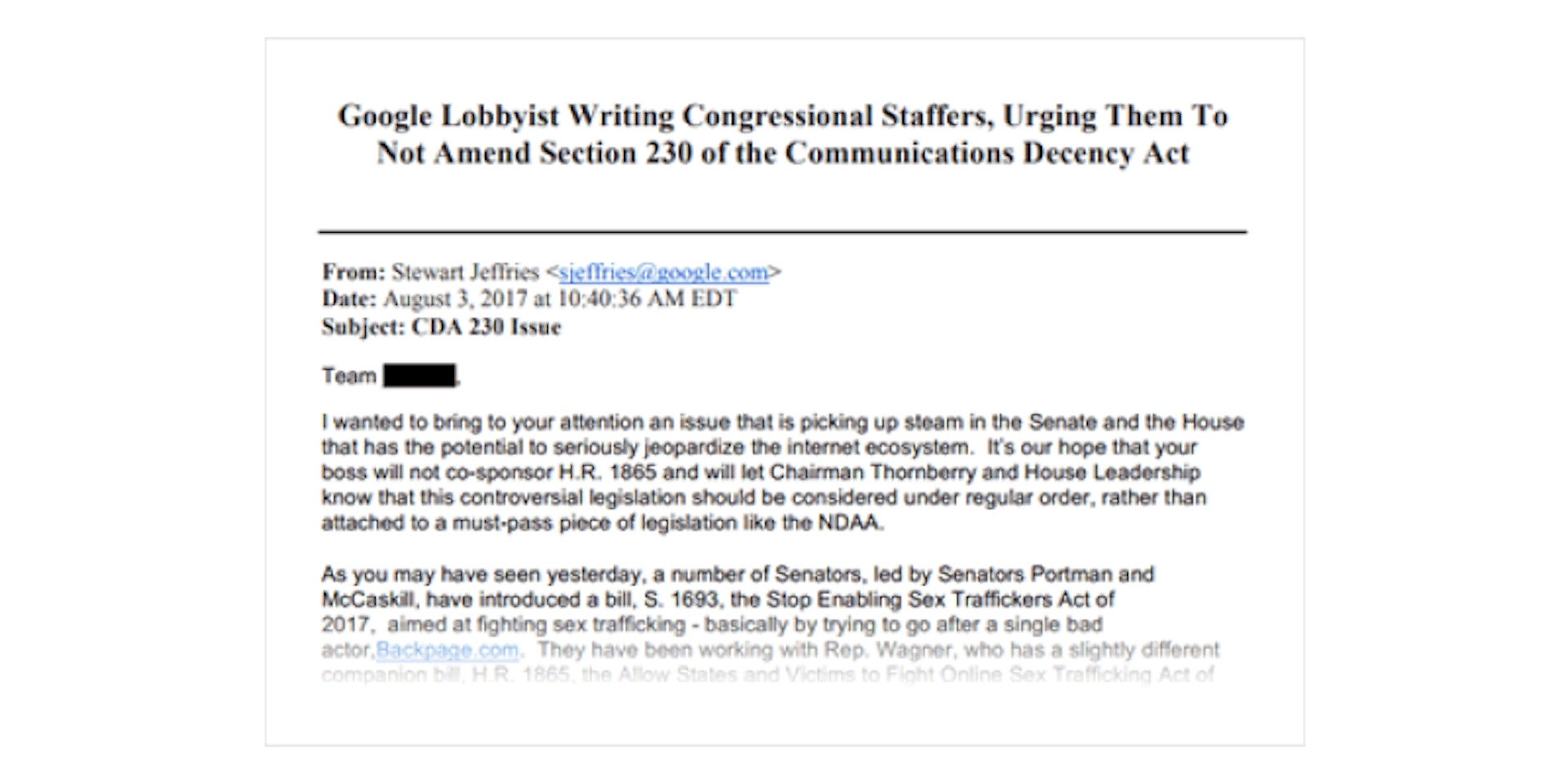 The California-based nonprofit Consumer Watchdog recently warned tech companies like Google were "trying to pull an end run around new bipartisan Congressional efforts to hold Backpage accountable" by pressing the Trump Administration to include Section 230 provisions in the NAFTA renegotiations.
Between June 13 and June 17, 2017, four organizations funded by Google—the Electronic Frontier Foundation (EFF), Consumer Technology Association (CTA), Computer and Communications Industry Association (CCIA) and the Internet Association—submitted comments lobbying to extend the immunity Google and other tech companies enjoy in the U.S. to the entire trade bloc.
"NAFTA should prohibit governments from making online services liable for third-party content," wrote the Internet Association, of which Google is a key member. "Mexico and Canada lack a clear legal principle like Section 230, creating increased risks for U.S. internet service exporters. In fact, Mexico has proposed increasing liability for e-commerce companies."
Mexico has been fighting an endemic problem with child-sex trafficking, and an increasing amount of the business is transacted online through services like Backpage.com. A town in southern Mexico is widely considered to be the "sex trafficking capital of the world" according to the U.S. State Department, which calls it the "single largest source of sex slaves sent to the U.S."
Moreover, an examination of Backpage's website shows the "escorts" section is still widely available in several Mexican cities, despite having been taken down in the U.S. following a Senate investigation. In Mexico, the advertisements often include descriptions such as "Lolita", "teen" and "fresh"–code words that often denote underage trafficking victims according to a U.S. Senate investigation of Backpage released in January 2017.
If Google's succeeds in getting Section 230 language included in NAFTA, it would largely prevent legal action against Backpage in Mexico. A recent documentary, I Am Jane Doe, showed the frustration of parents that found their children had been trafficked online as they were blocked from suing Backpage.
"At least two-dozen Google-funded groups have issued statements, letters or op-eds opposing legislation to remove the immunity for sites involved in sex trafficking"
A recent report showed how Google and its surrogates were leading the legal defense of Backpage. Now the company is using its powerful lobbying machine to kill efforts to amend the law to enable the parents to bring suits against the owners of the site, which a U.S. Senate investigation found knowingly profited from the trade.
Since the introduction of Senator Rob Portman's legislation to remove the immunity for sites involve in sex trafficking, at least two-dozen Google-funded groups have issued statements, letters or op-eds opposing the measure, according to an analysis by the Google Transparency Project. The groups span the political and ideological spectrum and include Heritage Action New America Foundation, Electronic Frontier Foundation, Center for Democracy and Technology, and Tech Freedom.
Other Google-funded groups have also penned op-eds opposing the bills. Larry Magid, the Co-director of ConnectSafely.org and the founder of SafeKids.com and SafeTeens.com, published an op-ed in Forbes suggesting that Senator Portman's legislation was a "Trojan horse" that could have severe ramifications for online free speech.
ConnectSafely.org is funded by Google, Facebook and several other Silicon Valley companies that, he acknowledged in a disclosure, "may be affected by this proposed law."
Forty-nine state attorneys general signed a letter to congress on Aug. 16, 2017, pushing for the ability to prosecute platforms that publish ads that facilitate sex trafficking.