Google is profiting from dozens of websites that peddle hoaxes and conspiracy theories about Covid-19, according to a Tech Transparency Project (TTP) investigation, revealing a major hole in the company's claims that it's fighting misinformation about the pandemic.
TTP reviewed a list of sites that spread false information about the coronavirus, compiled by the independent watchdog group NewsGuard, and found that 97 of the sites use Google advertising tools DoubleClick or AdSense. Google is not only giving these unscrupulous web publishers a way to make money off the misinformation but also taking a cut of the resulting ad revenue.
Just like the ad sales department at a newspaper, Google fills available ad space on publisher websites that take part in its display ad network. Unlike a newspaper, however, Google claims no responsibility for the content of the sites where it places ads—a practice at odds with the company's stated goal of combating coronavirus misinformation.
Those using the Google ad tools include conspiracy theorist David Icke, who promotes the debunked idea that 5G wireless technology is linked to the coronavirus; Activist Post, a website that falsely asserts the Bill and Melinda Gates Foundation funds a group that owns a coronavirus patent; and Waking Times, a site that touts unproven "medicinal foods" to protect against Covid-19 and stokes fear about mandatory vaccinations.
Google is serving ads for major brands like Geico, Subaru, Salesforce, and the AARP, as well as the Trump re-election campaign and even the U.S. government, into these unsavory sites. One example: An ad for #AloneTogether, the White House campaign to encourage social distancing, appeared in a ZeroHedge.com post touting a conspiracy theory that China stole the virus to turn it into a bioweapon. #AloneTogether is meant to drive traffic to the U.S. government's coronavirus.gov website, which gives consumers facts about Covid-19.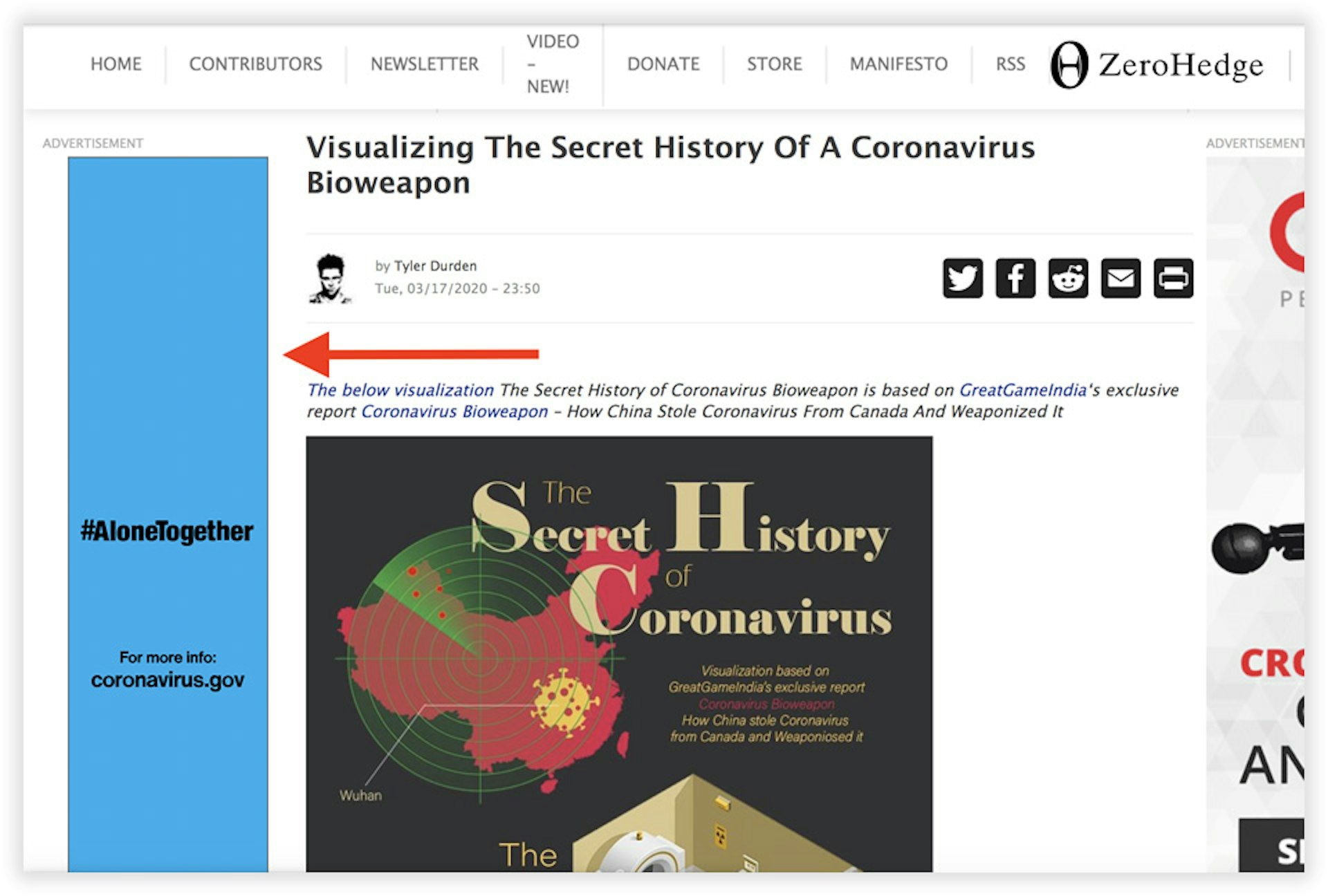 The fact that Google is continuing to make these ad tools available to purveyors of coronavirus misinformation is at cross-purposes with the company's publicly stated efforts to combat misleading content about the pandemic. Google and YouTube say they're working to take down Covid-19 scams and conspiracy theories, and both sites now prominently display information from the Centers for Disease Control and Prevention and mainstream news organizations when people search for coronavirus-related terms. Google said it removed the viral 'Plandemic' conspiracy theory video from YouTube in May.
Google has also pledged $6.5 million to help fact-checking efforts focused on misinformation surrounding the illness. But the company hasn't extended such commitments to its lucrative ad network business—showing that the search giant's effort to combat hoaxes has its limits.
Google's treatment of David Icke, the conspiracy theorist, underscores its inconsistent approach. In early May, Google deleted Icke's YouTube channel, citing his "continued violation" of policies that prohibit the spread of misinformation about the coronavirus pandemic. (Facebook also took down Icke's official page.) Yet Google has not banned Icke from using its advertising tools to monetize his website, where he promotes the same conspiracy theories featured in his YouTube videos.
For this investigation, TTP analyzed the source code of all of the news and information sites that NewsGuard identified as publishing "materially false information about the virus" as of May 28. TTP wrote a piece of custom software to search website source code for keywords that indicate the presence of Google's advertising and analytics tools. The analysis found that more than 40 percent of these sites—97 out of 224—used Google's DoubleClick or AdSense tools to display third-party ads.
Google's tools place ads into these sites through an automated auction that takes into account viewer attributes or the content of the page the user is viewing. The tools, however, often leave advertisers in the dark about where their messages appear.
Google, for example, placed an ad for UNICEF, the United Nations Children's Fund, alongside an Activist Post interview with David Icke in which Icke argues that Bill Gates, Elon Musk, and George Soros are the ringleaders of a "psychological operation" to overstate the threat of coronavirus. Ads for #AloneTogether also appeared alongside this story.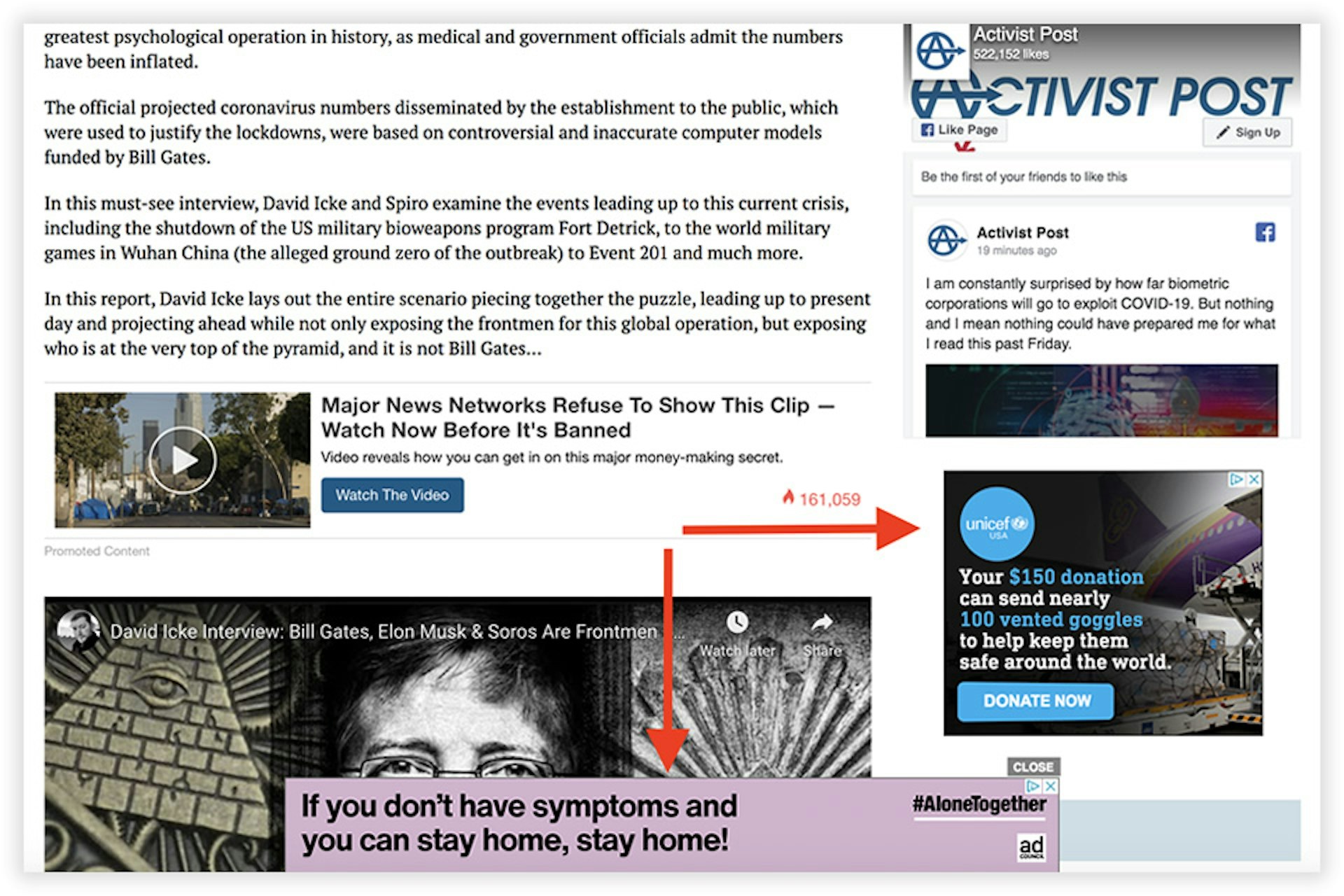 Google-served ads even appear on pages where Google itself is under attack, including a post on Icke's website in which he excoriates YouTube for removing ads from his video linking 5G to Covid-19. The Gateway Pundit, a far-right news site that traffics in coronavirus misinformation and uses Google ad tools, sometimes displays a banner claiming that Google "discriminates against conservatives."
Google takes 32 percent of the revenue for online display ads that run through its AdSense tool for web publishers, and the publisher keeps the rest. This can amount to a big payday for both Google and the web publisher.
The ZeroHedge site, for example, received 40.4 million views in April and has six Google ad placements on most stories. If the site receives Google's average 0.05% click-through rate and charges the average rate for publishers who advertise with Google, then its total advertising revenue would be more than $70,000 per month. Under the AdSense revenue share, ZeroHedge would receive nearly $48,000 and the rest would go to Google.
ZeroHedge was permanently suspended by Twitter in January after it suggested, without evidence, that a Chinese scientist was involved in the coronavirus outbreak.
Advertisers who don't want to appear on fake news sites have limited tools at their disposal. They can block problematic domains one-by-one, or they can exclude entire topics, which will throw out quality news sites along with fringe outlets. The problem is made worse by the fact that Google allows web publishers to hide their domains from advertisers, so advertisers don't know where their ads have appeared in the past.
Advertising isn't the only way that Google gains from misinformation websites. More than 80 percent of the websites on the NewsGuard list use Google Analytics, the company's tool for monitoring website traffic. Google uses Analytics and other website tools, like captchas and embedded YouTube videos, to track users' across the web and target them with personalized ads.