After the 2016 election, public officials and media organizations criticized social media platforms and other tech companies, including Google, for allowing fake news to spread, possibly influencing the outcome of the election. In the wake of such criticism, Google promised to prevent its ads from appearing on fake news websites, reducing the financial incentive for publishers to produce inaccurate content.
However, a new Campaign for Accountability (CfA) analysis of Google's ad serving platforms has found that Google continues to generate substantial income by placing advertisements on websites responsible for fake news. Google allows this to happen in a couple of different ways: (i) The company continues to partner with hyper-partisan sites that often post inaccurate information, and (ii) Google allows publishers to conceal their identities from advertisers so Google can continue to place ads on these anonymous websites.
CfA analyzed a sample of 1,255 partisan news sites that partner with Google and found 184 of them, or 15 percent, hid their names from advertisers through Google's anonymization feature. Those sites were unusually profitable. Anonymized publishers contributed more than eight times as much revenue per publisher as compared to non-anonymized publishers, the analysis found. In fact, this small subset of websites was responsible for an estimated 60 percent of Google's ad revenue from the sample.
The study also found that the right-wing content publishers in the sample, which were often responsible for publishing highly misleading content, generated an estimated 68 percent of Google's revenue from websites in the sample—or $48.8 million. In contrast, publishers of left-wing content generated an estimated 4 percent of the annual revenue from news websites, based on an extrapolation of the 1,255 publishers included in our survey.
Hyper-partisan, right-wing websites like Breitbart, Drudge Report and The Daily Mail, which commonly post highly dubious and conspiracy-minded content, were the top revenue-generating publishers in the sample. Other Google advertising partners included the VDARE Foundation, which was designated as a hate group by the Southern Poverty Law Center (SPLC) for its white supremacist and anti-Semitic content, and World Net Daily, which posts "manipulative fear-mongering and outright fabrications designed to further the paranoid, gay-hating, conspiratorial and apocalyptic visions of [Owner Joseph] Farah," according to SPLC.
In short, hyper-partisan, conservative fake news is a highly profitable business for Google, which may explain why it continues to partner with them and offers them the ability to hide their identities from advertisers. Tellingly, Google's terms of service do not prohibit fake news, including conspiracy theories and other misinformed content, and Google's dashboard for advertisers does not distinguish fake news from quality journalism.
Instead, advertisers are only allowed to choose whether their ads appear in content about right-wing or left-wing politics. As a result, advertisers are forced to choose between safe audiences and large audiences, and may unwittingly end up funding groups and activities that are antithetical to their values.
Facing an outcry from the public and major advertisers, Google repeatedly vowed to stop fake news sites from using its dominant ad network to profit from conspiracy theories, hateful material and outright falsehoods. After the 2016 presidential election, which saw a surge in false information masquerading as news, Google said in a statement: "Moving forward, we will restrict ad serving on pages that misrepresent, misstate, or conceal information about the publisher, the publisher's content, or the primary purpose of the web property."
In response to complaints of ads still appearing alongside hate content, Google rolled out more options for advertisers in Spring of 2017. "Starting today, we're taking a tougher stance on hateful, offensive and derogatory content," Google said. "This includes removing ads more effectively from content that is attacking or harassing people based on their race, religion, gender or similar categories." 
However, CfA's in-depth study of fake news sites reveals that Google continues to allow many such sites to use its dominant ad network. Furthermore, it grants many such sites the ability to hide their identities from advertisers that might otherwise object to the ads appearing on their pages.
Google does not say why it gives such sites the tools to hide their identities from advertisers. It simply says some sites "choose to offer these placements anonymously and not disclose their site names to advertisers for various reasons."
CfA's analysis suggests one likely reason: money. According to our analysis of news sites, Google likely generates significant profits from extreme right-wing publishers of fake news on the dominant Google Display Network (GDN), exploiting loopholes in its terms of service and limited transparency about its publishers.
How Google's Ad Platform Works
The GDN is a group of more than 2 million pre-approved websites that Google partners with to display ads from companies on their pages, apps, and videos. Advertising on this network is crucial to Google's bottom line. In the first quarter of 2017, for example, Google generated over $4 billion in revenue from ads placed on sites in the network, accounting for 16.4 percent of its worldwide revenue.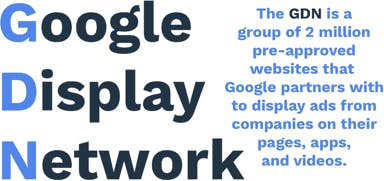 Despite recent criticism, the GDN includes a number of sites associated with the "alt-right" movement, a neologism for many of the same groups that previously were referred to as white nationalists or white supremacists. For example, Breitbart continues to be included in the GDN, despite the fact that over 1,000 advertisers pulled their ads from the site because of content that German airline Lufthansa described as "violent, sexist, extremist and radical political content." An investigation by BuzzFeed revealed that Breitbart, despite its public denials, has private connections to white nationalists and neo-Nazis.
Hate Group Advertising
Google has taken some highly publicized actions against hate sites that have gained a high degree of notoriety. In August 2017, it canceled the domain registration for the neo-Nazi site Daily Stormer after it denigrated the victim of an attack in Charlottesville, Virginia.
At the same time, however, Google continues to partner with several other sites known for peddling hateful content and right-wing conspiracy theories. One Google display network partner is the VDARE Foundation, which was designated as a hate group by SPLC for its white supremacist and anti-Semitic content.
AdSense is also used throughout the domain of World Net Daily, a publication described by the SPLC as devoted to "manipulative fear-mongering and outright fabrications designed to further the paranoid, gay-hating, conspiratorial and apocalyptic visions of [Owner Joseph] Farah and his hand-picked contributors from the fringes of the far-right and fundamentalist worlds."
In the wake of the 2016 election, many AdWords and Doubleclick advertisers began to pull their ads after finding them running alongside hate speech and extremist content. In response, Google rolled out new controls that it said would allow advertisers to "stop their ads from showing against controversial content."
Nevertheless, CfA's study found that the new policy and additional tools have done little to reduce the risk that ads will appear next to objectionable content. The changes have also done little to prevent those who peddle hate speech and extremist content from profiting through their business relationship with Google.
Examples of Google Ads Appearing Alongside Fake News Articles
In the wake of the mass shooting in Las Vegas, Nevada, several websites that host Google ads published stories with false or misleading information.  For instance, GotNews, the website run by conservative provocateur Charles Johnson, published an article on October 12, 2017, headlined, "Las Vegas Security Guard Cancels On @SeanHannity, Whereabouts Unknown." The fact-checking website Snopes declared the article's claim "false," but Google ads continue to run alongside the story.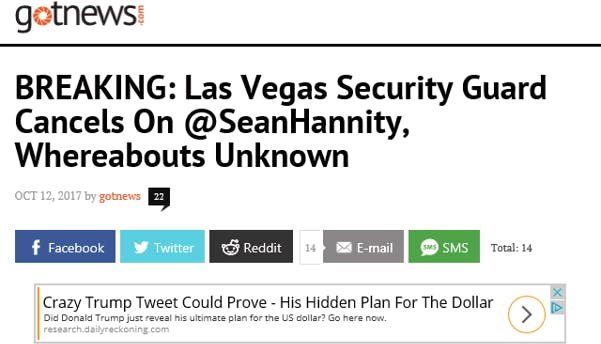 Similarly, on October 2, 2017, The Daily Mirror published a story, headlined, "Woman Chillingly said 'Everyone is Going to Die' to Las Vegas Reveller Celebrating her 21st Birthday." BuzzFeed reported, however, that the CEO of the security firm "working the concert Sunday night, told BuzzFeed News that this is a false report." Google ads also are running alongside this story on The Daily Mirror's website.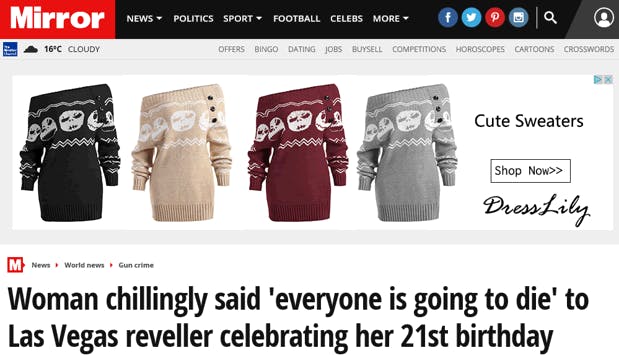 How Google's Platforms Allow Advertisements on Objectionable Websites
Google's policy is riddled with significant loopholes that the company has so far failed to address. Google did broaden its hate content policy to restrict "dangerous or derogatory content," including hate speech aimed at specific groups. Its terms of service, however, do not restrict publishers from promoting misinformation, including conspiratorial and fake content as often found on hyper-partisan sites.
In other words, sites peddling hoaxes such as "Pizzagate"—a false story that inspired a North Carolina man to shoot a semi-automatic weapon inside a Washington D.C. pizza restaurant—would still be able to display ads from Google's advertisers.
Sites peddling hoaxes such as 'Pizzagate'—a false story that inspired a North Carolina man to shoot a semi-automatic weapon inside a Washington, D.C. pizza restaurant—would still be able to display ads from Google's advertisers.
Rather than scrutinize the content itself, the rules simply shift the burden of finding and flagging objectionable material from Google to advertisers. Under Google's system, it is incumbent upon advertisers to identify and blacklist specific domains that they find objectionable.   
But Google doesn't make this easy: its ad platforms don't allow advertisers to block fake news sites as a category. They only allow advertisers to include or exclude broad topics such as "politics." Blacklisting that category could exclude ordinary news sites like CNN as well as Breitbart or WorldNet Daily.
Even if advertisers could identify specific extreme websites, Google offers these publishers a way to circumvent advertiser exclusions by making their sites anonymous. If a publisher decides to sell advertising space anonymously, advertisers will see only a random string of numbers, such as "999188af3695d396.anonymous.google.com." Advertisers that buy ads on these sites can only see how ads performed, with no indication of the content that appears alongside their ads.
One advertiser reported to a Google representative:
"I [was] checking out one of the placements where the clicks were high. I was appalled when nude images showed up on the placement site!! The text contained the keywords that I was targeting but it was a fake website with keywords randomly placed!! Now I'm worried that there might be similar websites in anonymity and I have no control over it."
Advertisers can exclude all anonymized domains. But many such domains are reportedly among the sites with the highest click-through rates and may, as far as the advertiser is concerned, be perfectly legitimate. Another advertiser reported,
"I get great results from these placements, I'd just like to know what type of sites these are."
Google's practice of anonymizing websites in its display network ultimately prevents advertisers from making informed decisions about where they are advertising—precisely what Google says it wishes to give them.