YouTube has allowed some peddlers of disinformation about the coronavirus to earn money from advertising, according to a Tech Transparency Project investigation, despite its promise to limit the ability to creators who produce quality videos about the pandemic.
TTP found advertising on several YouTube videos promoting questionable coronavirus treatments, like home remedies, meditative music, and potentially unsafe levels of over-the-counter supplements like vitamin C. The advertisers on these dubious videos included President Donald Trump's re-election campaign, as well as Facebook, Liberty Mutual Insurance, and streaming startup Quibi.
The findings show that Google-owned YouTube has provided economic incentives for people to create and distribute false and misleading information about the pandemic on its platform, which has virtually unrivaled reach around the globe. YouTube removed most of the videos in question after a reporter from The Guardian, who had been given access to the findings by TTP, shared them with YouTube for comment.
As the coronavirus began to spread across the U.S., YouTube initially prohibited so-called monetization of all videos about the outbreak in keeping with its "sensitive events" policy, which bars advertising around global health crises, terrorist acts, and natural disasters. But on March 11, YouTube changed course, saying it wanted to "make sure news organizations and creators can continue producing quality videos in a sustainable way." The company said it would enable coronavirus video ads for "a limited number of channels, including creators who accurately self-certify and a range of news partners."
Weeks later, however, TTP found a number of misleading coronavirus videos featuring ads on YouTube, promising cures and preventative treatments for the disease.
A YouTube search for "Coronavirus home remedy" turned up a video that promised to "Cure Corona Virus" with recipes for fruit and vegetable smoothies. It featured a pre-roll ad from a noteworthy advertiser: the Trump campaign.
The same Trump campaign ad also appeared before a video that discussed "10 Herbs That Kill Viruses and Clear Mucus from Your Lungs." This second video didn't mention the coronavirus specifically, but it appeared in a YouTube search for the keywords "coronavirus home remedy." Many of the comments on the video also referenced coronavirus as a possible application for the herbal remedies.
The Trump campaign isn't the only advertiser to find its content alongside disinformation about the coronavirus pandemic. A banner ad for Facebook appeared on a YouTube video that promised to improve viewers' immune systems—and fight off coronavirus—through music that "improv[es] cognitive positivity by using subtle yet powerful theta waves." The ad appeared at a time when Facebook is trying to fight health misinformation on its own platform.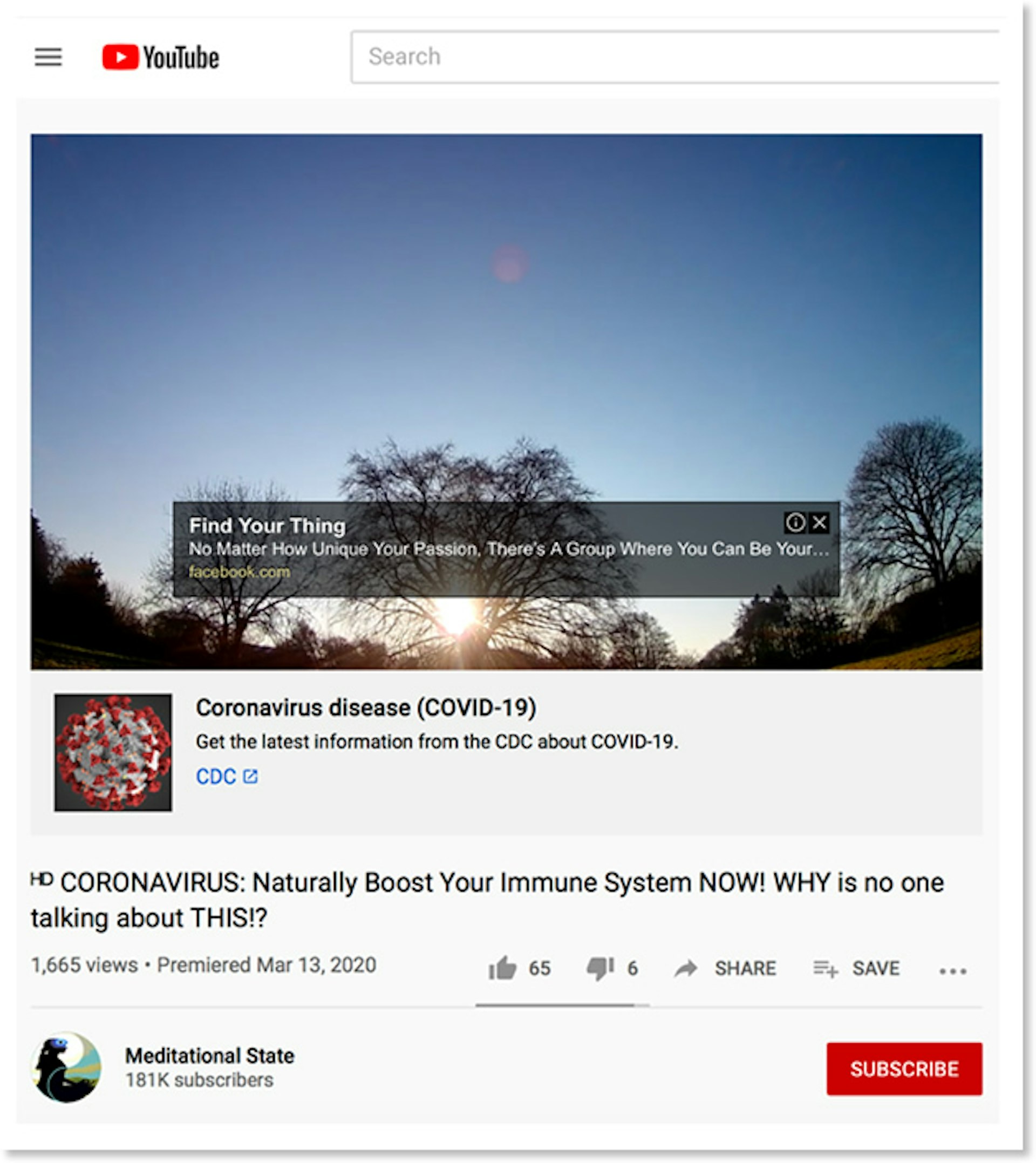 YouTube says it has moved to improve its coronavirus content. It provides a link to government authorities like the Centers for Disease Control on most videos that mention coronavirus and Covid-19. YouTube also introduced a "news shelf" featuring information about the pandemic from authoritative news sources and health officials. The platform has demonetized some of the most egregious peddlers of disinformation. For example, none of the videos that TTP searched for using keywords related to coronavirus and biological weapons contained ads. (Conspiracy theories have attributed the origin of the virus to both U.S. and Chinese biological weapons programs.)
But TTP's review found that YouTube has not stopped all monetization of inaccurate coronavirus content, including in foreign language videos. Ads for Liberty Mutual Insurance appeared before Polish-language video that advised viewers to steer clear of Chinese restaurants in order to avoid the virus.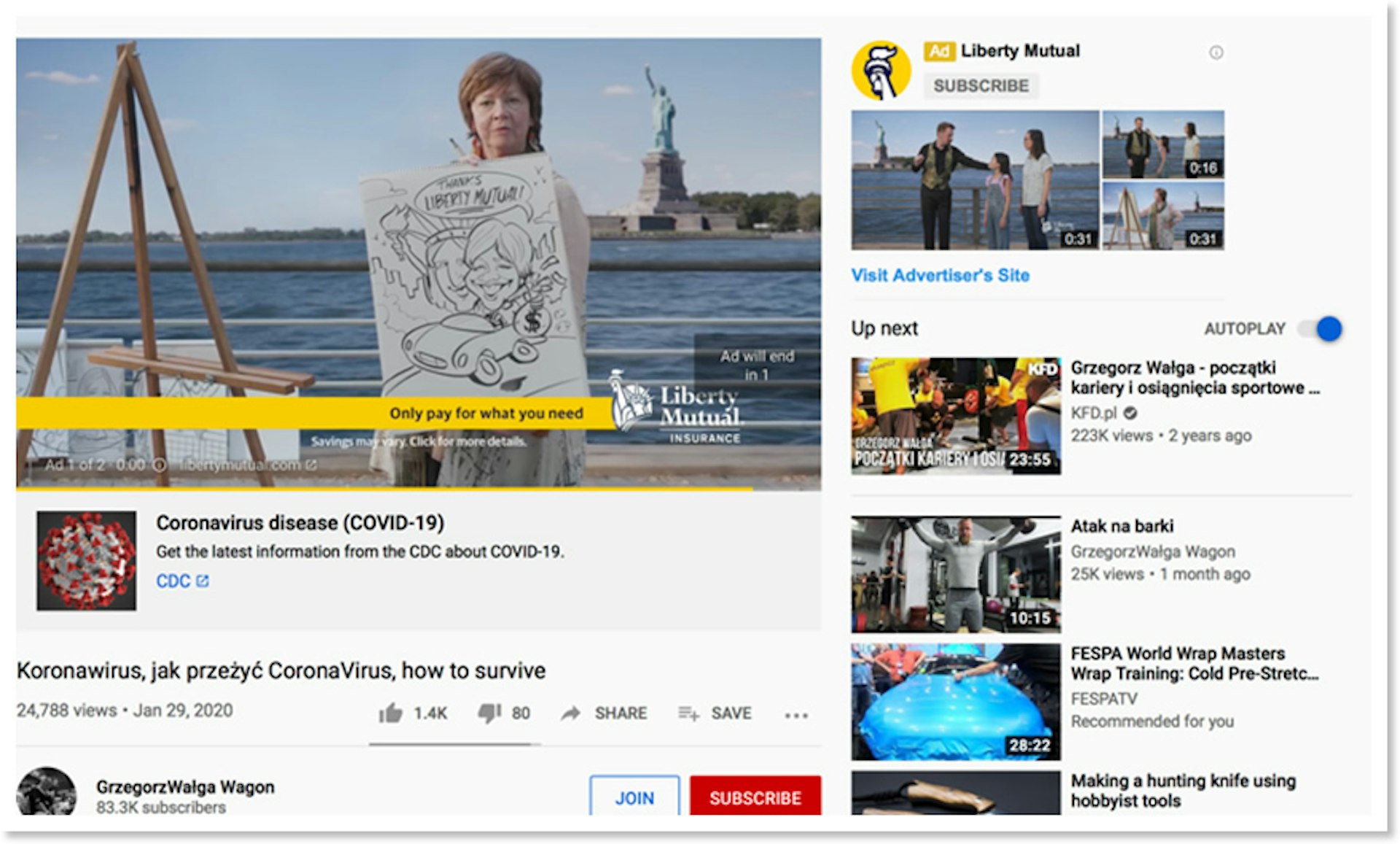 Ads for Quibi—the new short-form video platform backed by The Walt Disney Company, NBCUniversal, Viacom, and Sony Pictures Entertainment—appeared before a Bengali video that claimed that drinking water can prevent coronavirus infections. Masterclass—the e-learning platform that features lessons from celebrity experts like Ken Burns, Paul Krugman, David Axelrod, and Malcom Gladwell—advertised alongside a Hindi video that claimed that burning incense and eating Amla fruit and Neem leaves will prevent coronavirus.
It's unlikely any of these advertisers would choose to support disinformation about the pandemic. YouTube advertisers often target their ads based on viewer demographics without knowing exactly where they will appear. Unless advertisers have a partnership with a particular YouTube channel, content-based targeting serves ads alongside videos associated with keywords or topics designated by the advertiser.  
Only YouTube and its parent company, Google, know which videos they are monetizing. By lifting restrictions on advertising in videos about the coronavirus pandemic, YouTube has made disinformation lucrative for some unscrupulous content creators and a liability for the brands that unwittingly support them.