Incorporated in late 2019, AEP first joined the Big Tech regulation conversation in May 2020, when a media report about the newly-formed dark money group described the imminent addition of its anti-regulation message to the airwaves. In August 2020, AEP launched its first ad, a hopeful and uplifting spot highlighting the ways that technology has kept the country connected during a year of scarce in-person interaction. It offered no discussion of policies and no talk of impending regulation. The ad ends with a simple platitude: "Technology is keeping America connected."
More than a year later, with bipartisan tech regulation bills lingering in the halls of Congress, the group's tone has switched to one that is decidedly based around fear. Its ads now advocate for direct action, asking Americans to call their representatives expressing opposition to these new bills that, it claims, would cede our country's technological dominance to international adversaries.
These messages are backed and amplified by AEP's 24 member organizations – a chorus of voices warning legislators of the consequences that might befall the country if new legislation causes our domestic tech industry to lose its "competitive edge."
Yet a closer examination of AEP's structure, messaging, and finances suggests that this chorus is being conducted by a single benefactor: Facebook.
According to the 501(c)(4)'s 990 filing, AEP received a single donation between December 10, 2019 and October 31, 2020, for $4 million. In May 2020, a Facebook spokesperson told the Washington Post that Facebook was "contributing to" AEP. Put together, these facts imply that Facebook is not simply a contributor to the project, but its sole funder.
While IRS reporting rules will not require AEP's 2021 budget to be public until at least next year, TTP has tracked its spending on various TV spots, online ads, and expensive newsletter sponsorships over the past year and accounted for over $5.4 million in ad placements alone.
Moreover, Facebook and AEP have crafted a comprehensive messaging campaign that goes far beyond the dissemination of ads. With Facebook's money, AEP has also:
Recruited former government officials from both sides of the aisle to slap a bi-partisan facade over antiregulatory ideology.
Issued grants to at least 1/3 of its coalition members to seemingly front antitrust opposition in their issue sets.
Commissioned a series of Ipsos polls designed to trick politicians into believing their constituents oppose antitrust enforcement.
Facebook's Cooperative Public Image
By quietly funding AEP, Facebook can support an anti-regulatory stance, while publicly painting itself as a cooperative, good faith actor in the conversations surrounding Big Tech regulation in ads run under its own name. The company continues to plaster the Beltway with messages saying it welcomes reforms, but in fact, Facebook appears to only support reforms that would benefit its bottom line. The typical message Facebook delivered throughout 2021 reads as follows:
The internet has changed a lot since 1996 - internet regulations should too
It's been 25 years since comprehensive internet regulations passed. See why we support updated regulations on key issues, including:
– Protecting people's privacy
– Enabling safe and easy data portability between platforms
– Preventing election interference
– Reforming Section 230
To the untrained eye, this may appear indicative of a responsible corporate actor acknowledging the problems that need to be addressed in its industry – but there are notable elements lacking. Missing from Facebook's message is any discussion of antitrust reform, which has been the primary topic of discussion around Big Tech regulation since the House Judiciary Committee moved bipartisan antitrust legislation in late June.
Facebook, as a savvy corporate actor, likely saw the need to combat bipartisan support for antitrust enforcement with bipartisan opposition. And, as necessity is the mother of invention, Facebook got to inventing and created a group that it could keep at arms' length but still control.
Crafting an Image of Bi-Partisan Consensus
AEP has made a concerted effort to recruit ex-government officials from both sides of the aisle in order to paint its pro-tech cause as a truly bipartisan effort. AEP's advisory board is split into three sections, with each section led by influential names apparently chosen with political balance in mind.
The leaders of the Economic advisory board are former Sens. Saxby Chambliss (R-GA) and Kent Conrad (D-ND). Conrad was well-known as a centrist throughout his Senate tenure, while Chambliss was one of the most conservative Republicans.
AEP's Open & Accessible Internet advisory board, the newest addition to its portfolio of issue areas, is led by former Rep. Greg Walden (R-OR) and former Sen. Heidi Heitkamp (D-ND), the latter of whom succeeded fellow AEP board member Kent Conrad after his 2013 retirement from the North Dakota Senate seat, but who was unseated by Republican Kevin Kramer in 2018.
AEP's National Security advisory board initially was spearheaded by Frances Townsend, former White House Counterterrorism and Homeland Security Advisor under President George W. Bush, and retired Admiral James Stavridis, the former Supreme Allied Commander of NATO. Although no public announcement was made, Adm. Stavridis appears to have departed AEP in the summer of 2021 as his profile was removed from the website sometime between July 26 and August 18, 2021.
AEP's leadership also appears to have been organized to present a bipartisan image. The group's "Who We Are" page lists three members: former Democratic Representative Chris P. Carney, former Republican Governor of New Mexico Susana Martinez, and former FEC Chair Bradley A. Smith.
A closer examination of the documents, though, show that Smith, a conservative lawyer who has earned a reputation as a staunch opponent of campaign finance regulations, appears to have an outsized influence among the trio of leaders. He was the only one of the three listed on the group's incorporation documents and was revealed to be the group's President in the 2020 990 filing.
AEP's Form 990 also reveals that it paid eight of its coalition members between $7,500 and $25,000 in grants in 2020. Over the course of the year, many of these groups fronted AEP's message by drafting white papers, publishing op-eds, and heavily promoting AEP content on social media.
The Lexington Institute, a conservative think tank that advocates for a conservative approach to U.S. national security, received the largest grant of $25,000. In October 2020, it published a 21-page report with AEP's support entitled "Why U.S. National Security Requires A Robust, Innovative Technology Sector," which posits that "The United States will lose its status as the world's leading economic and military power if its technology sector falters." The last page of the white paper discloses that "funding for the preparation of this white paper was provided by the American Edge Project." Still, the paper has remained prominently featured on the group's homepage after it was published over a year ago.
Several grant-receiving organizations also supported AEP's message by publishing op-eds throughout the year. The Financial Services Innovation Coalition, which received $7,500 from AEP, "advocate[s] for policy which promotes economic empowerment in underserved communities." In April 2021, its CEO Kevin Kimble wrote an op-ed for AEP's website encouraging political leaders to "prioritize policies that promote technological innovation…" More recently, the group wrote a letter to Congress asking that four of the House Judiciary Committee antitrust bills "not be brought to the floor for a vote without serious changes."
Harry Alford, the President of the National Black Chamber of Commerce (NBCC), which received $10,000 in AEP grant money in 2020, wrote two op-eds in Feb. 2021 recognizing Black History Month and arguing that "Tech platforms are vital for nation to support Black-owned businesses amid pandemic." From 2015-2019, the NBCC received money directly from Facebook, per the company's Political Engagement page. The organization was removed from the list of organizations receiving money in 2020, the same year that the AEP grant was issued.
Karen Kerrigan, the President of the Small Business Entrepreneurship Council, which received $15,000 from AEP, wrote an op-ed for the AEP blog, saying "policymakers must work to promote policies that protect America's technological edge…" She also wrote a separate op-ed for the OC Register titled: "Small businesses would be collateral damage in the Senate's new antitrust bill"
Other grant recipients regularly promoted AEP content on Twitter. The Center for Individual Freedom, which received $15,000 from AEP, is a relatively broad conservative think tank, so it would seem natural for it to promote AEP's anti-regulatory messages – others, however, promoted AEP content in a manner that seems disproportionately higher than one might expect when examining their issue sets.
Americans for a Balanced Budget, which runs the Center for Innovation and Free Enterprise, received $10,000 from AEP. Opposing regulations would indeed fit into its issue set. However, the group devoted an exorbitant amount of its social media presence to promoting AEP content. Between June 3 and August 3, 2021, 50% of the tweets/retweets from CIFE's Twitter account promoted AEP produced op-eds and polls.
The Trade Alliance to Promote Prosperity, which received $10,000 from AEP, devotes the vast majority of its social media messaging to issues surrounding healthcare costs and prescription drug price controls, so its regular promotion of AEP content stood out.
The Partnership for Innovation and Empowerment, which received $7,500 from AEP, has a relatively inactive Twitter account with a pinned tweet promoting an AEP national security ad from Sep. 2020. In fact, in what seems like a coordinated effort encouraged by AEP, every one of the last four groups mentioned tweeted the same national security ad on Sep. 30 or Oct. 1, 2020, all using the hashtag #Debates2020.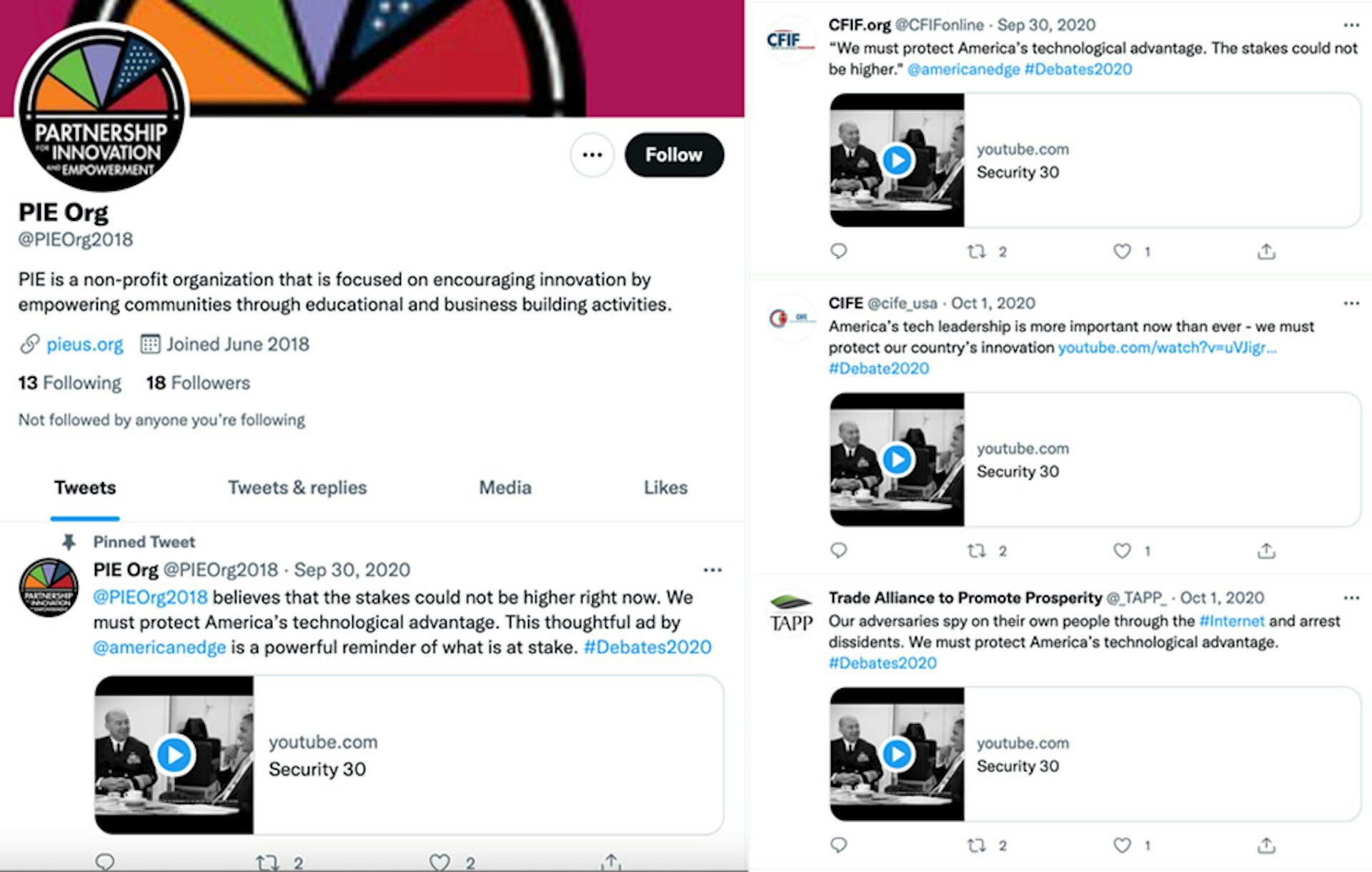 If Existing Polls Don't Support Your Argument, Buy Your Own
A 2019 Pew Research poll found that 79% of Americans were concerned about how companies use the data they collect on them, and 81% said that the potential risks of having data collected on them outweigh the benefits. A 2020 Data for Progress poll reveals that 65% of likely U.S. voters think the economic power held by tech companies like Amazon, Google, Facebook is a problem for the U.S. economy. And, even more relevant to the central question underlying AEP's mission, a 2021 Vox and Data for Progress poll found that 59% of respondents support breaking up Big Tech. All of these results fly in the face of AEP's narrative that the American people are on Big Tech's side.
So, between Oct. 2020 and Sep. 2021, AEP commissioned five polls from the market research company Ipsos, seeking to procure polling data that would support its assertions about public opinion. Because AEP did not disclose any of its top contractors in its 2020 990 filing, it is unknown exactly what it paid for these polls. However, it reported spending $494,705 on "Polling/Communications/Content." Given that the filing covered a period ending on Oct. 31, 2020, it is certain that the cost of the first poll – and possibly the cost of the second (conducted over the phone in Nov. 2020) – is contained within this sum.
Once AEP received the positive responses sought, it began to roll out new talking points in op-eds written by its high-profile advisory board members. A June op-ed written by AEP economic advisory board leaders and former Senators Kent Conrad and Saxby Chambliss touted several results from the poll, including that 85% of voters agree that tech companies create products that make our lives better.
In a national security op-ed, AEP advisory board members Adm. James Stavridis (who has since left the board) and Fran Townsend cited AEP poll results showing that "the vast majority of voters (81%) view it as dangerous for the U.S. to fall behind other countries when it comes to technology."
In another op-ed, "free expression" board leaders Sen. Heidi Heitkamp and Rep. Greg Walden highlighted the Ipsos finding that 94% of Americans think an open and accessible internet is important for government accountability. At a time when legislators and regulators are focused on tech accountability, the question and op-ed seemed designed to reverse the discussion around who should be holding who accountable.
AEP's commissioning of Ipsos polls continues to be a part of its long-term strategy. The group released a new poll on September 15, 2021 with the headline: "Voters Want Lawmakers to Focus on Security, Jobs – Not Breaking Up Tech Companies." A slide in the poll's accompanying presentation deck makes it abundantly clear that the poll was designed to scare lawmakers away from supporting antitrust legislation: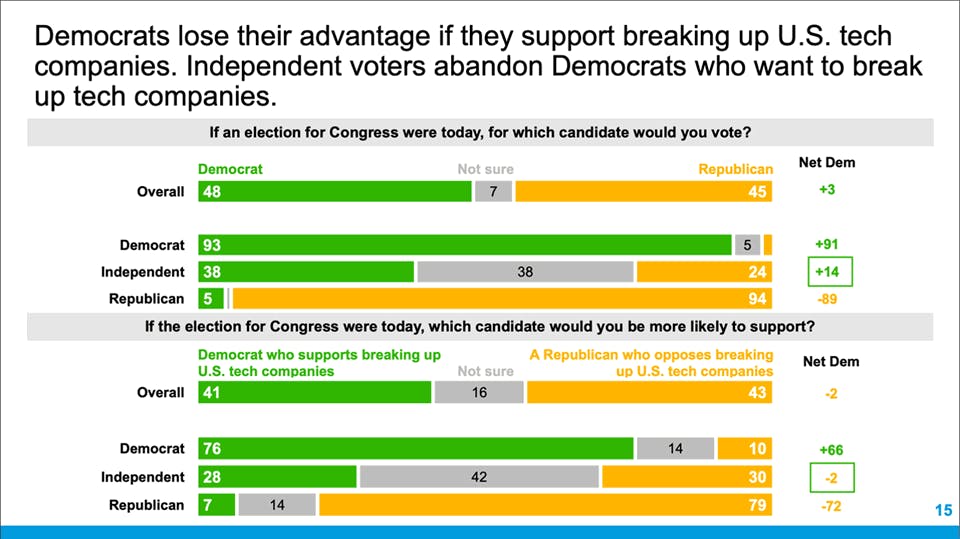 These polls also made their way into AEP's recent newsletter sponsorships targeted at D.C. insiders, including this message in Axios PM newsletter: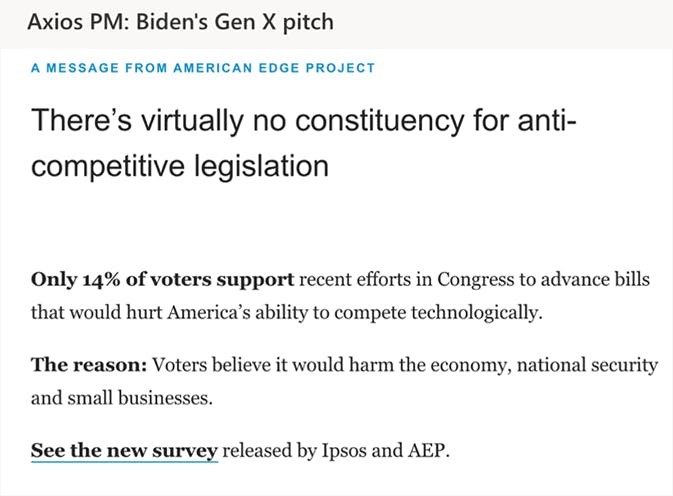 That same week, AEP also sponsored Politico's Morning Tech newsletter to deliver a similar message. Per TTP correspondence with Politico's marketing department, Morning Tech reaches 82% of Senate offices and 43% of House offices.
A Targeted $5.4 Million Messaging Campaign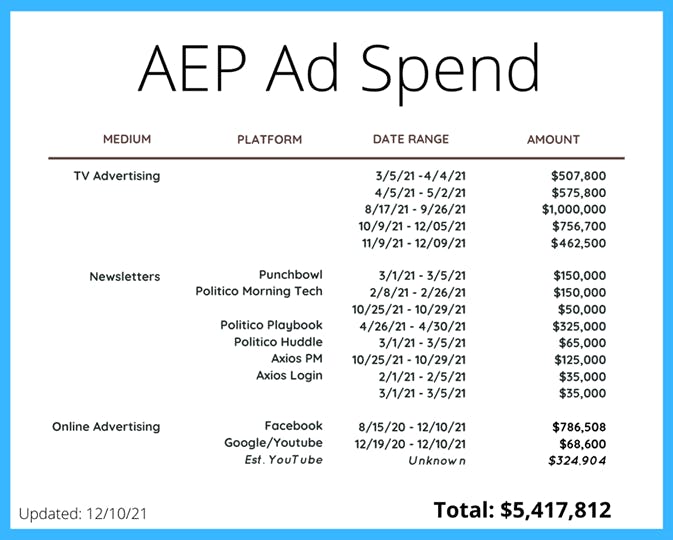 By suggesting the vast majority of voters are in favor of maintaining the Big Tech status quo, AEP is trying to convince lawmakers that Americans oppose tech regulation. To this end, it has directed its spending to advertising mediums most likely to reach the most relevant and influential decision makers.
TTP first highlighted this strategy in a March 2021 study examining the surge in Facebook and AEP political newsletter sponsorships in the months leading up to Mark Zuckerberg's March 25 testimony before Congress. Sponsorships in newsletters subscribed to primarily by Beltway insiders carry a hefty price tag due to their large and powerful readership. TTP assessed that AEP spent $935,000 on Axios, Politico, and Punchbowl newsletter sponsorships between February and October 2021. (TTP monitored relevant newsletters during this period and reached out to sales teams to acquire weekly rates for each newsletter AEP sponsored.)
AEP's TV ad spending was similarly targeted. According to the TV ad metrics company iSpot.tv, AEP appears to have spent close to 3 million dollars on TV ads in 2021, airing the ads on political programs including CNN Newsroom with Jim Acosta and MSNBC's PoliticsNation. (Ad spots: 1, 2, 3, 4, 5)
Additionally, AEP has spent at least $68,600 on YouTube and $786,508 on Facebook advertising since it launched its first ad in August 2020, as of December 10, 2021. Facebook's Ad Library reveals that some of these ads were mainly targeted at users in Texas, California, Washington D.C., Florida, Illinois, and New York, all of which are either considering action or have already passed legislation aimed at curbing the power of Big Tech.
For example, in March 2021, Texas Attorney General Ken Paxton (R) filed a high-profile antitrust case against Google. California passed the expansive California Consumer Privacy Act in 2018, which went into effect on Jan 1, 2020. This law was then amended and expanded by a state ballot proposition, the California Privacy Rights Act of 2020, approved by popular vote in November 2020. Florida, Illinois, and New York are also leading the charge to enact legislation to curb the power of Big Tech.
Potential Unreported Political Ad Spending
According to AEP's advertiser profile on Google's Transparency Report, AEP spent $18,600 on YouTube promoting its "Vital 30" ad in December 2020. The Google Transparency Report only provides spending information about ads related to social issues or politics, so if a group runs an ad on Google without marking it as an issue ad, it will not show up in the report. A review of the content on AEP's YouTube channel indicates, however, that the group potentially promoted four additional ads, failing to mark them as political content.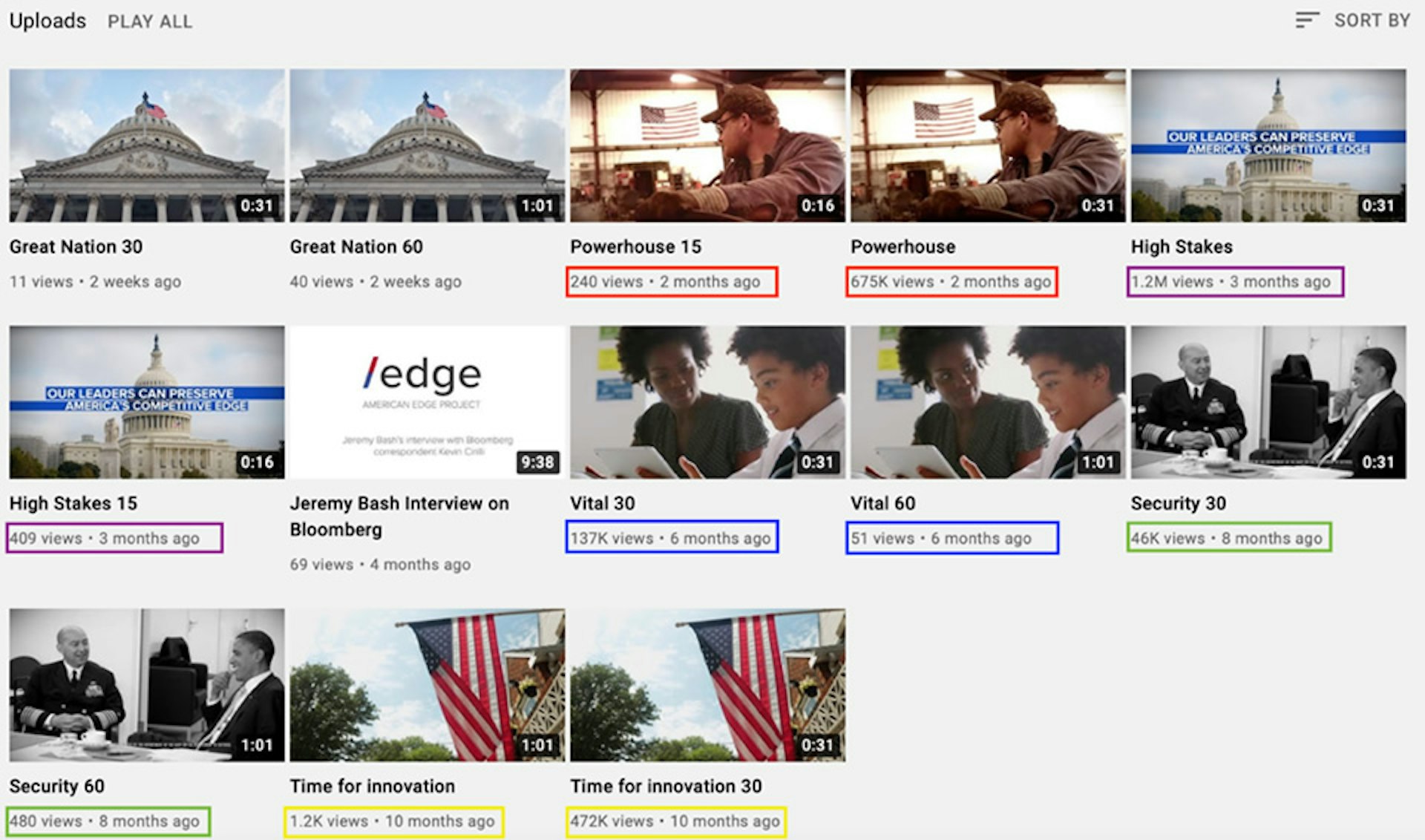 The channel features six different AEP ads, each with two variants of different lengths – one 30-second version, and a variant of either 15 or 60 seconds' duration. The 30-second versions of five of the six ads have much higher view counts, suggesting selective paid boosting. Google's Transparency Report shows that AEP spent $18,600 to selectively boost its "Vital 30" ad, so it is reasonable to suspect that the other four ads, which had a similarly large and out of character number of views, were similarly boosted, but did not show up in Google's Transparency Report because the political tag was most likely not selected during setup.
One of the best ways to determine whether a YouTube video's views are paid or organic is to examine the ratio of views versus engagement (likes and comments). Typically, paid viewers are much less likely than organic viewers to leave a like or a comment on video, so boosted videos usually have far fewer likes and comments compared to their similarly viewed organic peers. However, AEP has disabled comments and likes on its videos. Similarly, AEP has hidden its YouTube channel subscriber count, something typically done by channels that do not wish to have low subscriber numbers revealed.
While views can be increased by promoting the videos on social media, AEP's "High Stakes" ad, which boasts over 1.2 million views on YouTube, received only 68 views and zero retweets when uploaded to Twitter, where it has its largest number of followers, 5,500. When promoted on Facebook, the same video garnered only 84 views and two "likes."
It is also unlikely the video's views were increased through promotion via email. According to Mailchimp, the average Click Through Rate for political newsletters is 2.37%, suggesting AEP would need a mailing list of over 50 million people to amass 1.2 million views through mailing list promotion.
As a result, it is possible to estimate AEP's unreported spend by multiplying the view counts of the unreported videos by the estimated average cost per view. AEP spent $18,600 to promote "Vital 30" for 137,000 views, which works out to an average cost of $0.136 per view. This fits in line with industry estimates of the average cost per view for an advertiser on YouTube. Assuming other AEP ads performed similarly to the "Vital 30" ad, and giving AEP the benefit of the doubt that at least 1,000 of its views each were achieved organically…
Powerhouse – (675,000 total views – 1000 organic views) x $.136 = $91,664
High Stakes – (1,200,000 total views – 1000 organic views) x $.136 = $163,064
Security – (46,000 total views – 1000 organic views) x $.136 = $6120
Time for Innovation – (472,000 views x – 1000 organic views) x $.136 = $64,056
… it would appear AEP's YouTube spending is vastly underreported, by an estimate of approximately $325,000.
A Reliance on Anti-China Fearmongering
In 2020, amplified by the Covid-19 pandemic, anti-China sentiments hit historic highs, with 73% of Americans expressing an unfavorable view of the country. In a 2021 YouGov poll, a plurality of Americans (32%) see China as America's greatest enemy – with Republicans far more concerned than Democrats, 54% to 14%. Capitalizing on anti-China sentiment, a significant portion of AEP's messaging revolves around the idea that regulating Big Tech will result in the U.S. either emulating China or being dominated by it. This focus only intensified in AEP's response to the six antitrust bills approved by the House Judiciary Committee in June 2021.
On June 23, 2021, AEP published a blog post laying out "the five ways the House package allows China to win over the United States":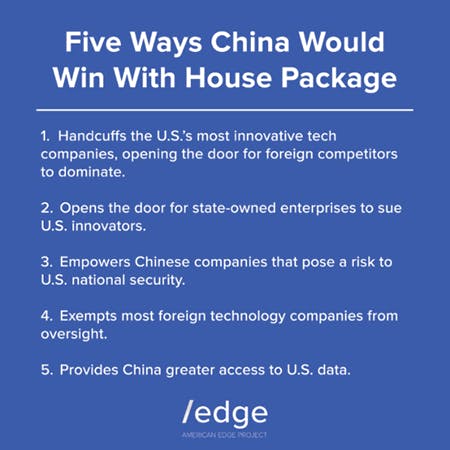 A June 24, 2021 "What They Are Saying" AEP press release highlighted the idea that antitrust legislation would "embolden China" and threaten both American national security and economic interest. It also attempted to further its calculated bipartisan image by featuring quotes opposing the legislation from both Republicans and Democrats. Two out of the three of these statements were made by members whose districts encompass Silicon Valley, Reps. Eric Swalwell (D-CA) and Zoe Lofgren (D-CA), hardly suggesting widespread Democratic opposition.
On June 29, 2021, AEP board members James Stavridis and Frances Townsend published an op-ed titled "Talk Must Turn Into Action To Combat China's Growing Tech Influence." The piece, like most op-eds written by AEP board members, relies heavily on Ipsos polling commissioned by AEP, noting that 87% of U.S. voters are concerned about "foreign countries like China and Russia gaining a technological advantage over the U.S. and Europe."
AEP member organizations also have incorporated anti-China themes in their own messaging. Right wing think tank members CIFE and CFIF, and well as "diverse" commerce members USPAACC and WIPP, all promoted AEP's anti-China messaging on Twitter.
In Facebook ads set up to collect signatures for petitions opposing antitrust reform, the Connected Commerce Council (3C) claimed "Chinese-style economic policies" will destroy small businesses. Only after users clicked the ad – answering "No" to the question "Should Washington adopt Chinese-style economic policies?" – did it brings them to the petition opposing "legislation introduced in the House of Representatives [that] would threaten the digital safety net that helped save millions of small businesses during the pandemic."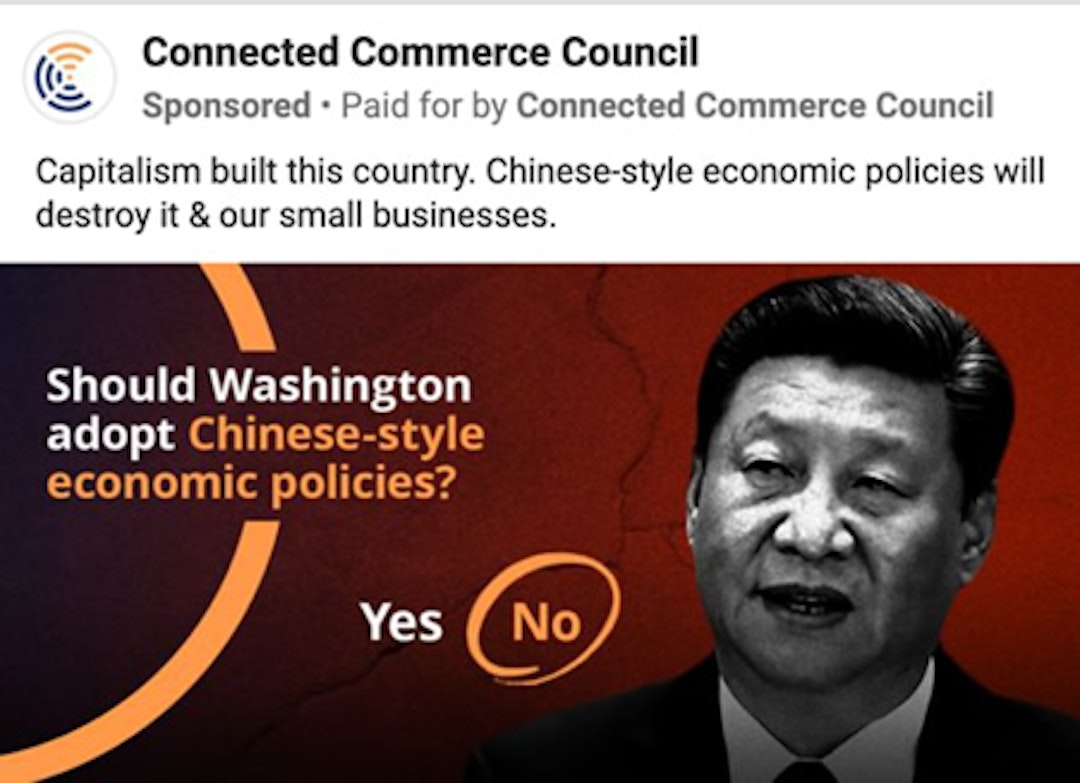 A Direct Call to Action
After a year of attempting to persuade the American people of the importance of U.S. tech dominance over foreign adversaries, on August 16, 2021, AEP finally began telling voters how to preserve this dominance in a new ad campaign, entitled "Who Will Lead?" The ad tells viewers that:
"… some Washington politicians support policies that will cause America's most innovative companies to fall behind. These overreaching bills will strengthen our adversaries at a time when we're engaged in high-stakes competition."
The ad conflates the economic success of American tech firms with our nation's readiness to prevent cyberattacks, alleging tech regulation will "strengthen our adversaries at a time when we're engaged in high-stakes competition." Over images of the flags of China, North Korea, Iran, and Russia, the ad concludes: "Who will lead the future – America or someone else? We must protect our competitive edge."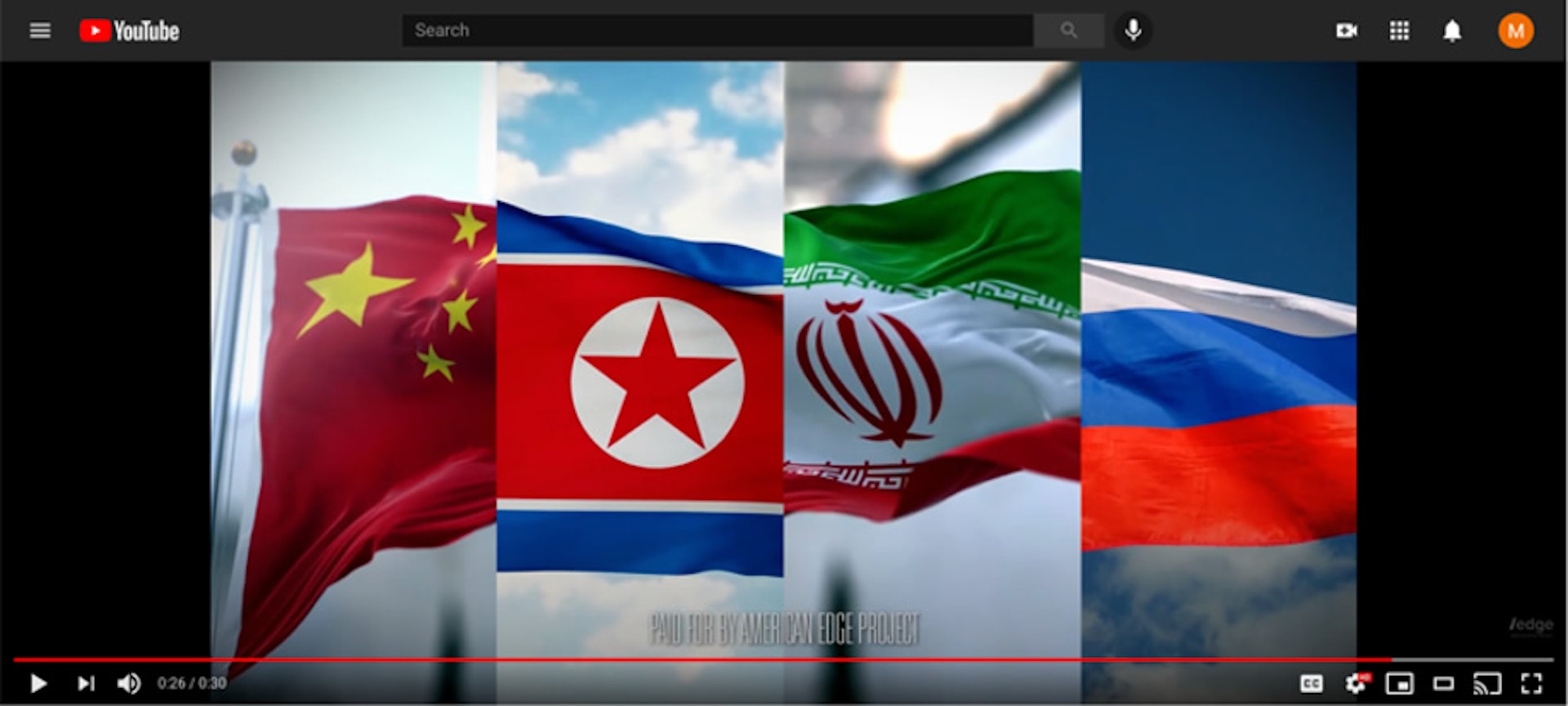 While each of these nations may employ cyberwarfare against the U.S., there is no evidence that potential regulation of Facebook gives North Korea a leg up in the international marketplace.
AEP purchased national airtime to promote this ad during political programming. According to TV ad metrics company iSpot.tv, the ad garnered an estimated 260 million impressions between August 17 and September 26 on programs like PoliticsNation on MSNBC, with an ad spend of approximately $1,000,000. Variations of these ads were also uploaded to Facebook, with edited versions targeting the constituents of specific members of Congress.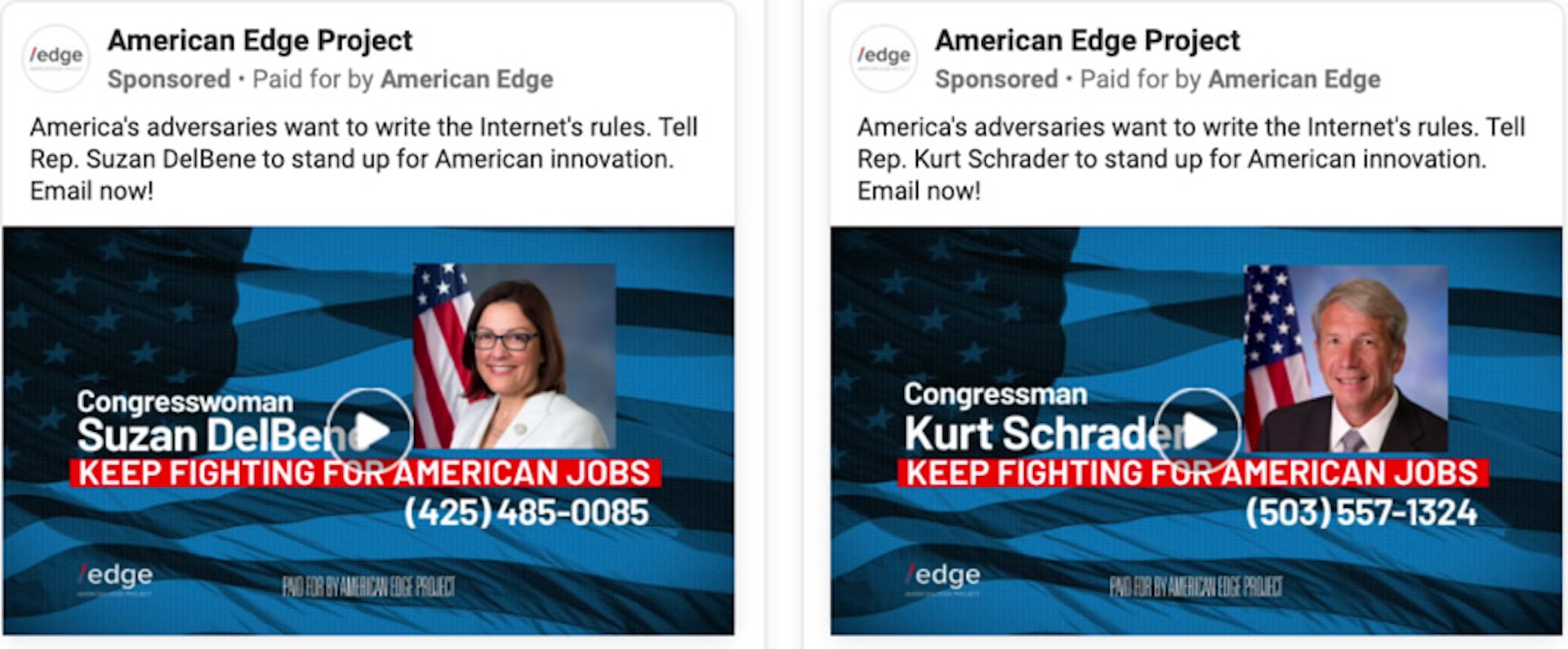 AEP's most recent campaign, which launched on TV and Facebook on Nov. 8, 2021, continues this direct attack on specific members of Congress.

With Facebook's financial backing, American Edge Project has succeeded in establishing the specter of a grassroots, bipartisan façade to disguise its corporate goals. Through fear-inducing ads and carefully designed opinion polls, the group has worked to establish Silicon Valley as a benevolent contributor to American dominance that must be protected from overreaching politicians whose legislation will only benefit our international adversaries.
After spending the first year of its public-facing existence trying to lift the public's opinion of American tech firms, AEP can now push back against any proposed bipartisan antitrust legislation with a supposedly bipartisan counterpoint: that the success of Big Tech and the successes of the American people are inextricably intertwined. As regulatory efforts intensify, tech companies like Facebook will continue to funnel their nearly unlimited resources through dark money groups like AEP to attack their political opponents and protect their bottom lines.