Facebook CEO Mark Zuckerberg announced in mid-June that his company would embark on the "largest voting information campaign in American history," with a goal of helping 4 million people register to vote.
Central to that initiative, Zuckerberg said, was a Voting Information Center, which would offer authoritative guidance on how to vote. Facebook promised it would do registration drives "throughout the summer" and put the center "at the top of people's Facebook and Instagram feeds."
But the effort got off to a slow and halting start, according to Facebook emails to state officials obtained by the Tech Transparency Project (TTP), amid baseless Trump campaign complaints that the initiative was meant to help Joe Biden.
Facebook quietly scaled back an initial registration drive over the July 4 weekend from two days to one and limited it to Facebook instead of extending it to Instagram and Facebook Messenger as originally planned, according to the emails, which were obtained through open records requests.
At the same time, Facebook took nearly two months to introduce the promised Voting Information Center, which Zuckerberg announced with great fanfare on June 16 and which Facebook is only now rolling out. That means Facebook didn't have the central component of its registration effort available for most of the summer.
Even after Facebook finally launched the Voting Information Center on August 13, it did not appear to get the play that Facebook had promised. As part of the launch, Zuckerberg again promised the center would appear "at the top of Facebook and Instagram," but TTP did not see it on Facebook or Instagram feeds in several spot checks, on both mobile and desktop.
TTP located the center's page on Facebook, but it required some effort to find it. It was not immediately visible on the Facebook home page, and had to be accessed under "See More" on the menu bar or the menu symbol on mobile. Likewise, the Voting Information Center was not in an obvious position on Instagram; TTP found it on mobile by first clicking user profile and then the menu bar, where "2020 US Election" was the last option. Beyond Facebook's press release and Zuckerberg's post, nothing else pointed users to the existence of this resource. 
Facebook's slow and hesitant approach to voter registration during the summer period, following two splashy public relations announcements, raises questions about whether the company pulled back on its ambitions after concerted pressure by the Trump campaign. It is unclear how the company will conduct the initiative going forward—and how vigorously it will push the information to users.
Facebook had initially planned to push register-to-vote reminders to users on July 3 and July 4, across Facebook, Instagram, and Facebook Messenger, the emails obtained by TTP show. Below is an example of an email that went to the Missouri secretary of state's office on June 23:
But on June 30, a Facebook government outreach manager, Eva Guidarini, told state election officials the effort would be limited to July 3 and "just run on Facebook." She did not explain why. This message went to the Vermont secretary of state's office:
State election officials seemed to be caught off-guard by the decision. "Good lord," Vermont's elections director Will Senning wrote as he forwarded the message to the state's secretary of state and his staff.
The scaled-down ambitions of Facebook's July 4 blitz seemed out of step with the grand plans Zuckerberg outlined in his USA Today op-ed published on June 16. Zuckerberg wrote that Facebook would embark on the "largest voting information campaign in American history," calling voting the "single most powerful expression of democracy."
For Zuckerberg, the voter registration drive is a chance to embrace a civic-minded initiative around the election amid a wave of criticism about Facebook's effects on democracy. His company has been criticized for spreading voting misinformation on Facebook, his platform's lenient treatment of Trump's posts, and suspicions that he cut a secret deal with the president.
The initiative, however, immediately drew the ire of the Trump campaign, which accused Facebook—without evidence—of secretly using the effort to help Biden.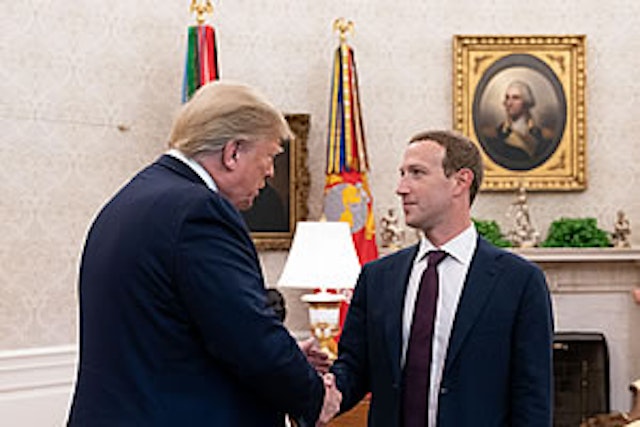 "Facebook has scored every American's political ideology. They know precisely where you stand," the Trump campaign's digital director, Gary Coby, tweeted on June 17, commenting on Zuckerberg's op-ed. "They will register more of Biden's voters than Trump's. They will heavy up on Biden registrations in swing states."
Less than two weeks later, Facebook told state officials that it was scaling back the July voter registration drive.
The emails obtained by TTP, however, indicate that Facebook took steps to roll out the registration reminders to users across the country and exhibited no pro-Biden strategy, undermining the Trump campaign's claims.
Shortly after Zuckerberg's announcement, Facebook staffers reached out to state election officials, asking them to confirm links to the relevant voter registration sites for their states, which would be featured in Facebook's reminders. The staffers' emails indicated they were confirming links for at least 45 states.
Still, the communications show some reluctance on the part of Facebook to get into the details of mail-in voting in the July registration drive—steering clear of an issue that has become a frequent target of President Trump. Trump has made a series of baseless claims about mail-in ballots, saying they could lead to voting fraud and corrupt the election.
On June 23, a public information officer for the Illinois State Board of Elections asked Rachel Holland, a Facebook government outreach manager, if Facebook could add a line to the July register-to-vote reminder telling Illinois residents they can request a mail-in ballot if they're concerned about Covid-19.
But Holland appeared to reject the idea. Citing unspecified "feedback," she said Facebook had "opted to generalize the language" of the reminder to make it "apply to as many states as possible." She said Illinois was welcome to include information about mail-in voting on its own website.
Facebook is taking a more direct approach to mail-in voting with its new Voting Information Center, which gives users a way to request a mail-in ballot or explore the options in their state. (Facebook has not removed Trump's false posts about mail-in voting, but it has begun to attach labels to them, pointing users to its voting hub.)
Still, Facebook took its time rolling out the Voting Information Center, which Zuckerberg first promised on June 16. The company only recently announced its launch on August 13, nearly two months later. And TTP has not seen it running at the top of Facebook or Instagram feeds—something Zuckerberg promised. Facebook also hasn't specified its voter registration plans for Facebook Messenger, which the company has said will be part of the effort.
Instagram, given its young user base, is a particularly ripe target for voter registration. According to a 2019 report by the Pew Research Center, 67% of U.S. adults aged 18 to 29 use Instagram, and more than three-quarters of them visit the site on a daily basis.
As Facebook emailed state officials with a variety of election updates this summer, officials in Vermont reacted disdainfully. Senning, the state elections director, commented that one Facebook message sounded "like it was written by a fourth grader," prompting a colleague to chime in, "They are really not putting much effort into working with us." Another official, Eric Covey, the chief of staff for Vermont's secretary of state, suggested a mock response to Facebook: "Facebook is that Russian asset my crazy uncle puts propaganda out on, right?"
Meanwhile, the Trump campaign has continued to complain about Facebook's voter registration drive. Trump campaign spokeswoman Samantha Zager, asked about the company's registration effort, told Bloomberg News on July 14 that Facebook has "knowledge of every user's political ideology" and is aiming to help Biden. Facebook responded by saying that its effort is non-partisan and that it only uses age and location data to target eligible voters.