Facebook and Google are allowing sellers and advertisers to hawk medical face masks on their platforms weeks after the tech giants promised to crack down on the practice, according to a review by the Tech Transparency Project (TTP). The findings cast doubt on the companies' promises to combat exploitation of the widening coronavirus pandemic.
TTP identified more than 130 Facebook Pages offering medical face masks, including some labelled as N95 respirators, which are desperately needed in hospitals. All of the pages were easily located in Facebook searches for terms like "corona mask," "N95," and "surgical mask." The review found similar examples on Facebook-owned Instagram as well as face mask ads served by Google on a variety of websites.
Officials including the U.S. surgeon general have urged people to stop buying medical face masks so that they can go to front-line healthcare workers treating coronavirus patients. There is also mounting concern about counterfeit and low-quality face masks being sold online, as well as price gouging as panicked Americans search for ways to protect themselves.
Facebook and Google's continuing face mask problem shows how even at a time of intense public attention on the coronavirus, the two tech giants are struggling to police their platforms. It also raises questions about the automated systems that the companies use to take down bad content—systems they'll be relying on even more heavily in the weeks ahead with many tech employees working at home during the pandemic.
Under pressure to take action, Facebook on March 6 said it was "banning ads and commerce listings selling medical face masks," adding it would "make necessary updates to our policies if we see people trying to exploit this public health emergency." Instagram did the same. Google followed suit a few days later, saying it had "decided to temporarily ban all medical face mask ads" and was "actively monitoring the situation."
Facebook CEO Mark Zuckerberg later said his company donated its "emergency reserve" of 720,000 face masks and is "working on sourcing millions of more to donate."
But as TTP's review discovered, medical face masks have not disappeared from the platforms.
In fact, Facebook is littered with pages that offer face masks and try to capitalize on fears about the coronavirus pandemic.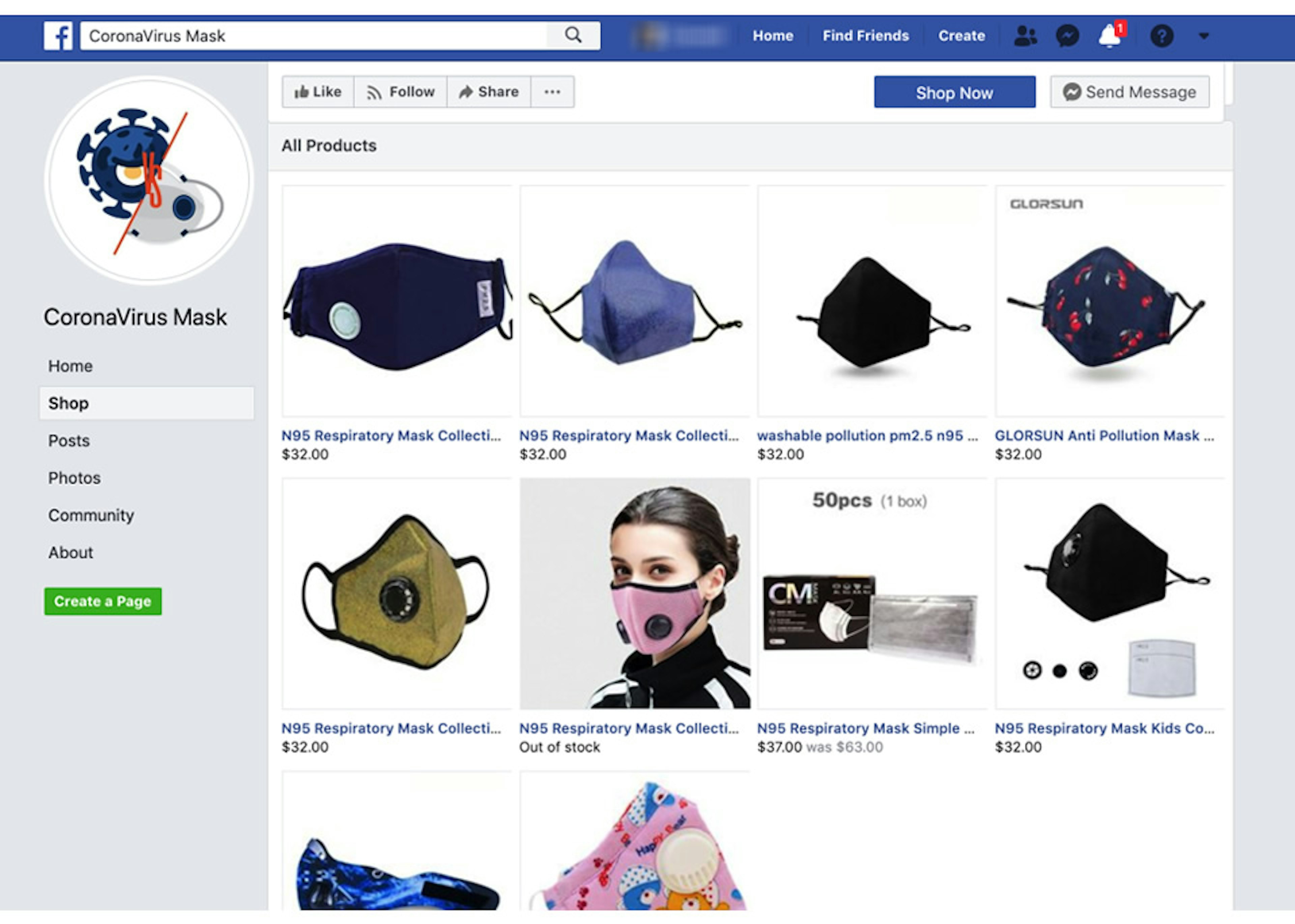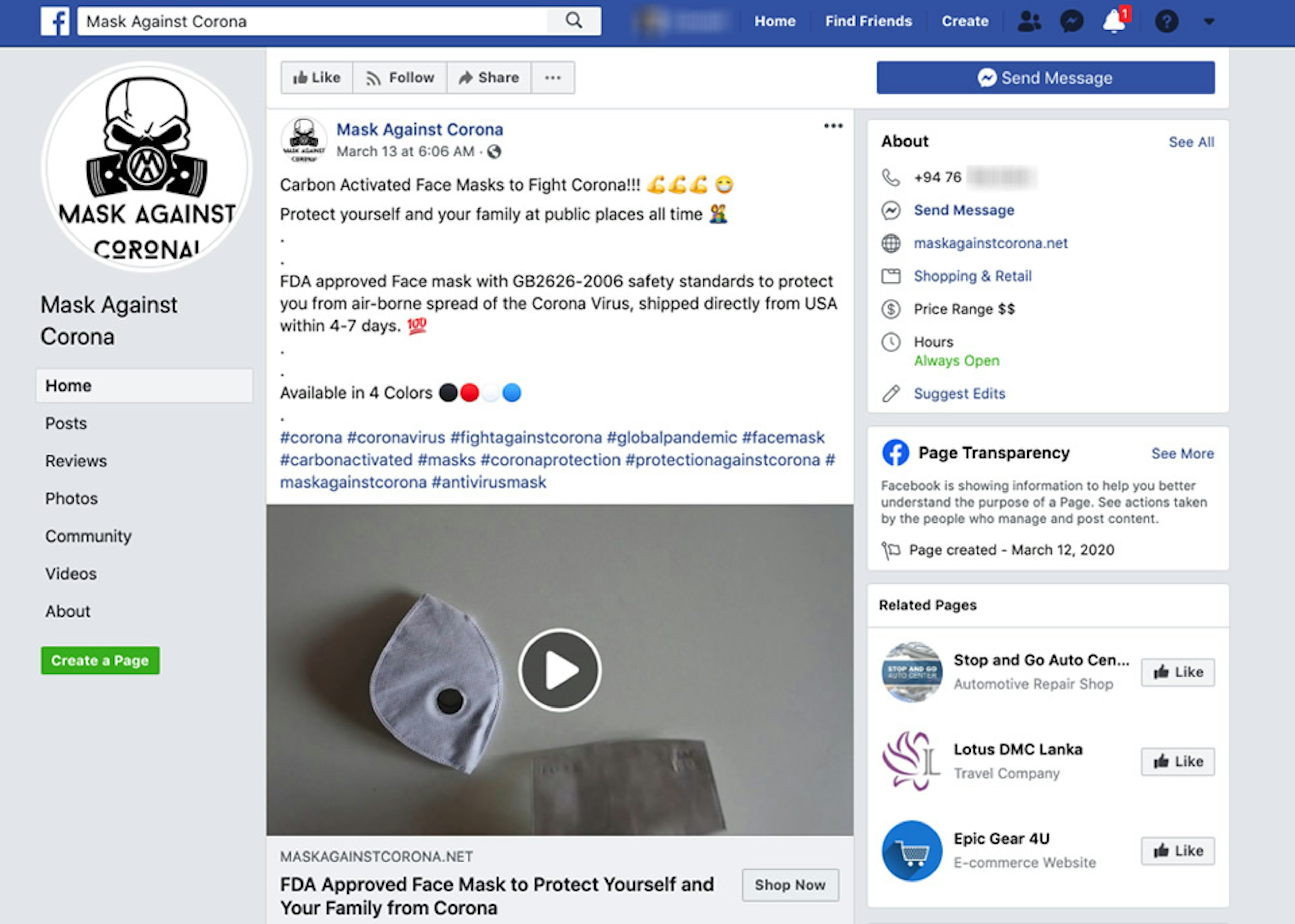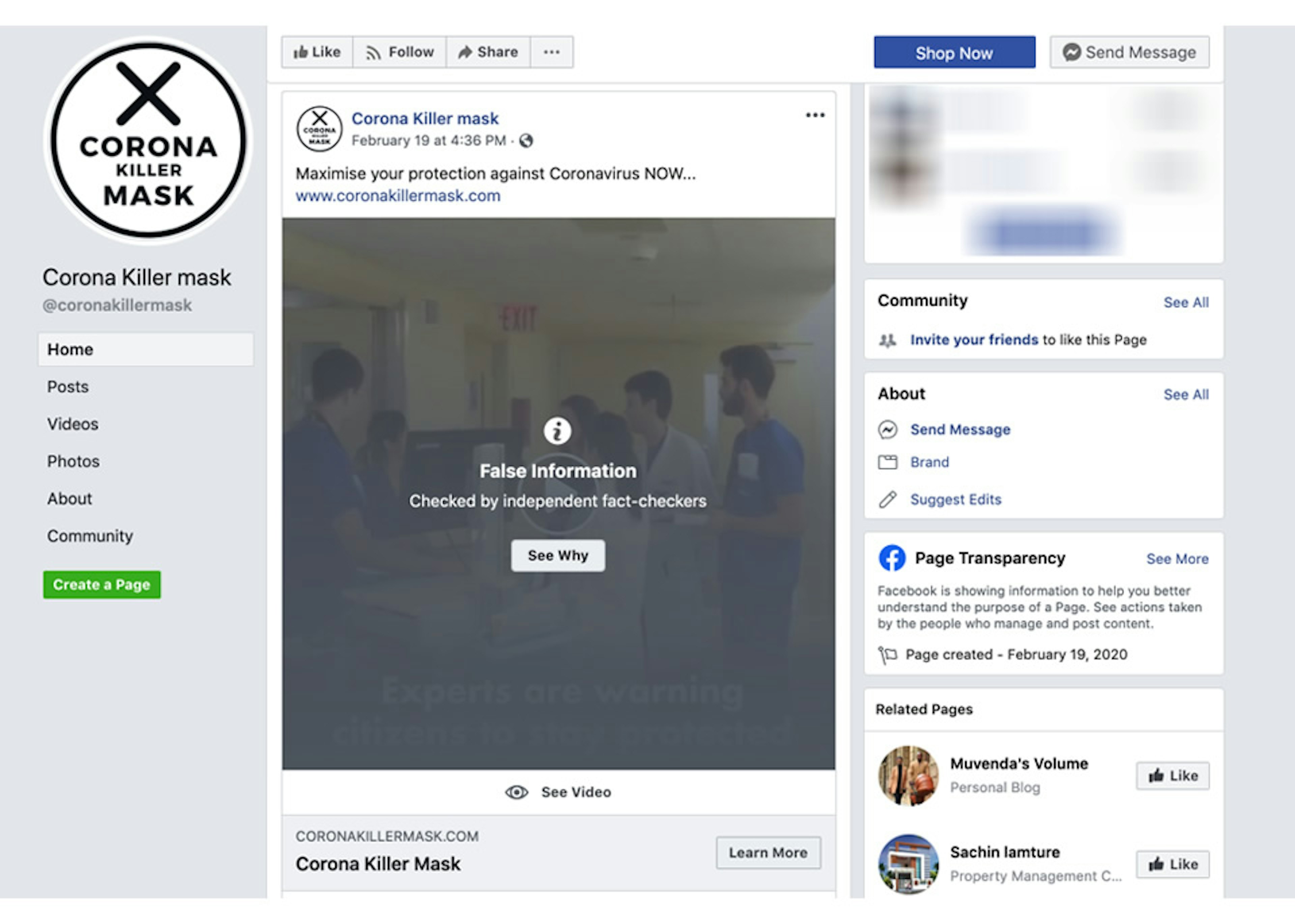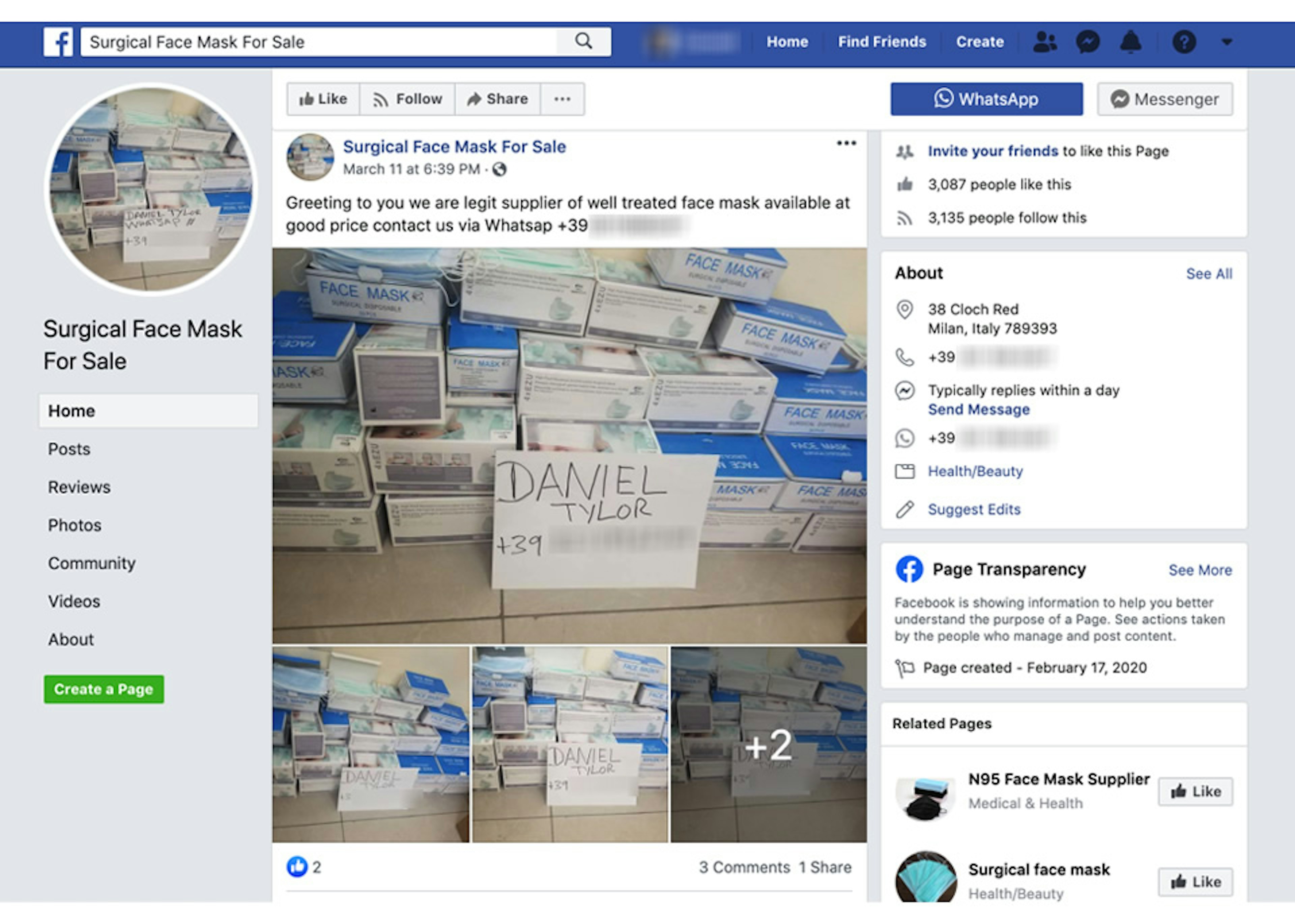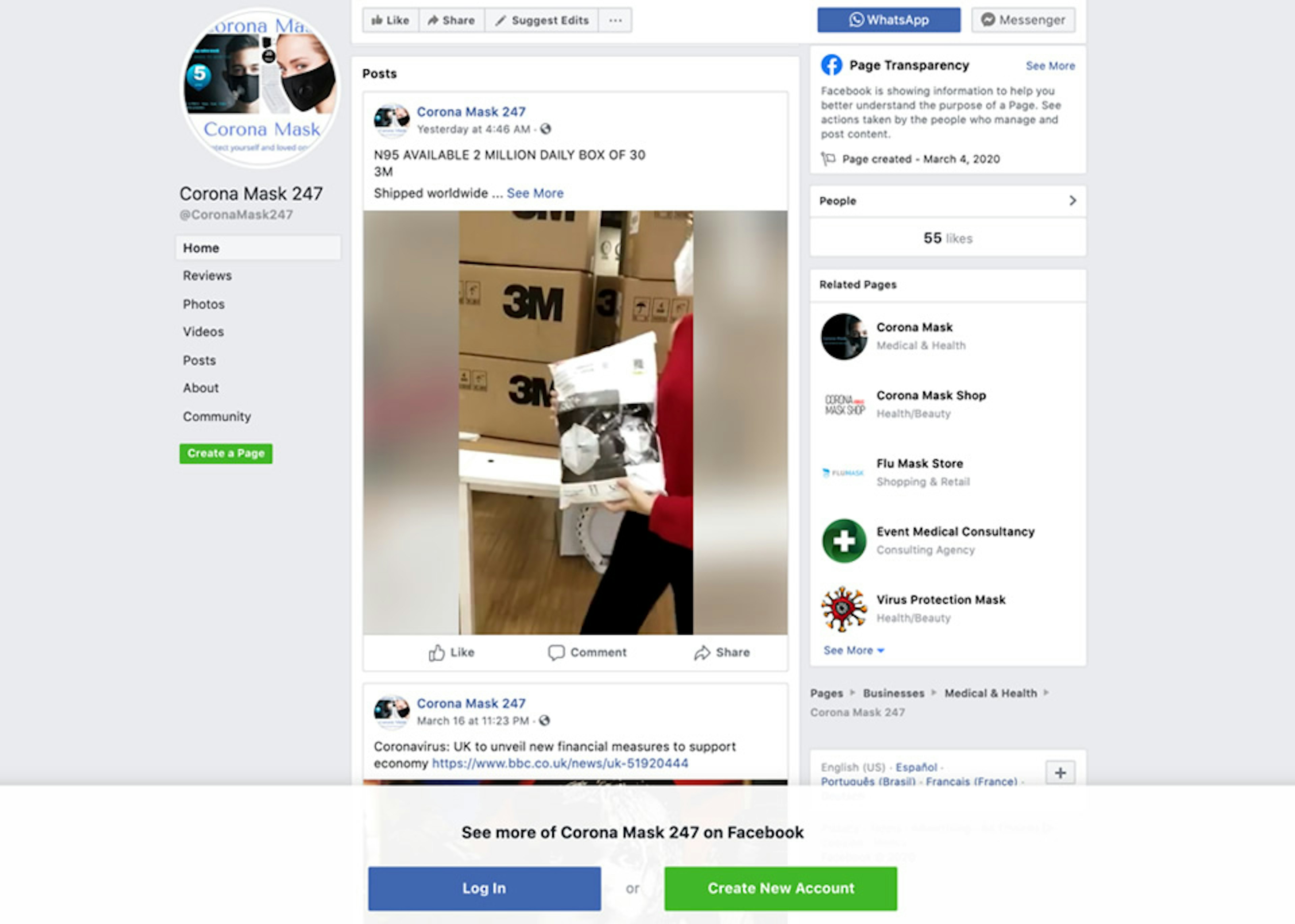 One Facebook Page called "CoronaVirus Mask" offers a "respiratory mask collection," with prices ranging from $32 to $37, and uses Facebook's "Shop" feature to display its merchandise and allow people to add purchases to their cart. Facebook's "check out on website" button then directs users to complete the purchase on the seller's website.
Other pages don't have an ecommerce function but allow potential buyers to contact them through Facebook Messenger or Facebook-owned WhatsApp, or they link to outside websites or eBay stores where people can buy the masks.
The Facebook page "Mask Against Corona," for example, gives buyers the option to make contact via instant message, phone or email. The page offers the "perfect mask made out of nylon and neoprene to protect you from the air-borne diseases," claiming it's "FDA approved," even though the Food and Drug Administration says it has "not cleared, approved, or authorized" any surgical masks to protect against or prevent the virus that causes COVID-19.
Another page called "Corona Killer Mask" includes a video post about coronavirus, with ominous music and scenes of people in the hospital, claiming that "doctors recommend carbon filter face masks." The video has been marked as "False Information" by Facebook independent fact-checkers, but Facebook has allowed the video and the page itself to remain active.
Facebook takes a fee for transactions processed through its Shop, meaning the company is potentially profiting from face mask sales it has promised to ban. It's not clear if Facebook, which banned "commerce listings" of face masks, is applying its prohibition to pages that don't have a Shop function, but clearly, many such pages are offering face masks for sale. Some of the pages even have the words "buy," "for sale," and "shop" in their names.
Facebook pages that use WhatsApp to establish contact with buyers are employing a tactic commonly used by wildlife and other traffickers, who often display goods on Facebook and then arrange the actual purchase through WhatsApp encrypted messages. The Facebook Page "Surgical Face Mask For Sale," for example, has a video showing boxes of medical masks and the seller's WhatsApp number scrawled on a piece of paper.
A visit to one of these Facebook pages often triggers recommendations for other pages selling face masks, a sign that the platform's algorithms are actually amplifying the reach of these sketchy sellers. TTP, without logging into Facebook, went to the page for "Corona Mask Shop" and was served up "Related Pages" for "Corona Mask 247" and "Corona MASK on sale."
Facebook-owned Instagram is having many of the same issues, according to TTP's review.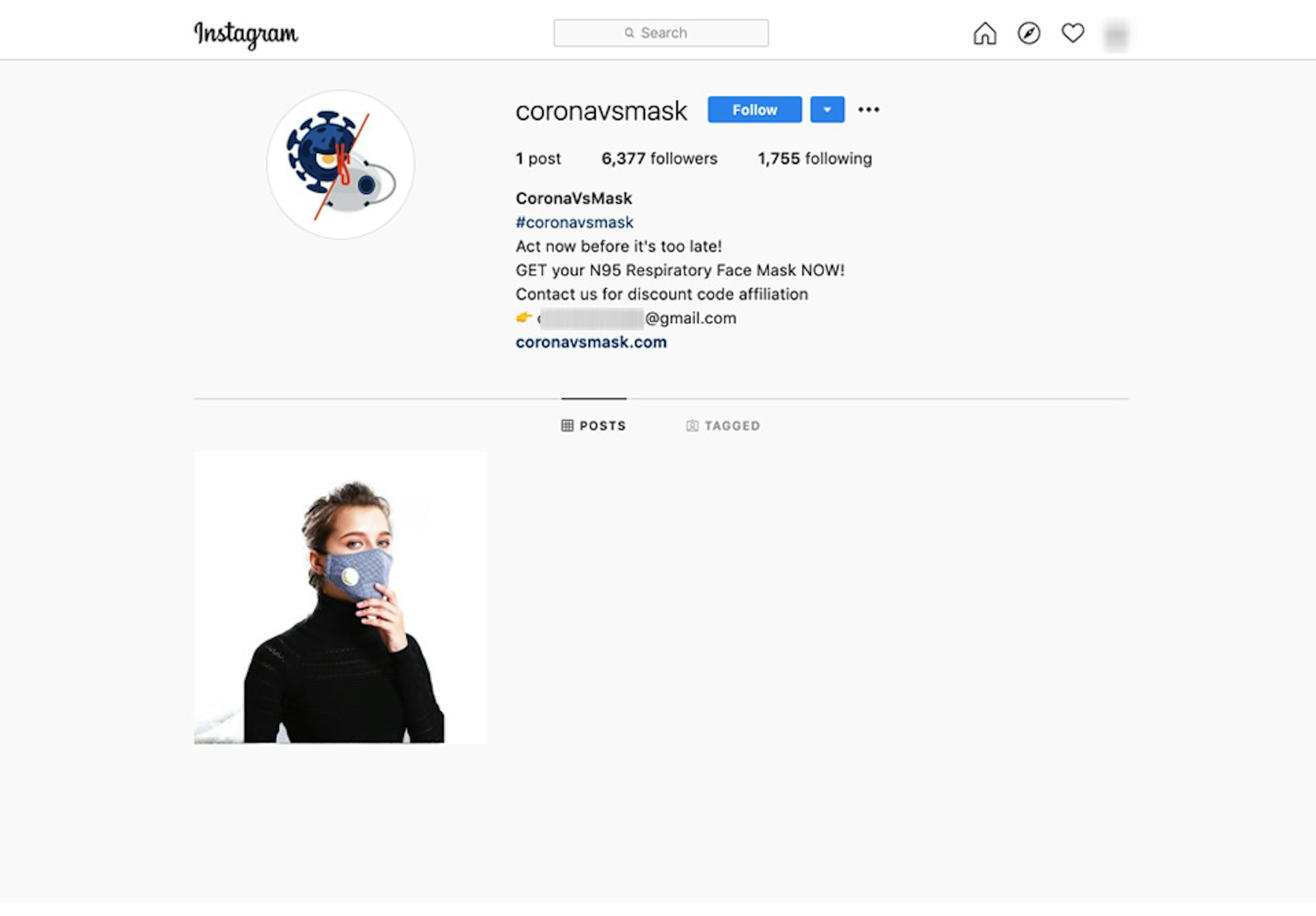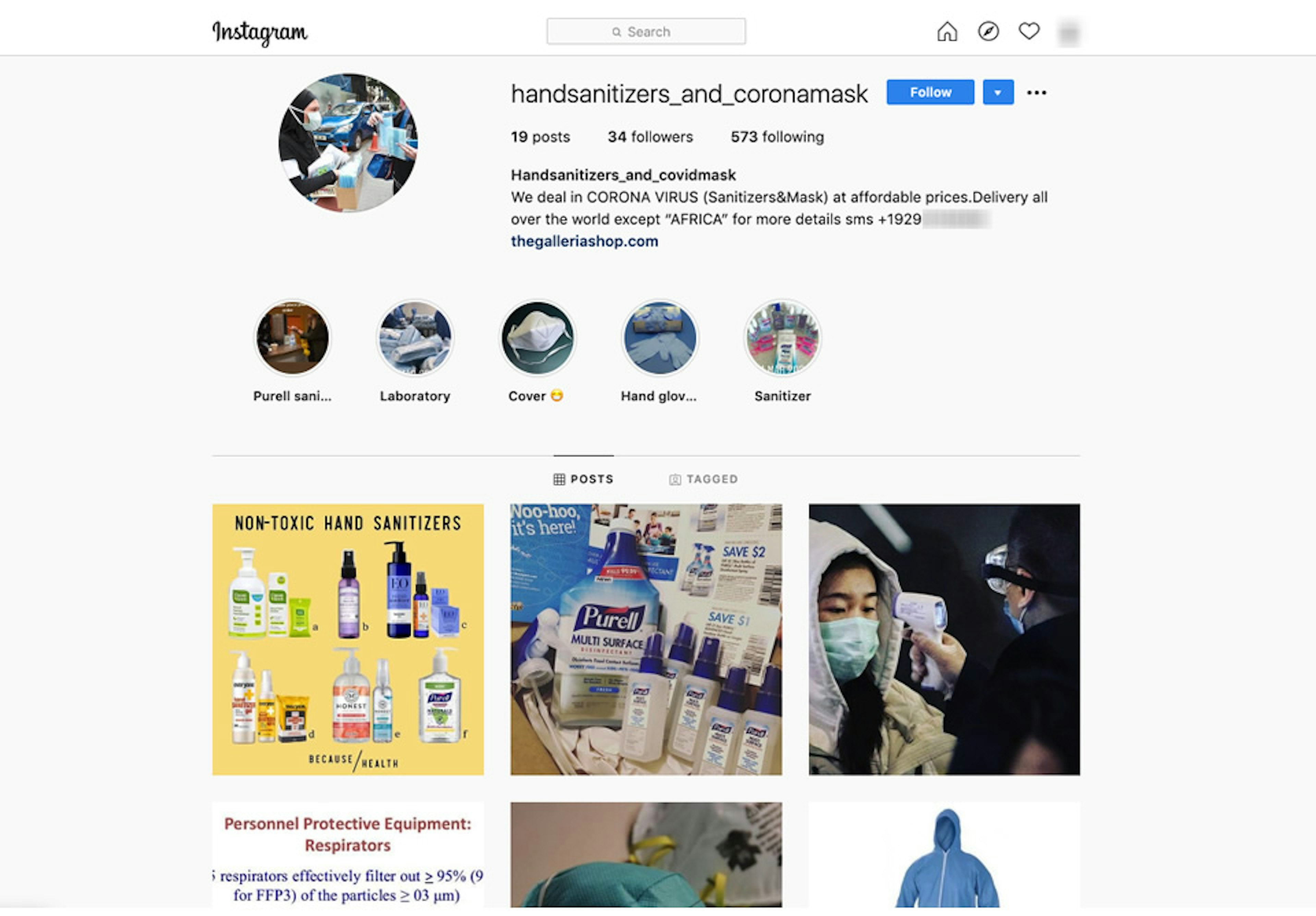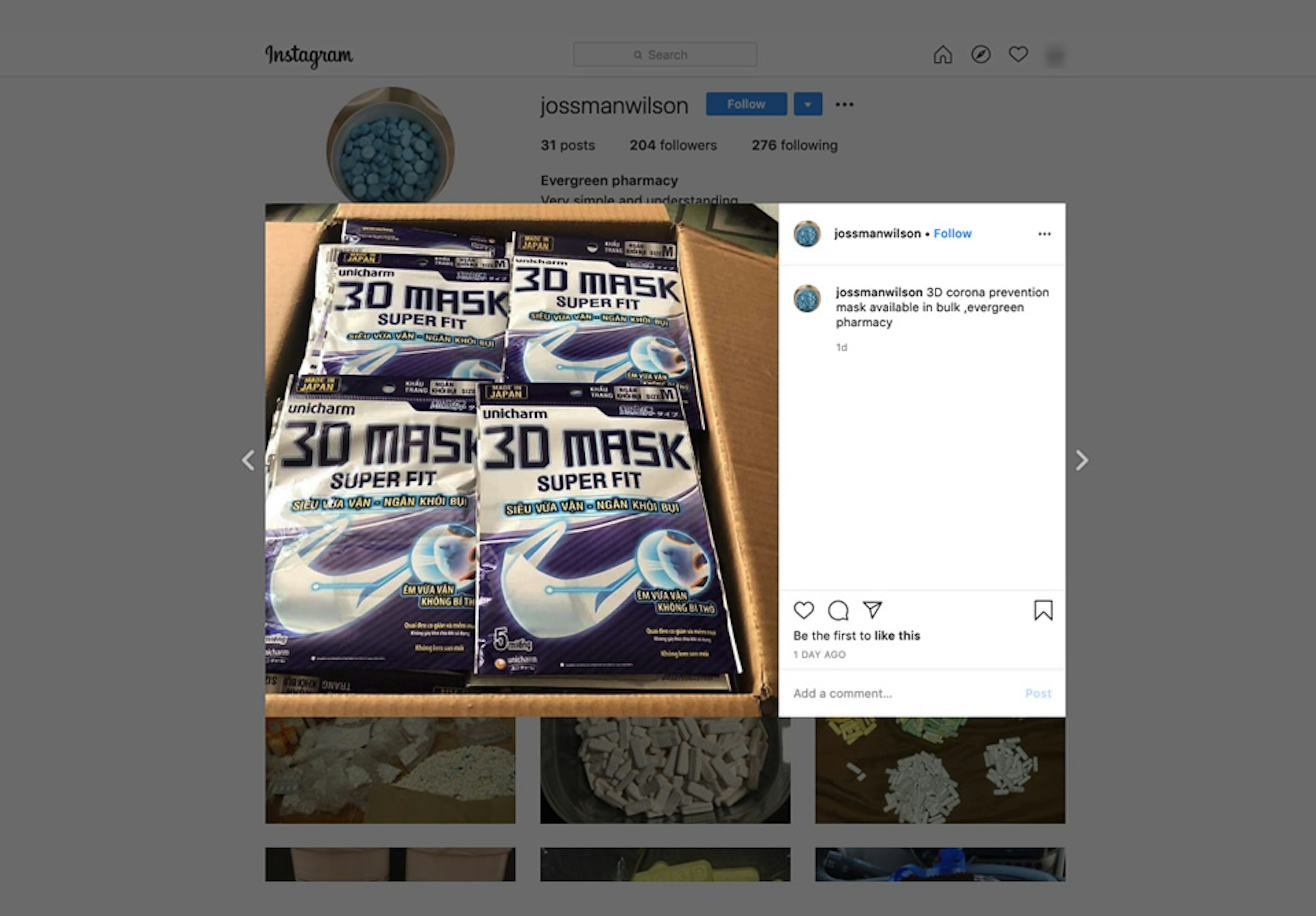 One Instagram account for @coronavsmask reads, "Act now before it's too late! GET your N95 Respiratory Face Mask NOW!" It only has a single post but already counts over 6,300 followers. The account has the same logo and listed website as the "CoronaVirus Mask" Facebook Page discussed above—a sign that these sellers' efforts may span multiple social media platforms.
Another account for @coronamaskk includes screenshots of alleged messages from satisfied customers. An account created on March 14 called @handsanitizers_and_coronamask includes over a dozen posts offering such products.
Several Instagram accounts associated with drugs have begun to incorporate medical face masks into their offerings. One user, @jossmanwilson, whose account bills itself as a pharmacy and features various kinds of pills, has begun posting pictures of surgical masks, including "corona prevention masks." Another account called @mariajean2020 that posts photos of drugs with hashtags like #oxycontin30mg and #drugdealer recently began featuring face masks.
The tech giants have also had trouble preventing face mask sellers from using their advertising networks. Two consumer groups, the Coalition for a Safer Web and Digital Citizens Alliance, recently documented how such ads continue to circulate on Facebook, including for masks claiming to be FDA-accredited.
It's a similar story with Google, TTP found.
Sen. Mark Warner (D-Va.) on March 17 tweeted several screenshots of what he said were examples of Google's third party advertising display network serving ads for face masks alongside news stories related to the coronavirus.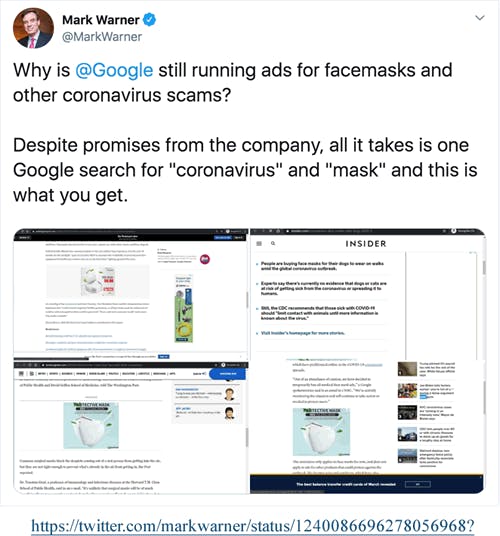 TTP was able to produce a similar result, identifying a Google-served ad for an "N95 Folding Mask" alongside a March 18 story in The Guardian titled "Can a face mask stop coronavirus? Covid-19 facts checked." The ad links to newclothin.com, a company located in Guangdong, China, according to the website's contact page. Similar Google-served ads appeared alongside stories at other news outlets including ABC News, Fox News, Salon, and Live Science.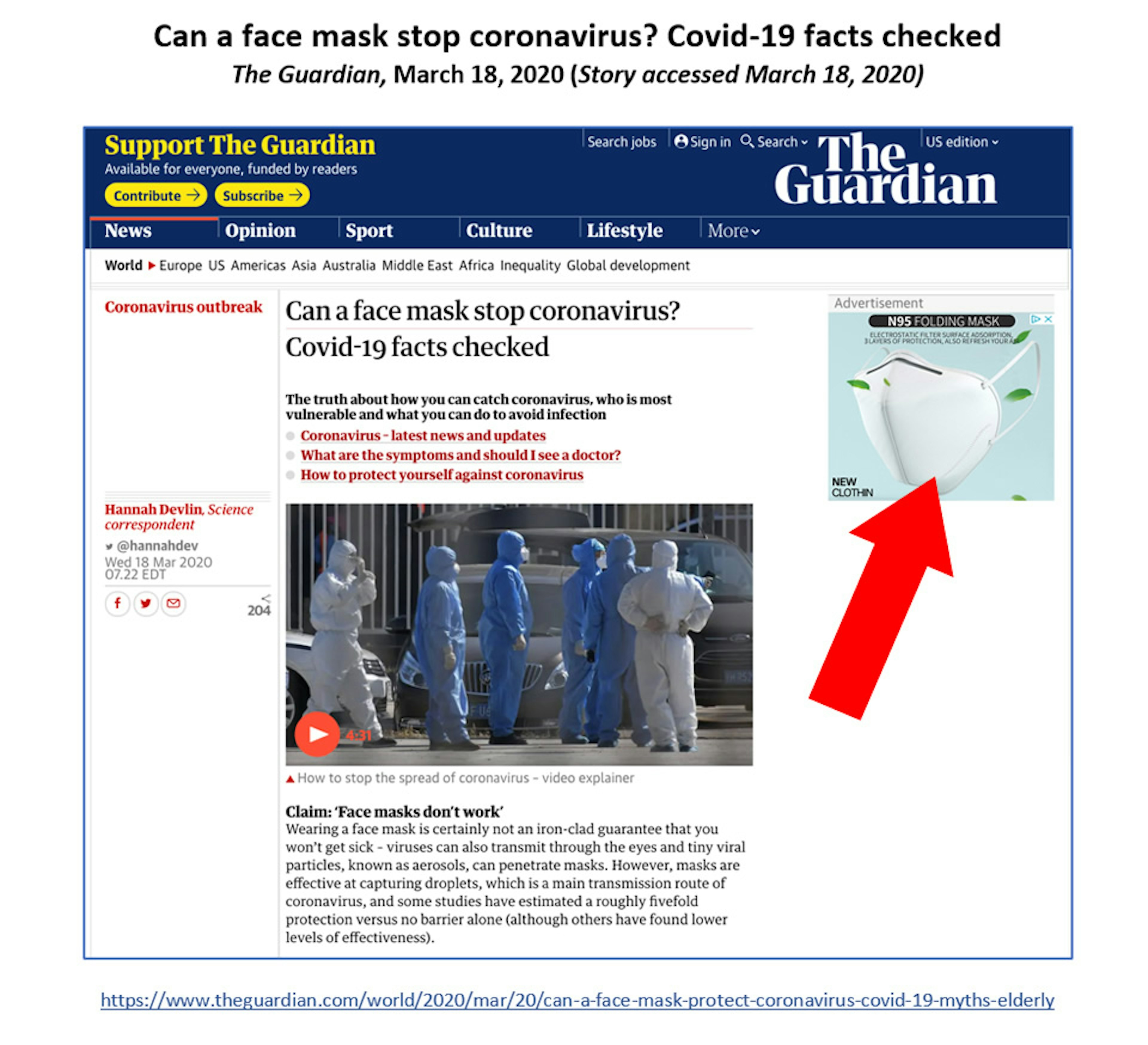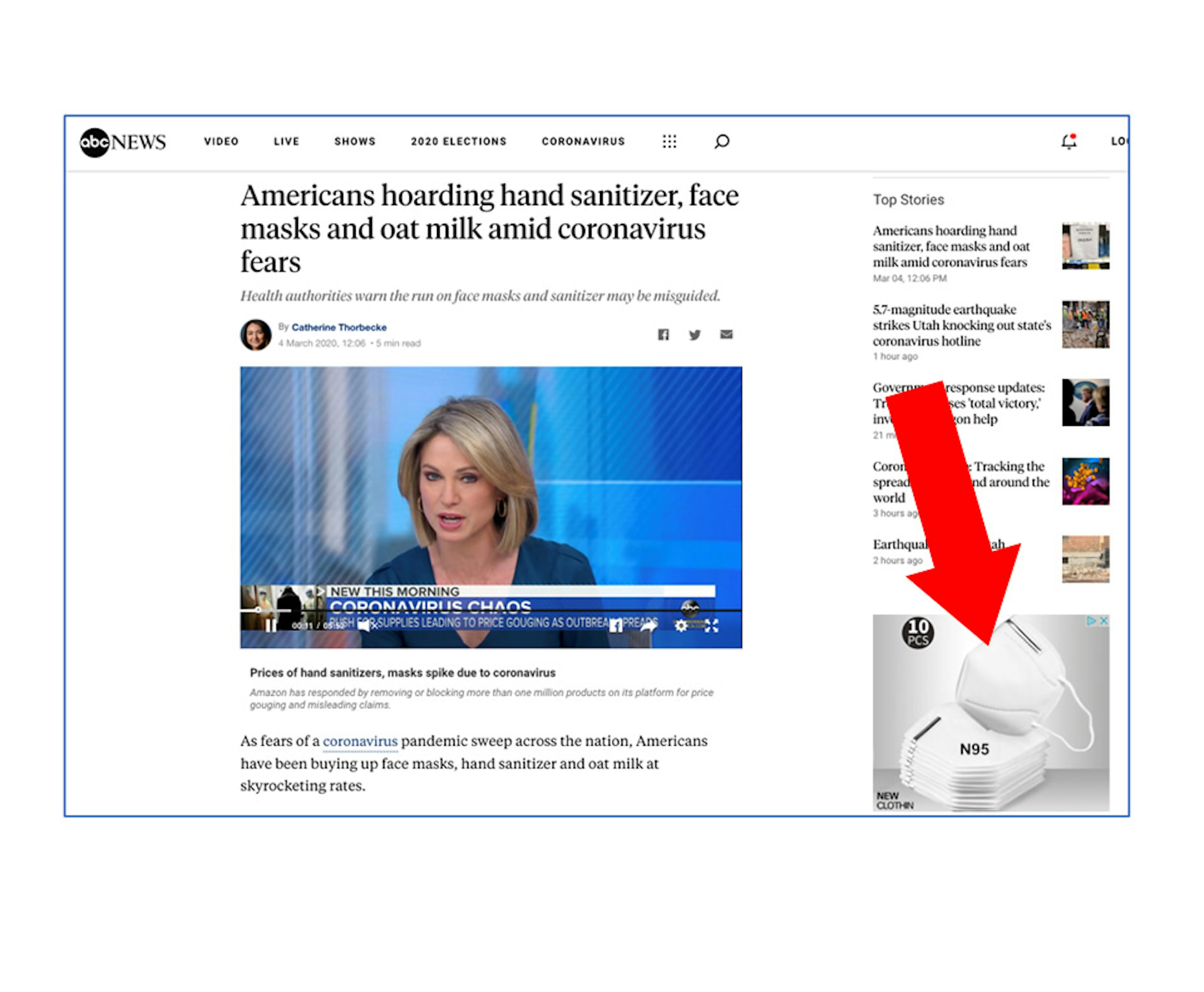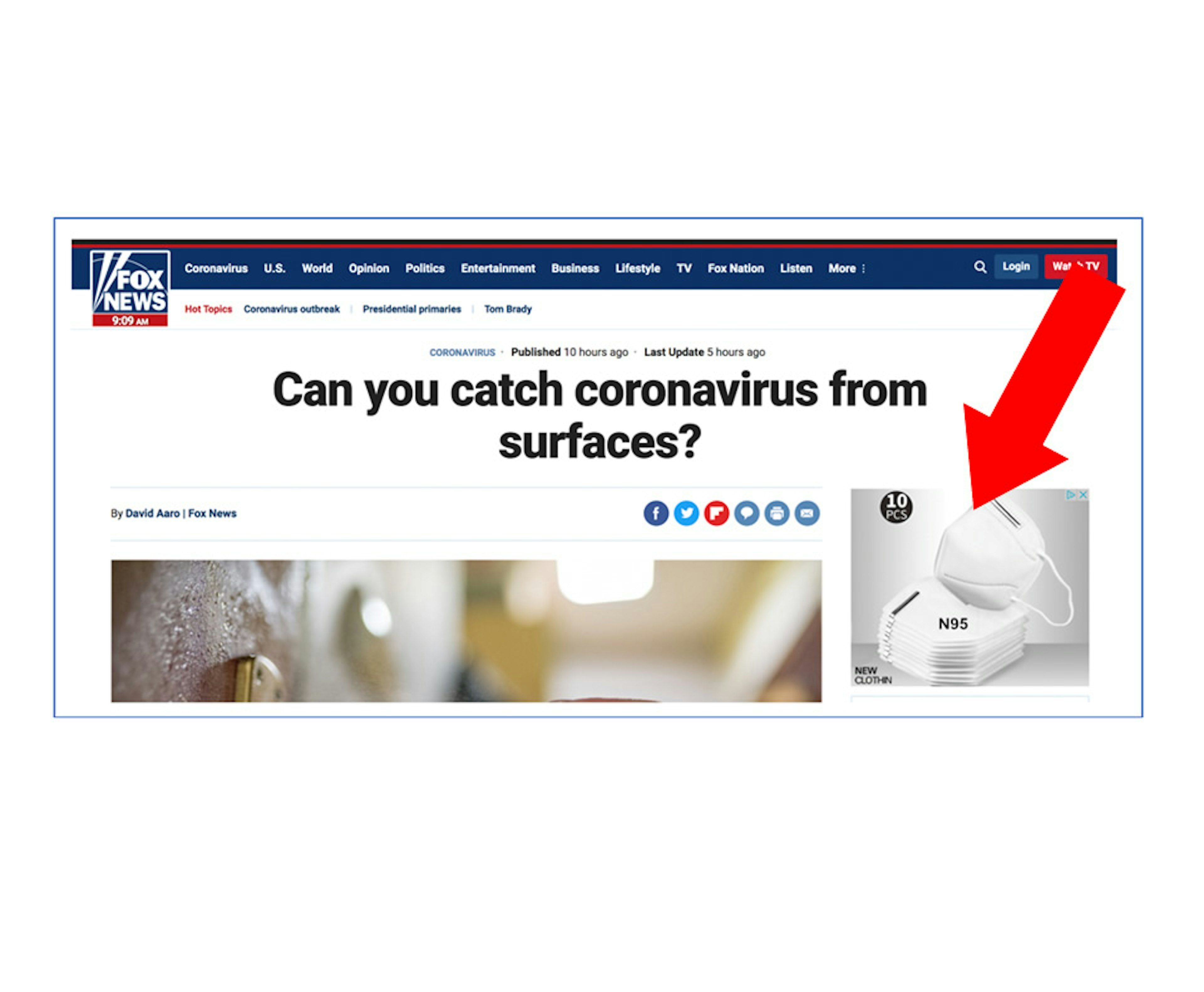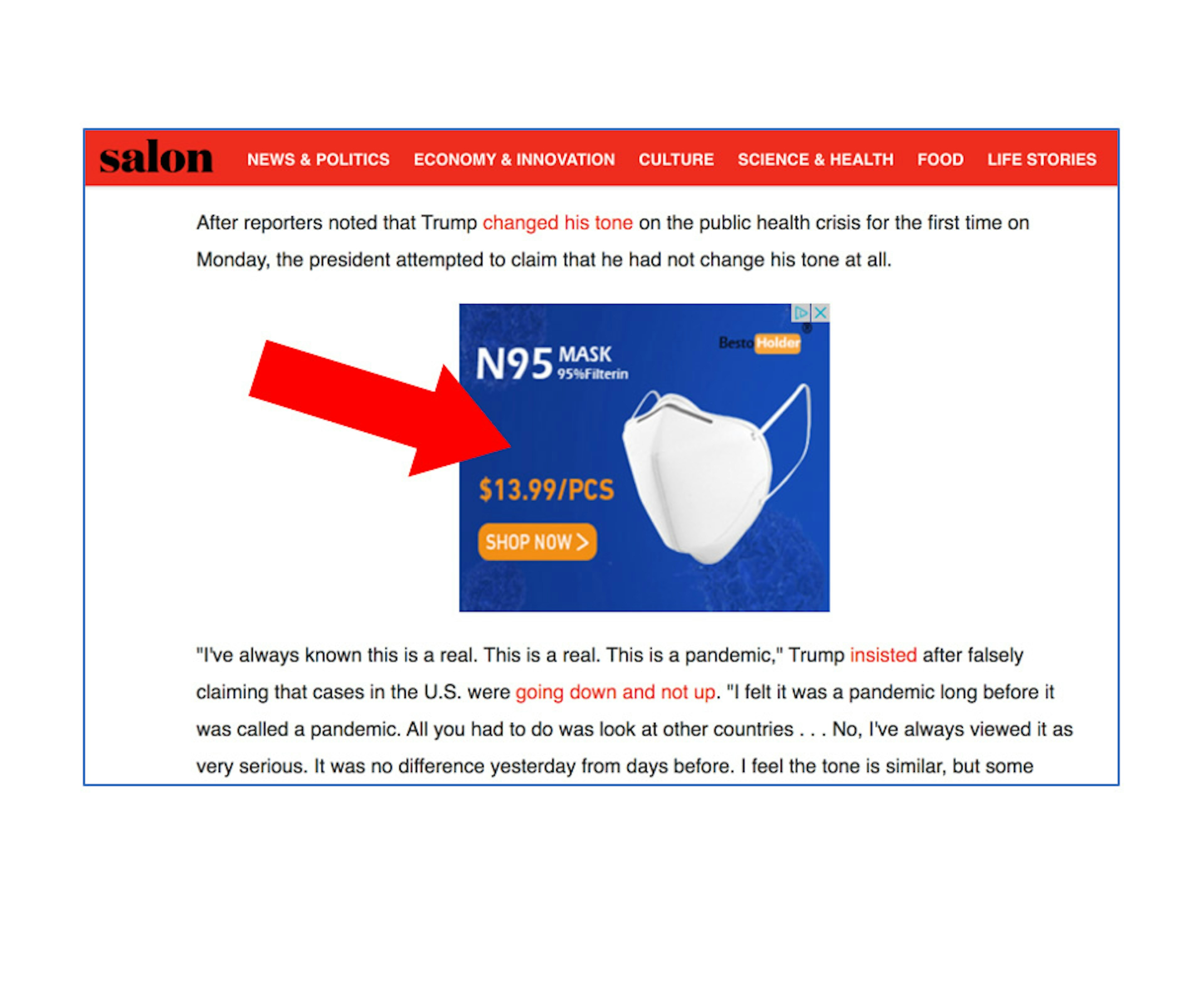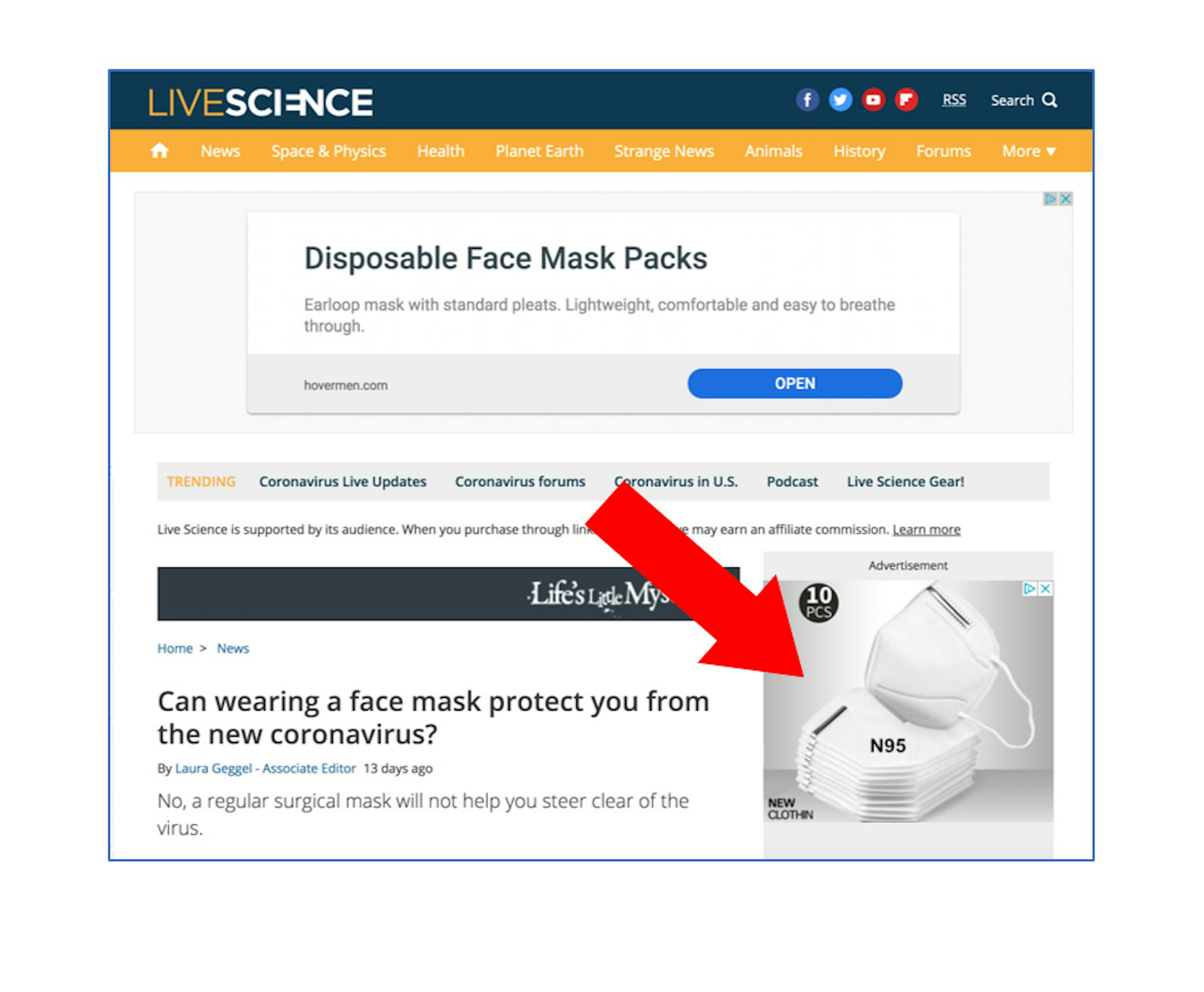 The "N95" respirators in these ads are likely substandard imitations of those available through reputable channels. The N95 certification is managed by the U.S. National Institute for Occupational Safety and Health (NIOSH), which requires various kinds of markings for certified products. The masks shown in the ads displayed none of the required markings.
Taken together, the Facebook pages, Instagram accounts, and Google-served ads show how the platforms' crackdown on face mask sales and advertising has some major holes, at a time when such products are needed in hospitals and subject to increasing consumer scams. The findings provide a sobering reminder of the tech giants' struggles to clean up their platforms, even during life-threatening, global events like the coronavirus health crisis.