Facebook and Google have earned millions of dollars from advertising by the National Rifle Association since the Parkland school massacre, according to an analysis by the Tech Transparency Project, which found that the gun lobby's spending on tech platforms surged after mass shootings.
Even as their top executives publicly expressed horror at gun massacres, the tech companies have offered the NRA a crucial platform to spread its message. In particular, the study found, they gave the group a way to mobilize and recruit supporters as public pressure mounted for regulation following episodes of gruesome gun violence.
Facebook Chief Operating Officer Sheryl Sandberg, in a March 2018 post after the high school shooting in Parkland, Florida, called the U.S. the "only country in the world that allows our children to live in fear and die because of truly terrible public policy on guns." But the social network went on to collect more than $2 million in advertising fees from the NRA starting in May of that year, the TTP analysis found.
It's a similar story with Google, whose former chief executive, Eric Schmidt, called for U.S. leaders to pass gun control measures after the Parkland massacre. Meanwhile, Google collected more than $690,000 in advertising fees from the NRA since May 2018, the starting point for the company's political ad database.
In fact, NRA ad spending reached its highest levels on Google and soared on Facebook following the worst week for mass shooting casualties in the period analyzed by TTP, amid a wave of calls for action to halt the killings. That was early August 2019, when shootings in El Paso, Texas, and Dayton, Ohio, killed a total of 31 people and injured 53 more. Another deadly shooting at the end of the month, in Odessa, Texas, preceded a similar spike in advertising.
These NRA ads—some of which are still active—link to the group's website and Facebook page, which, as of this writing, are filled with messages asserting the right to self-defense during the coronavirus outbreak and condemning lawmakers who refuse to declare gun shops "essential businesses" during public health lockdowns. One recent NRA Facebook ad features a "disabled woman weak to coronavirus," who argues that people are buying guns because "the government will not be able to protect them" when society breaks down. As the NRA has stoked panic over the mounting public health crisis, gun sales surged to historic levels.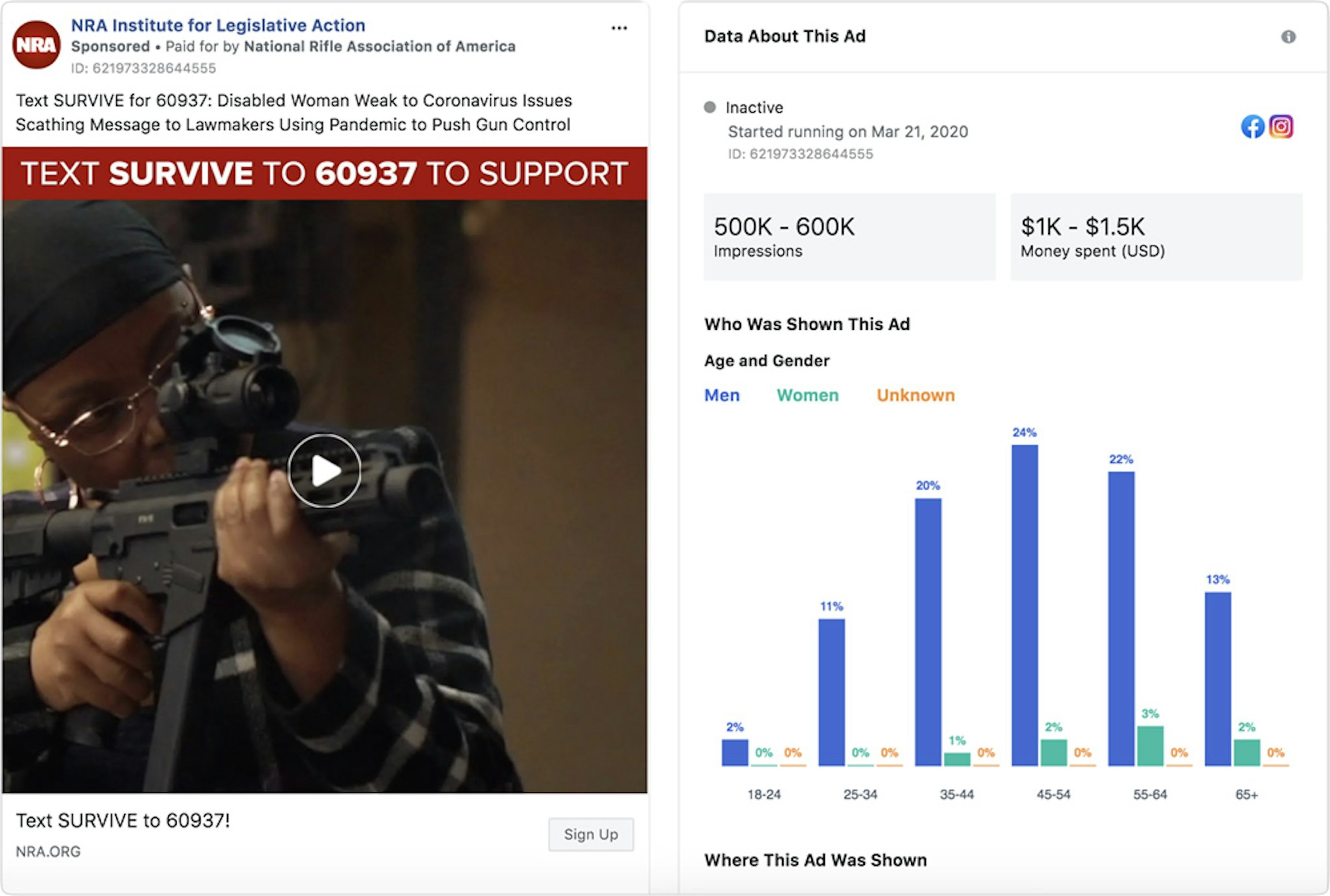 In recent years, retail chains like Walmart and Dick's Sporting Goods put tighter limits on gun sales, and other major U.S. companies cut ties with the NRA. Facebook and Google, however, have avoided antagonizing the gun lobby, a valuable customer and powerful advocacy group with close ties to President Donald Trump.
The NRA ads run by Google and Facebook during this period often included disturbing messages. One promised that perceived critics of President Trump in government, media, and academia would "perish in the political flames of their own fires." Another NRA ad even showed footage of people fleeing the mass shootings in El Paso and Dayton. The ad described the shootings as "unspeakable tragedies" before quickly pivoting to attack Democratic politicians who favor "taking guns away from law-abiding citizens."
The ad spending identified in this report likely represents a fraction of the total revenue that Facebook and Google earn from gun-rights groups. The NRA alone appears to spend as much as $6.7 million on digital advertising fees each year, according to calculations based on data from Pathmatics, a market research firm. YouTube users have often complained about ubiquitous NRA ads that run before videos.
The NRA also isn't the only pro-gun advertiser to channel millions of dollars to big tech companies. Facebook has earned more than $10 million in revenue from pages that advertise gun accessories on the platform over the last two years. Some of these ads promote gun sales by raising the specter of "mob rule" and feature images that invoke urban snipers.