Three members of private "boogaloo" Facebook groups identified by the Tech Transparency Project (TTP) have been arrested on terrorism-related charges in what authorities say was an effort to spark a second civil war by launching Molotov cocktails at a Las Vegas protest against police brutality.
The Justice Department's Joint Terrorism Task Force on Wednesday announced the charges against three self-identified members of the boogaloo movement, a diverse group of heavily armed extremists who over the last week have sought to capitalize on nationwide protests to spark an uprising against government forces.
The arrests—carried out as the men were allegedly preparing bottles with gasoline and rags on their way to a Las Vegas Black Lives Matter protest on May 30—illustrate the consequences of Facebook's repeated failure to remove extremist groups from its platform, even when confronted with concrete evidence they were using it to plan violent acts.
TTP has spent months following private boogaloo groups on Facebook as they organized, recruited, honed tactics and disseminated propaganda through the social media site. In April, TTP raised alarm about the rapid growth of these groups amid the coronavirus lockdowns. TTP also provided detailed evidence to the FBI about the groups, including those referenced in the criminal complaint.
The DOJ complaint notes that the same month, the FBI received a tip from a confidential human source that Stephen T. Parshall, 35, and Andrew Lynam, 23, were "potentially planning terrorist activity." William L. Loomis, 40, later became part of the investigation. The resulting charges include "violations of federal and state law for conspiracy to cause destruction during protests in Las Vegas, and possession of an unregistered destructive device (specifically, an improvised incendiary device commonly known as a Molotov cocktail)."
Lynam, Parshall and Loomis were all part of a Nevada boogaloo group on Facebook, the complaint states. TTP research shows Lynam is also a member of two private boogaloo groups run by the Facebook page Thicc Boog Line: "[Redacted]Liberty: Intelligence and Surveillance" (previously "BoojieBastards: Intelligence and Surveillance"), and "[Redacted]Liberty: The Armory" (previously "BoojieBastards: The Armory").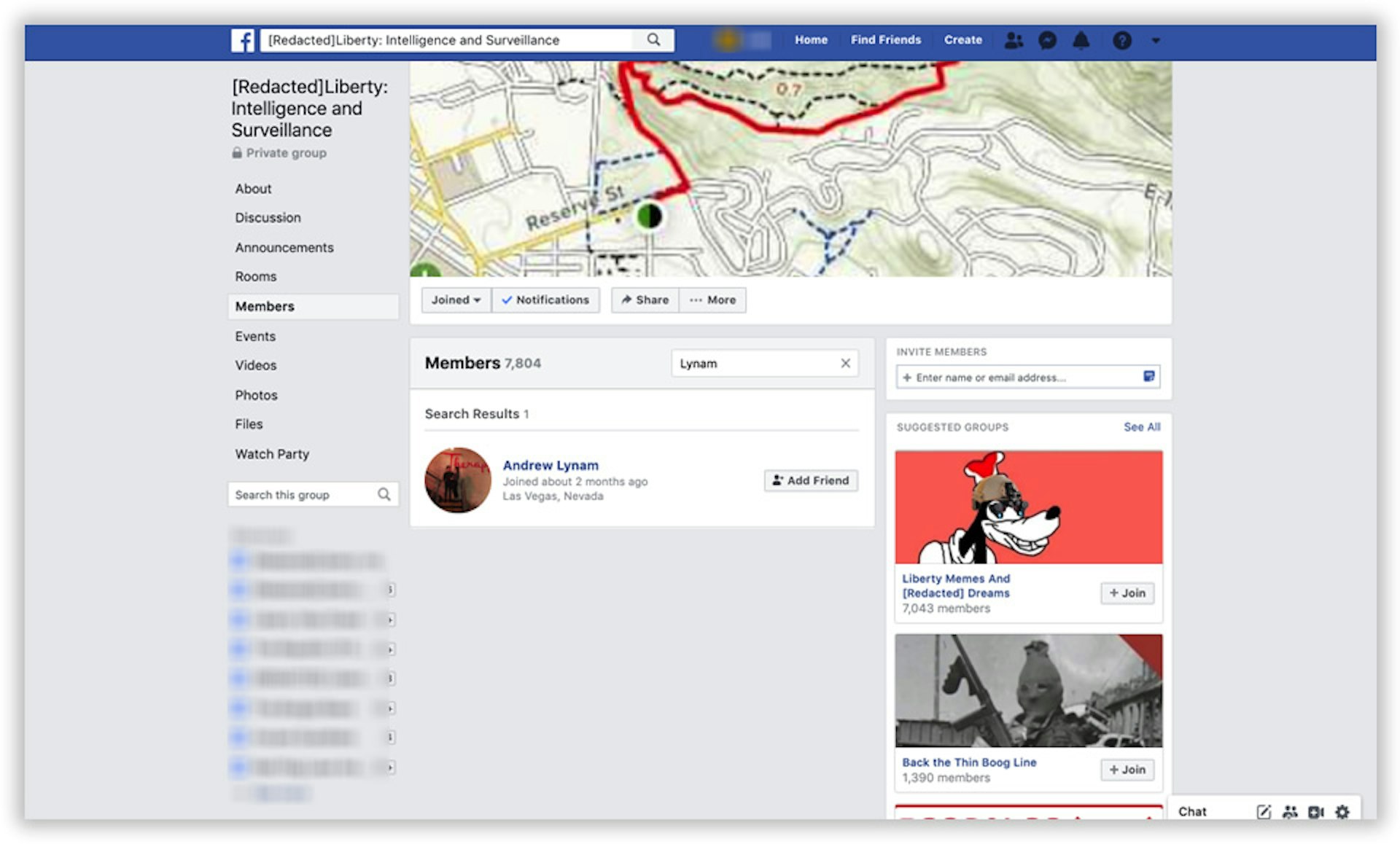 After both groups were named in TTP's April report, which was covered by Huffpost and other media, admins changed the group names to remove overt references to the boogaloo.
Facebook took no action against the groups, despite saying it would enforce its community guidelines that prohibit facilitating, organizing, or promoting "harmful activities targeted at people" and "statements of intent to commit high-severity violence."
On April 24, two days after the TTP report, a Facebook spokesperson told Huffpost, "We've removed groups and Pages who've used this and related terms for violating our policies," adding the company was "reviewing the content referenced in this report and will enforce against any violations." However, none of the groups TTP monitored, including the Nevada group, were removed.
The complaint shows that Facebook's failure to disrupt the boogaloo groups allowed members to continue planning and developing new tactics, including bomb-making strategies spelled out in a 133-page manifesto still being circulated on Facebook today.
On April 25, the complaint states, Lynam invited members of the Nevada Facebook group to a hike where they discussed plans for a "trial run to test members of the group as well as the United States government's response." They began using encrypted communications apps and discussed plans to destroy a ranger station near Lake Mead.
Soon the discussion turned to ways to provoke confrontations between protestors who opposed coronavirus lockdowns and police, the complaint states. By this point, their activity was being monitored by the confidential informant working for the FBI, the complaint states. Loomis introduced himself to the Nevada group at a May 16 ReOpen protest and asked to join.
On May 27, two days after George Floyd's death in police custody in Minneapolis, Loomis and Parshall met to discuss "causing an incident to incite chaos and possibly a riot" in response to the killing, according to the complaint. The group "saw the riots occurring throughout the country and use that momentum as a driving force."
By May 30, frustrated that the protests had not become violent, the group decided to use the Molotov cocktails at a Black Lives Matters protest that day, the complaint states. They were arrested by an FBI SWAT team while preparing the firebombs.
Facebook Helps Local Boogaloo Group Recruit Nationally
TTP research shows that a month earlier, Lynam had used a national-level boogaloo organizing group to promote his Las Vegas-focused branch and recruit local members with shared ideology.
Lynam was an admin for the Nevada group named "Battle Born Igloo." (Igloo is a reference to the boogaloo.) The group was created on April 1 and is among dozens of local chapters developed on Facebook as boogaloo supporters sought to exploit public fears about government-led coronavirus lockdowns.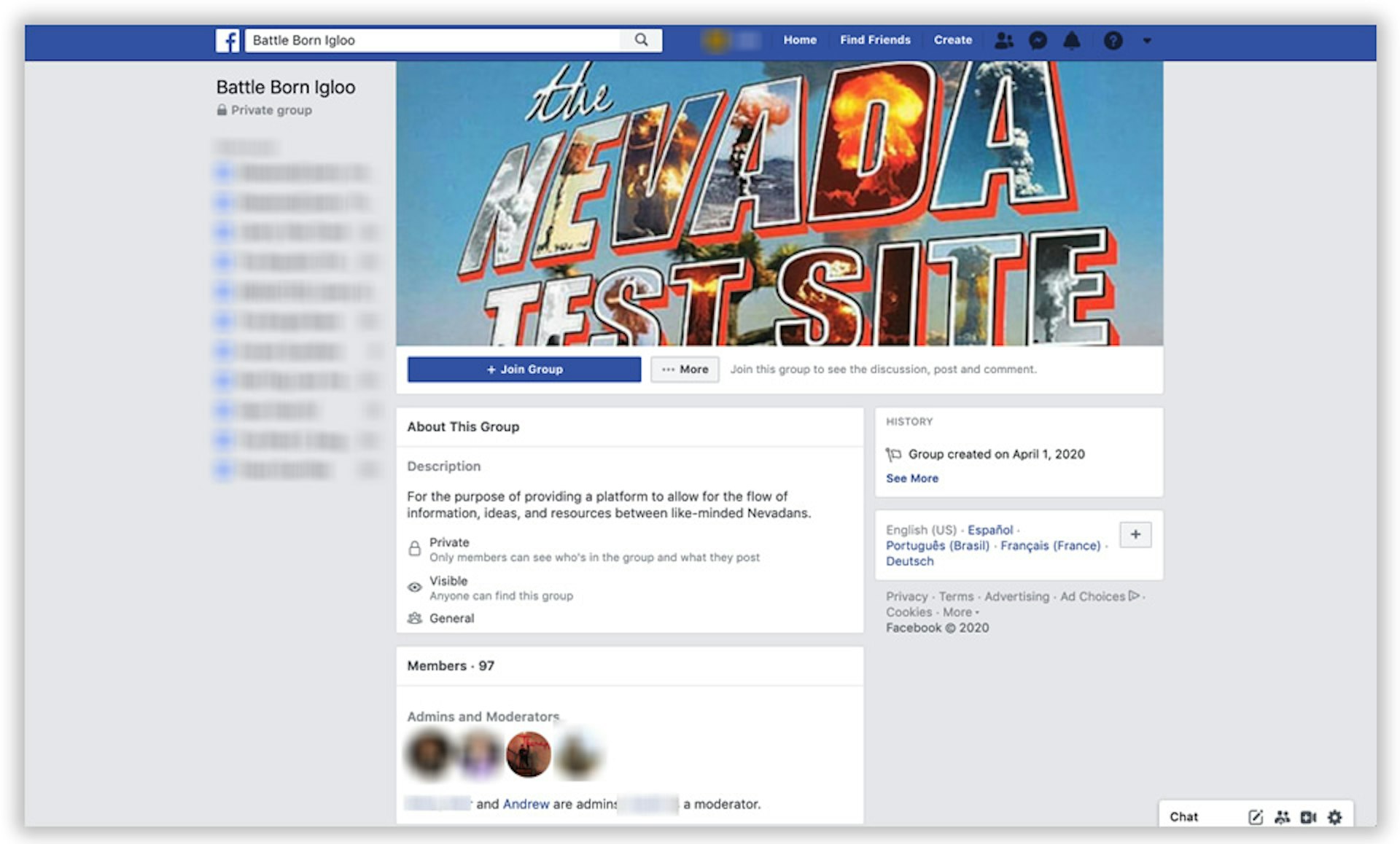 Parshall is a member of a national-level private boogaloo Facebook group called "The Rhett E. Boogie Group." Like the [Redacted]Liberty groups, the 3,500-member Rhett E. Boogie Group is run by a series of admins including the Facebook page "Rhett E. Boogie 2020," which has over 11,000 followers.
Facebook's group information shows that Parshall was added to The Rhett E. Boogie Group on February 27 by the Rhett E. Boogie 2020 page admin, a day after the group was created. Being added by a page admin rather than simply joining through a personal request suggests that Parshall was close to the primary organizers of the movement on Facebook.
Parshall's Facebook profile features a cover photo that states, "Before inspiration, comes the slaughter." His profile includes multiple photos associated with white supremacist ideologies, such as a swastika, the Confederate flag, and the flag of "kekistan," a term referencing a "kingdom" in white nationalist sub-culture, according to the Southern Poverty Law Center. While white supremacists make up only a portion of the boogaloo movement, their ideology presents additional risk of violent activity.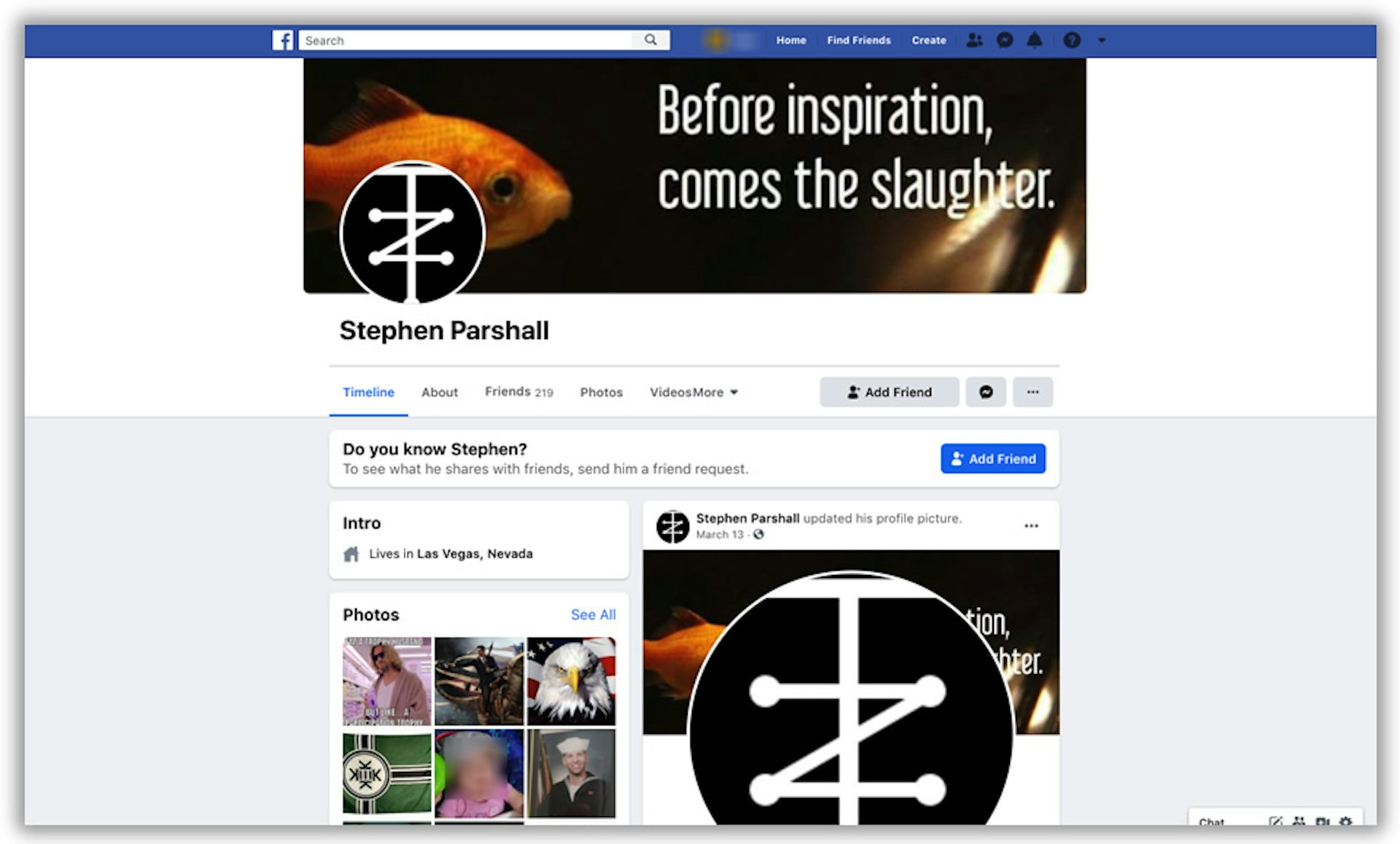 The "about" section of Parshall's profile shows that he "likes" dozens of pages related to the boogaloo movement, including the Thicc Boog Line page, which was a focus of TTP's April report. His profile photo is a black-and-white symbol of a "Z" crossing through a "T." Reverse image search on Google shows that this symbol appears in another place: the former website of Duncan Lemp, an alleged boogaloo supporter who was killed during a police raid on his home in Maryland. Authorities were executing a search warrant for unauthorized possession of firearms. Lemp has become a martyr of boogaloo supporters. Parshall made the symbol his profile photo one day after Lemp's death.
Multiple Boogaloo Arrests
Parshall is not the first Thicc Boog Line supporter who used the Lemp symbol to be arrested by law enforcement. A Facebook profile for "Arnold Derpingston," identified in TTP's April report, also shared the symbol. Derpingston was a pseudonym account for boogaloo supporter Aaron Swenson, who used the account to livestream his attempt to "hunt" police officers in April.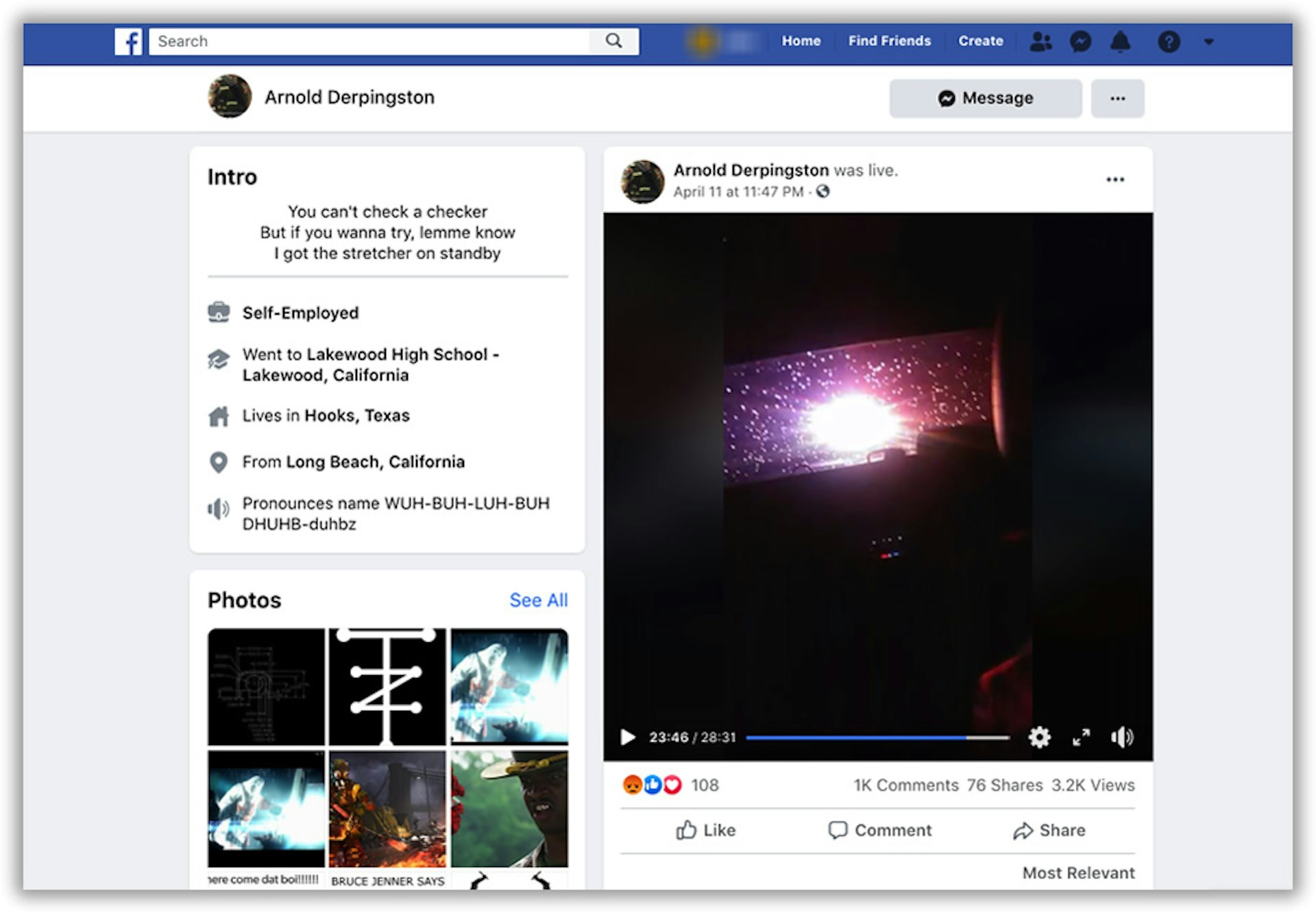 The Thicc Boog Line page is also liked by Trevan Young, an apparent boogaloo supporter who was arrested on June 2 by Chattanooga, Tennessee, police for bringing an AR-15 and multiple magazines of ammunition to a protest against police brutality.