YouTube says it's "invested heavily over the years" to make its YouTube Kids app "a safer, family-friendly place for kids to explore their imagination and curiosity."
Part of that commitment, YouTube says, is having a "higher bar" for which videos can make it into the app.
But inappropriate content continues to get past the platform's algorithms and human moderators, according to a Tech Transparency Project (TTP) investigation, showing how easily children can be exposed to troubling videos on the platform.
TTP found videos on YouTube Kids that talk positively about cocaine and crystal meth, give instructions on concealing a gun, encourage skin bleaching, and introduce diet culture to children. Other videos identified by TTP appear to violate YouTube Kids' policy against "overly commercial or promotional" content.
Google-owned YouTube has faced years of complaints for allowing violent and obscene videos on its kids site, and lawmakers in the U.S. House pressed YouTube CEO Susan Wojcicki on the issue last year, citing "horrific" material on YouTube Kids and calling it a "wasteland of vapid, consumerist content." While YouTube Kids has reportedly improved its clean-up operation by adding human reviewers and removing millions of low-quality videos, TTP easily found inappropriate content on the platform through a series of simple searches, showing the site hasn't succeeded in creating the safe place it promises to families.
Google, which agreed to pay a $170 million fine in 2019 to settle allegations that YouTube illegally harvested children's data, is one of several tech platforms that face mounting scrutiny from regulators over their impact on kids. Instagram announced last September that it was "pausing" development of a dedicated kids app following revelations that parent company Facebook knew for years that Instagram was toxic for teen girls. (Facebook is now part of Meta.)
YouTube's persistent problems with children's content has potentially vast implications. YouTube Kids boasted last year it has over 35 million weekly users worldwide—a highly vulnerable and impressionable audience.
YouTube Kids calls itself a "a filtered version of YouTube," built to provide a "contained, age-appropriate experience" for children. "We work to identify content that is age-appropriate, adheres to our quality principles, and is diverse enough to meet the varied interests of kids globally," the platform says.
To test that, TTP created three YouTube Kids accounts – one for each of the site's age settings: preschoolers aged four and under; kids aged five to eight; and the oldest group aged nine to 12. (For the purposes of the research, TTP did not activate parental control features such as turning off autoplay and limiting the channels accessible to children.)
Using the three different accounts, TTP began searching for terms related to objectionable content, and quickly got some hits.
For example, one video of a guitarist playing Eric Clapton's "Cocaine" was accessible to children as young as five. The song contained lyrics such as, "When you got bad news, you want to kick the blues, cocaine," and "When you're feeling is gone, and you wanna ride on, cocaine." For children aged five to eight, YouTube Kids says videos may have a "non-focal display of alcohol or tobacco," but says nothing about permitting mention of hard drugs.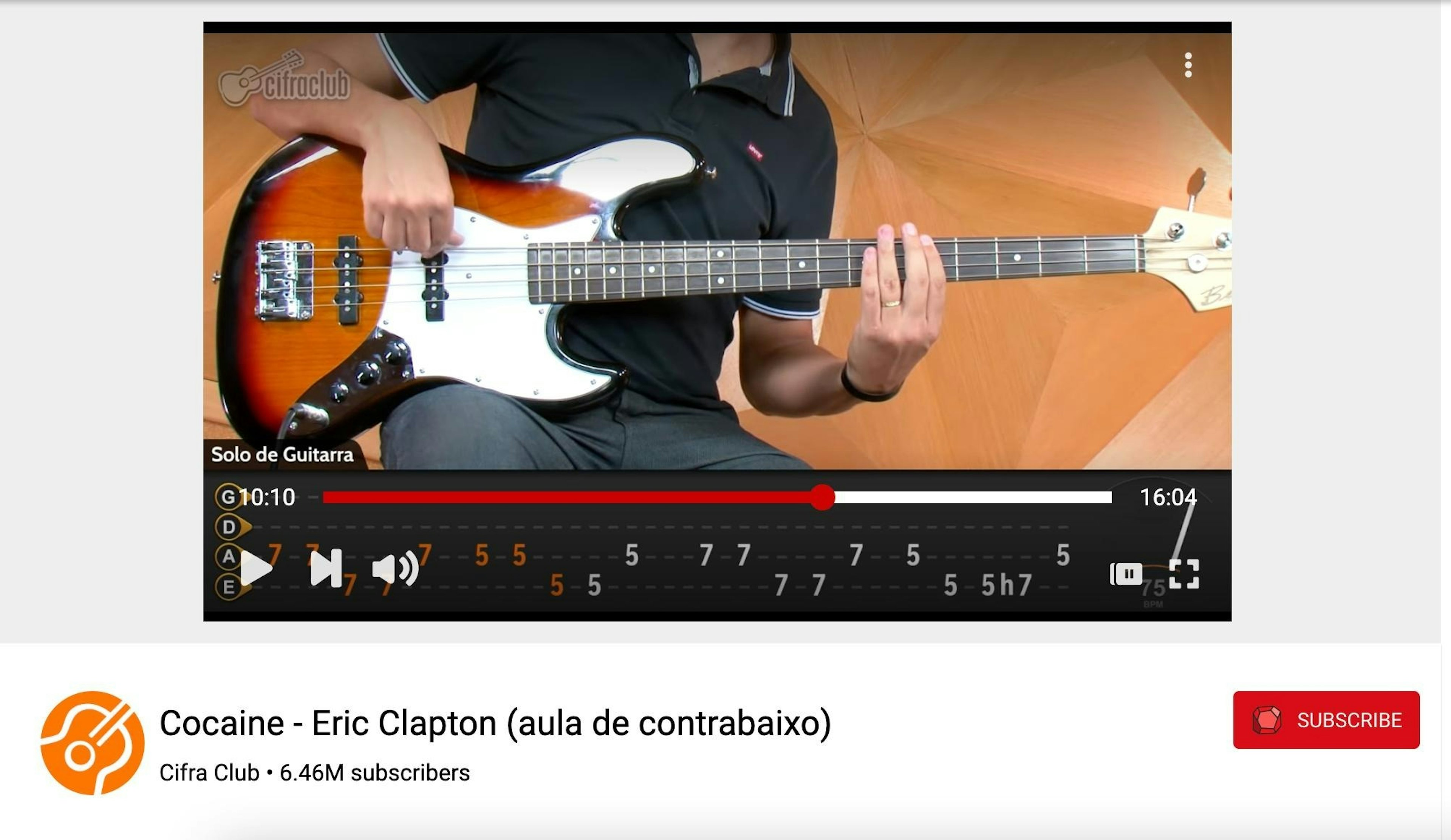 Another video aimed at children aged five and up showed how to build a Minecraft version of the RV from the television show, "Breaking Bad."
The RV on Breaking Bad has a specific association: It's used as a meth lab by the main character Walter White, a high school teacher-turned-meth dealer. In the video, the Minecraft player suggested furnishing the interior of the vehicle with the fictional stone prismarine because it looks "kind of like crystal meth."
The creator of the Minecraft RV video, MagmaMusen, offers the same video on the main YouTube site, with a description that reads, "A tutorial for the iconic van in the Breaking Bad series, where the crystal meth is cooked! Yummy..:)." It's not clear why the video was also available on YouTube Kids; Common Sense Media, which makes media recommendations for families, describes Breaking Bad as a "better fit for mature audiences" and rates it 17+.
TTP also spotted a video that featured two kids making "BREAKING BAD GLASS CANDY," which they referred to as "our meth." The kids made a number of joking references to drug making and dealing in the video, such as, "Look how pure this is," and telling viewers to share the candy with "all your friends especially on the street corners." The kids at one point put on gas masks and one wore a yellow hazmat suit, similar to what the drug-making characters wear on Breaking Bad. The video was available to children as young as five.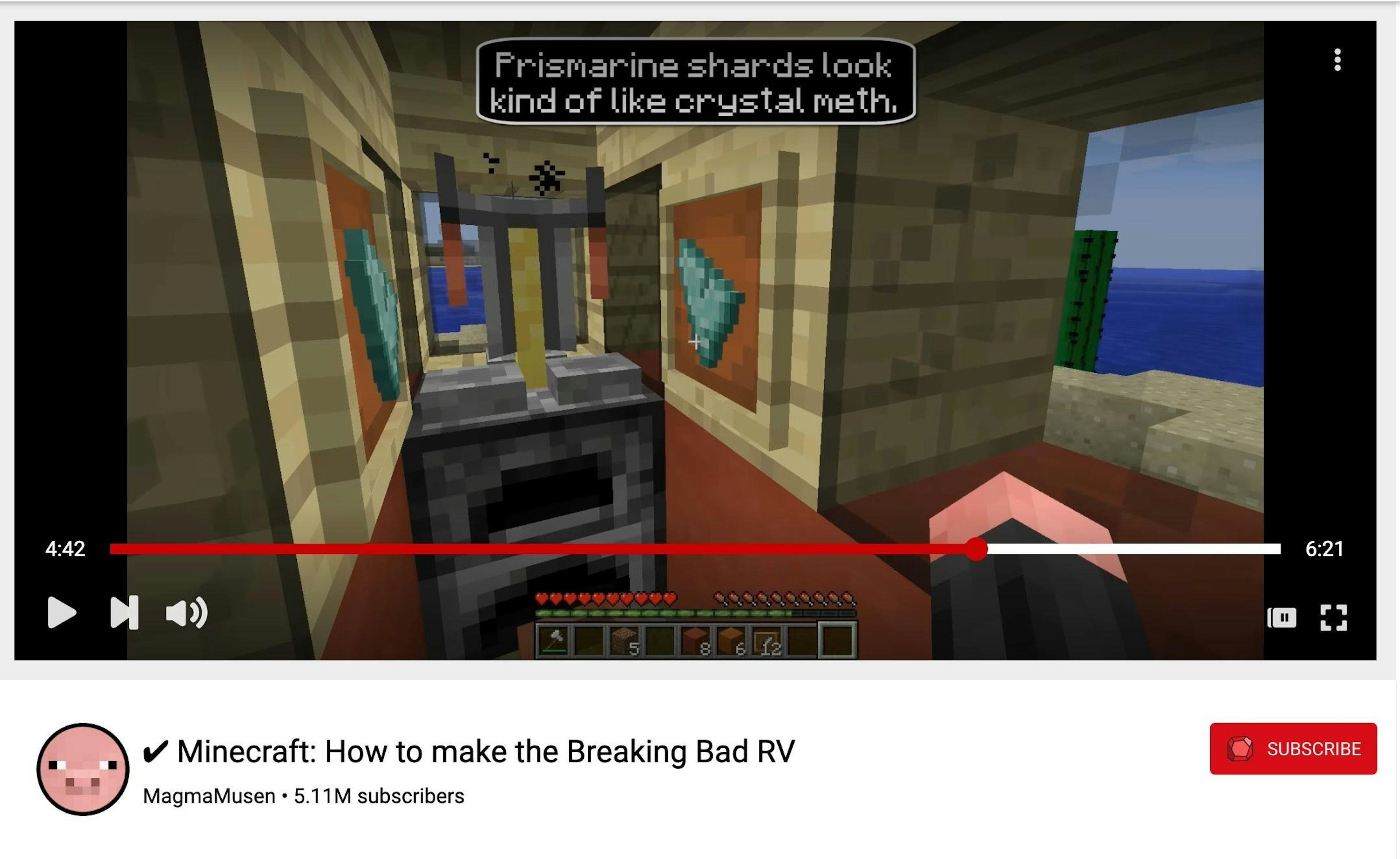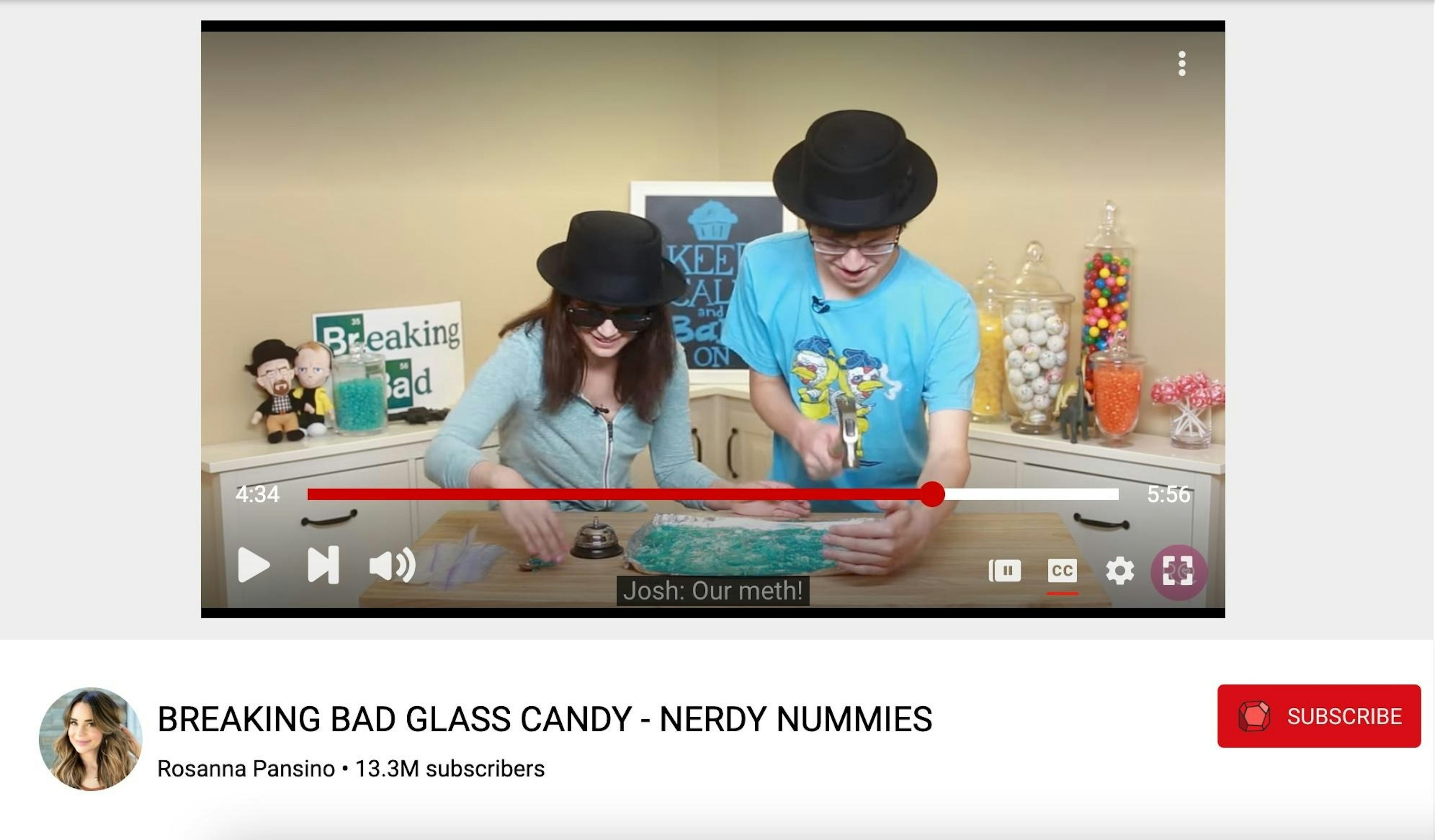 TTP's investigation also identified a series of weapons-related videos on YouTube Kids.
One video, available to children aged five to 12, ranked recoil pads, which protect shooters from the kickback of a firing gun. One model, it said, "can be affixed to myriad rifle and shotgun stocks." Another video, from the same channel Ezvid Wiki, ranked ammunition storage containers, describing products that can "store bullets of all sizes." Such content could serve to normalize gun culture for children; it comes at a time when gun manufacturers are increasingly using social media to target kids, particularly young boys, with marketing messages.
TTP even spotted a video on YouTube Kids showing how to conceal a gun. The video, from the creator JerryRigEverything, gave step-by-step instructions on how to build a shelf with a hidden compartment. When the video described what kinds of "goodies" can be stored in the shelf, the first example was a handgun. (The video, available to nine- to 12-year-olds, was later removed from YouTube Kids; it's not clear how long it had been on the platform.)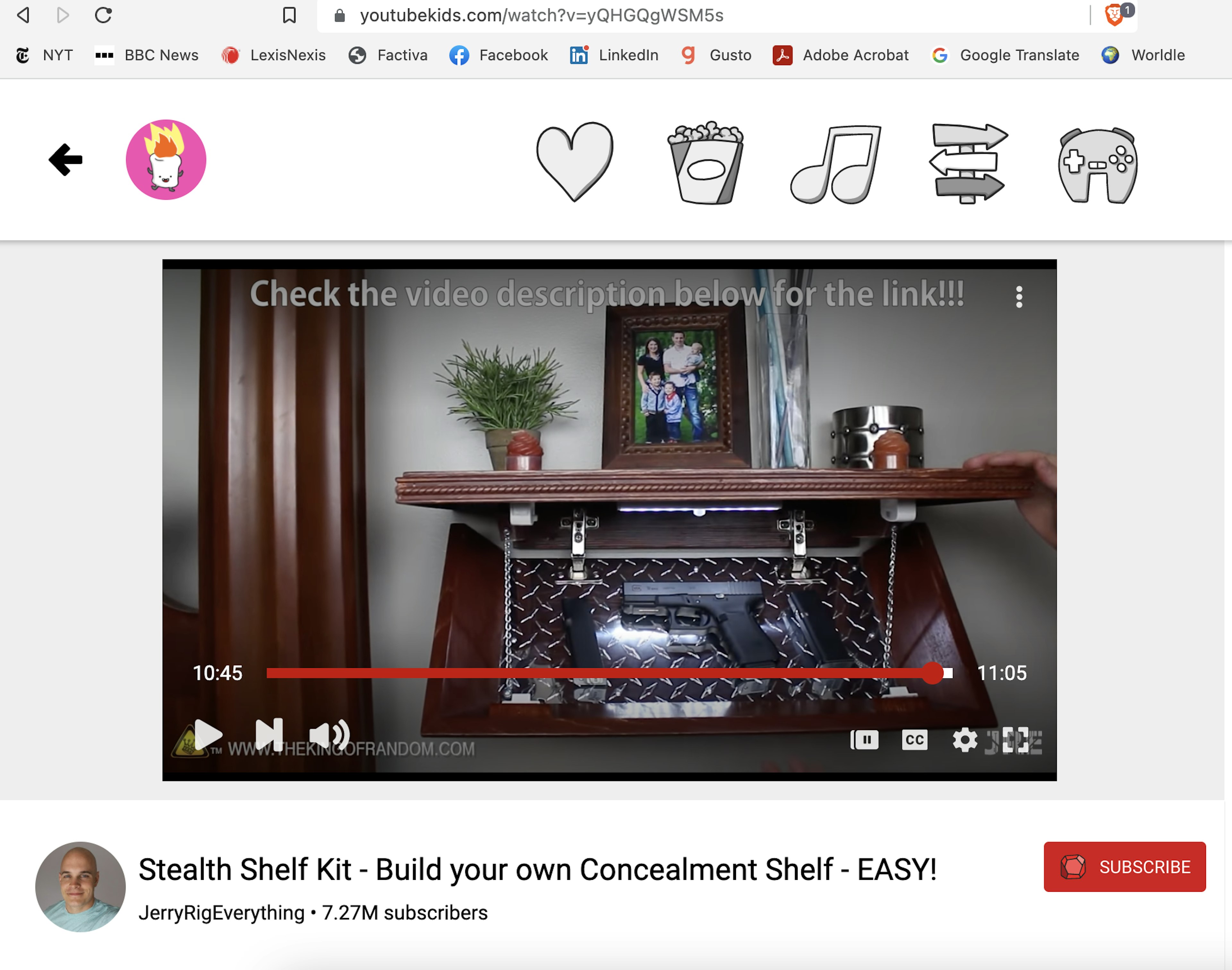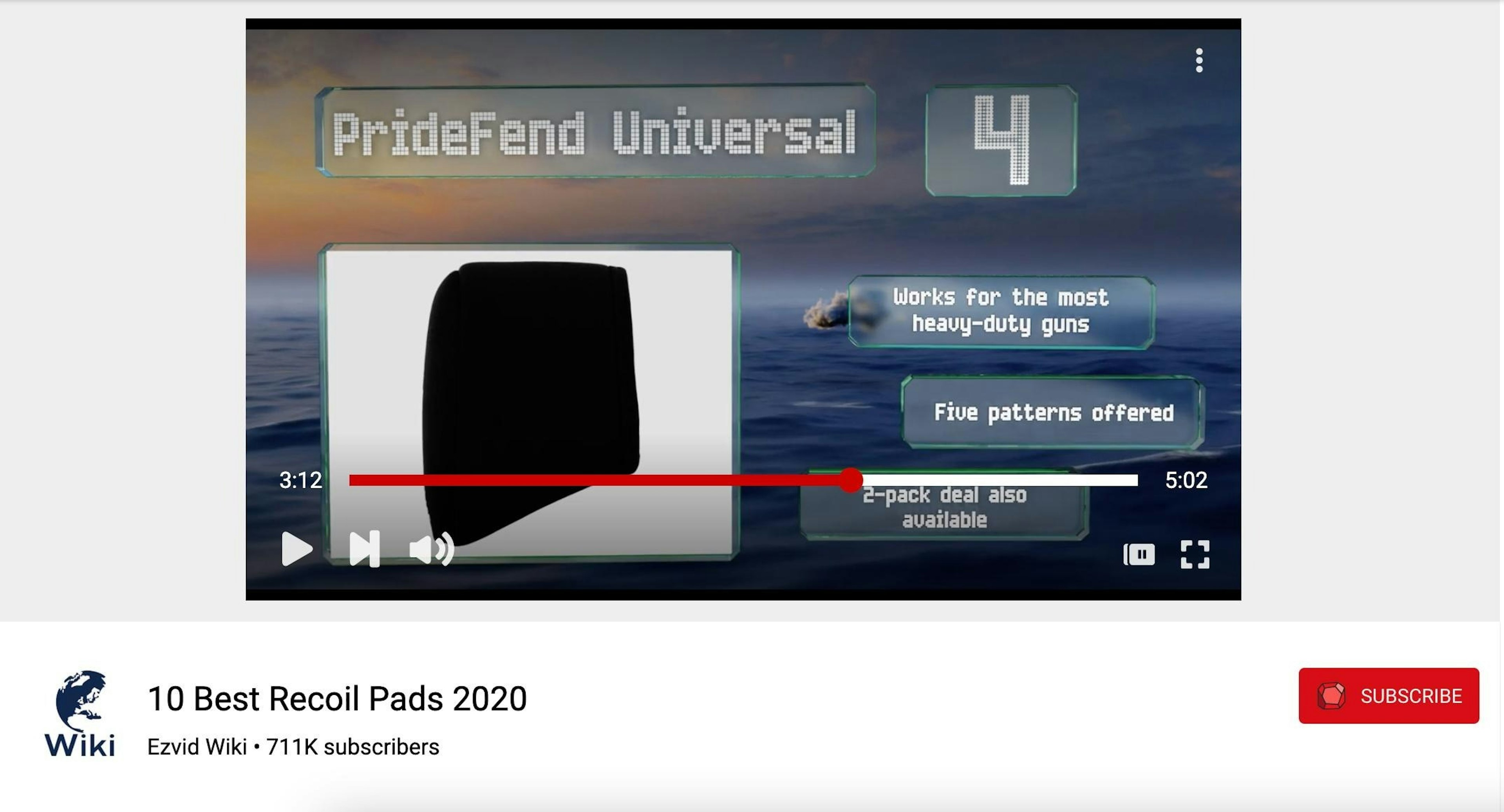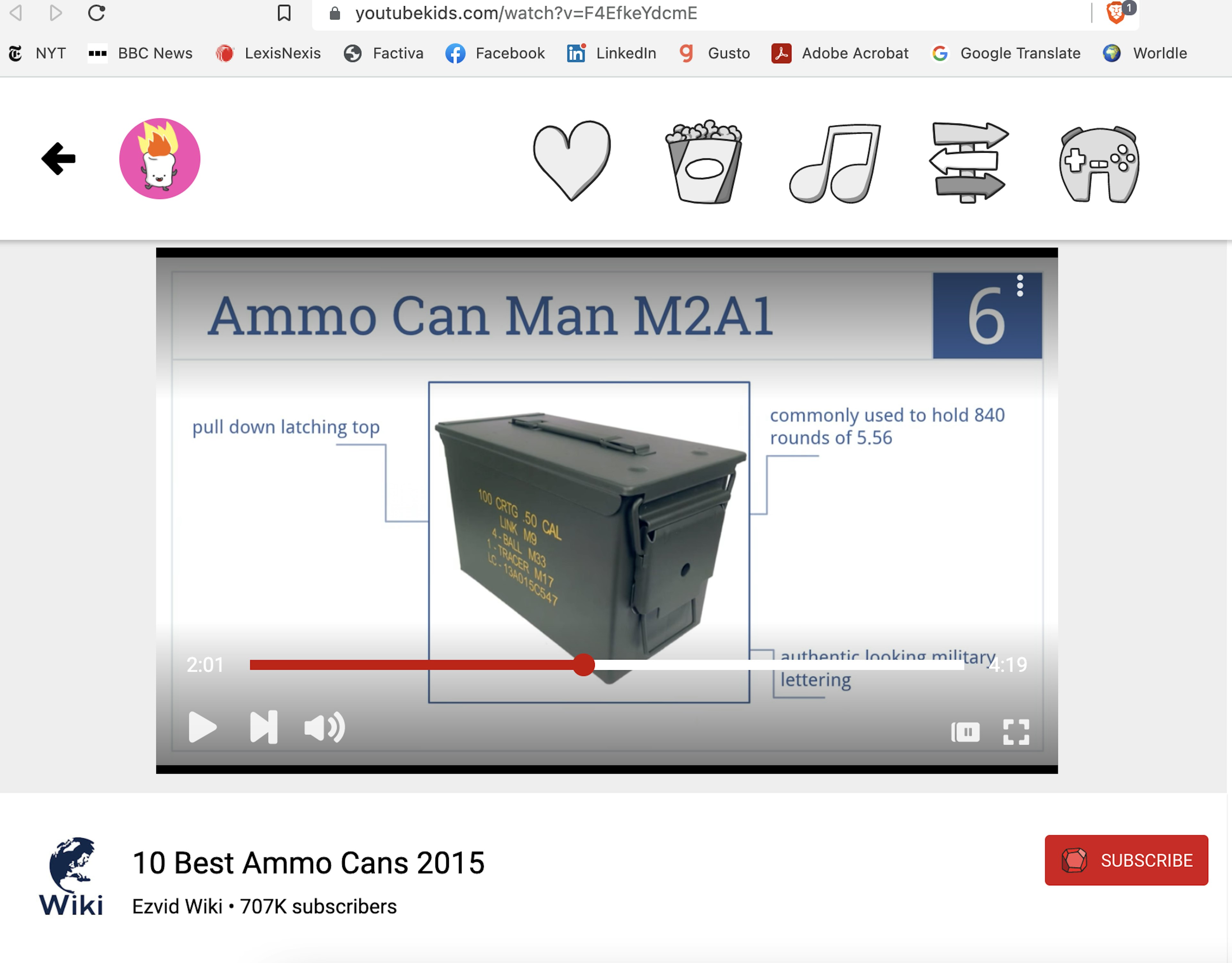 YouTube Kids' content policies for kids aged nine and up allow certain depictions of weapons—"unrealistic toy guns in the context of toy play" and "realistic looking weapons in gaming and animated content"—but neither exception applied to the above videos.
Skin bleaching and diet culture
One YouTube Kids video available to nine- to 12-year-olds featured a young woman showing viewers how to mix a facial bleach product at home and apply it to the face. (The content creator, Saba Ibrahim, has more than two million YouTube subscribers; her Instagram account indicated she is a blogger and lifestyle influencer in Mumbai, India.) Skin bleaching products often contain toxic ingredients like mercury, and experts say they perpetuate the prejudice of colorism around the world, which puts a higher value on lighter-colored skin.
The video's title started with, "ALL ABOUT FACIAL BLEACH | HOW I BLEACH MY FACE AT HOME," making no mystery of its contents. YouTube Kids' policies for older kids allow "beauty product reviews" and "educational content on health and wellness" but don't directly address the practice of skin bleaching, which has significant racial and health implications. (The platform, however, does say that it encourages content that celebrates racial diversity.)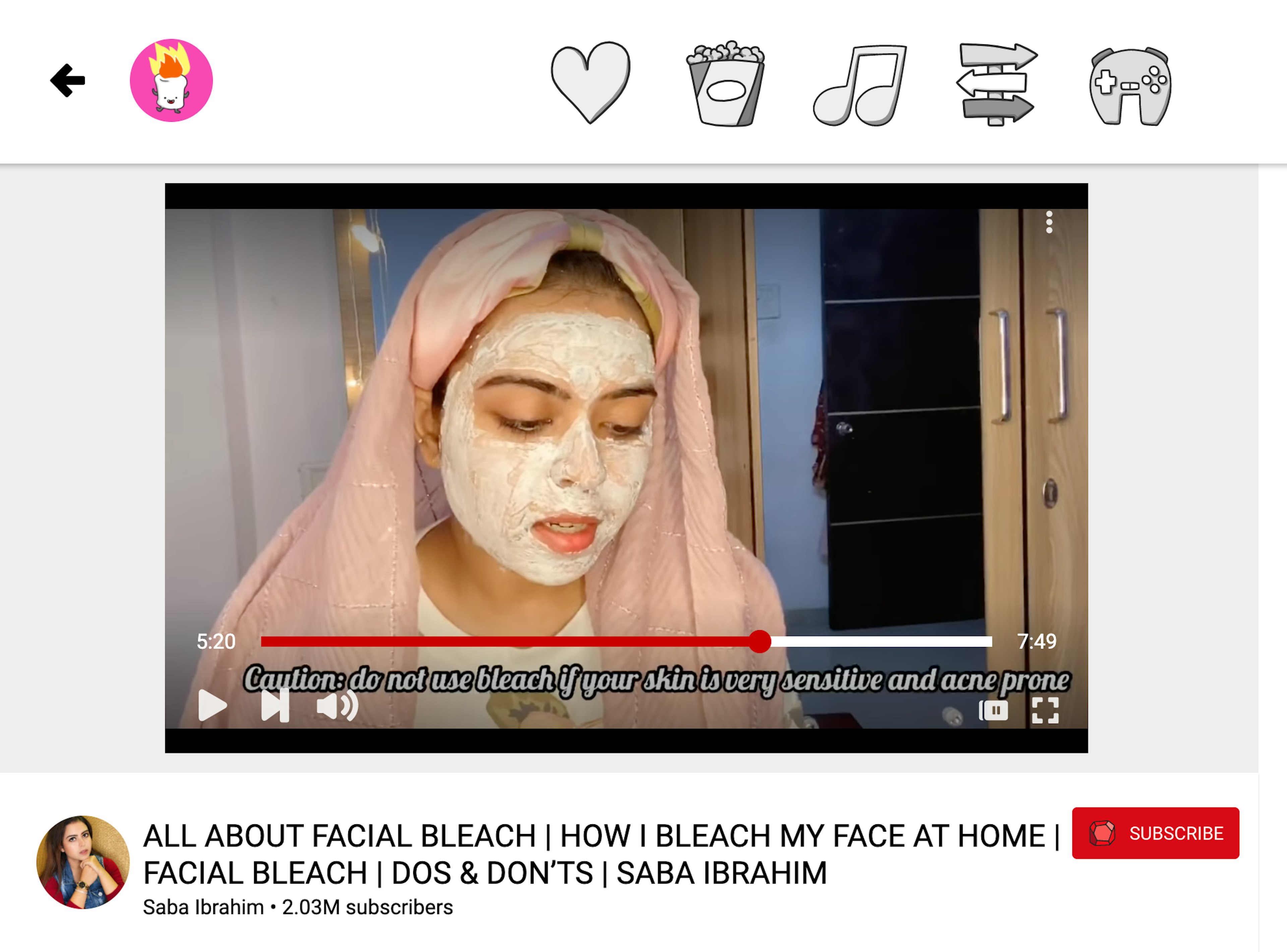 Some questionable content on YouTube is packaged in cute cartoons. For example, one video spotted by TTP featured animated potatoes, some of them in workout clothes, singing about the importance of burning calories. One character sang, "Lets burn some up right now!" and "Wiggle your jiggle." The video, which was available to all age groups, introduced the idea of losing weight to children as young as toddlers. There are growing concerns about the ways diet culture, which idolizes thinness, is taking root in kids—part of a growing awareness of how social media encourages eating disorders in young people.
YouTube Kids' policies for five- to eight-year-olds says it allows "age-appropriate educational videos on healthy eating and exercise," but the above video, with its focus on losing weight, may not be age-appropriate for young children. The platform also says it considers videos "with strange use of children's characters" to be low-quality content.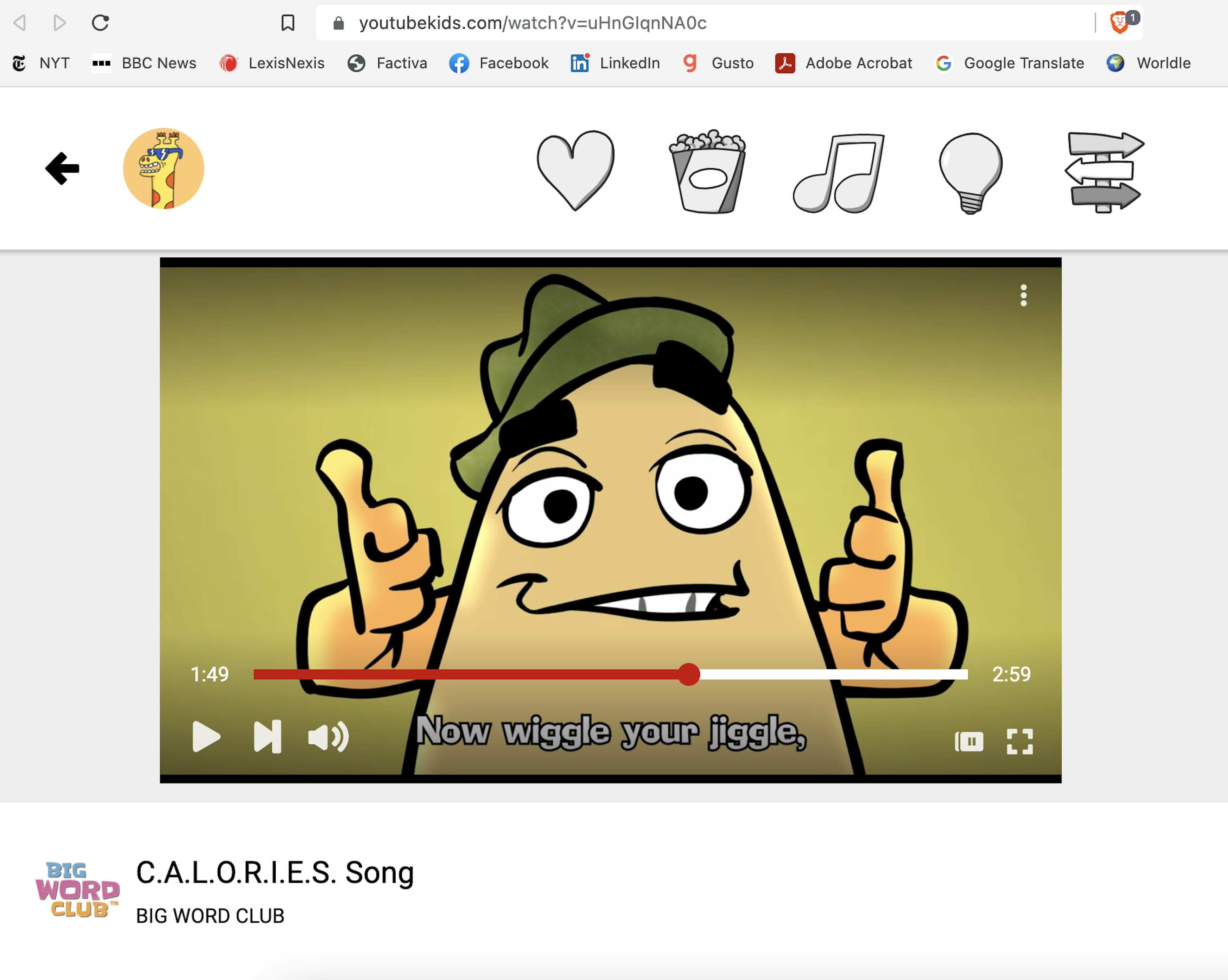 Unboxings and commercial content
YouTube Kids last August announced it would begin removing "overly commercial or promotional content," including videos that focus on "product packaging" or that directly encourage children to spend money. The new policy appeared to target toy unboxing videos that have exploded on YouTube in recent years. Critics say such videos have no educational value and are often little more than sponsored content.
But TTP found that the world of unboxing videos is alive and well on YouTube Kids. One video, called "Super Mega Haul Unboxing," showed an individual unwrapping and opening numerous plastic egg-shaped containers filled with candy, stickers, and toys and gushing over the contents. Others featured detailed unboxings of playsets for Polly Pocket and Peppa Pig. Each of these videos had the word "unboxing" in their title, making no secret of their theme. They all came from YouTube creators with large followings. The creator of the plastic egg video, CookieSwirlC, has 17.7 million followers on YouTube.
YouTube Kids also featured videos about unboxing of technology products. YouTube personality Marques Brownlee had a number of such videos on the platform, unboxing and reviewing items like Apple AirPods and AirTags. These videos, which appear to be geared toward adults, are a far cry from the age-appropriate and enriching content that YouTube Kids says it provides.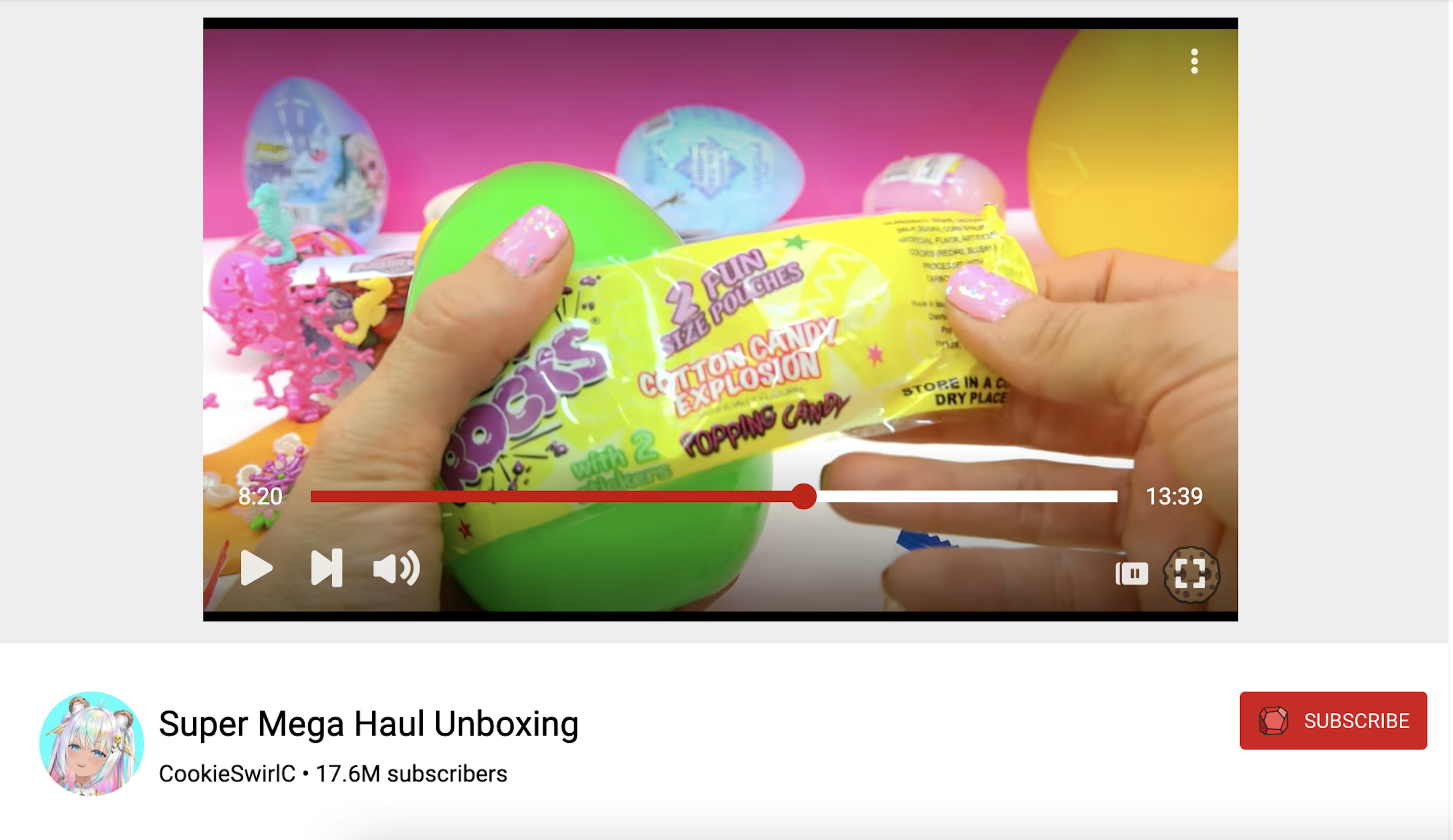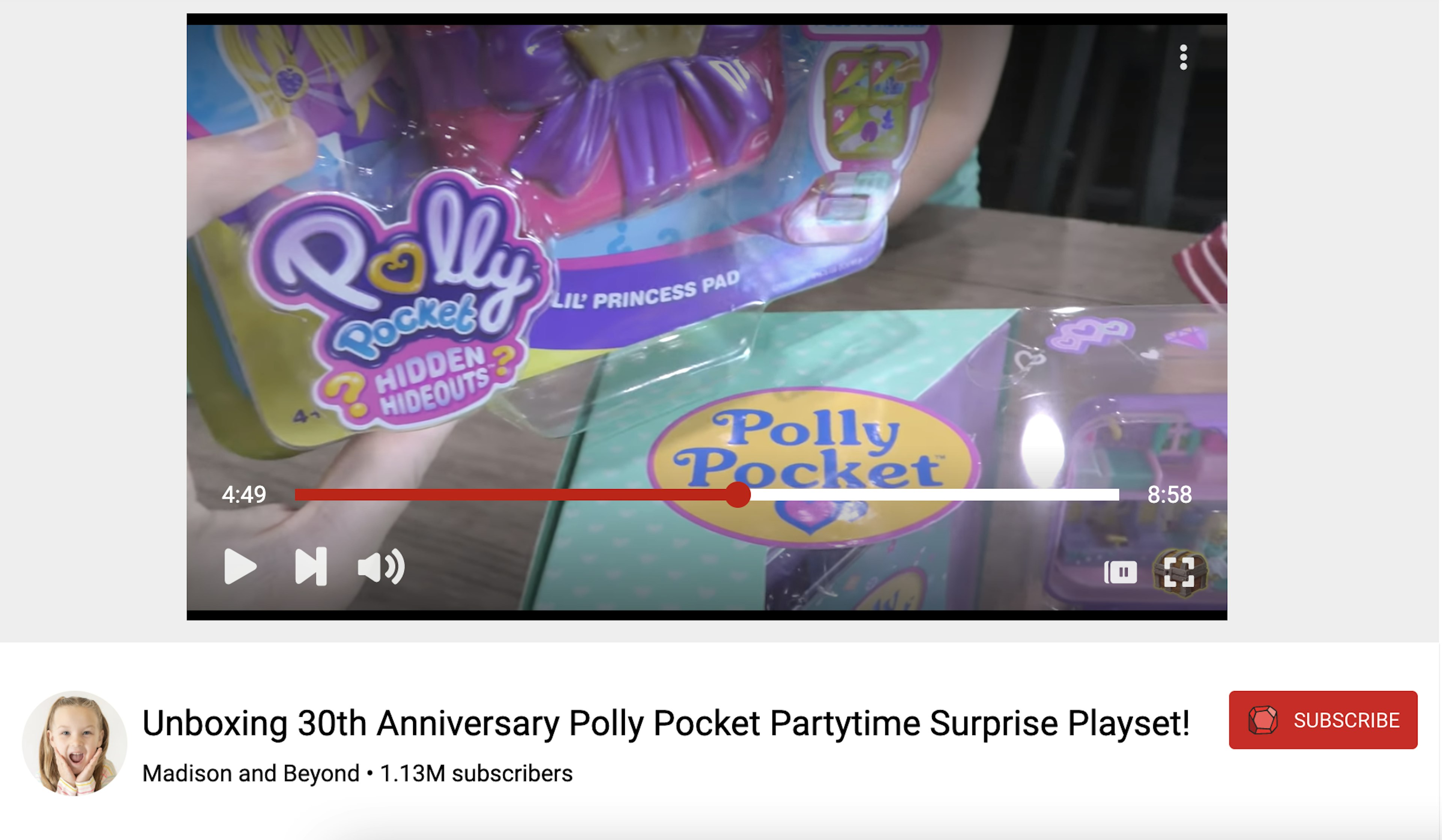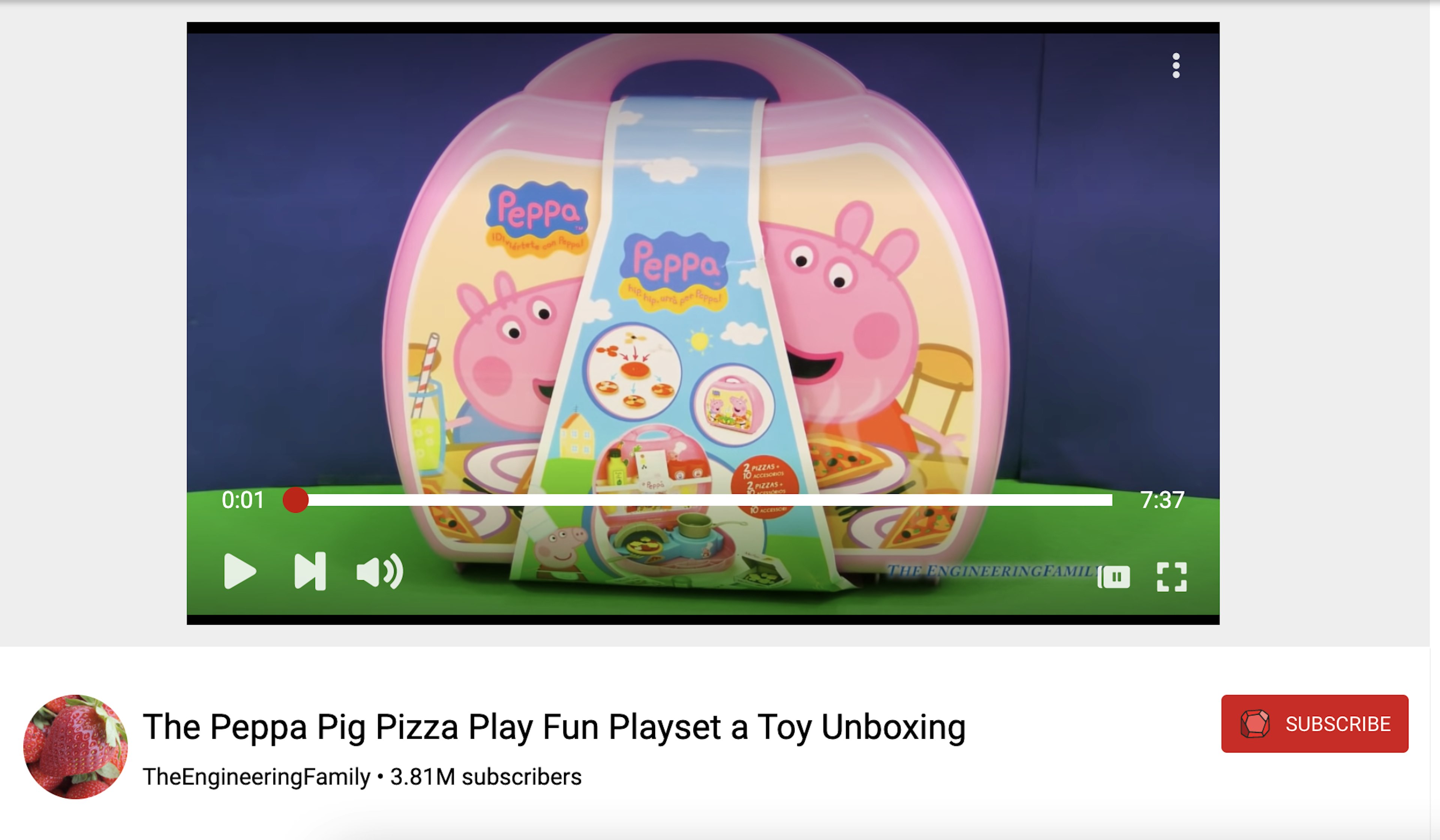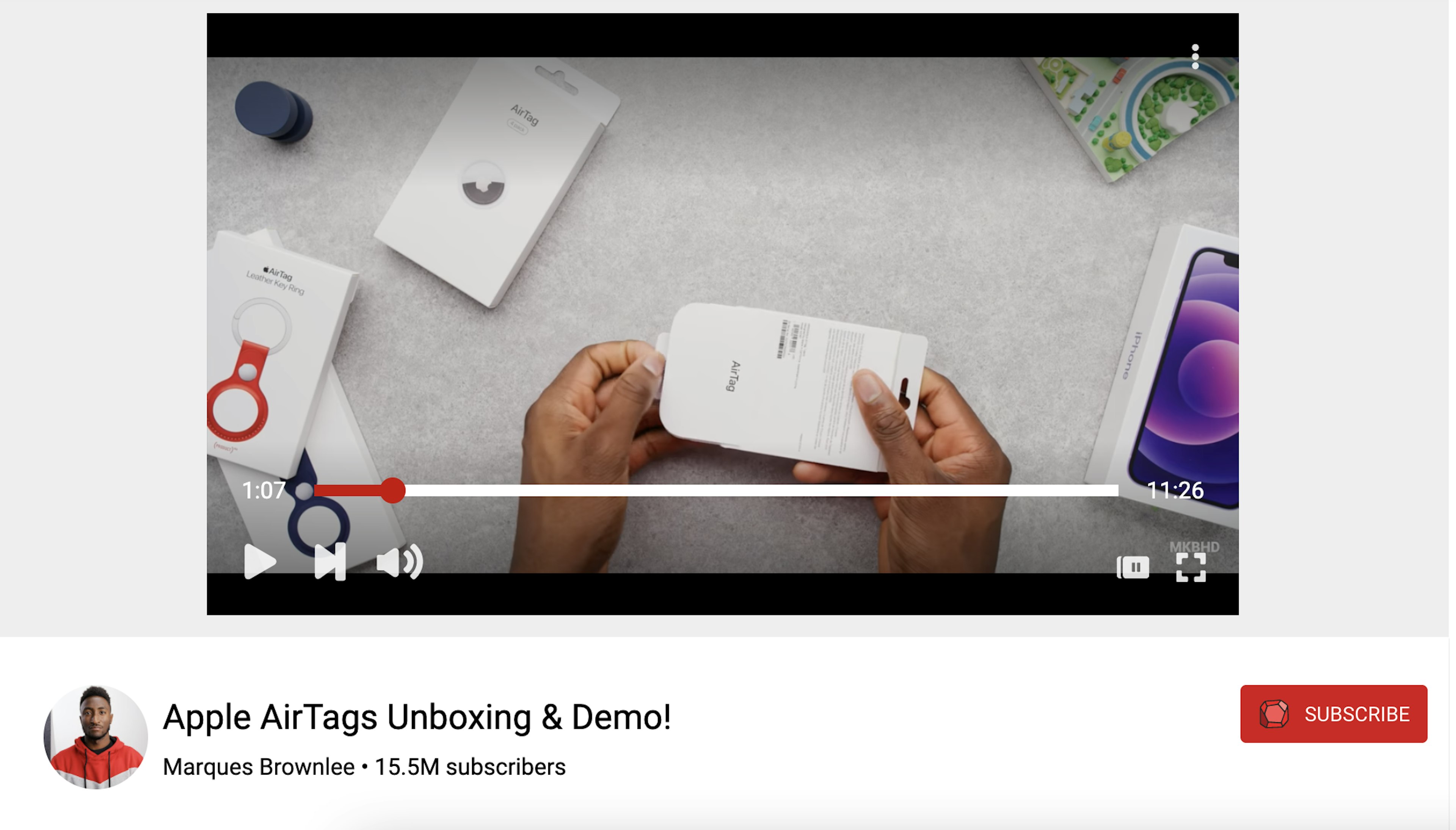 Brownlee's product review videos are also available on the main YouTube site, and often include disclosures that he received the devices from the manufacturer. His review of Apple AirTags, for example, includes a note in the video description that says the tracker was "provided by Apple for review." Likewise, his review of the Pixel 6 and Pixel 6 Pro includes the disclosure, "Phone provided by Google for review." But the same versions of these videos on YouTube Kids included no such disclosures.
While it's not clear what kind of specific arrangement Brownlee has with Apple and Google, he considered it worthy enough to disclose the relationships on the main YouTube site. The Federal Trade Commission makes clear the situations in which disclosures are required to avoid deceptive advertising violations:
If you endorse a product through social media, your endorsement message should make it obvious when you have a relationship ("material connection") with the brand. A "material connection" to the brand includes a personal, family, or employment relationship or a financial relationship – such as the brand paying you or giving you free or discounted products or services.
The FTC further advises, "Make disclosures even if you think your evaluations are unbiased."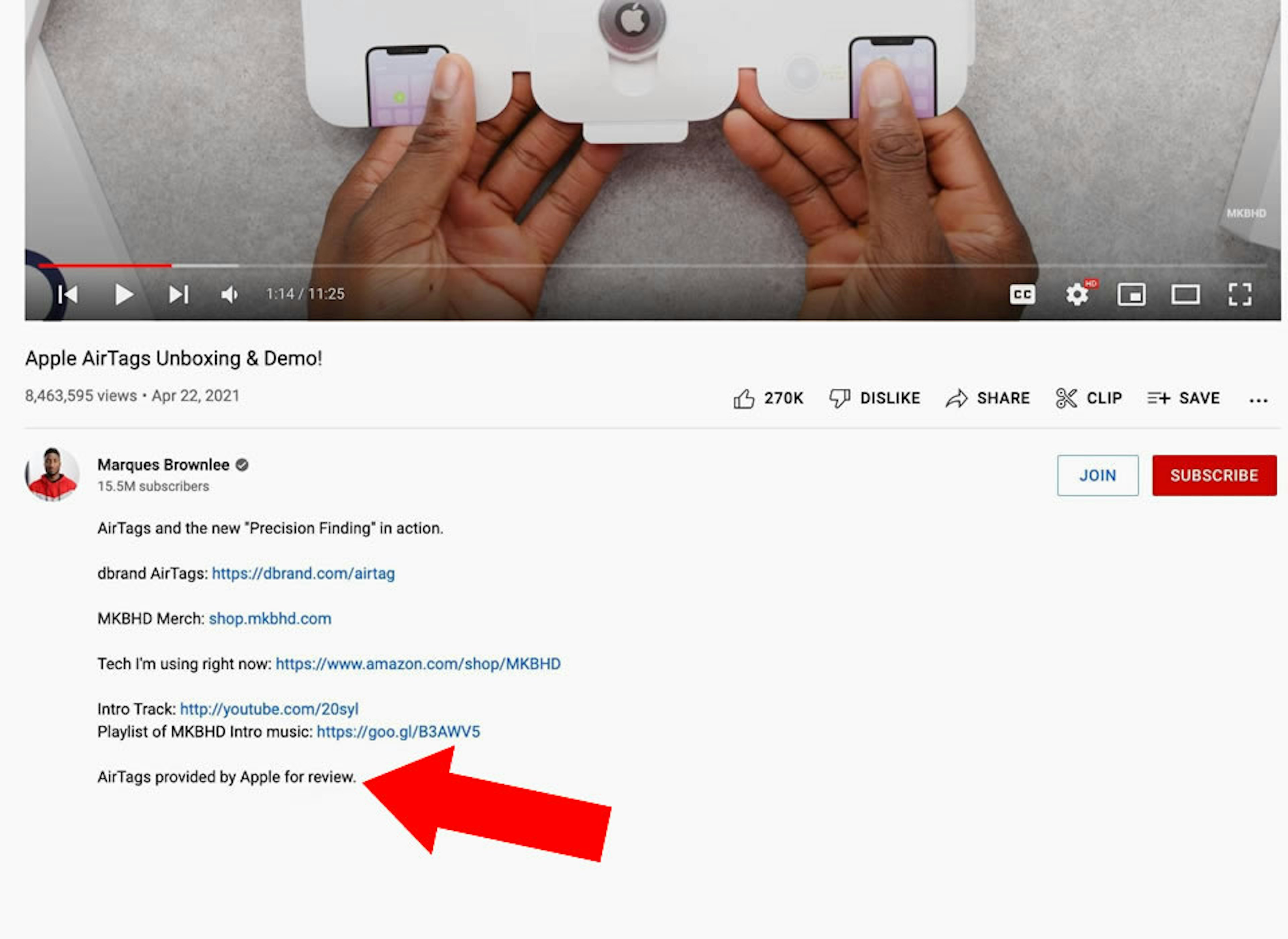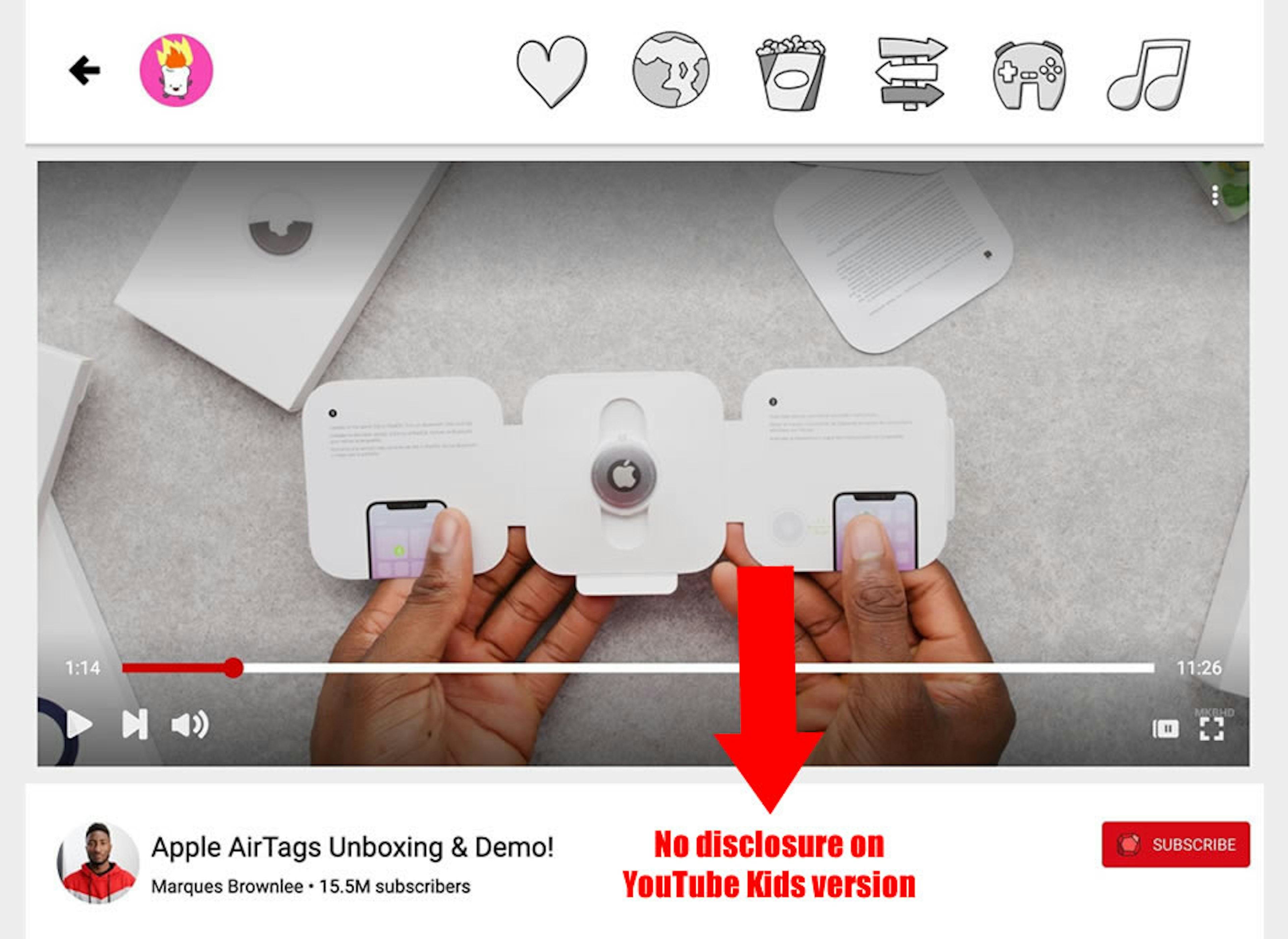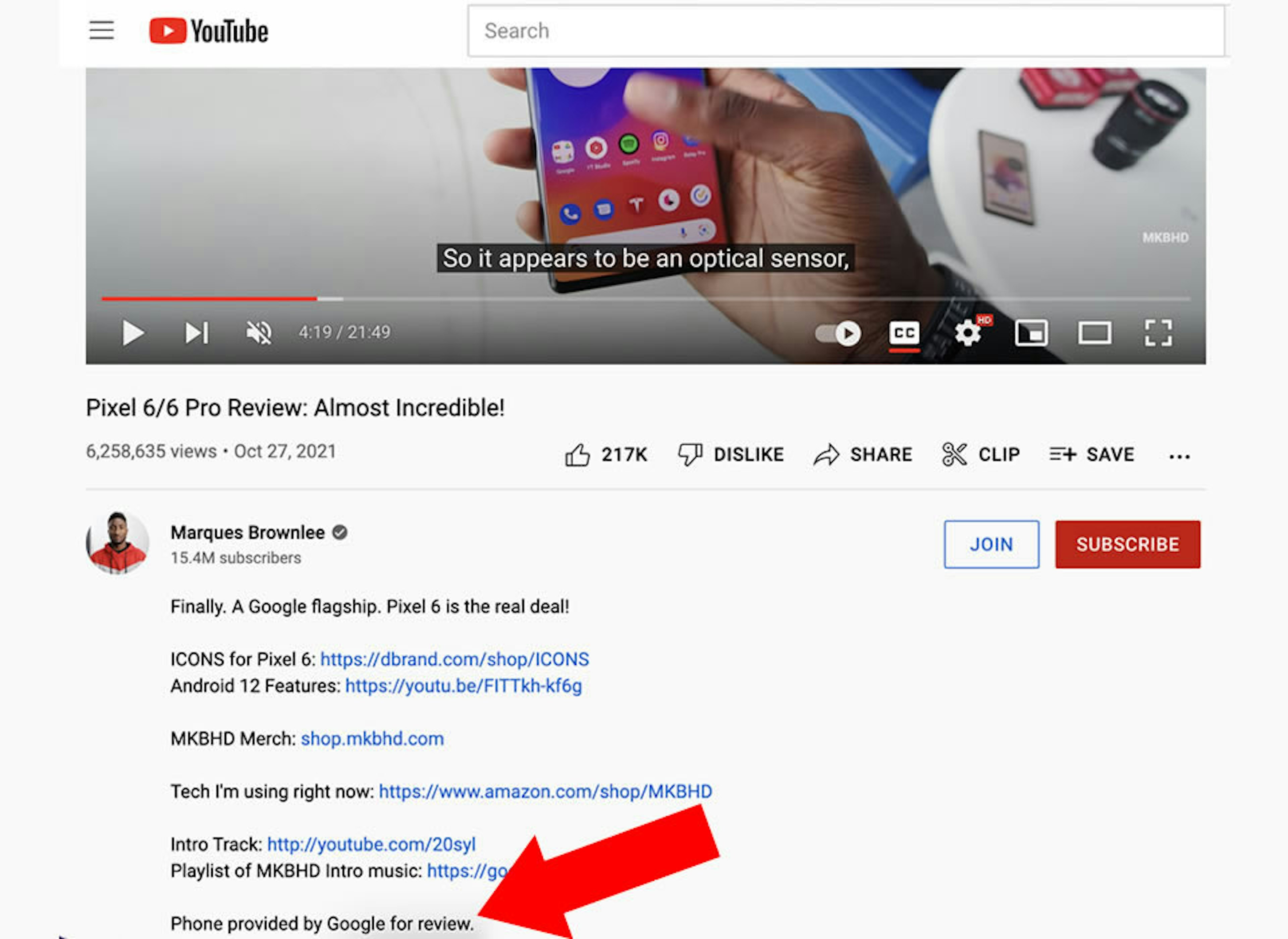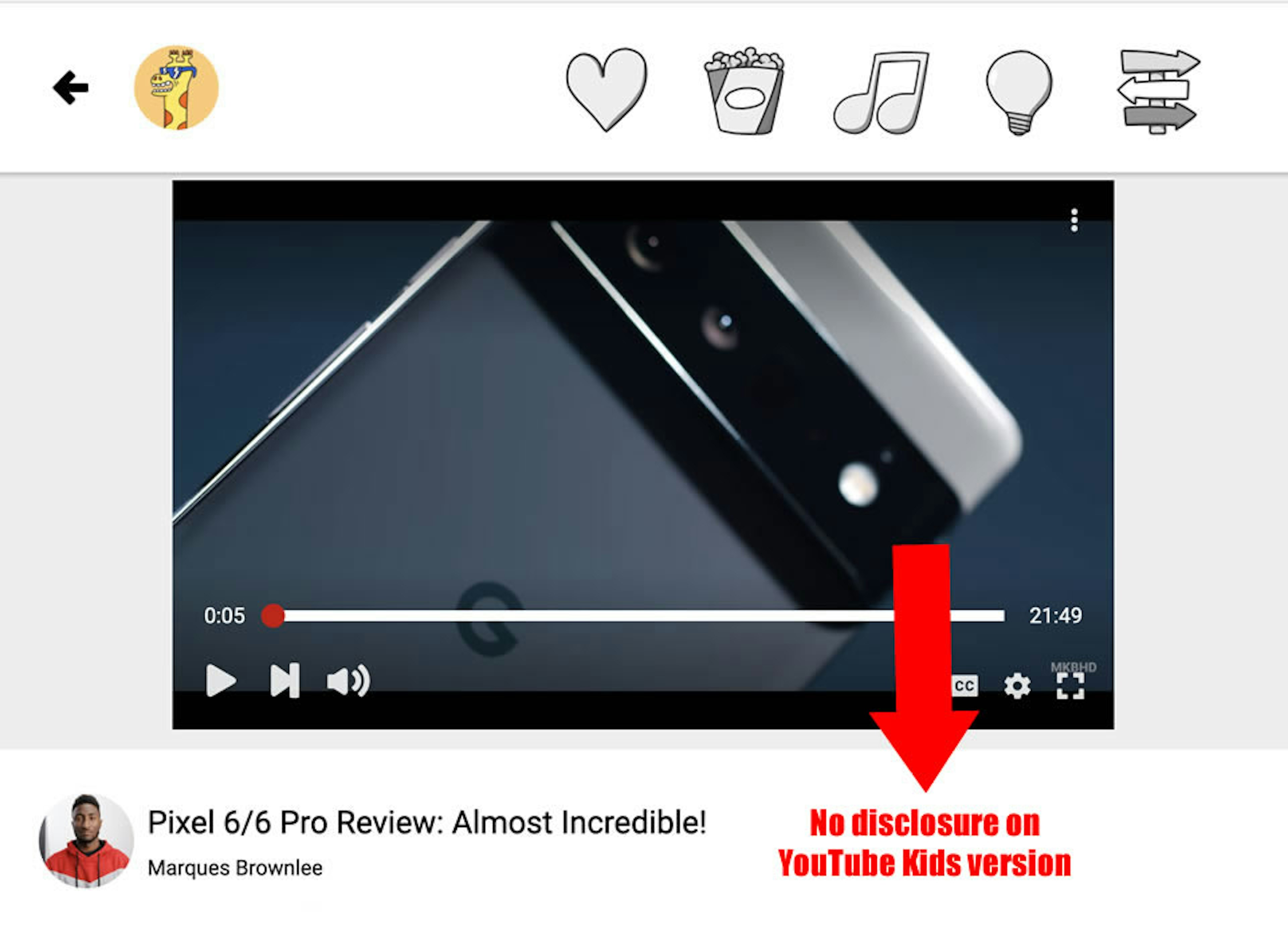 In the two videos above, Brownlee repeatedly endorsed the products he's reviewing. During the AirTags video, for example, he said, "You can go through this pretty sweet, direction-finding experience." In the Pixel video, Brownlee said that he's "really impressed how easy and simple it makes the process" of photoshop. "I want to use it all the time," he added.
The way YouTube Kids is structured appears to leave no room for video descriptions that might include a written disclosure. However, the FTC guidelines state that video disclosures should be in the video itself and not just in the description.
TTP's research shows that despite its promises to promote a safe environment for children, YouTube Kids continues to let inappropriate content slip through its human and algorithmic filters, exposing kids to potentially harmful or overly commercial messages. Given the platform's audience of millions of children, YouTube's kids site has a special responsibility to get things right—and protect its vulnerable users.