The following is a guest post from French data journalist Alexandre Léchenet
We analyzed the agenda of the French president and his ministers for the last five years and found 56 official meetings between a government official and an employee of Google, Apple, Facebook, Amazon, Microsoft and Twitter. That's more than once every month.
The most frequent visitor: Google, with 22 meetings, significantly more than the next tech company.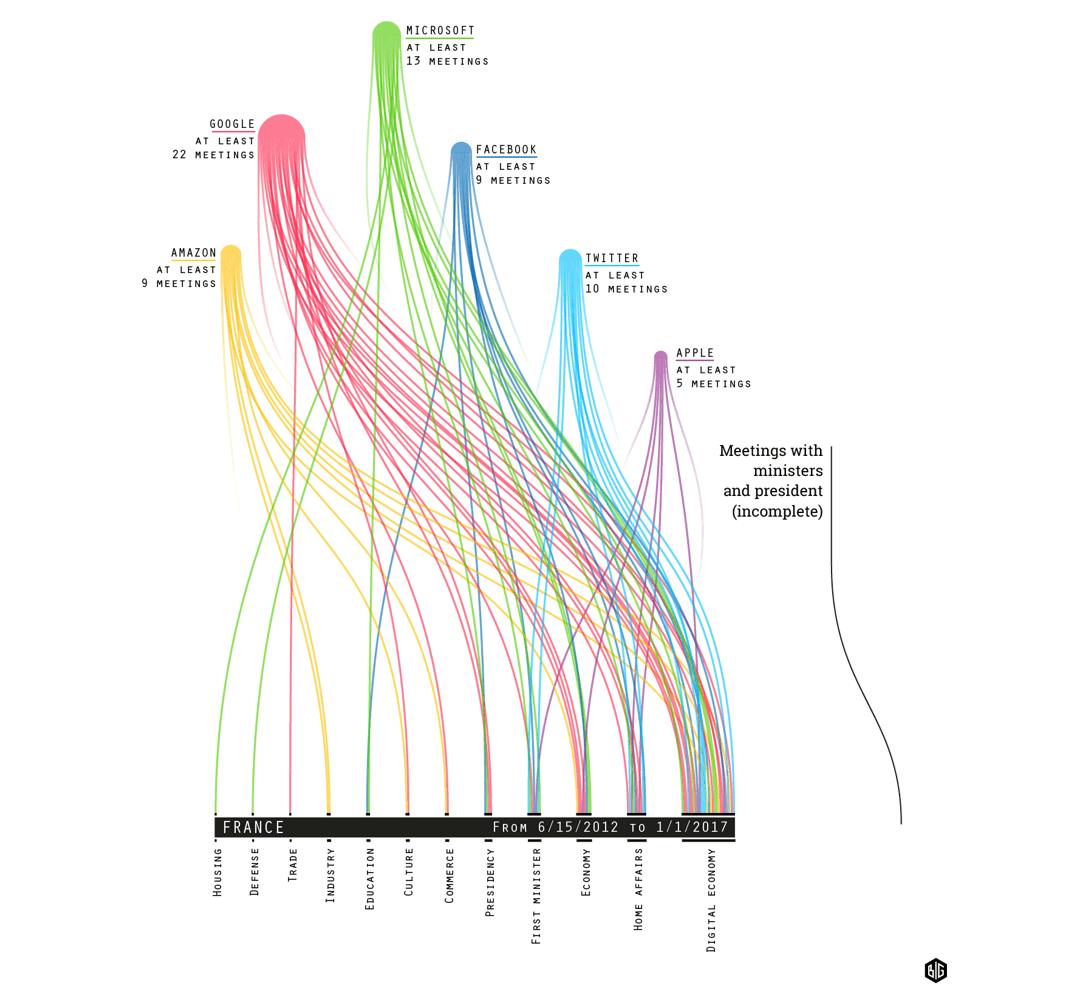 Google's chairman, Eric Schmidt, met with French President François Hollande in October 2012, just a few months after he came into office. During their meeting, Hollande told Schmidt he was hoping for a stronger presence of Google in France and hoped for a resolution of the conflict between European media outlets. He also asked Google to update him on the answers they would give to the European Commission about personal data use and protection.
Following this first meeting, we found 19 official encounters between ministers and Google officials. While he was France's economy minister, French presidential candidate Emmanuel Macron also met twice with Astro Teller, head of Google X,
President Hollande met again with Eric Schmidt in February 2013. Last year, in February 2016, he also met Sundar Pichai, Google's chief executive.
Google also has moved to hire French government officials to help it exert influence in the country. We found that, since 2006, seven French government officials went to work for Google, mostly in the company's public policy department. 
Overall, we identified 23 movements between French administration and Google, Facebook, Microsoft, Uber, Amazon and Twitter since 2006.
Benoît Loutrel could be the next one in the list. In January 2017, the director-general of France's telecoms regulator announced he would take up a job at Google, where he would be responsible for public affairs. The transfer must be authorized by the government ethics committee, but could come as early as this month.