Google has been running a program called Next Gen Policy Leaders that trains progressives to talk about Google's policy priorities in the language of racial and social justice.
The initiative is largely under the radar, but internal documents boast it has facilitated meetings with lawmakers and other influential policy figures.
Google gets Next Gen members face time with leading Democrats at events in Washington and appears to provide trainings on things like how to write op-eds.
Many Next Gen members have spoken and written at length on policy issues relevant to Google's bottom line without disclosing their ties to the company.
Next Gen members were almost completely silent during the uproar over Google's high-profile firing of AI expert Timnit Gebru, despite the event's relevance to diversity in tech, a key focus for many Next Gen members.
Google has been quietly cultivating a band of young progressives to influence public debate and protect its business interests in the face of Democrats' recent push to regulate Big Tech. 
The effort, called Next Gen Policy Leaders, isn't mentioned on Google's website, and Google rarely talks about it. But documents obtained by the Tech Transparency Project set out its goals: to advance Google's policy agenda with arguments framed in the language of racial and social justice.  
One Next Gen communication describes the program's goal as "aligning tech policy issues of concern with concerns for communities of color," and gives talking points to defend Section 230 of the Communications Decency Act—a top Google priority—saying Next Gen opposes "limitations on speech and creativity particularly for creatives and entrepreneurs of color."
The program keeps a low profile, but it claims to have a broad reach. According to a document distributed for a June 2021 event, it counts more than 80 participants, all people of color, working in the fields of policy, communications, law, and progressive activism. One internal presentation on the program highlighted Next Gen members' meetings with lawmakers, written work on tech policy, and media appearances.
The presentation also boasted about Next Gen's access to top Democrats, saying the program's members worked closely with Democratic Reps. Karen Bass, Pramila Jayapal, Ted Lieu, and Sheila Jackson Lee ahead of Google CEO Sundar Pichai's congressional testimony in 2020. TTP found evidence of Google inviting Next Gens to numerous events in Washington with Democratic lawmakers.
There's no indication that Next Gen participants are required to toe Google's company line on tech policy. When contacted for comment, a few said Google did not influence their actions. Most of the Next Gen participants mentioned in this report did not respond or had no comment.
But TTP found examples of Next Gens arguing publicly for positions that are crucial to Google's profitability without revealing their affiliation with the company. In one instance, a Next Gen member wrote an op-ed cautioning Democrats against working to reform Section 230 lest they "inadvertently partner with Republicans to make the internet less safe and valuable for communities like mine." He then went on the podcast of a fellow Next Gen member to further the argument.
The program may provide another benefit to Google: muting growing criticism from progressives. Next Gen members were noticeably silent on the scandal surrounding Google's ouster of Timnit Gebru, a leading Black artificial intelligence researcher, which made headlines around the world and prompted thousands of people to sign a letter of protest. Only one Next Gen member signed that letter, despite the Gebru affair's connection to racial justice issues—Next Gen's central area of concern.
The under-the-radar Next Gen campaign shows Google's efforts to shore up its influence with Democrats, who are increasingly hostile to Big Tech and are now in control of the White House and Congress. By creating a network of progressives, Google can try to shape the conversation on the left about tech regulation—and ward off policy changes that threaten its bottom line. That could be particularly important for Google as antitrust legislation targeting Big Tech makes its way through Congress.
Google has long sought to embed itself in D.C.'s policy networks, pursuing "soft power" influence by supporting nonprofits, advocacy organizations, opinion leaders, and academics with donations, fellowships, and networking opportunities. Google has spent lavishly to buy influence at right-leaning networks, including many groups championed by the right-wing Koch Network.
Now Google and other tech giants are working hard to protect their left flank at a time when the Democratic party is in power, with an increasingly vocal progressive caucus. They established a new trade group called the Chamber of Progress, which bills itself as progressive while pushing for industry priorities on Section 230, antitrust, and other issues. The group, funded by companies including Google, Facebook, Amazon, and Apple, is run by Adam Kovacevich, a former Google policy executive and Democratic congressional aide.
Google does little to publicize Next Gen, but TTP found clues to its origins. Google employee Chanelle Hardy launched the program, according to her LinkedIn, and a bio for her on a tech conference website indicates the launch occurred in 2016. At the time, Hardy was Google's strategic outreach counsel and head of policy partnerships. (She is now the company's head of civil rights.)
In a speaker invitation for a June 2021 Next Gen summit, obtained by TTP, Hardy described the program as a "diverse group of professionals who are connecting the dots between racial justice, civil/human rights and tech policy." She continued:
The program serves as a hub to build the tech policy expertise of Next Gens, incubate ideas on ways that Next Gens can utilize technology to advance racial justice movements, and successfully deploy "big" ideas across movements.
The document also makes clear that Google aims to achieve specific policy objectives with Next Gen. That includes Section 230 of the Communications Decency Act. Google has pushed to protect the law—which shields Big Tech platforms from lawsuits over content posted by users—amid efforts by lawmakers to modify or weaken it.
The invitation suggested a series of talking points to defend 230, saying Next Gens "oppose limitations on speech and creativity particularly for creatives and entrepreneurs of color." It sought to frame 230 and copyright law—another Google priority—with "social justice objectives in education, access and expression."
The invitation linked to a list of bios of 82 Next Gen participants, dated to 2020. Through social media posts and other public documents, TTP identified an additional five individuals who have participated in the program, for a total of 87. More than half of these Next Gens (49) have ties to policy-related groups, including D.C. lobbying firms, federal agencies under Presidents Obama and Biden, Democratic congressional offices, legislative committees, trade associations, think tanks, and advocacy organizations like the NAACP and National Consumers League.
TTP sent Hardy questions about the NextGen program through Google's press team, but did not get a response.
Despite touting its civil rights priorities, Next Gen is notably quiet on issues that implicate Google's behavior. By contrast, Color of Change, a progressive racial justice advocacy group that does not take corporate donations, has repeatedly criticized Google's track record on racial issues, and its president has called for "well-vetted and targeted amendments" to Section 230 that make clear tech platforms are responsible for "minimizing the adverse impact of the content from which they so greatly profit."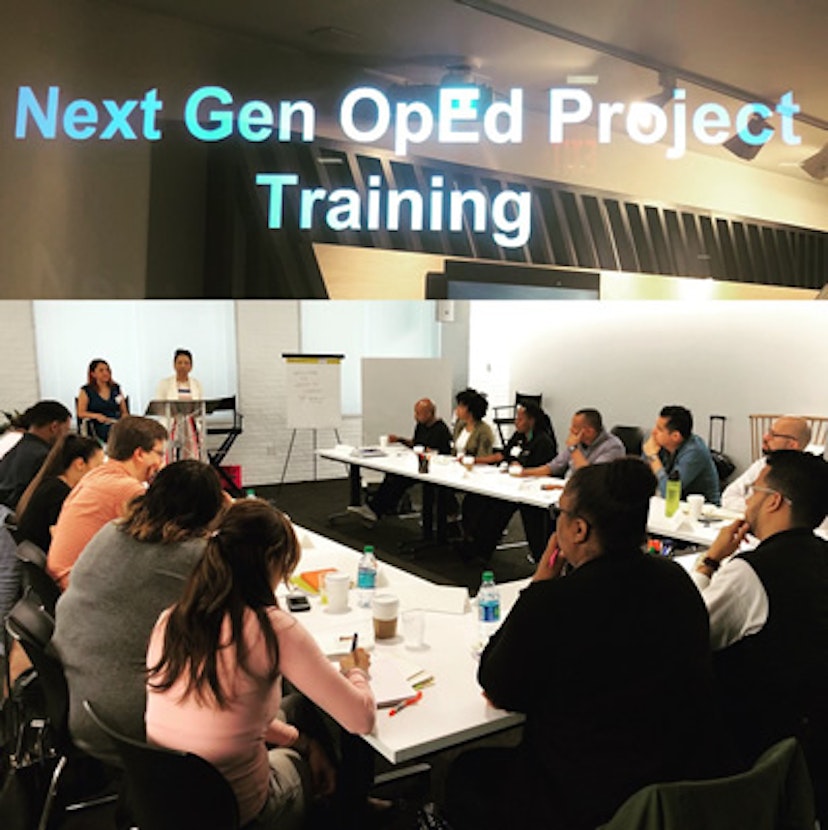 Evidence suggests that The Raben Group, a public affairs firm working for Google, helped run the Next Gen program. Metadata from the Next Gen summit invitation indicated that its author is Damara Catlett, a principal at The Raben Group, and a Next Gen participant tagged The Raben Group in a tweet about a training session on writing op-eds. The Raben Group has worked extensively with Google's D.C. office, helping company executives with public speaking and presentations.
The Raben Group also has experience helping Google co-opt an advocacy movement, according to a 2017 Consumer Watchdog report. The report detailed how a victims' rights advocate who had called for shutting down child sex-trafficking ads on the website Backpage appeared to change her tune after being hired by "one of Google's top lobbying firms, The Raben Group." Instead of focusing on Backpage, the advocate began calling on law enforcement to crack down on the buyers of such services—a position that was less threatening to Google's business interests.
At the time, lawmakers were pushing to amend Section 230 to make websites like Backpage liable for sex trafficking ads. Google at one point publicly opposed the legislation as a "disaster."
Google later hired the anti-trafficking advocate, Consumer Watchdog noted.
Google views Next Gen as a way to influence the public debate on tech policy, according to an internal presentation on the program examined by TTP. The presentation is visible in the portfolio of a design firm Google hired to create the branding for Next Gen. It featured a GIF with slides showing assessments of the program's impact.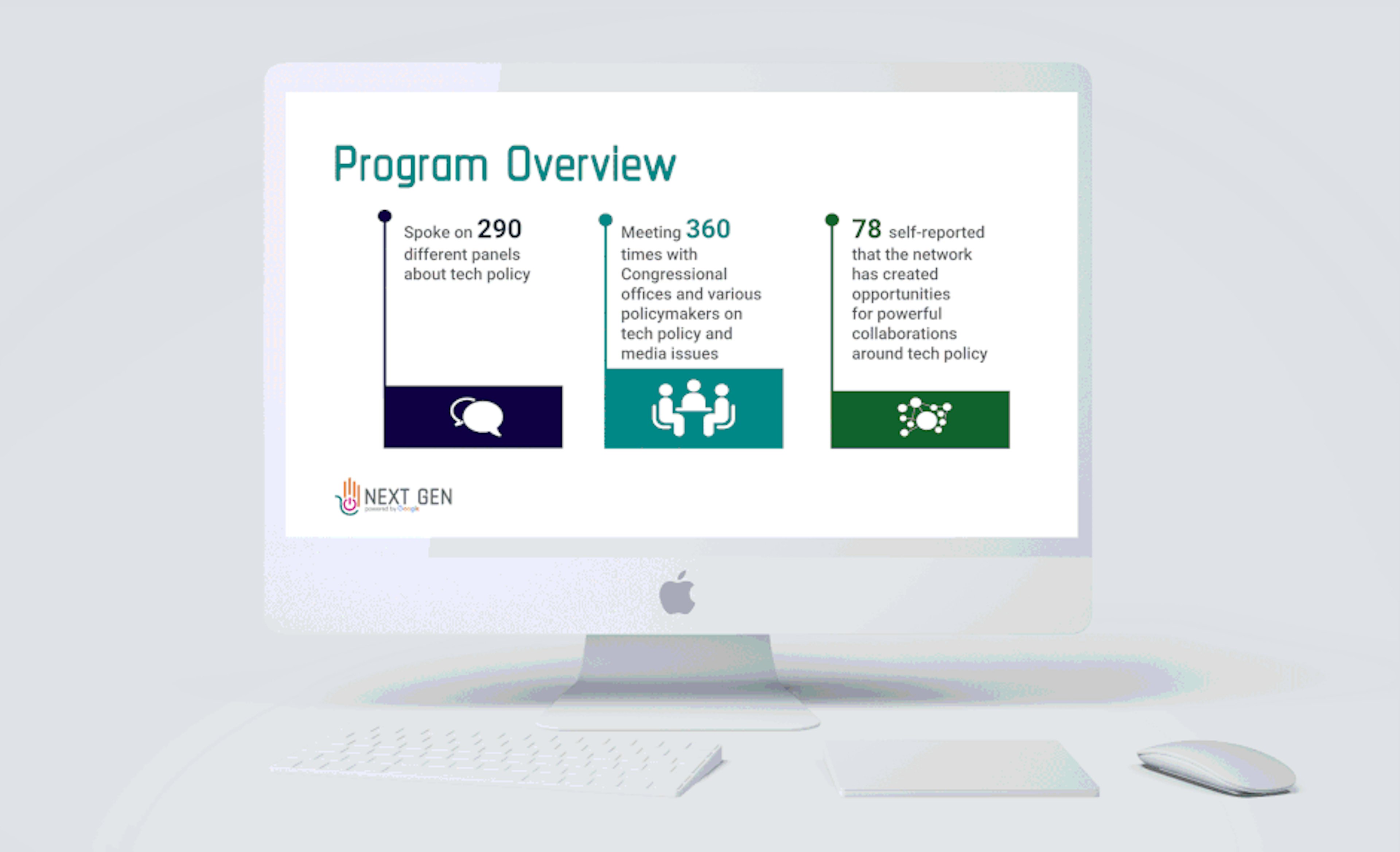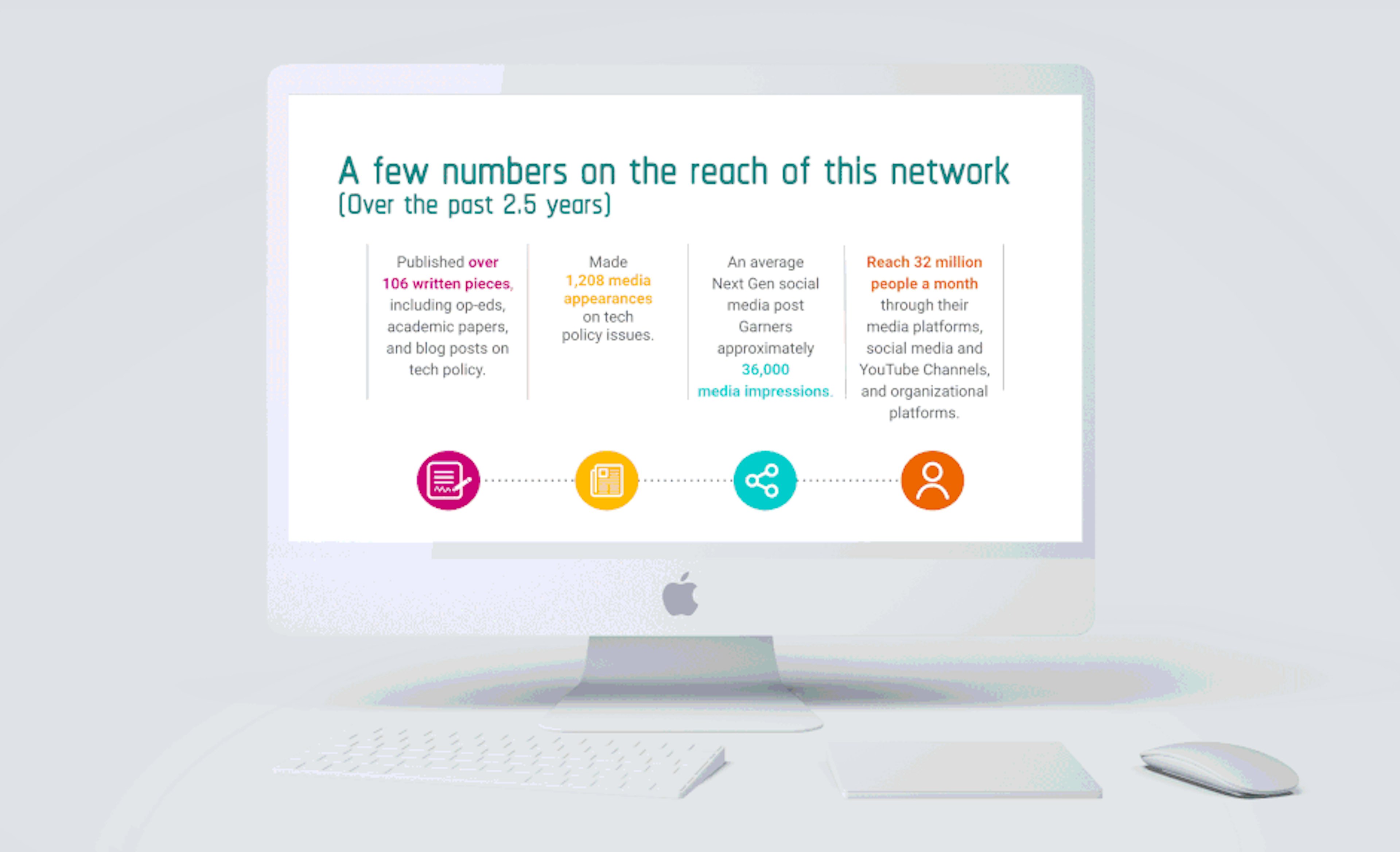 The presentation was created relatively recently, referencing a congressional hearing that took place in 2020. It boasted that, over the previous two and a half years, NextGen members spoke on tech policy panels 290 times; met with congressional offices and policymakers 360 times; published at least 106 written works on tech policy; and made 1,208 media appearances. Members' media and social media appearances reached 32 million people a month, the presentation boasts.
TTP wasn't able to verify the accuracy of those numbers, but clearly the intent was to showcase NextGen's reach and influence. And the investigation did find examples of Google inviting Next Gen members to attend tech policy summits, panels, and dinners with lawmakers. Next Gen members got access to events, and even face time, with Democrats like Reps. Jimmy Gomez, Tony Cárdenas, Donald Payne and Yvette Clark, as well as Georgia State Sen. and former gubernatorial candidate Jason Carter. Full Color Picture, a group founded by two Next Gens, held an event with U.S. Senator Chris Coons.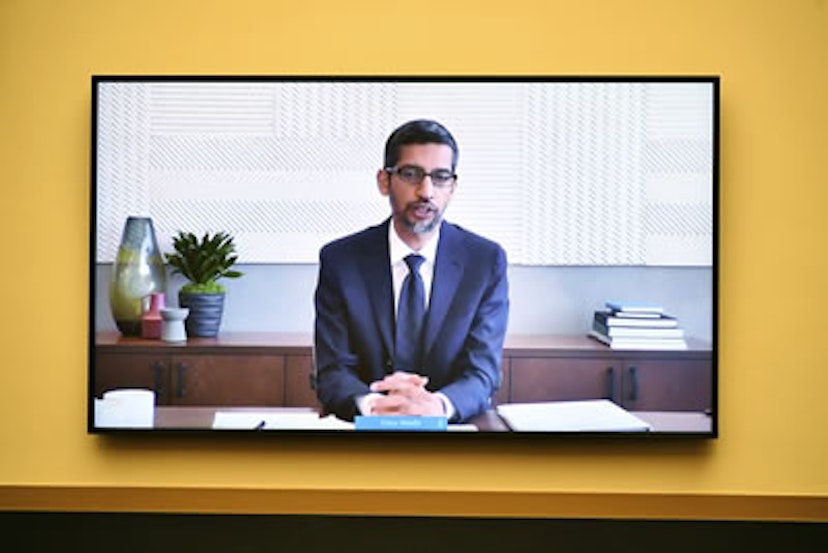 The Next Gen presentation gave another example of the program's reach in Congress, saying Next Gens "worked with" Democratic Reps. Karen Bass, Pramila Jayapal, Ted Lieu, and Sheila Jackson Lee in the runup to Google CEO Sundar Pichai's July 2020 testimony to a House antitrust hearing about online platforms. They talked about issues involving "the work of creatives of color, promoting diverse voices, and helping communities of color navigate the future of work," according to the document.
Google appears to facilitate Next Gen member access to other exclusive events in Washington, including a Google-hosted reception at IMF/World Bank events, a National Association of Latino Elected and Appointed Officials (NALEO) conference, a National Conference of State Legislatures summit, and the League of United Latin American Citizens (LULAC) Legislative Awards Gala. 
Next Gen participants include people with direct connections to regulators relevant to Google. For example, at least five Next Gens have connections to the Federal Communications Commission, according to the bio sheet obtained by TTP:
Rosita Lopez, who worked in the office of FCC Chairman Tom Wheeler
Kayla Gardner, who has served as co-chair of the Homeland Security & Emergency Communications Committee of the Federal Communications Bar Association
Alisa Valentin, an advisor to FCC Commissioner Geoffrey Starks
Chris Lewis, president of Public Knowledge, who previously served as FCC deputy director of legislative affairs
The manager of the Next Gen program, Chanelle Hardy, was also a chief of staff and legal advisor to FCC Commissioner Mignon Clyburn in 2015
Following her stint as a Next Gen, Gardner started working at Google as a public policy manager in November 2021, according to her LinkedIn profile.
An email obtained by TTP under the Freedom of Information Act shows how Google builds connections with government officials through its Next Gen network. In January 2020, Valentin asked Hardy if she could host a STEM-related event for her boss, FCC Commissioner Starks, at a Google office, and indicated she'd been in touch with Damara Catlett about branding and refining the event.
Next Gen activity is not limited to meetings with lawmakers and regulators. Members also disseminate their views through a broad network of think tanks and advocacy organizations, in public and private events, and in print and podcasts.
Take Full Color Future, a think tank launched in November 2017. A writeup of the launch event indicates that it was hosted by Google's Washington office and that a Next Gen member, Brian Woolfolk, created Full Color Future. Tweets from Next Gens who attended the event congratulate Woolfolk as well as Google's Chanelle Hardy, suggesting she was involved in the project.
Described by Woolfolk, who served as founding executive director, as "part think tank, part advocacy organization for people of color on tech issues," Full Color Future at times stakes out policy positions that align closely with Google's interests. For example, in an essay on the group's website, Woolfolk cautioned U.S. lawmakers about adopting European-style privacy laws like the General Data Protection Regulation (GDPR)—a stance very much in line with Google. Woolfolk said the U.S. should carefully consider whether such laws "threaten the thriving internet ecosystem of small and minority businesses not well positioned to endure overly burdensome regulations."
In 2019, Full Color Picture hosted an event on Section 230 and how online platforms moderate content, titled, "The Future of Free Speech." Recordings of the event were not available, but at least six of the nine scheduled speakers were either Next Gen members or worked for groups that have received Google funding—suggesting that Google's views were well represented. In another sign of Next Gen's role in Full Color Picture, a report produced by the group called "The Future of the Internet" lists 13 contributors, 11 of whom are Next Gen participants. (The group's current executive director is Damara Catlett of The Raben Group.)
Next Gen members have repeatedly used public platforms to advocate for Section 230 without disclosure of their connections to Google, according to a review of archived materials.
One prominent forum frequented by Next Gen members is the WashingTech Policy Podcast, hosted by Joe Miller, himself a Next Gen participant. Miller has interviewed a number of fellow Next Gens on the podcast, often without disclosing their Google affiliation—even when interviews touch on issues that directly implicate the company and its policy positions, including on Section 230.
In November 2020, for example, Miller interviewed Next Gen member David Johns in an episode about the liability law, entitled "Trump's Arsonous Section 230 Plan to Roast Black Voices."
The podcast discussed Johns' op-ed for Morning Consult, in which he denounced the "all-out attack against" Section 230 by both Democratic and Republican lawmakers. There was no disclosure of his ties to Google on the podcast or in the op-ed.
Also in November 2020, Miller interviewed Alejandro Roark, who's on the 2020 list of Next Gen members. Roark argued that Section 230 was key to the rise of Black Lives Matter because tech companies would have censored content about the movement without it. He did not disclose any Google ties on the podcast.
Miller told TTP that the Next Gen program leadership had nothing to do with his choice of guests on the podcast. Asked about the fact that some guests appeared without a disclosure of their ties to Google, Miller wrote in an email, "I CONSIDER EACH GUEST INDIVIDUALLY. IF THEY INCLUDE THEIR GOOGLE NEXT GEN AFFILIATION IN THEIR BIOS, I AM MORE LIKELY TO REFERENCE IT DURING THE INTERVIEW AND IN THE SHOW NOTES."
"I CONSIDER EACH GUEST INDIVIDUALLY. IF THEY INCLUDE THEIR GOOGLE NEXT GEN AFFILIATION IN THEIR BIOS, I AM MORE LIKELY TO REFERENCE IT DURING THE INTERVIEW AND IN THE SHOW NOTES."
Roark and Johns did not respond to a request for comment.
Johns has been lightly critical of Google and other tech giants on his personal Twitter, but the group he leads, the National Black Justice Coalition (NBJC), is uniformly flattering of Google on its official Twitter account. In March 2021, ahead of the testimony about social media misinformation by the CEOs of Google, Facebook, and Twitter before the House Energy and Commerce Committee, NBJC sent a letter to committee members and the Congressional Black Caucus urging extreme caution in any modification of Section 230.
NBJC has received Google funding.
TTP examined Next Gen members' responses to Google's controversial firing of Dr. Timnit Gebru as a test case to determine how the affiliation with Google might have silenced would-be critics.
Gebru is a leading AI researcher and who was ousted by Google in December 2020, sparking widespread controversy. The primary issue was over a paper she wrote about potential pitfalls of language-processing models that Google demanded she retract or remove her name from, according to reports.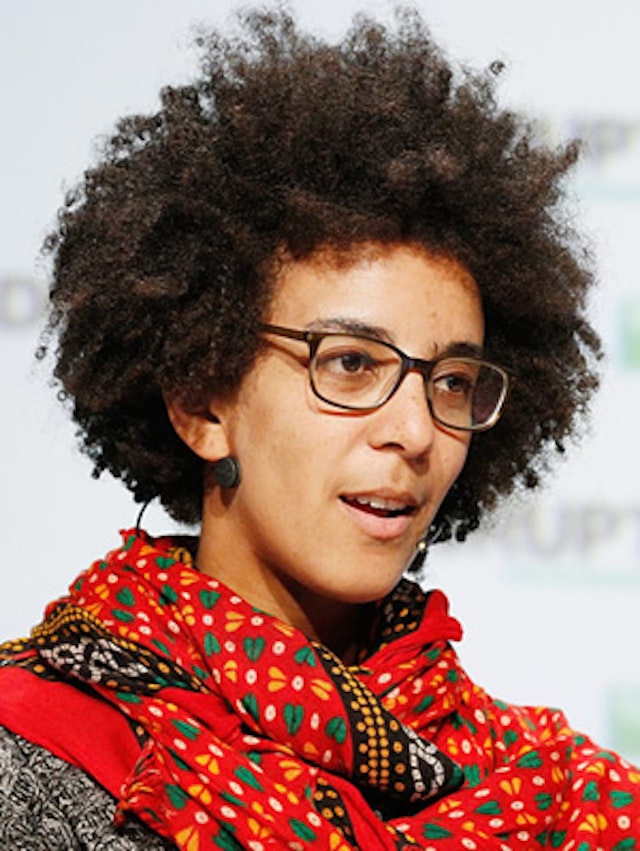 Gebru's dismissal triggered major international news coverage and backlash from within Silicon Valley, both because the contents of the paper were not widely seen as objectionable and because Gebru, one of the very few Black women in the field, was at the forefront of research in AI ethics.
By Dec. 8, the BBC reported that over 4,500 people had signed an open letter to Google condemning Gebru's dismissal. The letter ultimately garnered 6,997 signatures: 2,695 Googlers and 4,302 members of the public and civil society, including students, engineers, clergy, artists, entrepreneurs, and activists.
Given the scale of the Gebru controversy and its overlap with Next Gen's explicit area of concern—racial justice and diversity in tech—Next Gen Leaders appeared to be obvious candidates for voicing their displeasure with Google. But that was not the case: TTP searched for any mentions of Gebru by the 87 identified Next Gen members, including in published commentary, news articles, and social media accounts (Twitter and Facebook), and found almost nothing.
Only one Next Gen Leader signed the open letter to Google: Dr. Desmond Patton, a tenured associate professor at Columbia University. The only other public statement TTP located was a tweet from Next Gen member Francella Ochillo, a nonprofit director, who called Gebru a "brilliant computer scientist" and promoted the unionization of tech workers. Patton had no comment, and Ochillo said she was not involved in any Google-related follow-up actions or discussions about Gebru.
Joe Miller tweeted from an article about the affair in July 2021 but did not otherwise comment or discuss the scandal on his podcast.
Chanelle Hardy, the Google employee who manages Next Gen, did not join the 2,695 other Googlers who signed the letter in support of Gebru. (Hardy is now Google's head of civil rights.) Despite Full Color Future's stated support of the promotion of people of color in AI and endorsement of Black in AI, a group of Black AI researchers co-founded by Gebru, the organization appears to have made no mention of Gebru, either.