Facebook is allowing false claims about the election "audit" in Arizona to run rampant on its platform, much of it spread by militia groups trying to rile up their supporters about a stolen election, according to a Tech Transparency Project (TTP) investigation that shows Facebook's continuing role as a vector for misinformation and extremism.
TTP has previously documented how a variety of far-right and militia groups used Facebook to organize their movement last year, fueled by Donald Trump's baseless allegations of voter fraud, leading up to the Jan. 6 insurrection at the U.S. Capitol.
The new investigation highlights how Facebook still hasn't gotten control of election misinformation. Rather, the social network is presiding over a proliferation of conspiracy theories about Arizona's election audit and copycat efforts in states like Georgia and Pennsylvania, which have become a rallying cry for Trump supporters who erroneously believe the former president can be "reinstated."
The Facebook activity is all the more troubling, given concerns among top officials at the Department of Homeland Security that misinformation about the possibility of overturning the election result could spark a new wave of extremist violence.
Below are some of the major takeaways from the new research:
Misinformation about the election audit flows freely on Facebook, often feeding the delusion among Trump supporters that the 2020 election can be overturned.
Facebook is failing to tackle key sources of the audit misinformation. TTP found a single user posting nearly identical false claims across multiple pro-Trump and far-right groups.
Militia, which continue to operate on Facebook, play a key role in circulating baseless conspiracy theories about the Arizona election and pushing for more state audits.
The admins of some militia groups have shown increasing signs of radicalization since the Jan. 6 U.S. Capitol riot, posting anti-government slogans and alluding to violence.
Facebook allowed some militia and far-right group members to use a profile frame emblazoned with the words "TRUMP WON." Facebook must approve the design.
Facebook executives have sought to deflect attention from their platform's role hosting organizers of the Capitol rally and turbo-charging the broader spread of false election claims. On its "Preparing for Elections" page, the company touts its efforts, including labeling misinformation, removing violating content, and maintaining a third-party fact-checking program.
But Facebook's positive spin is clashing with reality. As TTP's new research shows, Facebook is awash in falsehoods about the Arizona election audit, which threaten to further undermine faith in democracy and cause lasting damage to the U.S political system.
Fueled by the myth that Donald Trump, not Joe Biden, won their state, Republicans in the Arizona state Senate ordered a review of about 2.1 million ballots in the state's populous county, Maricopa County, which includes Phoenix. Criticized as a circus and a partisan exercise, the "audit," which started in April, is being led by an inexperienced firm called Cyber Ninjas whose CEO has expressed support for the baseless conspiracy theory that Biden stole the election from Trump. The scene has attracted a parade of GOP "tourists" who want to replicate the audits in their own states.
These audit efforts have fed lies and distortions about the election that circulate widely on Facebook. One example of this: TTP identified a Facebook user who's been posting nearly identical content about the need for audits, much of it false, in multiple pro-Trump and far-right groups on a daily basis. This "superspreader" of audit misinformation operates freely on the platform, with no apparent intervention by Facebook.
In a May 18 post about the Arizona audit, the user wrote, "If one domino falls, they all fall…," urging people to contact Arizona lawmakers to fight "obstruction" by the Maricopa County Board of Supervisors. The user also posted June 20 about the push to inspect ballots in Fulton County, Georgia, writing, "PATRIOTS, HELP GEORGIA GET FULL FORENSIC AUDIT!!!" In the post, the user made a series of claims about ballot irregularities, including, "Fulton County Georgia Election Official Admits Legally Required Chain of Custody Documentation Is Missing from 24% of Ballots from 2020 Election — Or 1 in 4 Ballots!"
Fact checkers have repeatedly debunked efforts to cast suspicion on Georgia's election result. But the superspreader's Facebook post, which appeared in a pro-Trump private group with about 10,000 members, carried no fact check label. The post also linked to an article from Gateway Pundit, the conspiracy-minded far-right website, calling the Georgia election a "VOTER FRAUD FACTORY."
In a June 26 post in the same pro-Trump group, the user sought to drum up support for Pennsylvania Republicans' push for an Arizona-style election audit, writing, "ELECTION AUDITS WILL PAVE THE WAY TO VICTORY!!!"—falsely suggesting the 2020 election can somehow be overturned.
The vast majority of the superspreader's audit-related posts include links to a website called "Populist Revolt." The site—registered on February 11, 2021, according to Who.is data—seeks election audits in multiple states and includes resources like pre-drafted letters to members of Congress and contact information for government officials.
The website does not disclose who is behind the group, but says Populist Revolt is self-funded and accepts donations through PayPal. It also has affiliated accounts on Facebook, Instagram, Twitter, and YouTube, as well as Telegram, far-right social network Gab, and "free speech" platform Gettr.
The bottom of the home page carries a disclaimer stating, "We are not responsible for the accuracy of hyperlinked information or what the information it contains. We don't guarantee the accuracy of any information in the hyperlinks. … USE AT YOUR OWN RISK."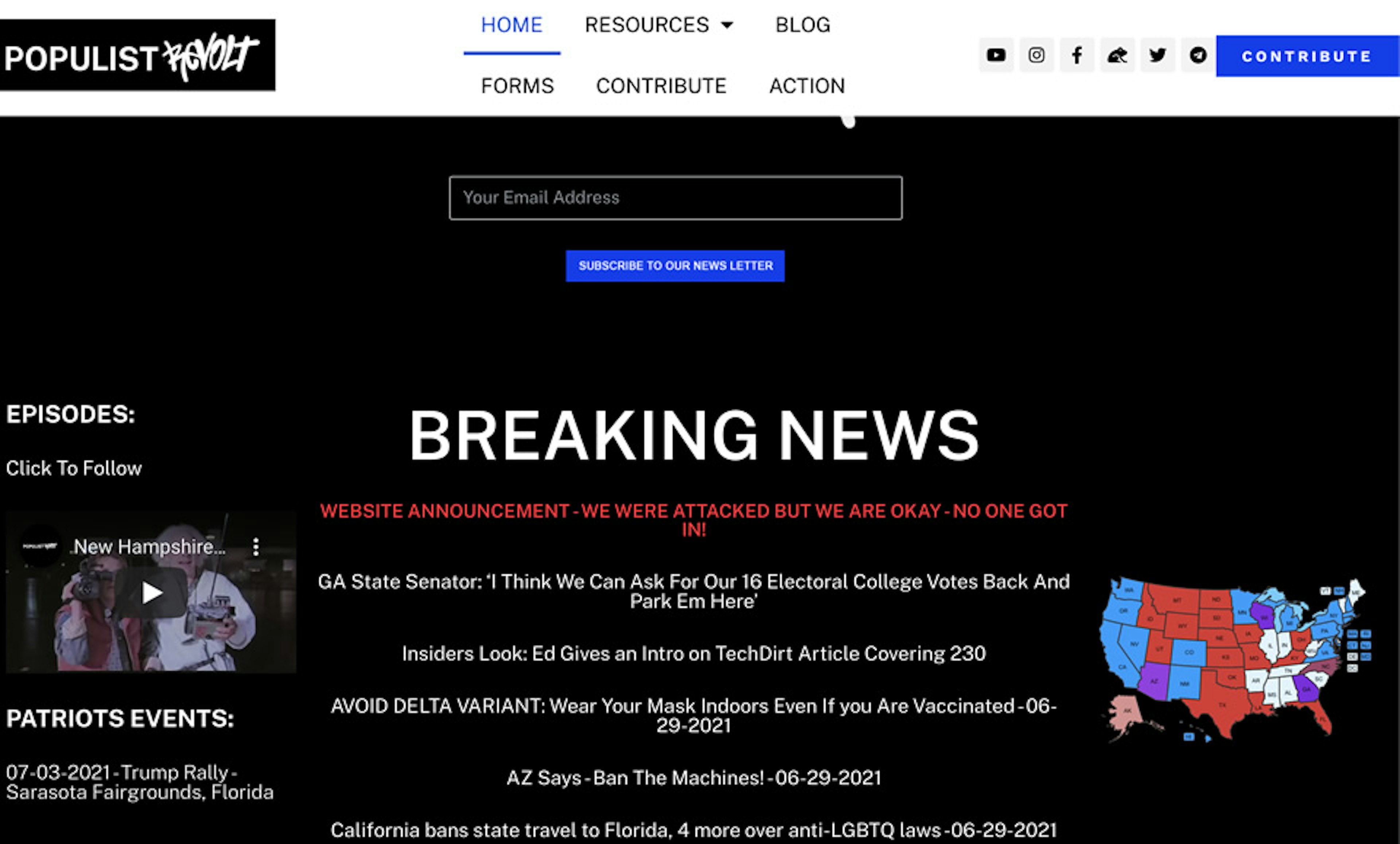 In another Facebook post, the superspreader hypes an interview with an "expert" who promotes the baseless conspiracy theory that Dominion Voting System machines were hacked during the 2020 election. The post, which was shared over 100 times, included about half a dozen links to the Populist Revolt website. The hacking claim has been debunked multiple times; meanwhile Dominion sued Fox News for defamation for airing the false claims, and a Dominion employee did the same with Newsmax.
TTP found that misinformation about the Arizona audit is often fanned by extremist groups. One example is a network of Facebook groups called "The Patriot's Militia," also known as TPM, which was created in April 2021 around the time the Arizona audit began.
In the group "TPM (Southwest Chapter)," which covers Arizona and five other states, members have repeated false claims about the integrity of the 2020 election. One moderator of the group wrote on May 31, "There was Fra#d in every state, but it's a matter of finding out just how much," adding, "ARIZONA will fall first. Many states are in turmoil from this." The post linked to a YouTube video by Arizona Republican U.S. House candidate Josh Barnett, titled, "What happens after the fraud is revealed in Maricopa and other states?" Barnett, who has reportedly flirted with the QAnon conspiracy theory, lost in November, but he's running again in 2022 and has been tweeting support for election audits in all 50 states.
In another group in the militia network, "TPM … (Midwestern Chapter)," a user posted a meme of former Trump attorney Sidney Powell's baseless allegation that 412,000 ballots were cast illegally in Arizona. (Powell also faces a defamation lawsuit from Dominion Voting Systems over her election fraud conspiracies.)
Meanwhile, a group called "The New Awakening" (formerly "TPM 2.0"), which serves as a kind of national chapter for The Patriot's Militia, features similar false claims. One member posted on April 21 about potential violence from antifascist and Black Lives Matter protesters trying to disrupt the Arizona recount: "Expectations are high they will do everything possible to stop the counting of legal votes." Right-wing social media campaigns frequently portray antifa and BLM as a violent threat, and blame antifa, against all evidence, for the Capitol riot. In Arizona, Cyber Ninjas, the firm conducting the much-criticized election audit, also reportedly warned of a possible antifa attack.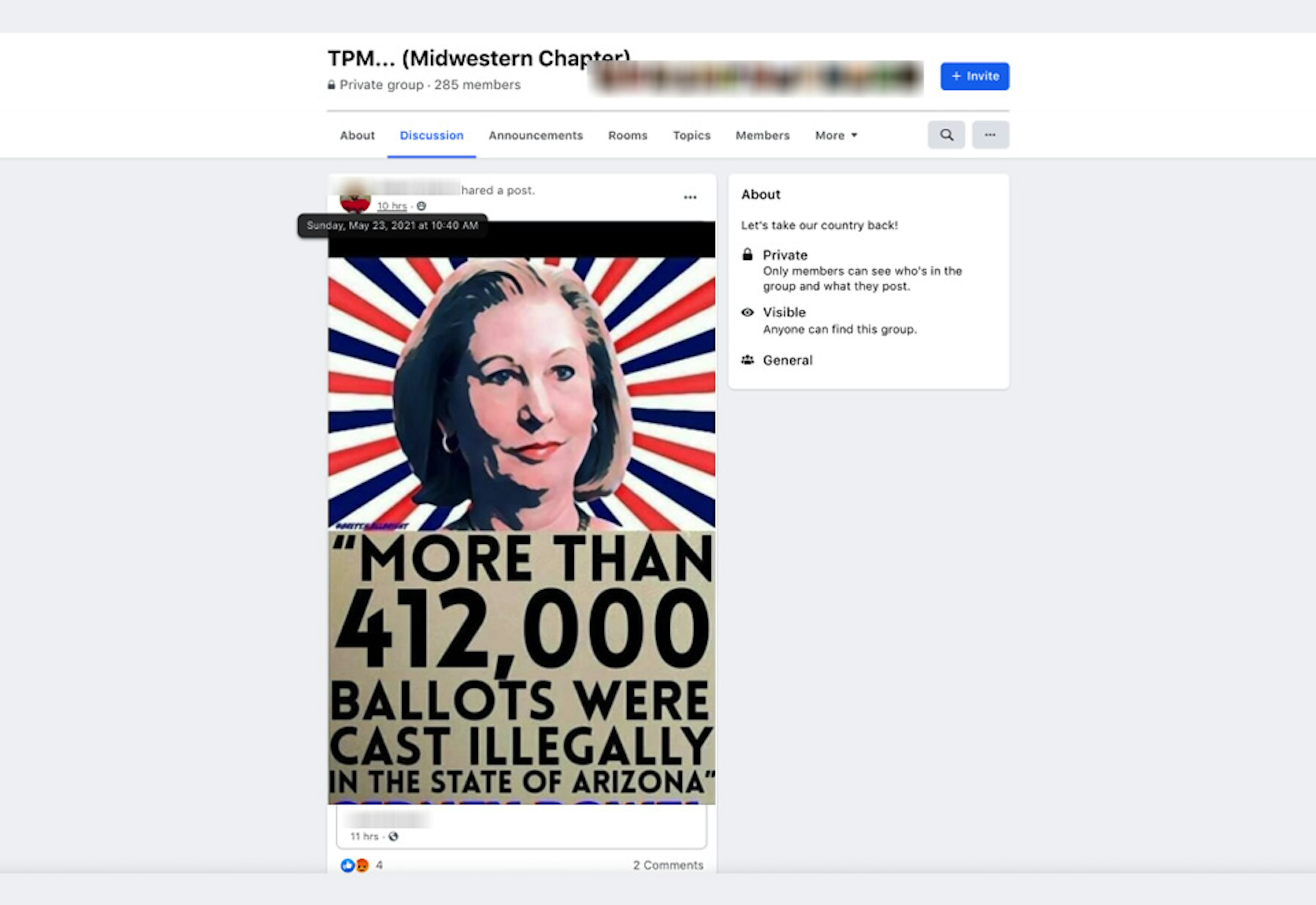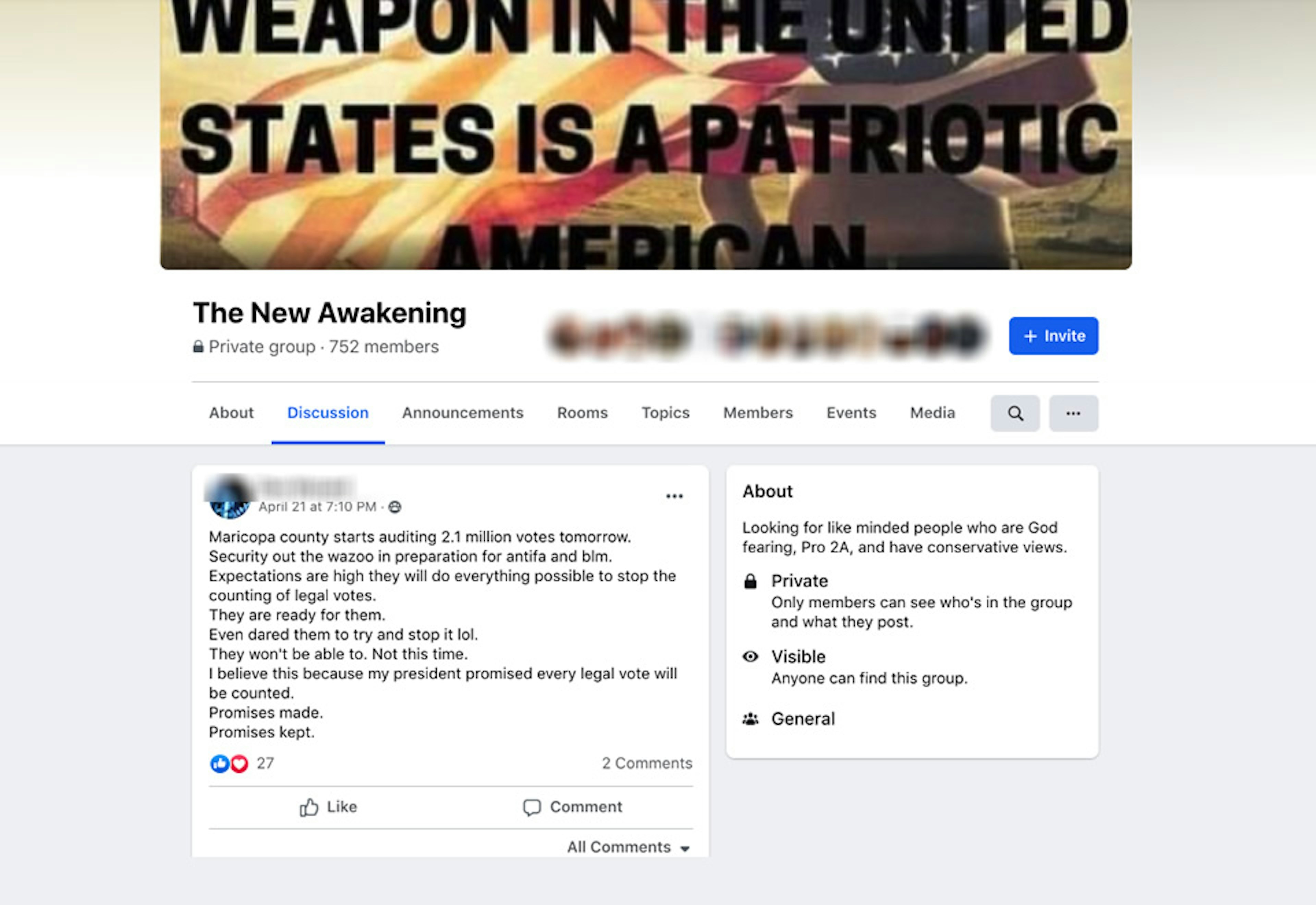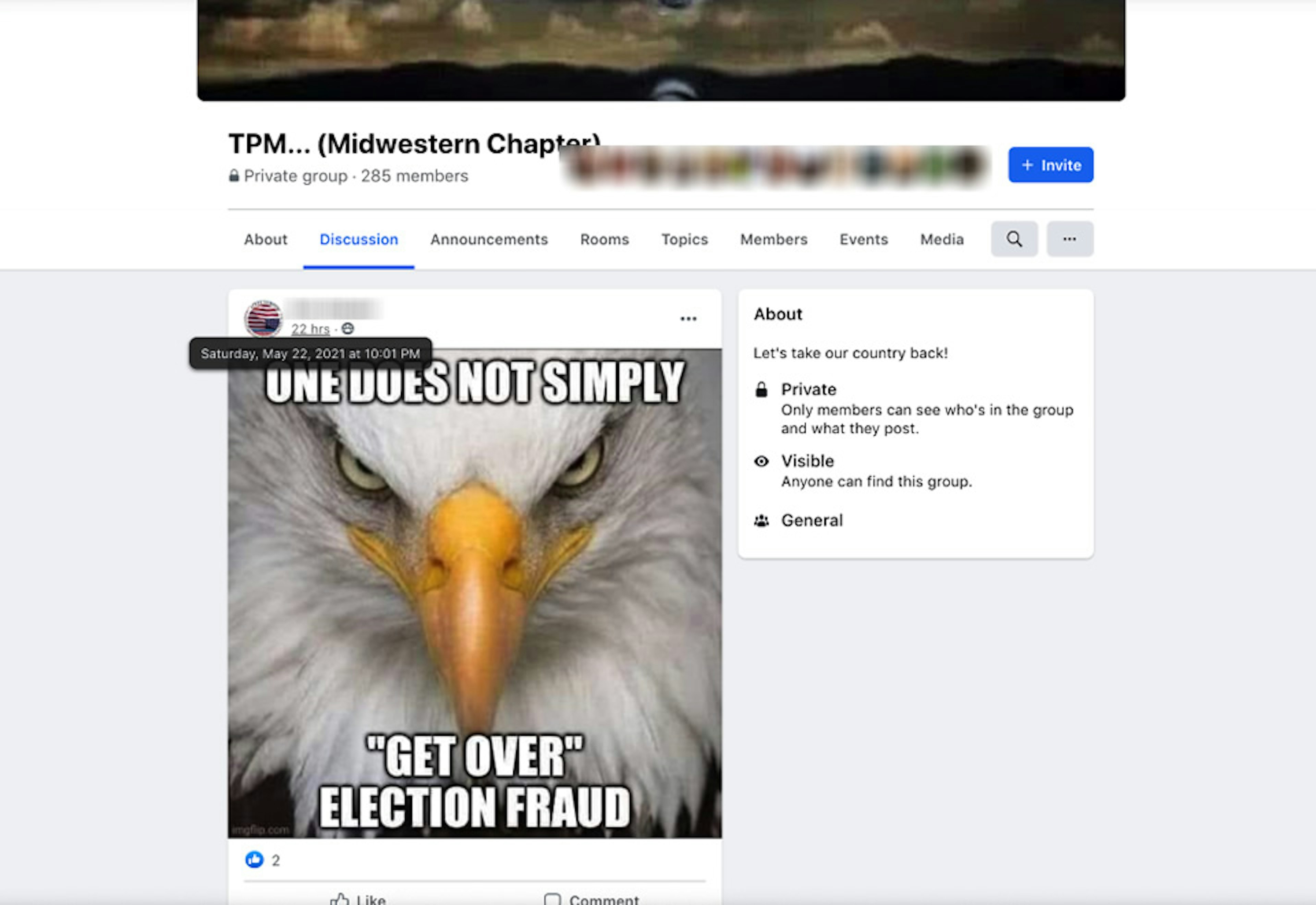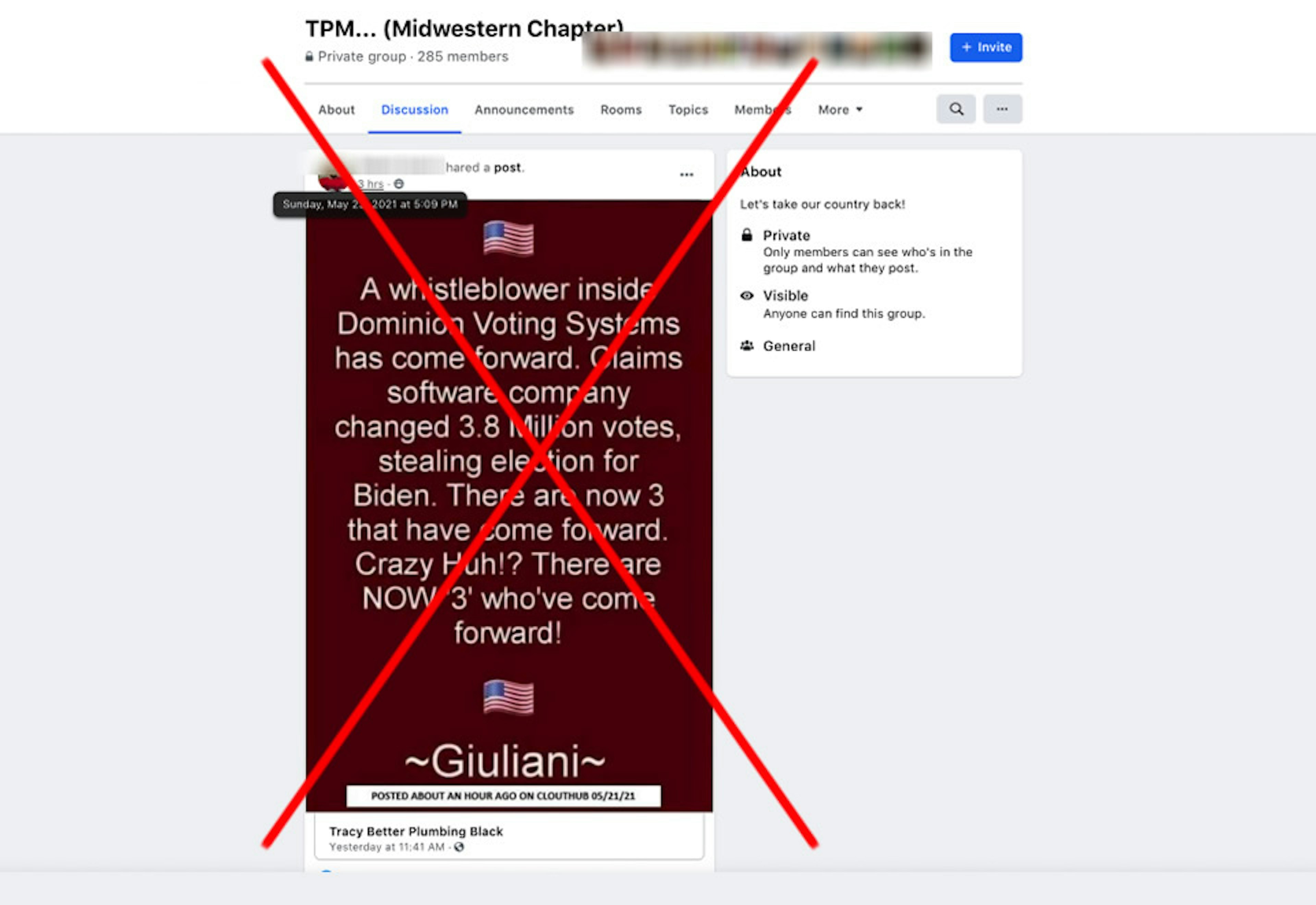 None of the above content carried fact check labels, which Facebook has pledged to affix to election misinformation. (TTP also spotted a TPM post discouraging people from getting the Covid-19 vaccine, which also went without a promised label.)
The Patriot's Militia appears to have little trouble operating on Facebook, nearly a year after the platform pledged a crackdown on U.S.-based militia organizations. In addition to spreading false election audit claims, the groups in this network are actively organizing militias on a state-by-state basis. In the group "TPM (Southeastern Chapter)," one user proclaimed, "Dang everyone we've really grown so big we have militia chapters in every part of the country."
The administrators of the TPM groups drive the organizing efforts of the local militia chapters. For example, one of the admins of the TPM (Southwest chapter) group prodded fellow members to be more action-oriented. "I feel like there's a lot of talkers and no do-ers in the groups. I'm not a talker. I am ready to organize this thing," the admin wrote, adding "our country our military and our police need us."
Digging deeper into The Patriot's Militia network, TTP found other disturbing features.
Two of the administrator accounts for the TPM (Southwest Chapter) group are managed by an individual who appears to be a member of law enforcement. That's noteworthy, given growing concern about the presence of current and former police and soldiers in anti-government extremist groups and in the mob that stormed the U.S. Capitol.
Meanwhile, a married couple who manages three of the groups in the TPM network posted photos to their personal Facebook profiles suggesting they took part in the Jan. 6 Capitol rally. There is no evidence in the photos that they actually entered the Capitol building, but the husband posted comments like "The next revolution!" next to images of the mob, adding, "The left is gonna destroy this country."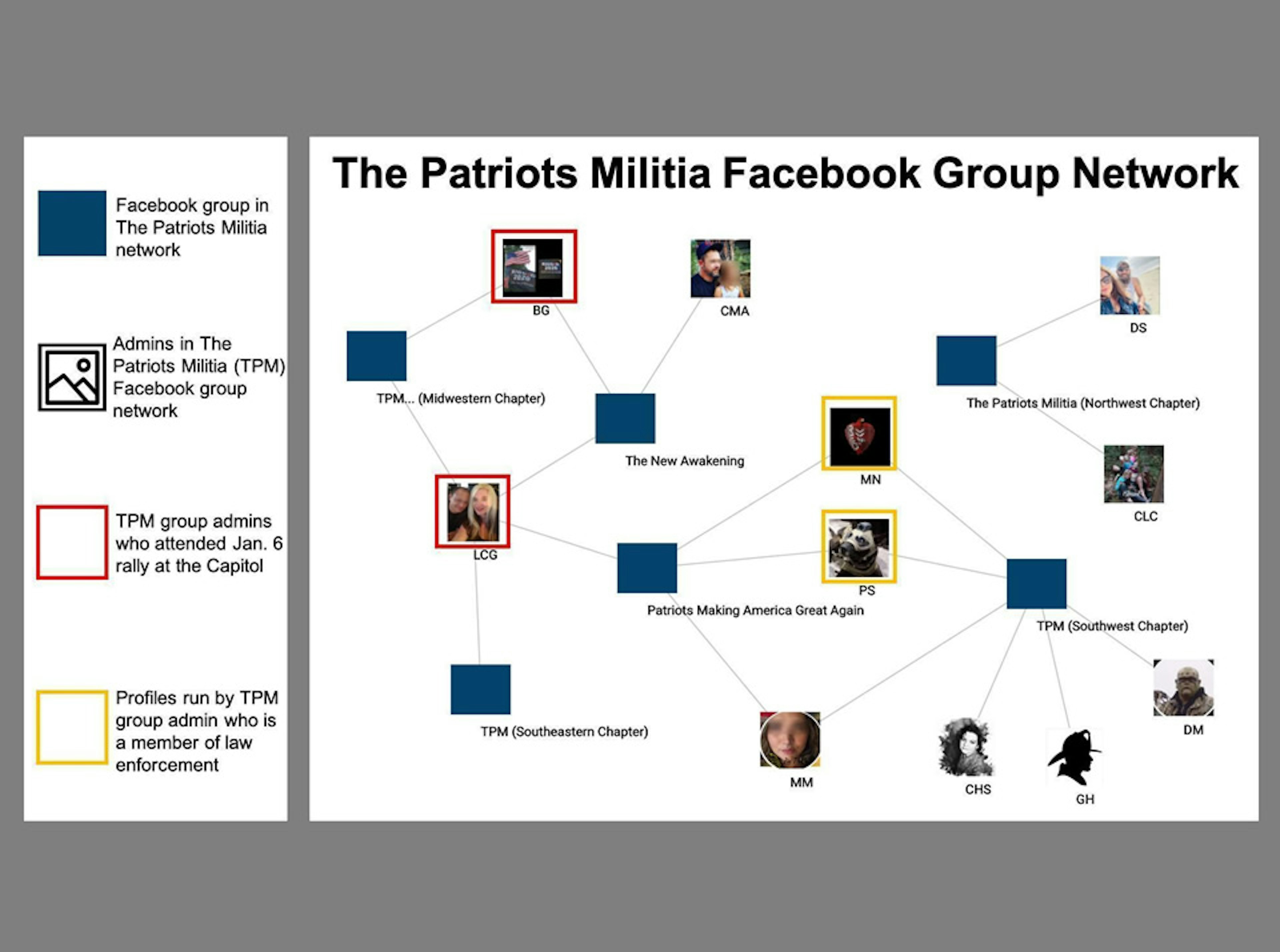 The fact that group admins are spreading audit misinformation and calls to organize militia highlights a major flaw in Facebook's content moderation structure. Facebook relies heavily on admins to police content in groups and recently gave them even more authority to do so. But if the admins are the ones violating Facebook's rules, they're not likely to report their own violations, and group members, who likely share the same views, aren't likely to, either.
TTP found increasing signs of radicalization in the married couple's Facebook content following the January 6 insurrection. About two weeks after the riot, the wife posted an image of a logo for the Three Percenters anti-government militia that read, "When tyranny becomes law, rebellion becomes duty." At least six men associated with the Three Percenters, including self-identified members of the group, have been charged with conspiracy in the Capitol riot.
On March 13, the husband posted an image of a man armed with a semi-automatic rifle that read, "The time is coming very soon, when you will have to choose whether to take a knee, or take a stand." That same month, the wife shared a meme saying "TRUMP WON The Election," and later posted a photo of a semiautomatic rifle with the text, "Stimulus money well spent! AR-12 with 20 round drum." After Facebook removed The Patriot's Militia national chapter, she created the replacement group "TPM 2.0" (later renamed "The New Awakening") and promoted it across the network.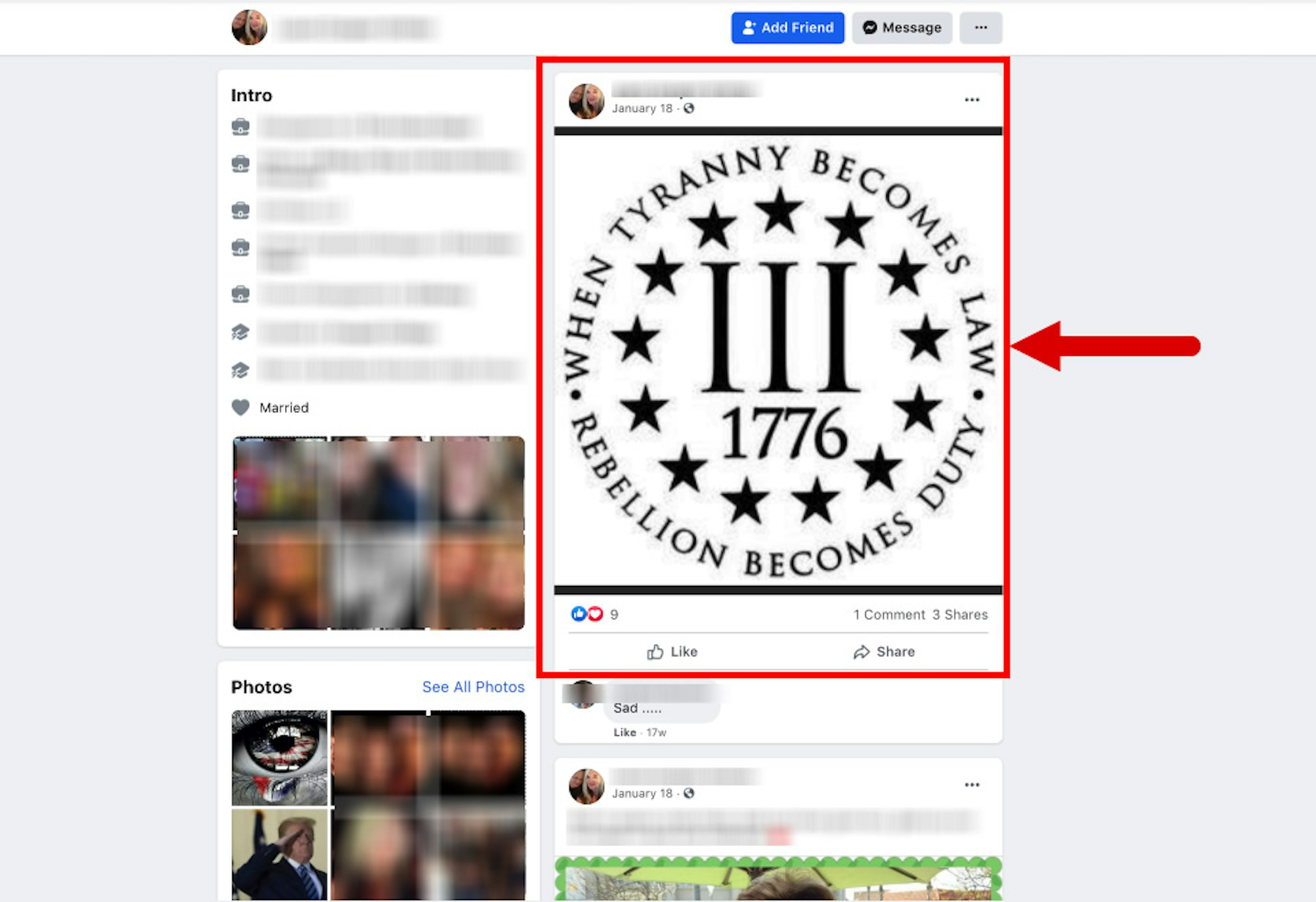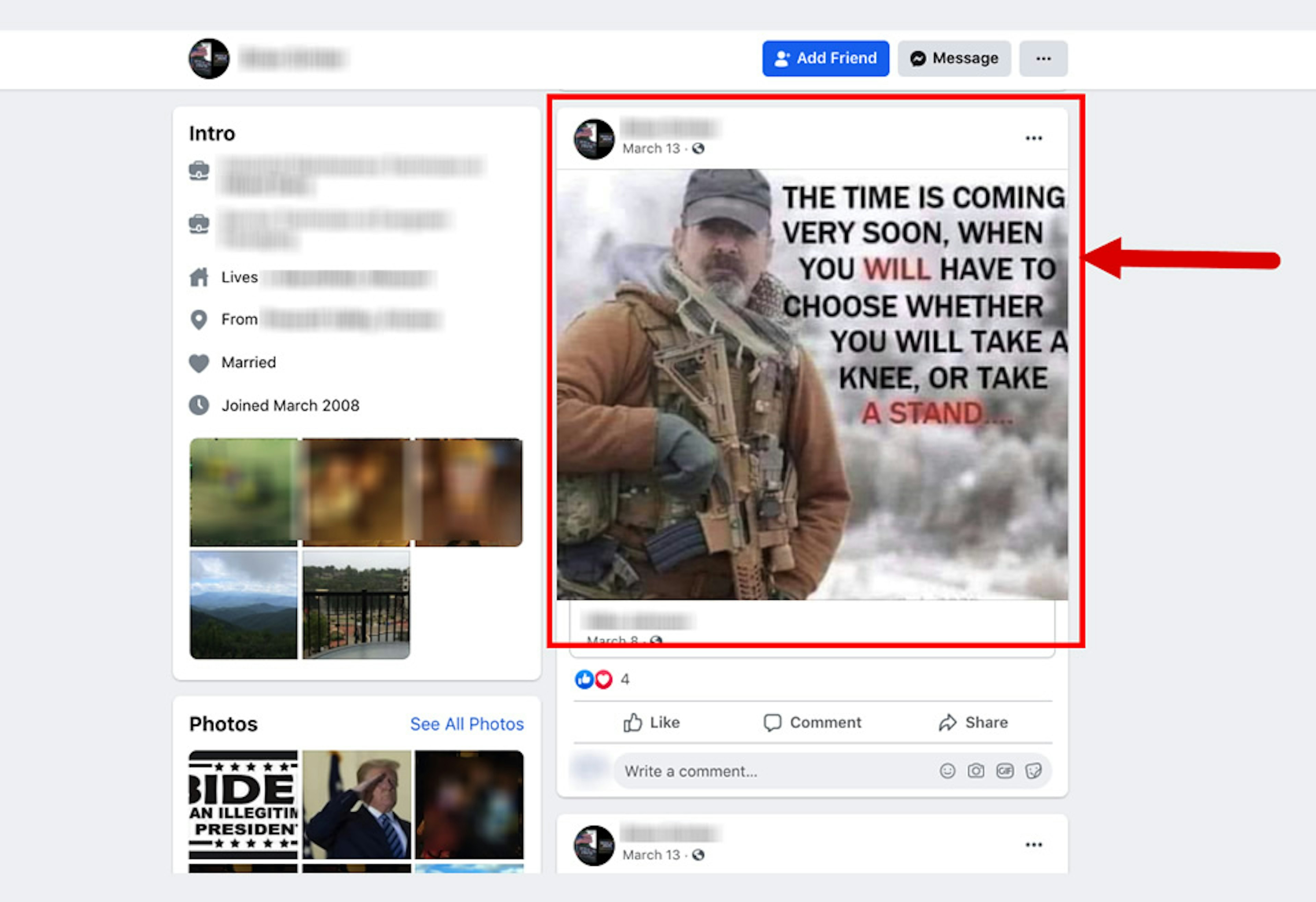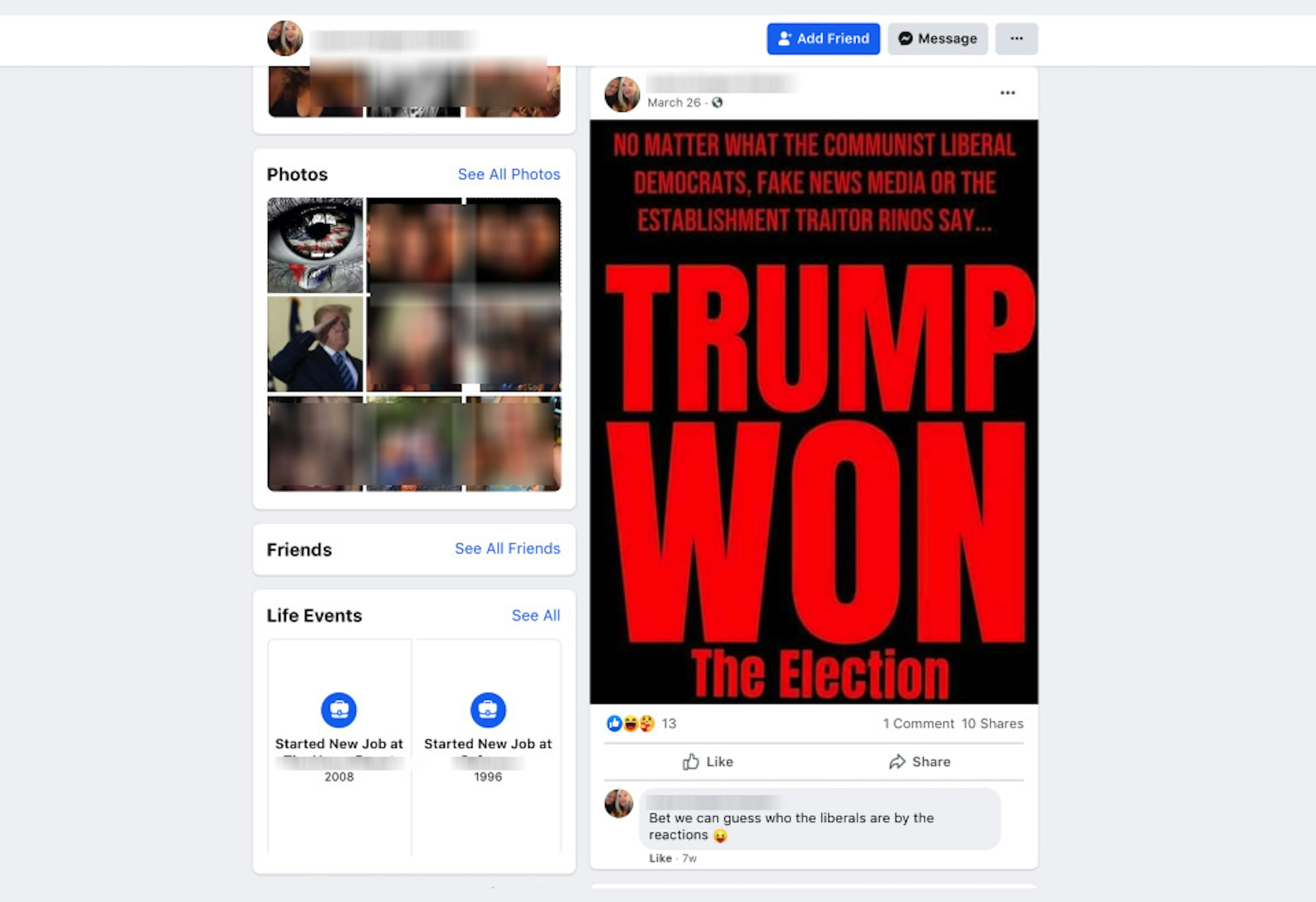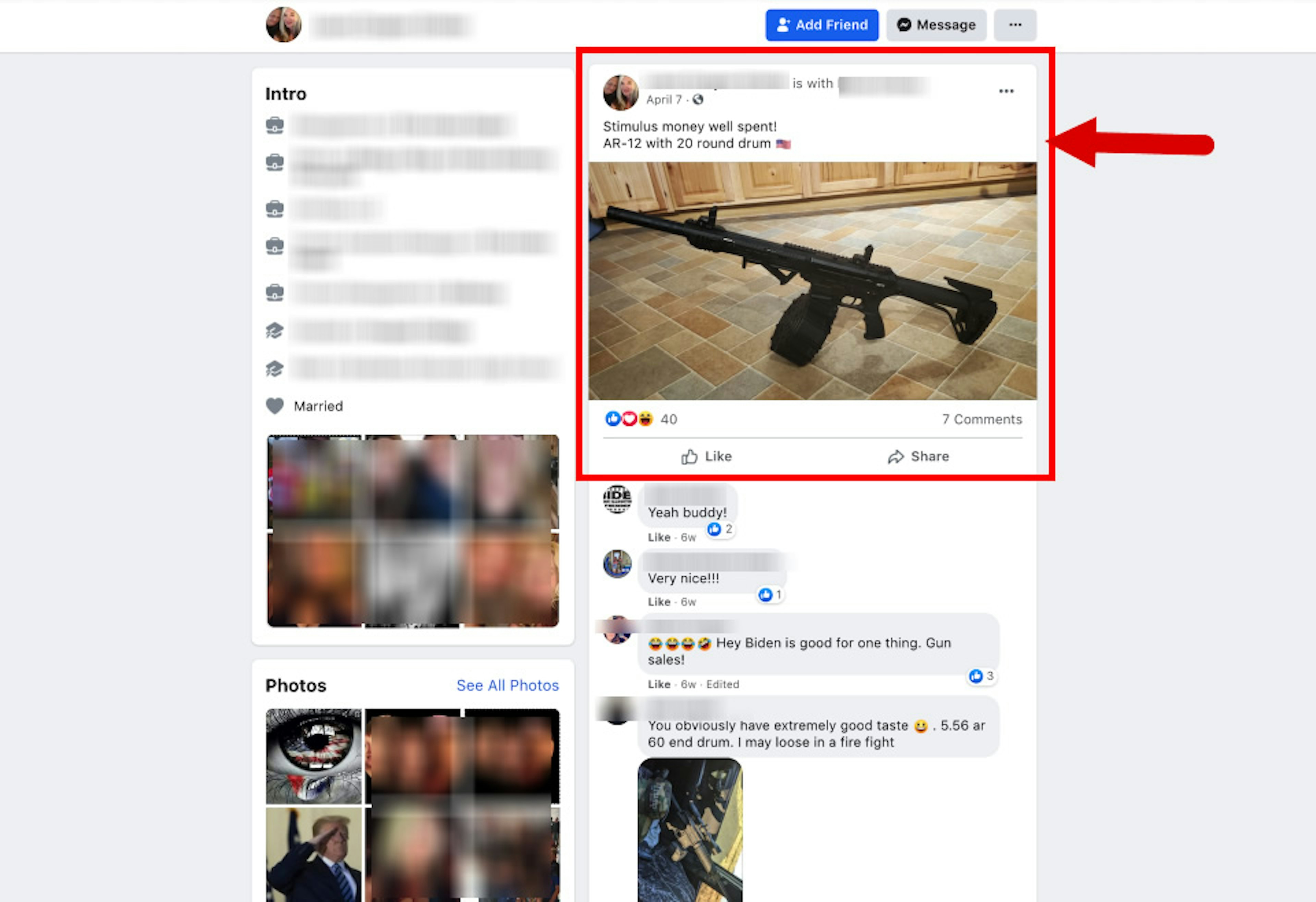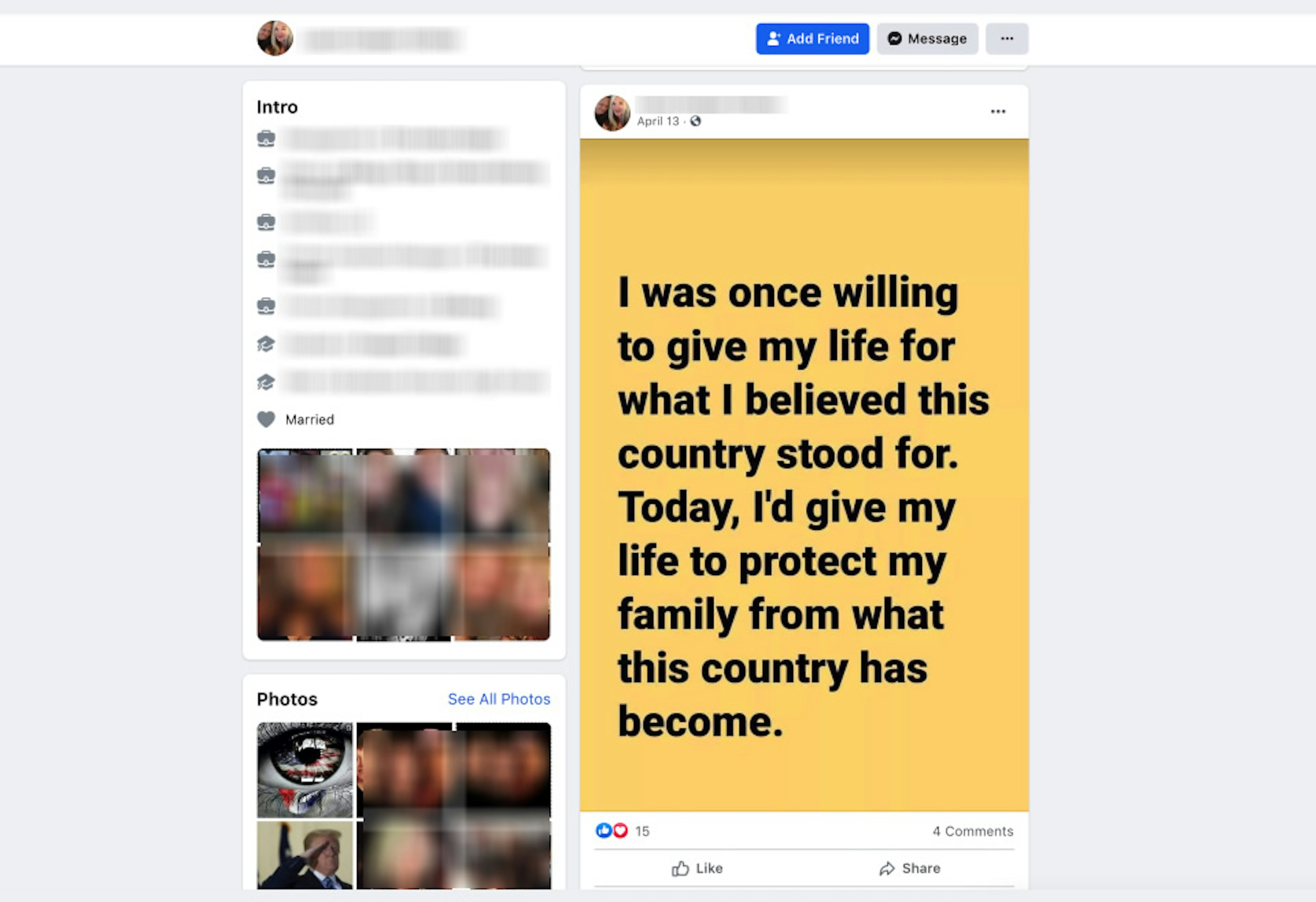 During the research for this report, TTP found another sign of Facebook's inattention to election misinformation on its platform. Several members of far-right and militia groups used a Facebook frame emblazoned with "TRUMP WON" around their profile picture. Another frame states "BIDEN LOST." These frames must be pre-approved by Facebook, so presumably the company signed off on these—despite the fact that they promote the "Big Lie" about a Trump victory in 2020.