Facebook's twin failures to prevent the spread of extremism and Covid misinformation are combining into a dangerous new trend: Far-right militia groups are embracing and amplifying vaccine conspiracy theories as a way to build their movement.
A Tech Transparency Project (TTP) investigation found that militia groups on Facebook, some with thousands of members, are rife with Covid vaccine misinformation, often drumming up fears that vaccine mandates are a sign of government tyranny.
The activity is all the more disturbing because Facebook promised to crack down on U.S.-based militia organizations nearly a year ago. Now these groups have become key spreaders of vaccine conspiracies, at a time when U.S. Covid infections are on the rise due to stagnating vaccination rates and the highly transmissible delta variant.
Facebook even allowed one militia group administrator, who regularly posts vaccine misinformation, to adopt a "Group Expert" badge, a feature the company released in April to recognize "trusted, well-informed members." This admin calls the delta variant "BS" and warns, "The unvaxxed are armed. It'll be a short fight."
The prevalence of militia-fueled vaccine misinformation undermines Facebook's furious pushback against President Biden's recent comment that the company is "killing people" (a statement the president later tried to soften). As TTP's research shows, vaccine conspiracies on Facebook not only threaten public health—they've become a galvanizing force for militia groups that push violent and anti-government views.
This isn't the first time Facebook has seen a convergence of extremism and Covid misinformation. In April 2020, during the initial phase of the pandemic, TTP found numerous "boogaloo" followers, who believe a new Civil War is coming, using Facebook to portray coronavirus lockdowns as a sign of government repression.
But militia groups' more recent embrace of vaccine lies has the potential to do greater harm to the U.S. as it struggles to contain the new Covid surge.
Below are some of the major takeaways from the new research:
Militia groups on Facebook are amplifying vaccine misinformation and anti-vaccine messages on the platform.
Facebook is failing to consistently attach links to authoritative vaccine information to the false claims, as it's promised to do.
In one case, a militia group administrator sported a Facebook "Group Expert" badge while spreading Covid and vaccine misinformation.
Some militia groups are promoting anti-vaccine rallies that question vaccine safety and have attracted hundreds of people.
Facebook is still allowing the use of hashtags that falsely portray the Covid vaccines as "experimental" and thus unsafe.
TTP has previously documented the thriving militia scene on Facebook, which continues despite Facebook's nearly-year old crackdown on U.S. militia organizations. The new research shows that militia groups are now fanning baseless fears about Covid vaccinations as a way to cast suspicion on the government—and re-energize their following after waves of mass arrests tied to the Jan. 6 U.S. Capitol insurrection.
For example, a member of the Facebook group "Southwest Arkansas Militia" posted on July 23 about the "growing chatter of 'quarantine camps' for unvaccinated people by 2022" and asked if there was a "plan in place to counteract this." Facebook affixed a label to the "quarantine camps" post linking to its COVID-19 Information Center but did not identify the statement as false or misleading. The conspiracy theory that Biden plans to put unvaccinated Americans into camps has been debunked by fact checkers. The theory originated from a satirical article but is often circulated as fact on Facebook.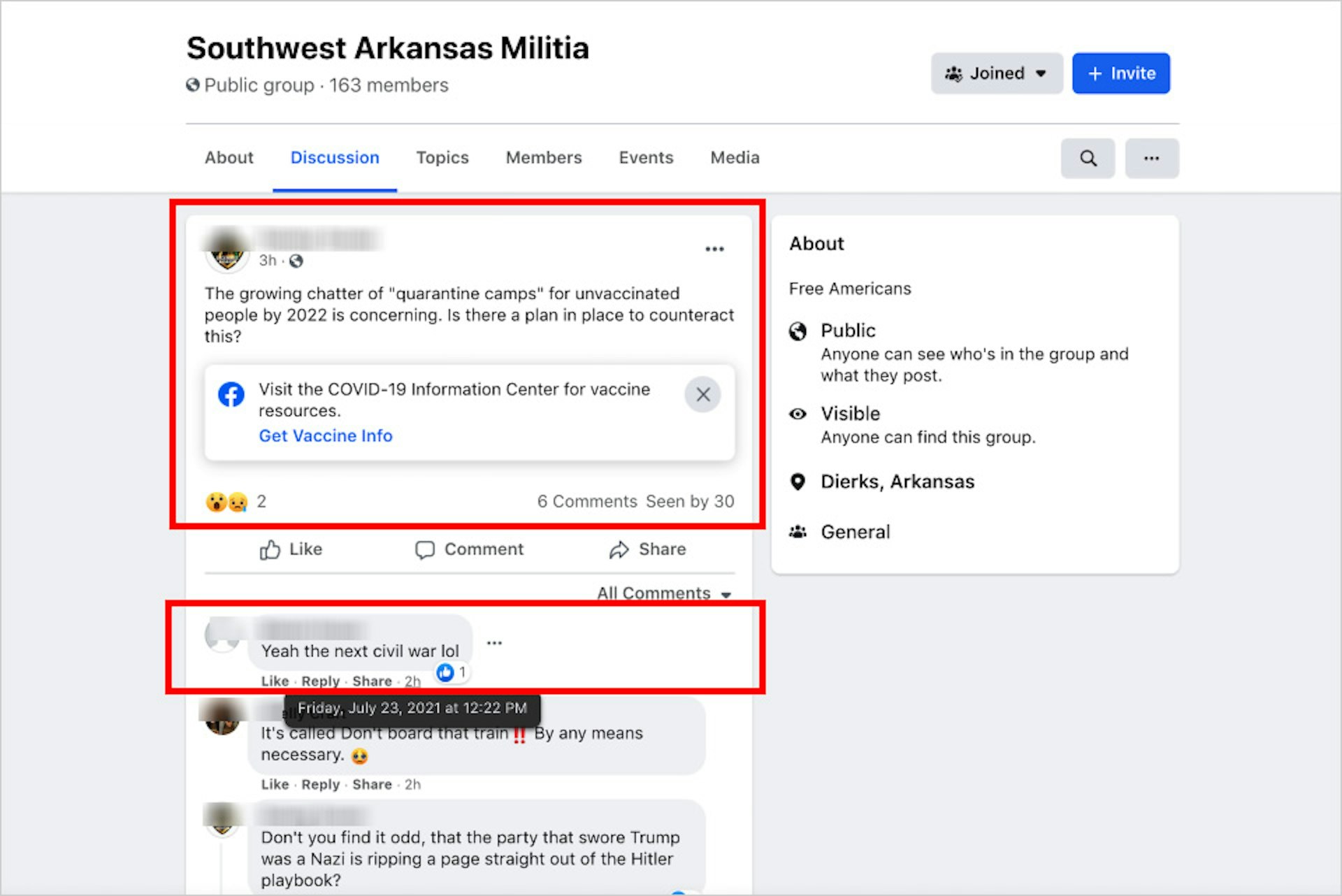 Meanwhile, the private Facebook group "US Freedom Fighters," which has amassed about 4,000 members since it was created on April 28, references vaccine opposition in its call to arms. Here is a passage from the group's "about" section:
We need to prepare for what is lying ahead, which in most cases is looking like another civil war, and we need to start preparing for that. They are segregating us by vaccine vs no vaccine, mask and no mask … Eventually they will be introducing a vaccine passport in order for you to travel anywhere. You think it's just going to stop there? … If you are in this group you had better be prepared to actually have to do something! We aren't just sitting around being keyboard warriors!
Before being allowed to join the group, prospective members are asked a series of questions, including, "Are you willing to go full on as if your life depends on it? (which it does)."
The US Freedom Fighters group has encouraged members to purchase merchandise and make donations through its outside website. The website features only one social media icon—Facebook—highlighting the platform's importance as an organizing tool for militias.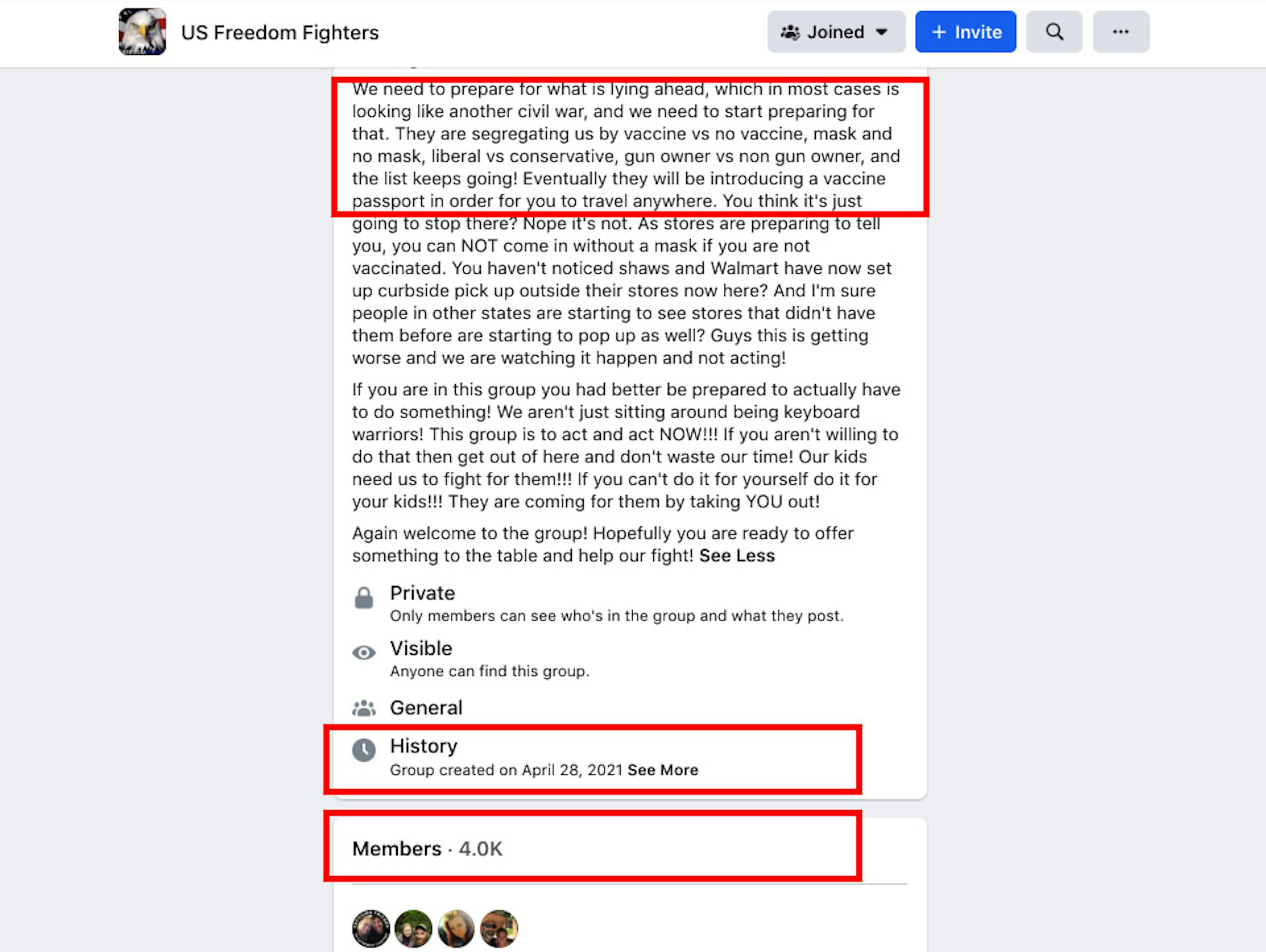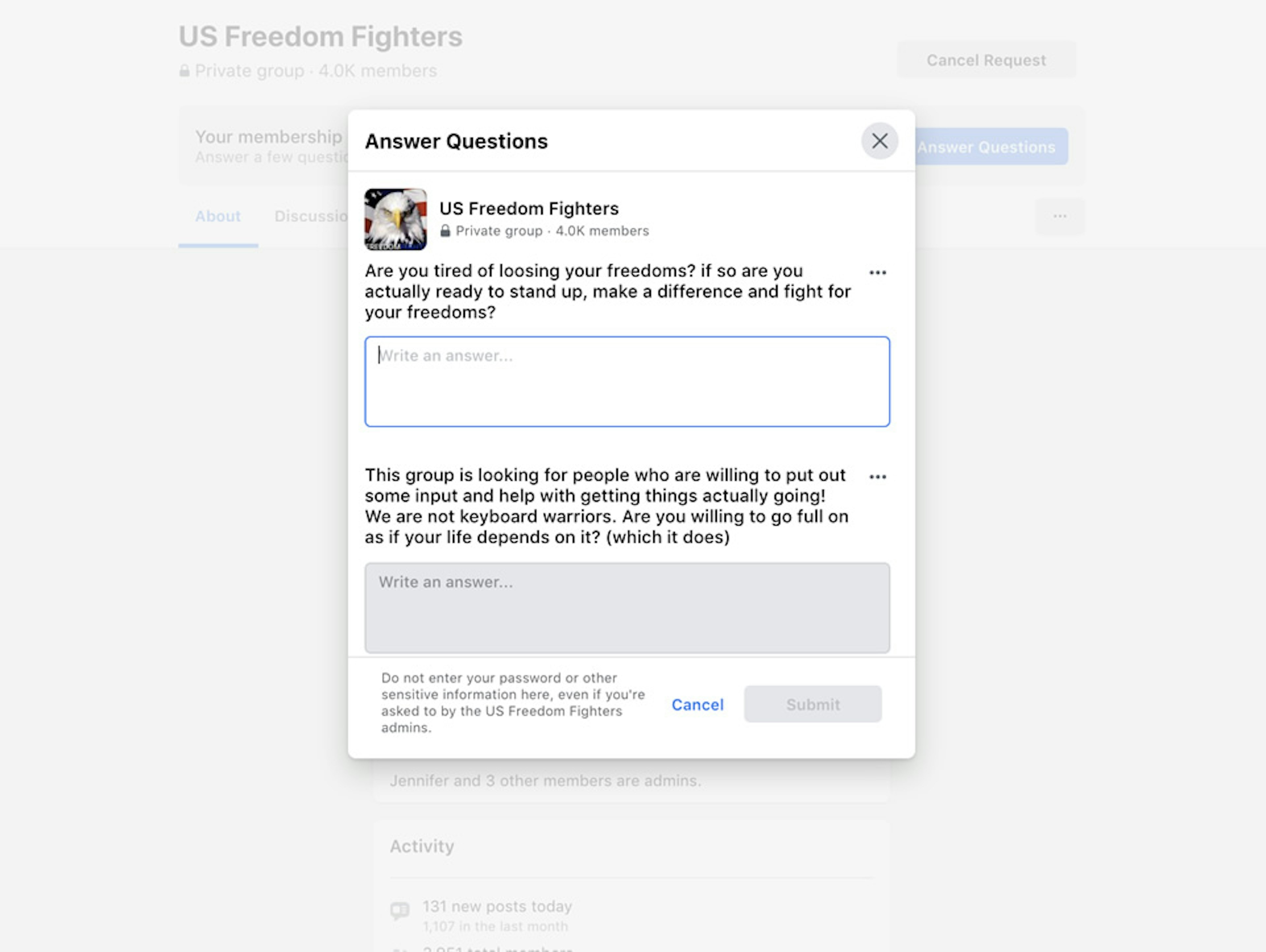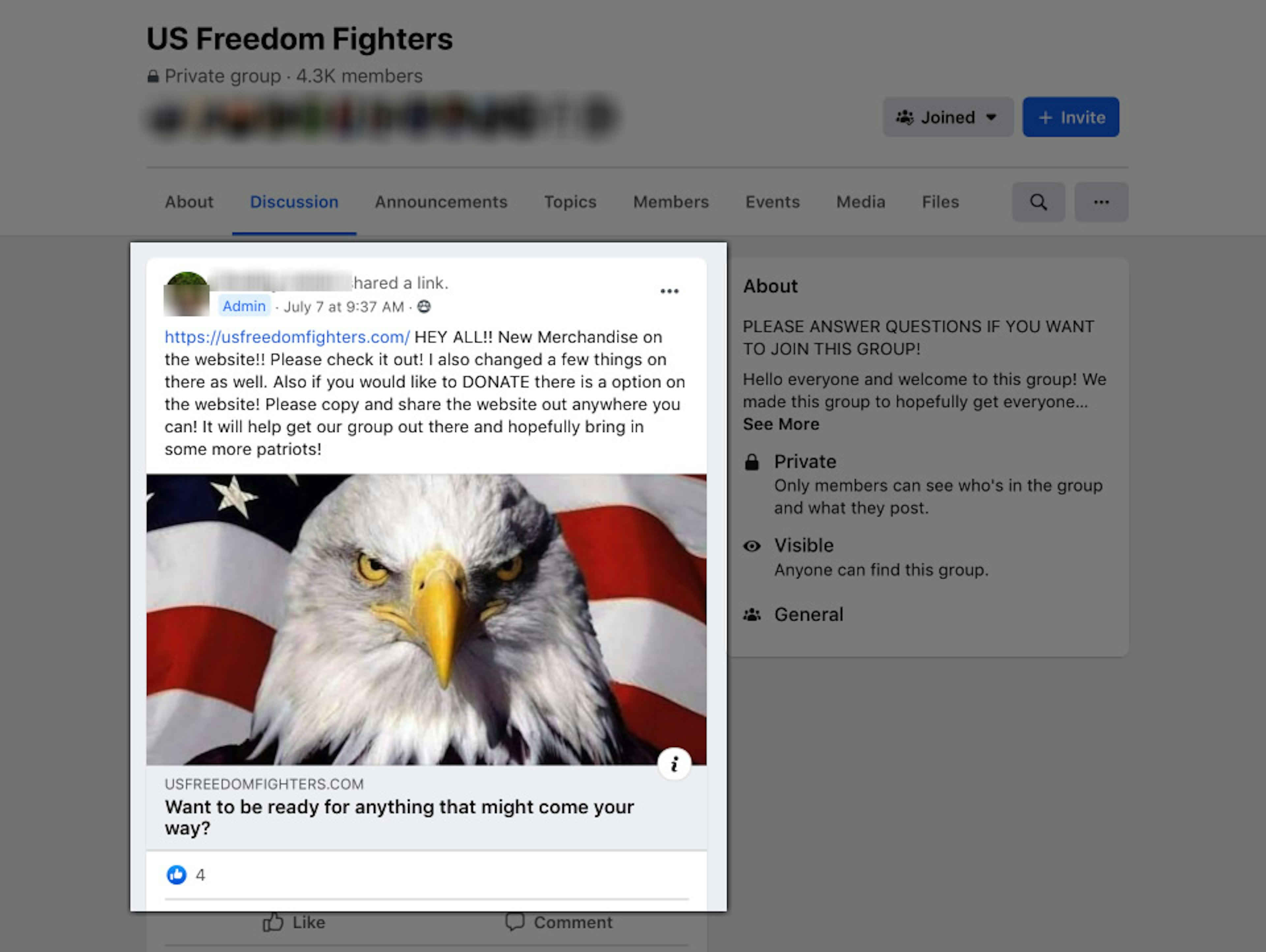 Other militia groups echo the conspiratorial mindset about COVID vaccines. The admin of the group "Minute Man Defense Force," which was created on July 2, posted a mashup of unhinged claims about United Nations and Russian troops, urged members to "be ready for whatever is about to go down," and appears to criticize people who got the vaccine after saying they wouldn't, at one point referring to "turncoats."
In one particularly concerning situation spotted by TTP, an admin for the group US Freedom Fighters sported a Facebook "Group Expert" badge even as she spewed misinformation about Covid vaccines. Facebook rolled out the Group Expert feature in April, saying it's meant to recognize "trusted, well-informed members."
But the "expert" in this case makes a habit of sharing false claims about Covid and the vaccines. At one point, she wrote that "if you know anybody who honestly believes this Delta variant BS they are a lost cause let them go there is no helping them." She also shared numerous anti-vaccine memes, including one that warned the Biden administration is "coming after" those who don't obey its call to get vaccinated. She also warned bluntly: "The unvaxxed are armed. It'll be a short fight."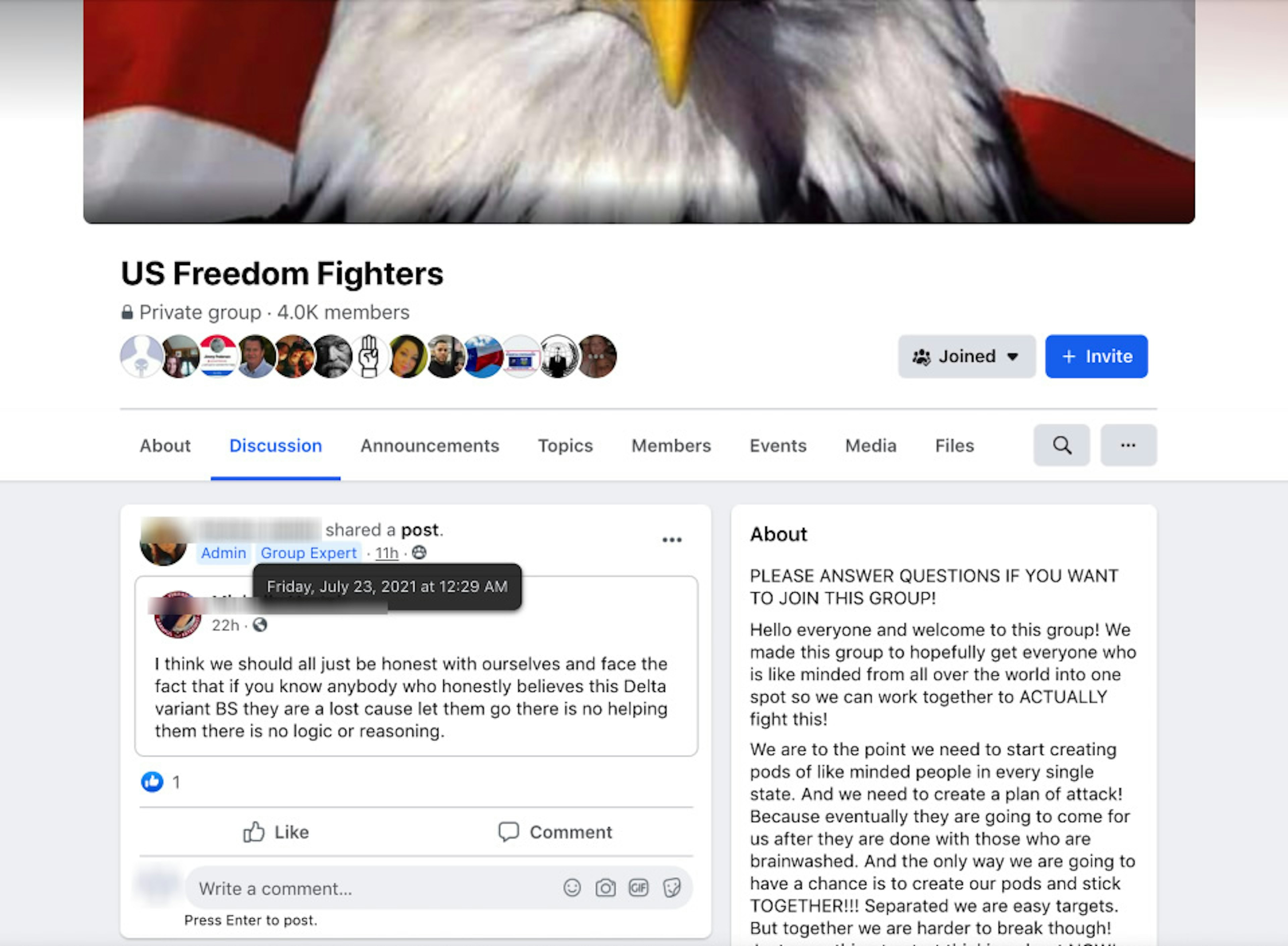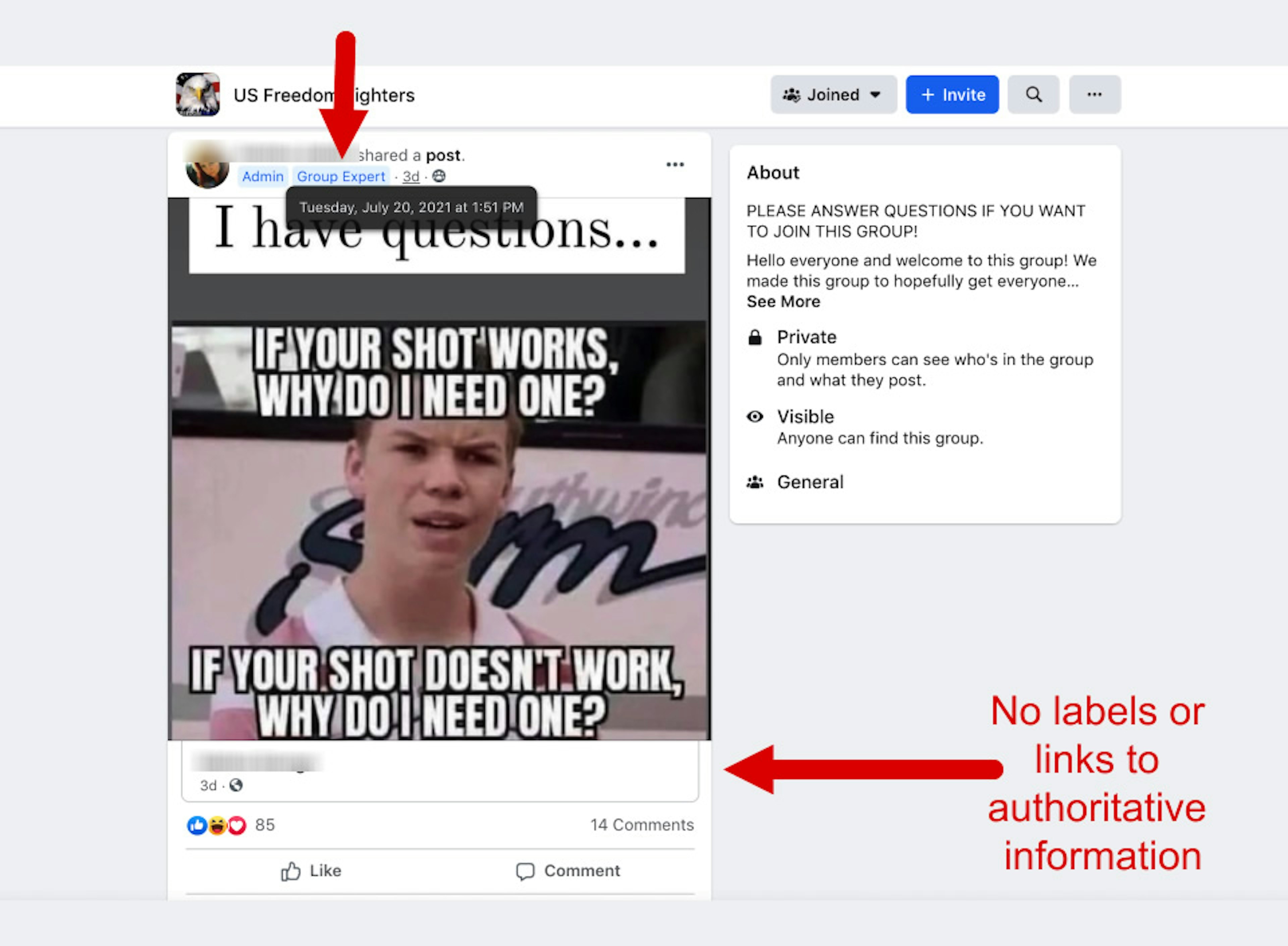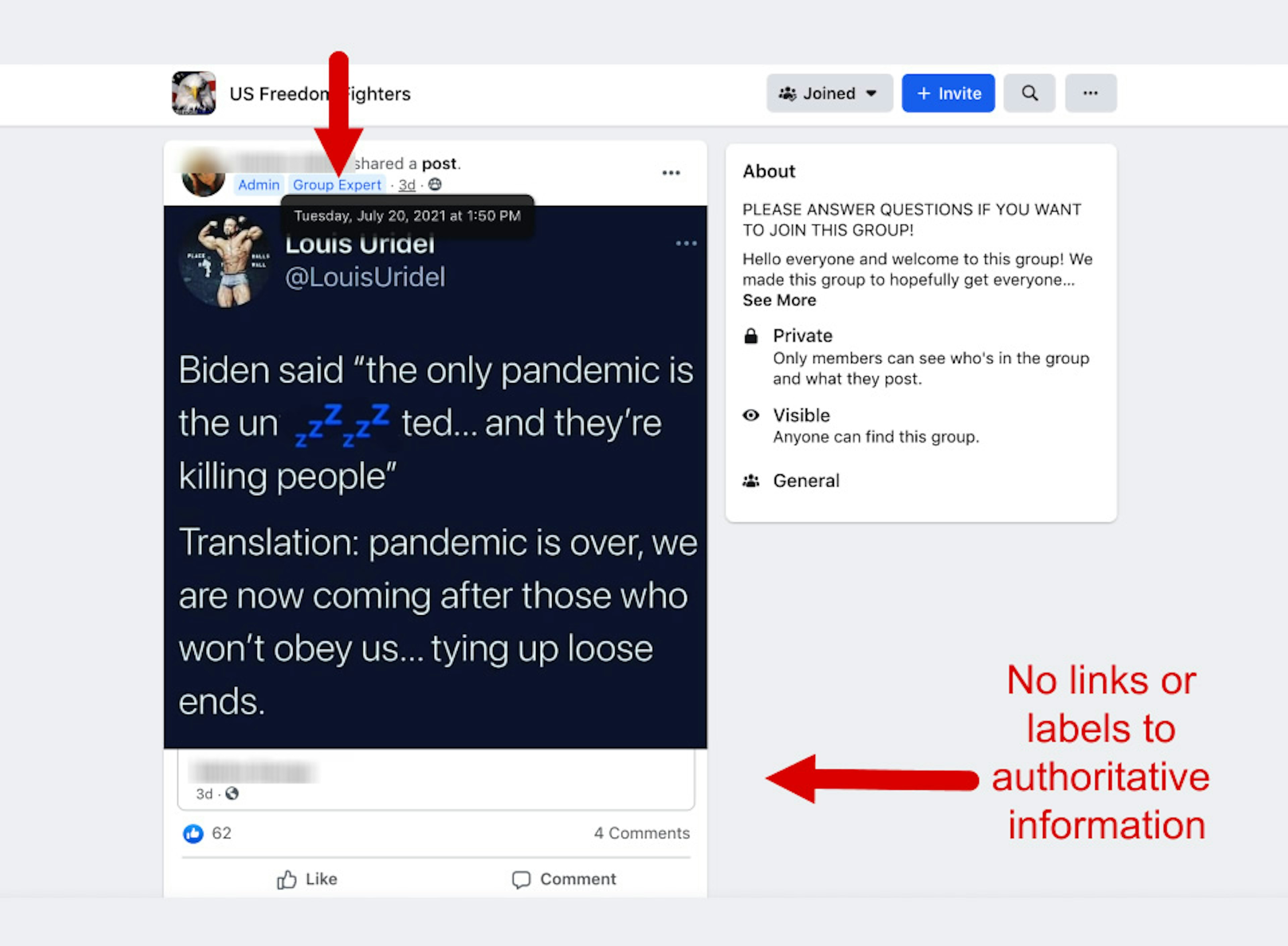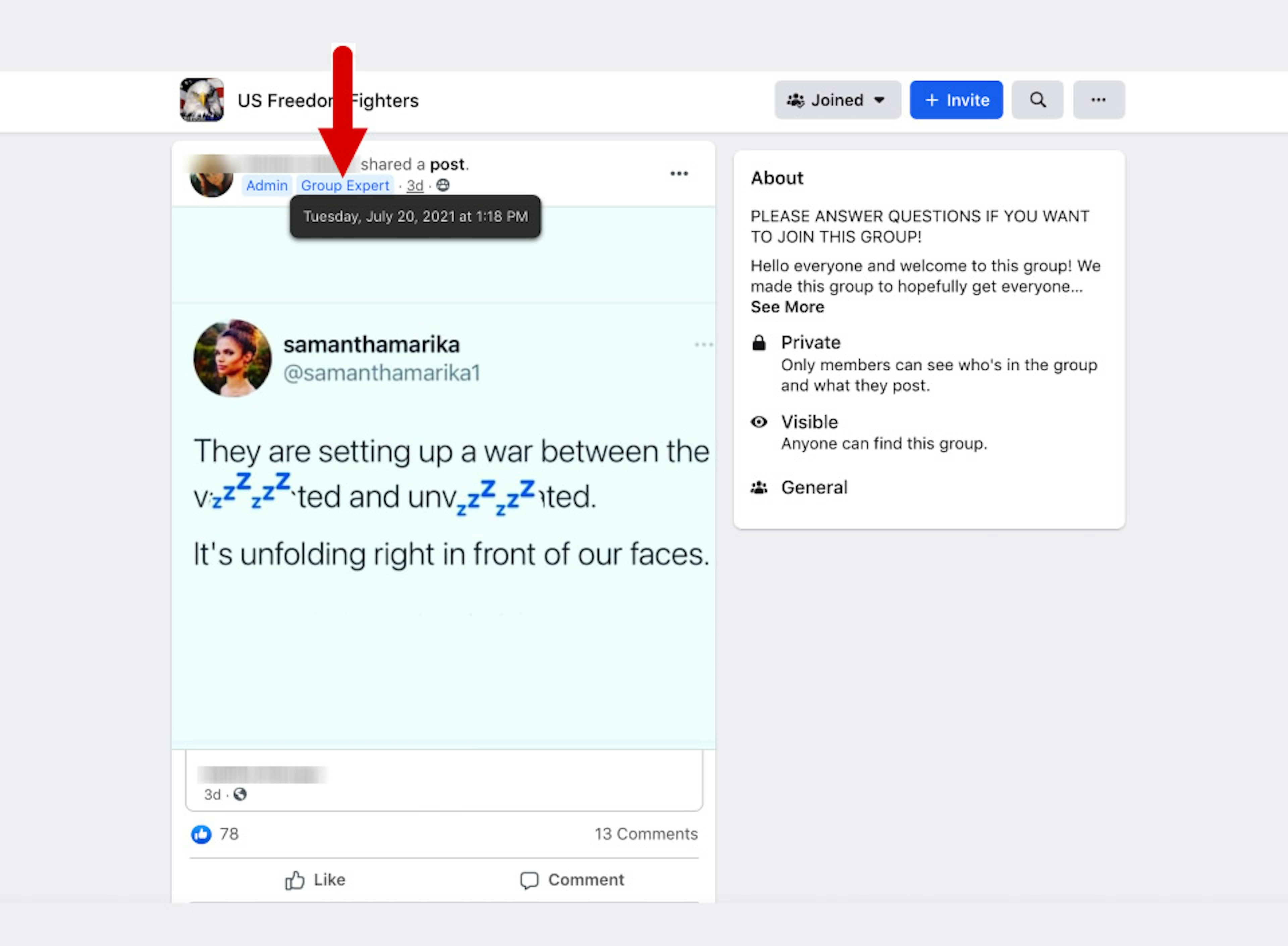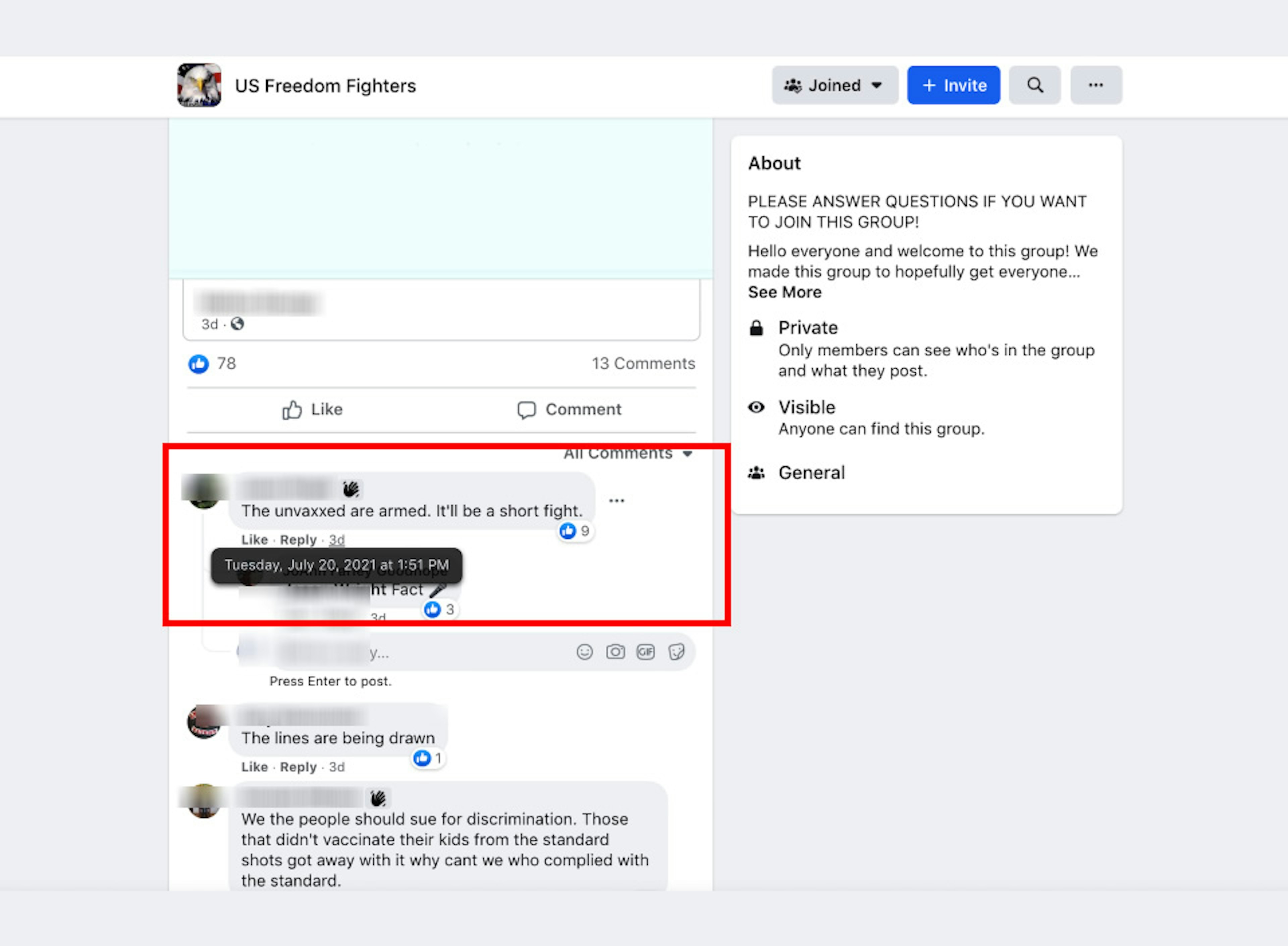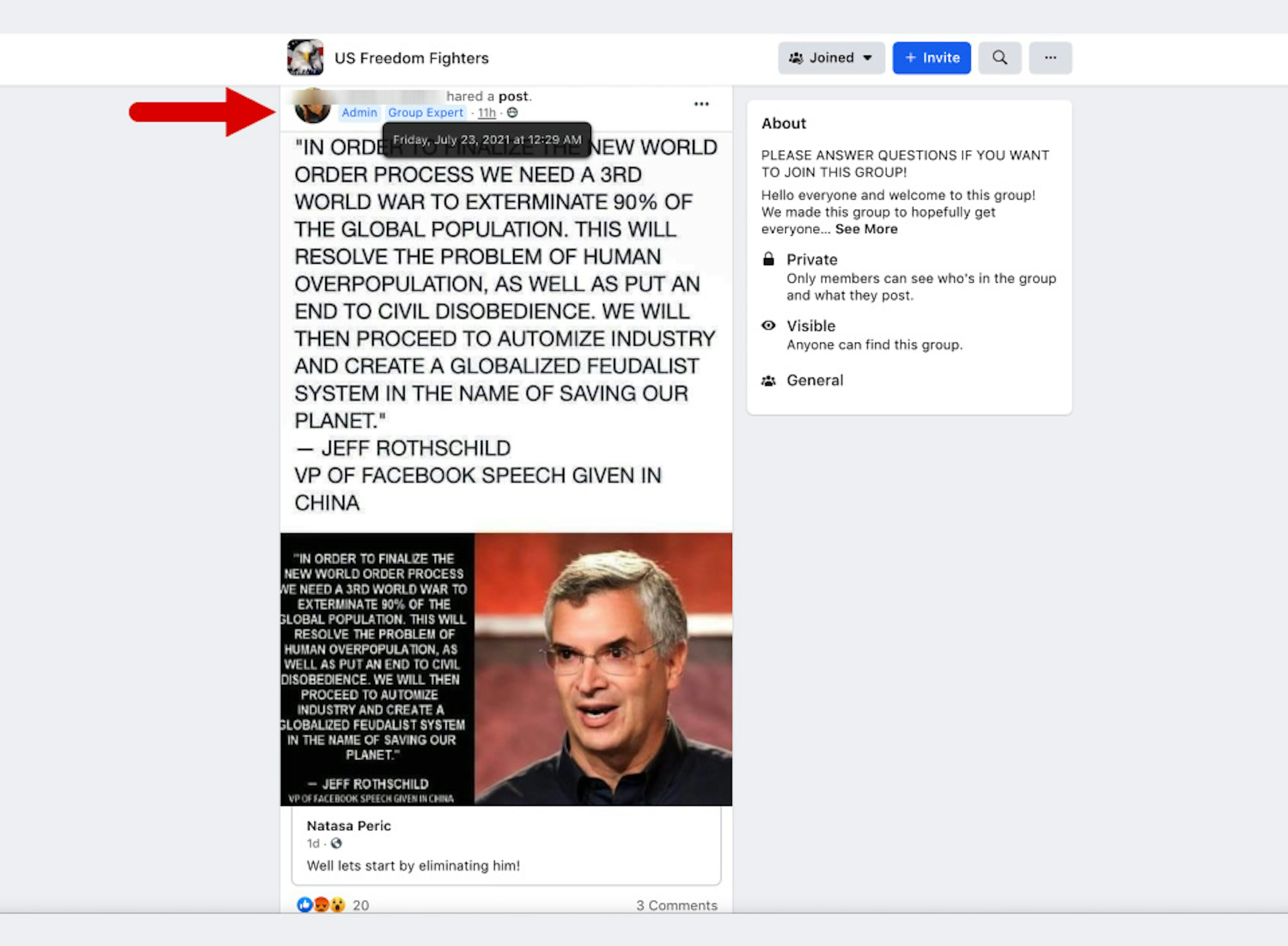 Facebook, in announcing the new "Group Expert" feature, said admins should award the badge to "knowledgeable members" who "fit the purpose and culture of the group," giving examples like fitness trainers and skilled crafters. But if the "purpose and culture" of the group is to sow extremism and misinformation, the badge gives an air of legitimacy to people spreading lies.
The "Group Expert" in the US Freedom Fighters group appears to have little trouble posting false claims about the pandemic, despite Facebook's assurances that it's expanding efforts to take down such misinformation. Many of the expert's posts were also missing links to Facebook's COVID-19 Information Center, which the company has promised to attach to any vaccine-related statements.
Facebook even allowed this "Group Expert" to spread misinformation about one of Facebook's own executives. The expert posted a fictionalized quote attributed to former Facebook vice president Jeff Rothschild that reads, "In order to finalize the New World Order process we need a 3rd world war to exterminate 90% of the world's population." Fact-checkers have rated this quote as false and noted its anti-Semitic undertones.
In late January, an anti-vaccine Facebook page organized a protest that blocked people from getting to a Dodgers Stadium vaccination site in Los Angeles, providing a chilling example of how online misinformation can disrupt public health efforts to deal with the pandemic.
TTP's research found that militia groups have increasingly taken up the mantle of pushing anti-vaccine events. For example, the militia group "Idaho Liberty Dogs" promoted a July 15 rally at the Boise Capitol against vaccine mandates for healthcare workers, with a flyer saying, "WE ALL HAVE A CHOICE! #STOPTHEMANDATE." The rally drew hundreds of people.
Meanwhile, the "Bundy Ranch" Facebook page, which bills itself as the official page of the militant Bundy family, has also hyped protests against vaccine mandates, including a July 19 rally outside St. Luke's, one of the Idaho health providers requiring its employees to get a Covid vaccine. The post included a long statement from an "Ammon Bundy for Governor" page that states, "I think it is terrible and wrong that Idaho hospitals owners are requiring their employees to take a shot that could be harmful."
Ammon Bundy, the far-right agitator known for armed standoffs in Nevada and Oregon over federal land and now a candidate for Idaho governor, has exploited the backlash over Covid restrictions to build a militia network across multiple states. The Bundy Ranch page, which has amassed over 180,000 followers, serves as an online bullhorn for whipping up anti-vaccine sentiment and other misinformation about the pandemic.
In May 2020, for example, the Bundy Ranch page ran a Facebook ad alleging that the state of Washington planned to put children in "emergency quarantine centers." The Washington state Department of Health issued a statement calling such claims "rumors and misinformation."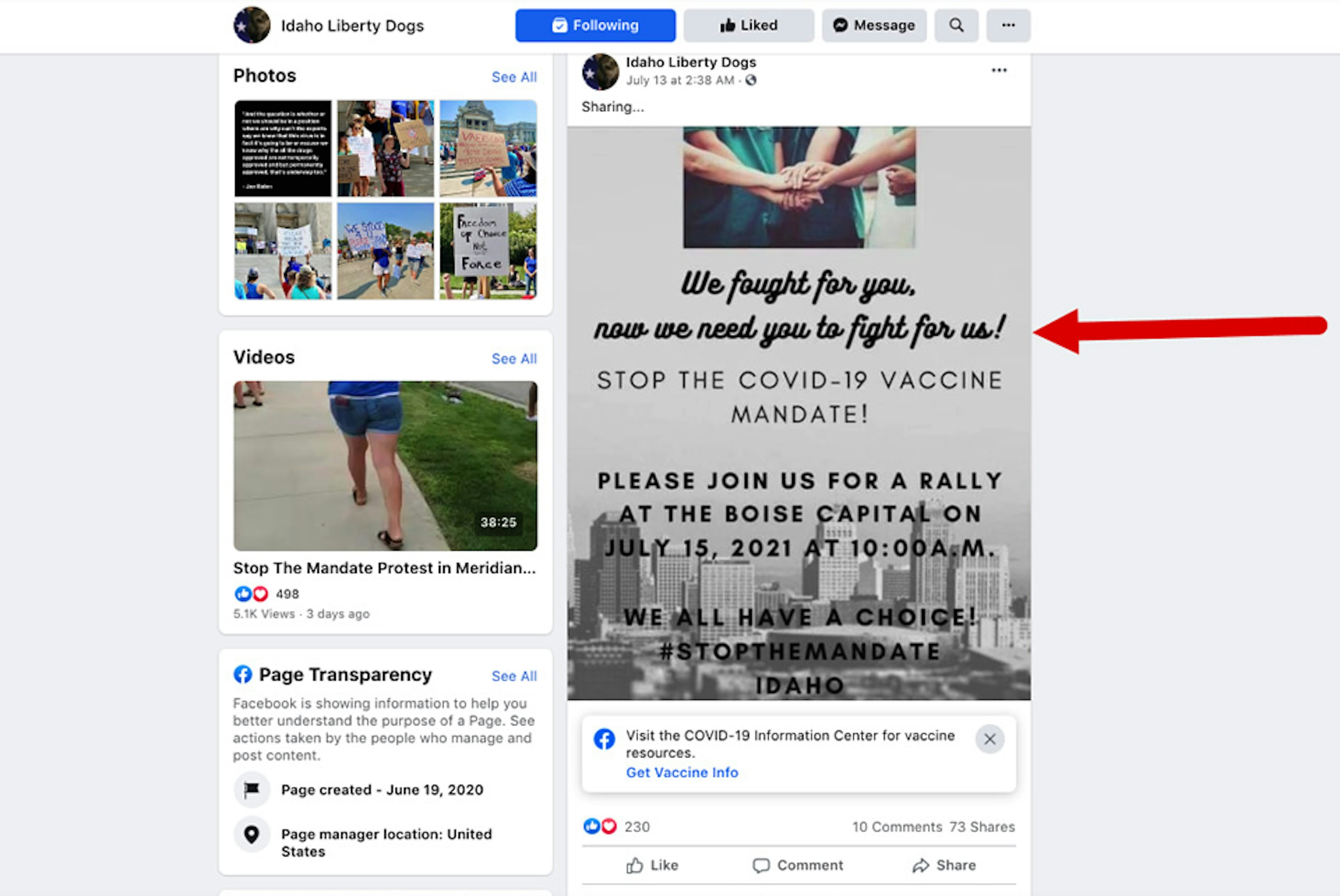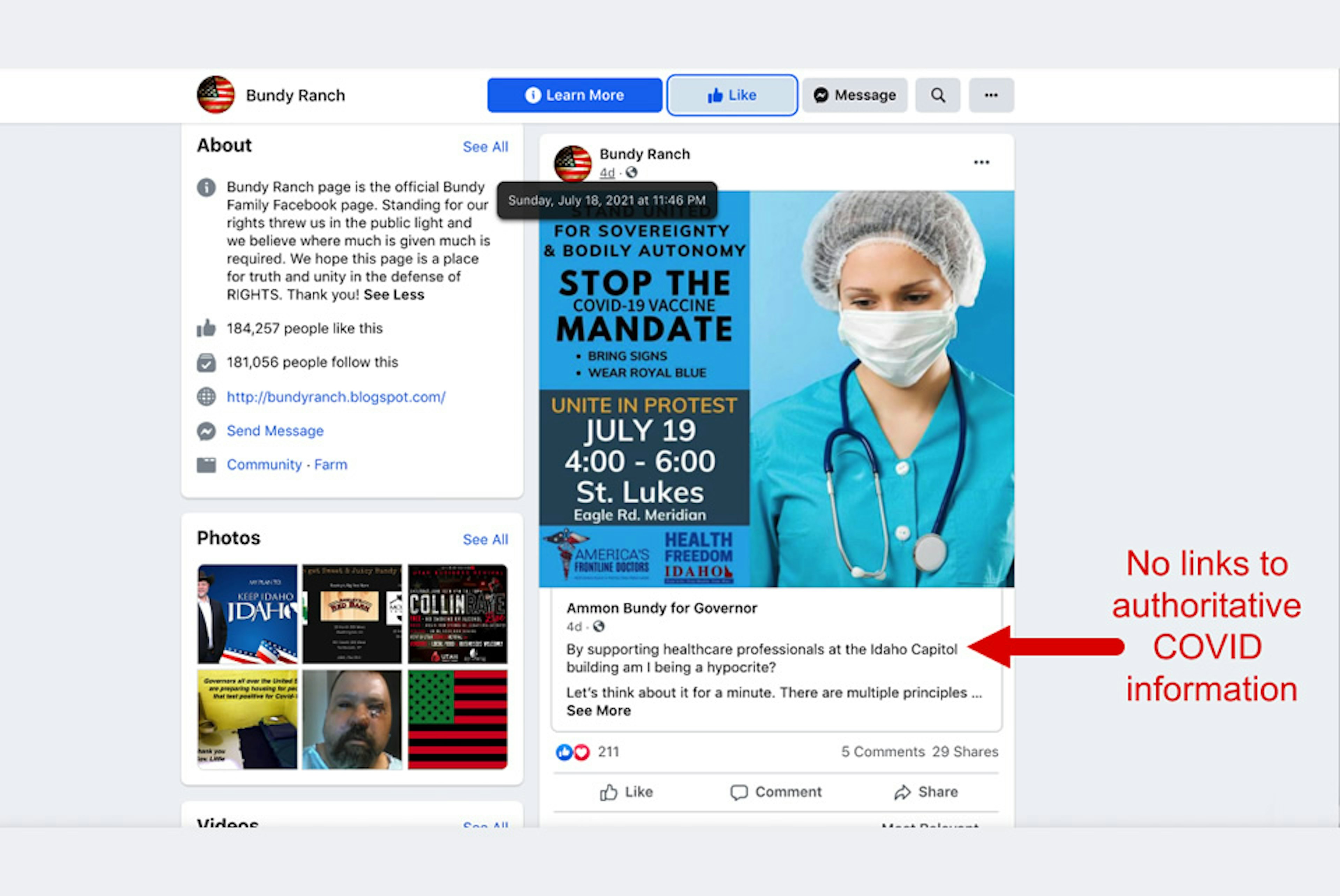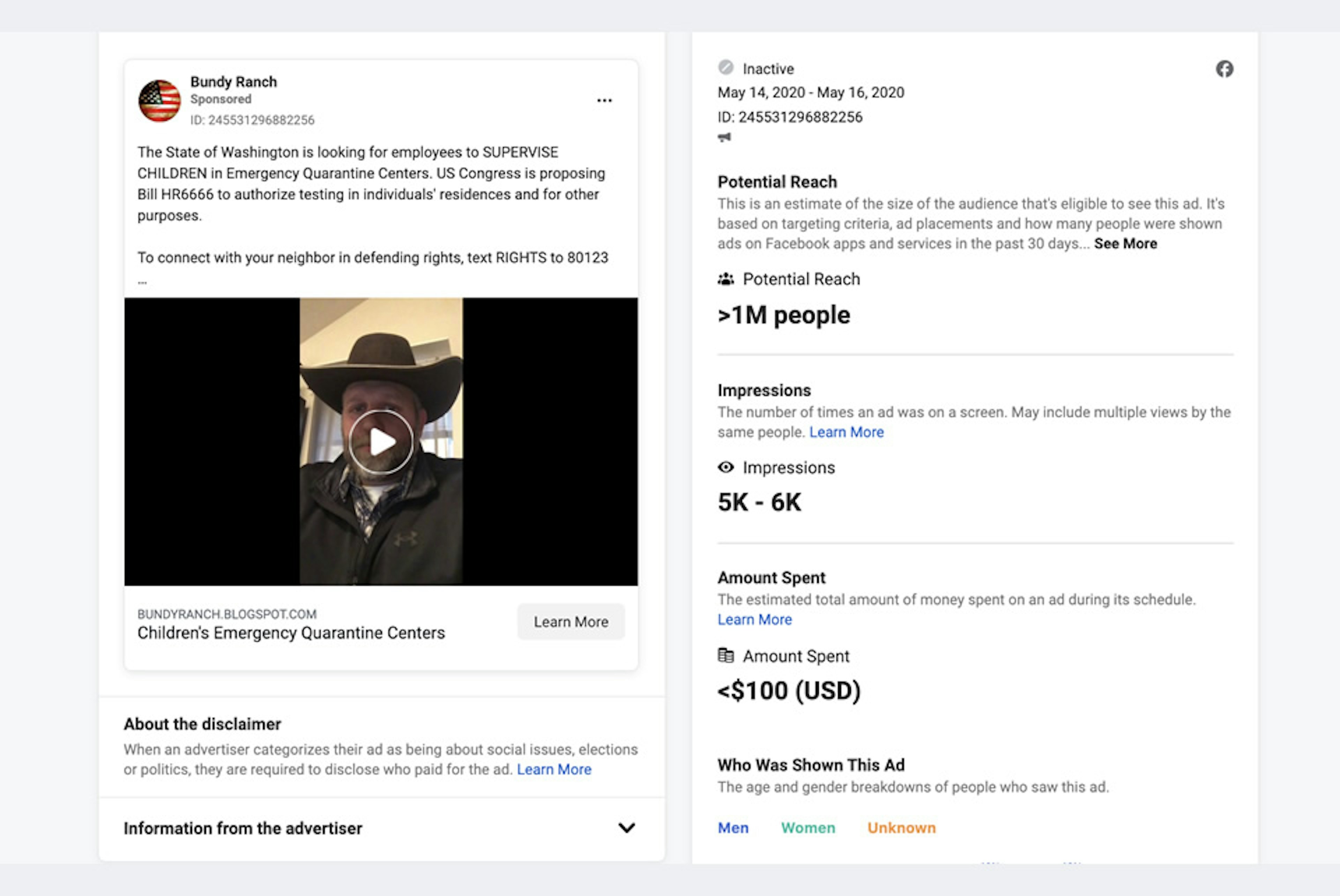 Facebook announced in March that it would affix labels to all vaccine-related posts directing users to the platform's COVID-19 Information Center, as a way to promote authoritative health guidance. However, TTP found that these labels were not consistently applied to posts containing vaccine misinformation.
What's more, the labels themselves do not signal to users if a post contained misinformation, and it's not clear how many users go to the effort of clicking on the offered link. 
TTP's investigation found other Facebook failings in this area. As of July 23, Facebook still allowed use of the hashtags #experimentalvax and #experimentaljab, which suggest the vaccines have not been properly tested and approved. But the Covid vaccines available in the U.S. have gone through clinical trials and an authorization process and thus are not "experimental," according to fact checkers.
The finding echoes a July 21 CNN report that found Facebook failed to block the hashtag #vaccineskill, despite Facebook-owned Instagram blocking the same hashtag two years earlier. Facebook only blocked the hashtag following inquiries from CNN.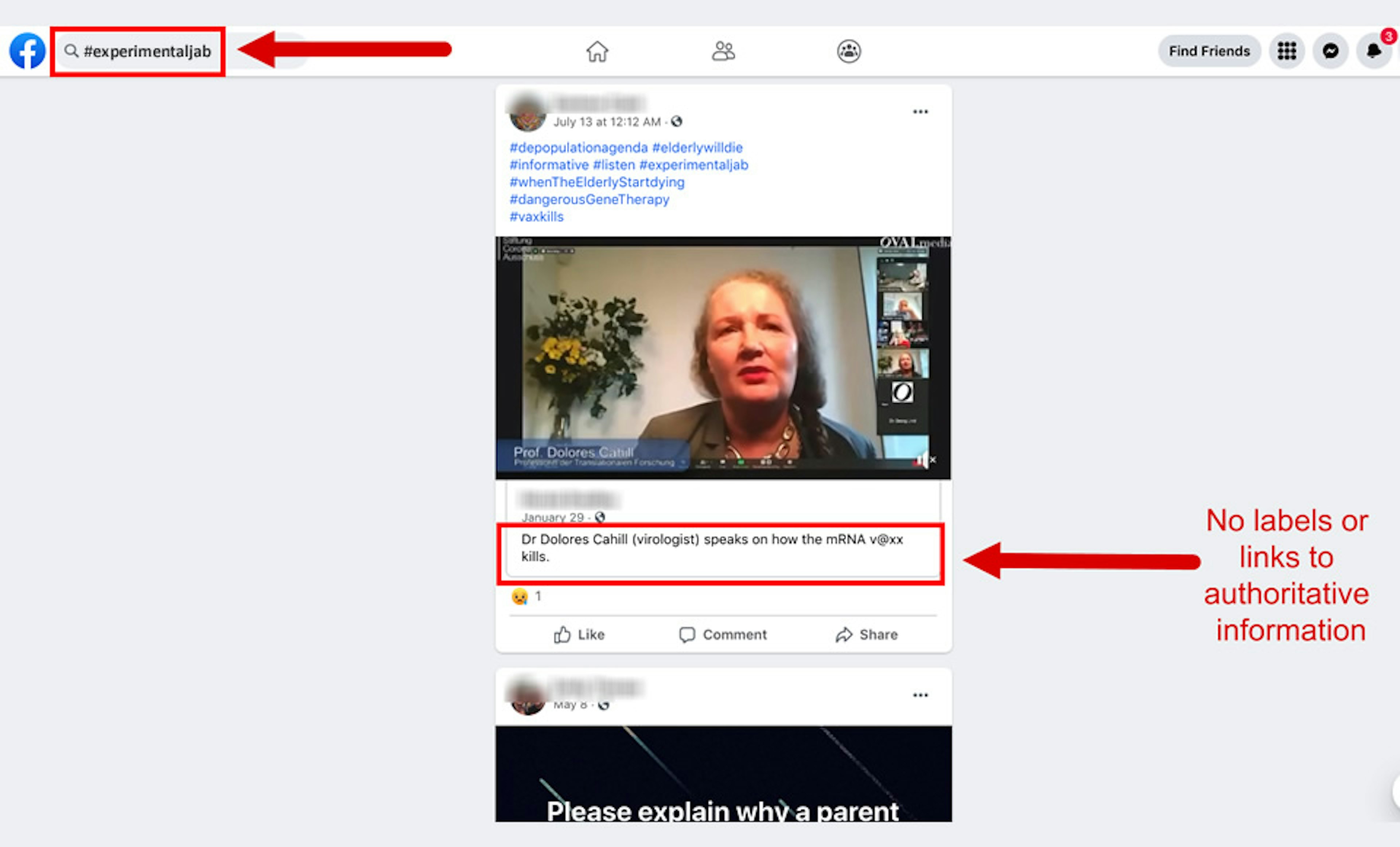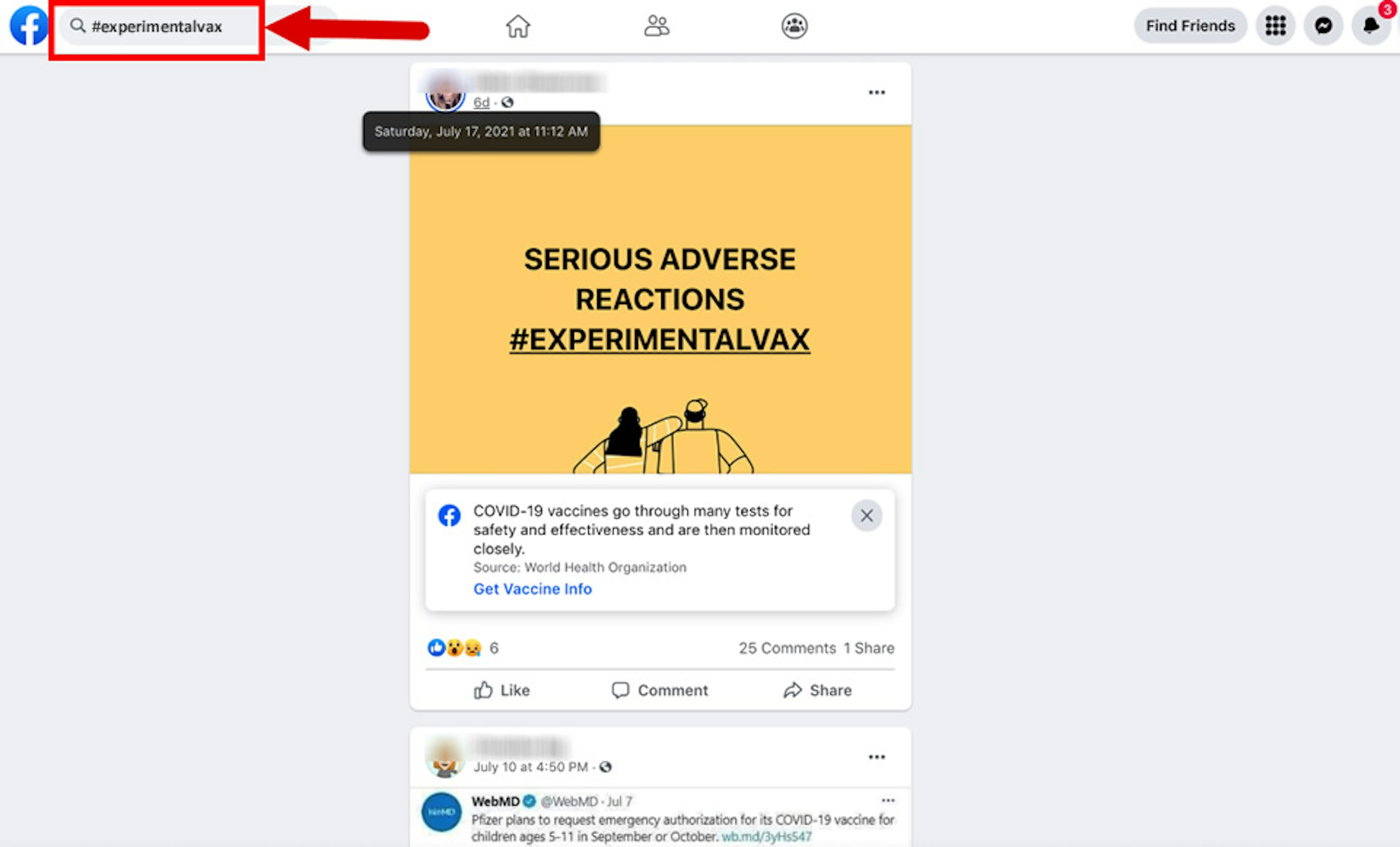 TTP also found numerous inconsistencies in Facebook's takedowns of vaccine misinformation. For example, Business Insider reported on July 14 that a Facebook page called "Mike's Corner," with about 500,000 followers, was selling T-shirts with anti-vaccine slogans including "PLAN-DEMIC" AND "MY BODY-MY CHOICE." (TTP provided the screenshots.) Facebook removed the "Mike's Corner" page following the report.
However, the company failed to remove militia page called "West Texas Minutemen" that was also highlighted by Business Insider. As of August 4, "West Texas Minutemen" remained active and continued to post false Covid and vaccine claims on a near-daily basis, such as questioning the value of mask-wearing and alleging, without evidence, that future vaccine boosters won't be effective.