Eric Schmidt has enjoyed virtual open-door access to the White House during the Obama administration, records show, meeting with the US president and top White House officials on at least 18 separate occasions from 2009 to 2015, not counting large meetings and social events like state dinners.
The meetings include four with President Obama, one of which appears to have been a private meeting in the Oval Office.
Schmidt played an important role in President Obama's two election victories, and his visits to the White House coincided with the government's decision-making on a wide range of issues central to Google's business interests. Those included an antitrust investigation by the Federal Trade Commission, the US government's rapprochement with Cuba and potential legislation governing piracy and copyright, which posed grave threats to Google's core advertising business.
At the same time, Schmidt has been appointed to numerous White House advisory positions, giving him privileged insight into the administration's policies in technology, science and military defense, as well as unusual access to top policymakers.
Schmidt's relationship with the Obama administration expanded rapidly during the first years of his administration, records suggest. Schmidt was a late backer of Obama's 2008 campaign, officially endorsing him just two weeks before the election on October 20, 2008. Even so, he was among the earliest visitors to the Obama White House.
On January 28, 2009—just one week after Inauguration Day—Schmidt met with the new president alongside a small number of other corporate executives, including BET CEO Debra Lee and Aetna Inc. CEO Ronald Williams.i Two months later, Schmidt was appointed to the President's Council of Advisors on Science and Technology.ii
In contrast to his relatively late endorsement of Obama the first time around, Schmidt threw himself into the task of winning his re-election four years later. Schmidt was intimately involved in building Obama's voter-targeting operation in 2012, recruiting digital talent, choosing technology and coaching campaign manager Jim Messina on campaign infrastructure.iii The system was credited with helping Obama achieve his unexpectedly large margin of victory.iv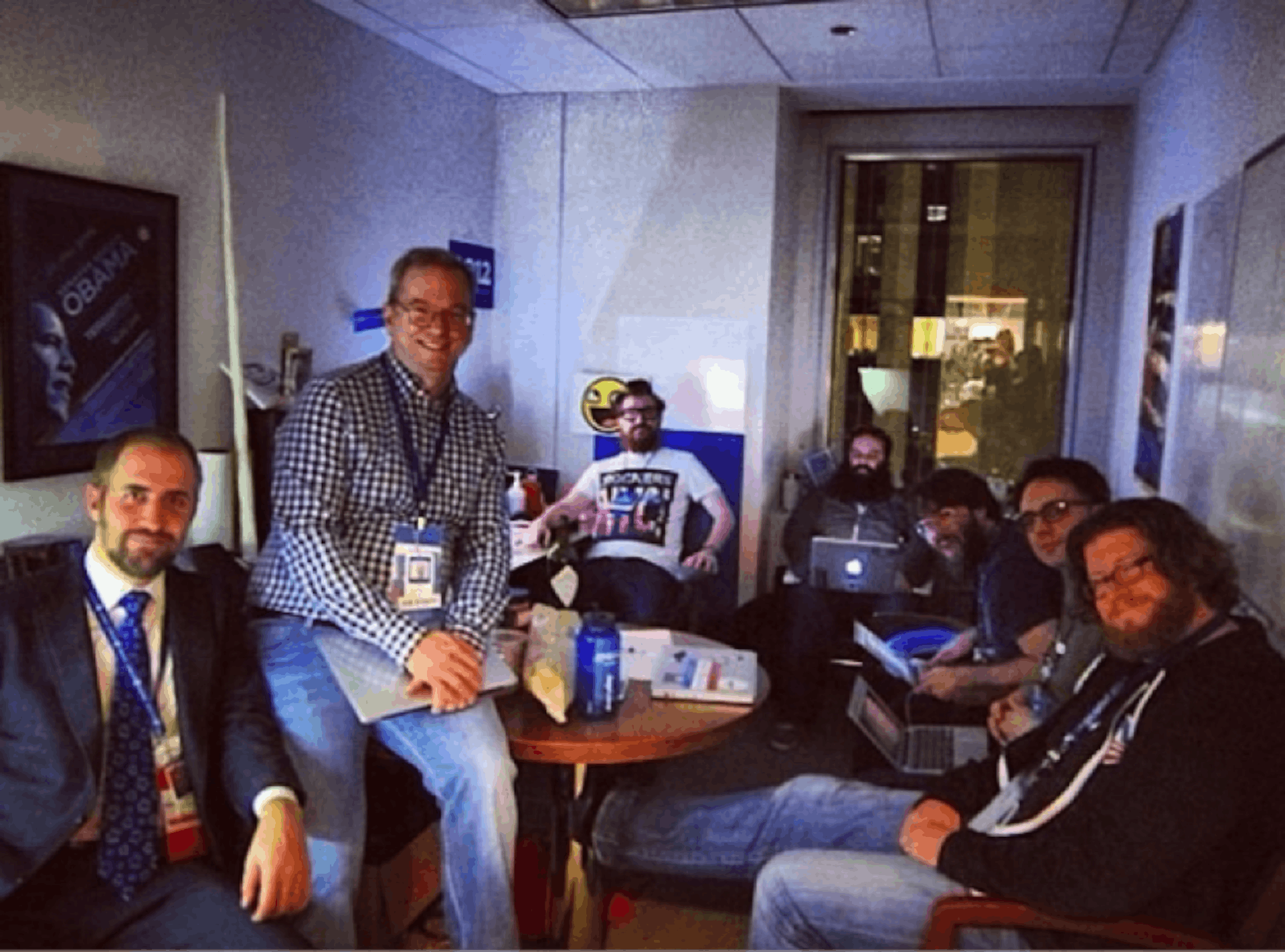 On election night in 2012, Schmidt was in Obama's Chicago campaign headquarters "boiler room" alongside the team charged with maximizing voter turnout.v 
At the same time, Schmidt has reportedly taken steps to ensure that his political support is not easily discovered. "Mr. Schmidt asked that Google remove from the search engine information about a political donation he had made," according to a New York Times review of Steven Levy's book about Google, In the Plex.
Schmidt provided crucial political support for the White House and received unfettered access to top policymakers.
While the string of White House meetings isn't dispositive, it raises questions about the access that Google's chief executive and then chairman had to top decision-makers at the White House at critical junctures for his company. Did Schmidt receive access to Obama's top advisors because of his help for the president election efforts? [See article on Civis Analytics]
Schmidt stepping down from the CEO role allowed him more time to devote to Obama's re-election.
Schmidt's personal involvement in Obama's re-election effort would likely have raised eyebrows while he was chief executive of one of the country's largest corporations. But he had stepped down from that role on Jan. 20, 2011 to become Google's executive chairman, giving him broader latitude to engage in political and diplomatic activities.vi
Schmidt's timing was propitious. That same day, the White House also announced that Deputy Chief-of-Staff Jim Messina and White House Political Director Patrick Gaspard were quitting to run Obama's 2012 re-election campaign. Days later, Schmidt met privately with Messina to strategize about the 2012 re-election effort.vii
Messina reportedly considers Schmidt a "mentor" after the two met during the previous presidential campaign.
As Schmidt grew closer to Obama's re-election team, the FTC in June 2011 announced it was launching a formal antitrust probe to investigate whether Google was abusing its dominance in Web-search advertising.vii
Did Eric Schmidt or Google officials discuss the FTC's antitrust investigation with the White House?
Schmidt met with the president's top advisors as the government was deciding whether to bring a landmark antitrust suit against his company. What they spoke about is a matter of significant public interest. The last time a US president intervened in an antitrust action on behalf of a corporate backer of his re-election effort, it became one of the earliest scandals of the Nixon presidency.ix
A series of meetings in mid-December 2011—some highlighted by The Wall Street Journal—attest to Google's extraordinary access to senior White House officials, even in the midst of the FTC's mounting antitrust probe.x The flurry of meetings took place between top Google executives and White House officials on the one hand, followed by meetings between White House officials and the FTC Chairman.
First, Schmidt, Google's David Drummond and several technology executives met with White House Chief of Staff Bill Daley on December 12, 2011.

xi

That same day, Jason Furman, chairman of the White House Council of Economic Advisors, met with Google's lobbyist Johanna Shelton and General Counsel John ("Kent") Walker and FTC Chairman Jon Leibowitz in separate meetings.

xii

 

xiii

 
Drummond and Shelton met again a day later on December 13 with Valerie Jarrett, one of the president's closest and most influential advisors, while the White House Chief-of-Staff, Bill Daley, met privately with FTC Chairman Leibowitz.

xiv
It isn't known if the investigation was discussed at those meetings. However, the proximity of the contacts raises questions about whether the White House was acting as a conduit between Google and the FTC to resolve a thorny matter affecting one of its closest corporate allies.
Did Eric Schmidt's support of the Obama campaign have any impact on the decision to close the FTC investigation?
The fate of the FTC probe into Google appeared to change radically right after an election in which Schmidt served as an important advisor.
As the investigation progressed into the fall of 2012, investigators became increasingly certain that Google had broken antitrust laws, and they seemed sure the government was poised to file a landmark suit against the search giant. In August 2012, FTC staff privately recommended bringing a suit on three of the four matters it considered.xv In October, word had leaked to the news media that FTC staff were recommending that the government sue the search giant.xvi
That suddenly appeared to change following the election. By November 20, 2012—two weeks after the vote—media reports suggested the Commission was wavering on its investigation. Sources now believed that Google "may skirt the most serious antitrust allegations."xvii
On November 28, 2012, Google's chief executive, Larry Page, met with FTC officials for formal settlement talks.xviii Two days later, White House logs show a series of three, back-to-back meetings that preceded the end of the FTC's antitrust probe.
On November 30, 2012, Obama campaign manager Jim Messina met with the White House chief-of-staff, Pete Rouse, at 1:30 pm.xix  An hour later, the DNC's Patrick Gaspard met with Rousexx, and finally at 3:30 pm Google's Schmidt met alone with Rouse.xxi
In other words: In the course of three hours, Obama's chief-of-staff met back-to-back with the three people most intimately involved with his re-election victory. Schmidt's meeting came even as Google was engaged in settlement negotiations with the government. Was the issue raised?
A month later, the FTC announced it was ending its antitrust probe, without filing any major charges.
i White House Visitor Logs UNI# U63955
ii http://www.whitehouse.gov/the_press_office/President-Obama-Announces-Members-of-Science-and-Technology-Advisory-Council/
iii http://www.bloomberg.com/bw/articles/2013-05-30/googles-eric-schmidt-invests-in-obamas-big-data-brains
iv http://www.bloomberg.com/news/articles/2013-05-30/googles-eric-schmidt-invests-in-obamas-big-data-brains
v http://www.bloomberg.com/news/articles/2013-05-30/googles-eric-schmidt-invests-in-obamas-big-data-brains
vi http://www.cbsnews.com/news/eric-schmidt-stepping-down-as-google-ceo/
vii http://www.bloomberg.com/news/2012-06-14/obama-s-messina-taps-google-s-schmidt-for-wisdom-on-winning-race.html
viii http://www.wsj.com/articles/SB10001424052702303339904576403603764717680
ix http://www.historycommons.org/context.jsp?item=a1969ittlawsuit
x http://www.wsj.com/articles/google-makes-most-of-close-ties-to-white-house-1427242076
xi White House Visitor Logs: UIN# U66194
xii White House Visitor Logs: UIN# U66086
xiii White House Visitor Logs: UIN# U66382
xiv White House Visitor Logs: UIN# U66641
xv http://www.wsj.com/articles/inside-the-u-s-antitrust-probe-of-google-1426793274
xvi http://www.nytimes.com/2012/10/13/technology/ftc-staff-prepares-antitrust-case-against-google-over-search.html?_r=0
xvii http://www.bloomberg.com/news/articles/2012-11-21/apotex-google-lofgren-uhlig-intellectual-property
xviii http://www.bloomberg.com/news/articles/2012-11-27/google-chief-page-said-to-meet-ftc-over-antitrust-probe
xix White House Visitor Logs: UIN# U57098
xx White House Visitor Logs: UIN# U57280
xxi White House Visitor Logs: UIN# U57115