Apple and Google continue to offer nearly 20 podcasts that promote far-right militia groups and the baseless QAnon conspiracy theory, despite the role these movements played in fueling the deadly U.S. Capitol riot, according to an investigation by the Tech Transparency Project (TTP).
Apple TV also carries a show devoted to the Oath Keepers anti-government militia, TTP found. 
The podcasts identified by TTP include one hosted by Proud Boys founder Gavin McInnes, which debuted on Jan. 4, two days before the Capitol insurrection. Another podcast features the name and logo of the Three Percenters militia. Prosecutors have charged adherents of the Proud Boys, Three Percenters, and Oath Keepers in connection with the Capitol violence, and Canadian lawmakers recently voted to designate the Proud Boys as a banned terrorist organization.
The dynamic shows how deeply far-right and conspiracy content has penetrated the technology ecosystem. Facebook and Twitter have launched well-publicized efforts to root out militias and QAnon from their platforms, but these movements have also managed to gain a foothold in podcasting and streaming TV. Apple and Google, by including this content in their offerings, give extremists another way to reach potentially millions of people.
TTP's investigation found nine podcasts associated with militia groups and the so-called boogaloo movement, whose supporters are preparing for a second Civil War.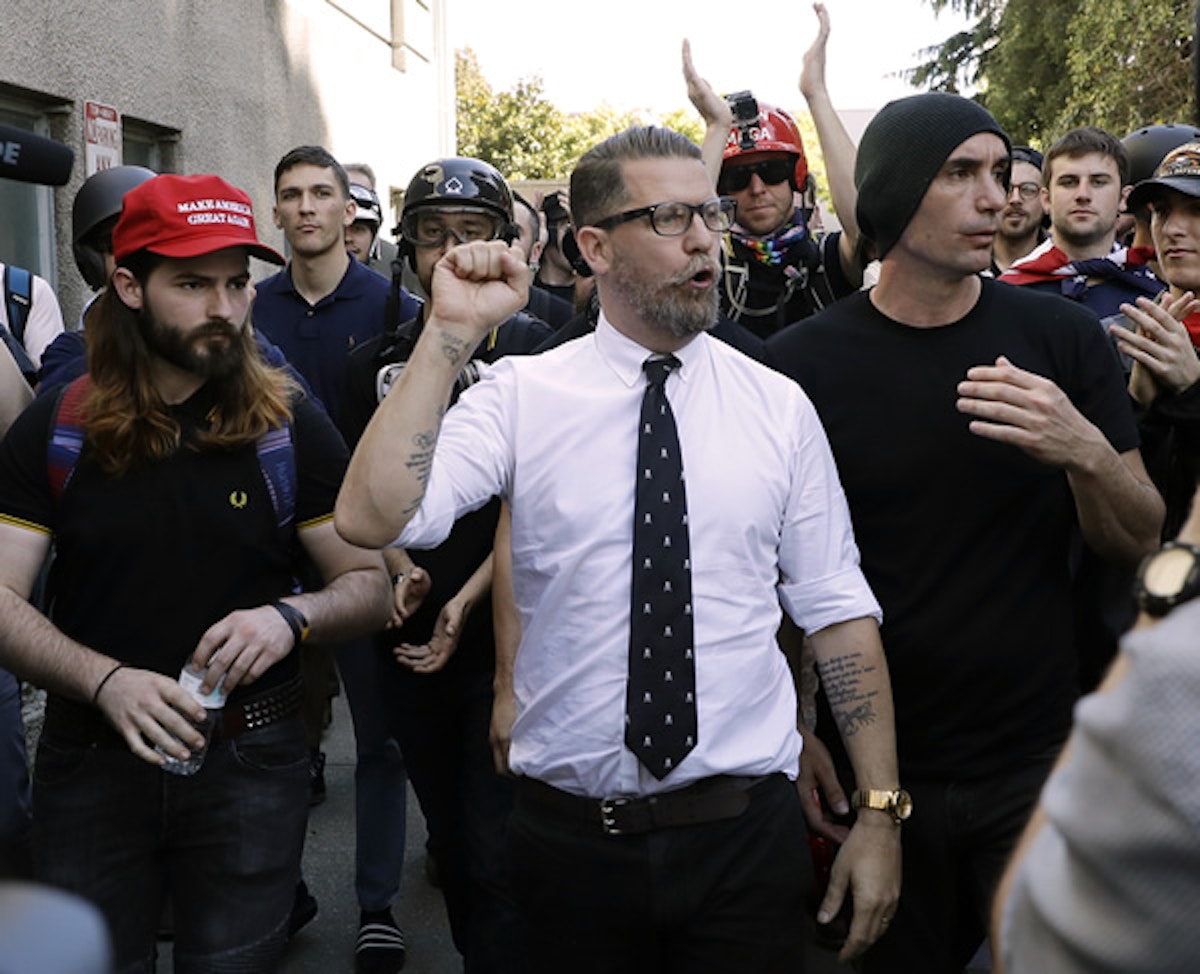 One podcast is conspicuously titled "Three Percenters Original" and includes the logo of the militia group as its main image. Another is "Get Off My Lawn," hosted by Gavin McInnes, founder of the hate group Proud Boys. McInnes has been booted from social media platforms and faced multiple suspensions from Google-owned YouTube, including last year for (by his own account) violating policies against "content glorifying or inciting violence against another person or group of people." Still, his podcast is available on Google Play.
The boogaloo-themed podcasts are "The eMilita Podcast," "Biting the Bullet," "Uncensored Tactical," "The Statist Quo," "Liberty Minded Medics," "Insurgency Knitting Circle Podcast," and "Boogaloo Bob Show." TTP has previously reported on the rapid growth of this extremist movement on Facebook.
TTP also found 10 podcasts relating to QAnon: "Pardon My American," "Praying Medic," "X22 Report," "Red Pill News," "Woke Societies's Podcast," "Unbridled Minds," "Republic Restored Podcast," "The Awakener," "Qanon FAQ," and the "Great Awakening Podcast."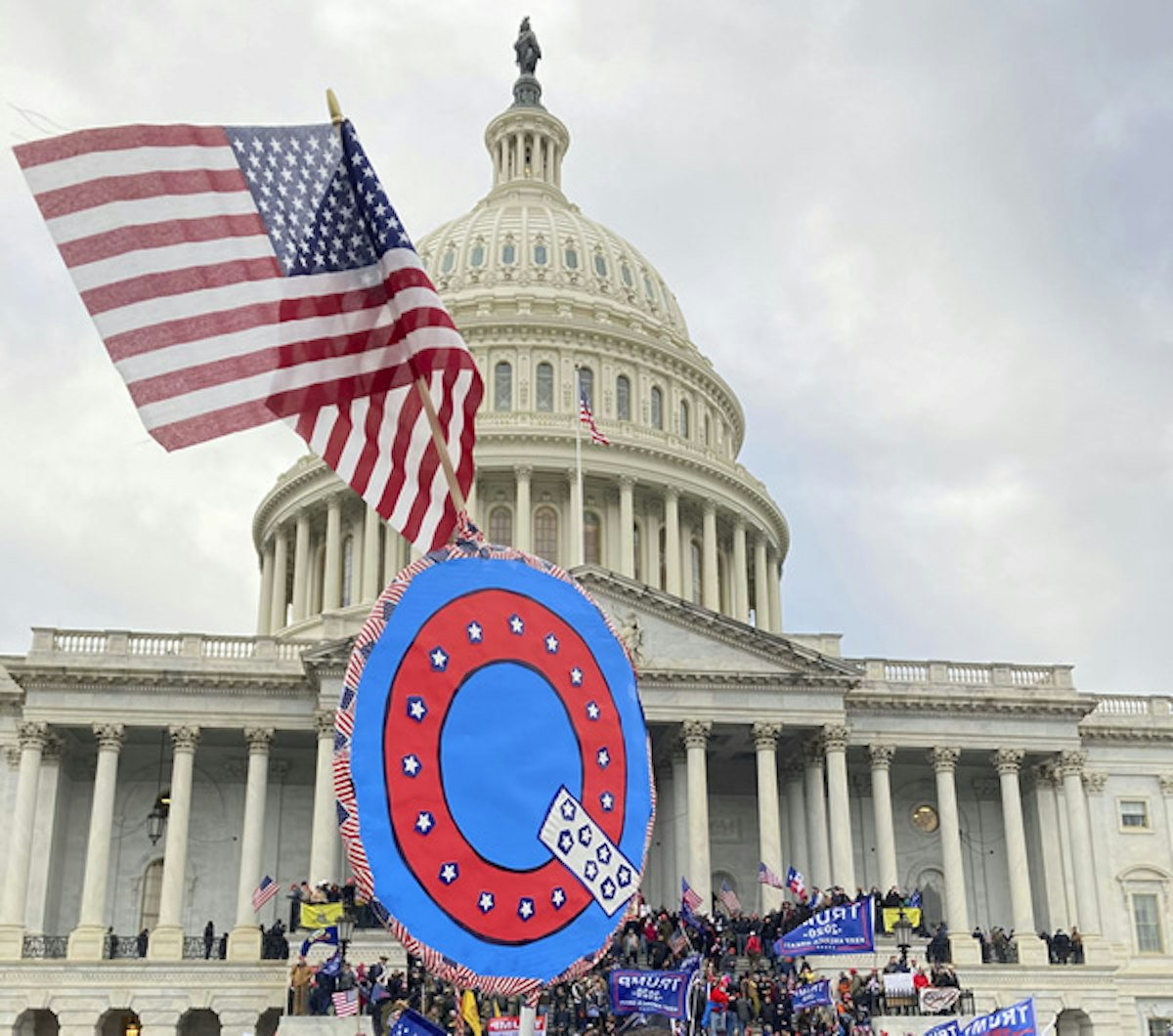 QAnon adherents believe that Donald Trump is waging a secret war against a global cabal of Satan-worshiping pedophiles and child sex traffickers. The conspiracy theory has gained a massive following in recent years, and its followers had a visible role in the Capitol riot.
As with McInnes, Google has an inconsistent approach to these QAnon podcasts: YouTube has removed some of them, according to updates from podcast creators, but they're still included in the Google Play store.
TTP also identified a militia-themed show on Apple TV. The show, called "Oath Keepers TV," is available to an estimated 40 million Apple TV subscribers. As noted above, several alleged members of the Oath Keepers have been charged with conspiring to commit violence at the Capitol. The group is "one of the largest radical antigovernment groups in the U.S. today," and claims tens of thousands of current and former law enforcement officers and military veterans as members, according to the Southern Poverty Law Center.
The presence of these dubious programs on Apple and Google platforms contrasts with the companies' public condemnation of the Capitol insurrection. On Jan. 6, the day of the riot, Google CEO Sundar Pichai called the "lawlessness and violence occurring on Capitol Hill" the "antithesis of democracy." Apple CEO Tim Cook said in a Jan. 12 interview that "no one is above the law," adding, "I think everyone that had a part in it needs to be held accountable." Both Apple and Google kicked out Parler, the social network favored by Trump supporters, from their app stores in the wake of the Capitol attack, citing its inability to police user posts.
Apple is the "dominant distributor" of podcasts, with tens of millions of people using the pre-installed podcast app on their Apple devices, according to a recent report by Bloomberg News. The report said Apple is considering adding a subscription service to its podcast app, meaning it could potentially profit from its militia and QAnon offerings in the future. Apple TV charges users a subscription rate of $4.99 per month.
Podcast creators often monetize their episodes through running ads and sponsorships. By allowing access to militia and QAnon supporters, Apple and Google may also be providing an income stream to these movements.
TTP also observed that Apple is actually promoting the far-right and conspiracy podcasts in some cases, via the recommendation algorithm on its podcast app.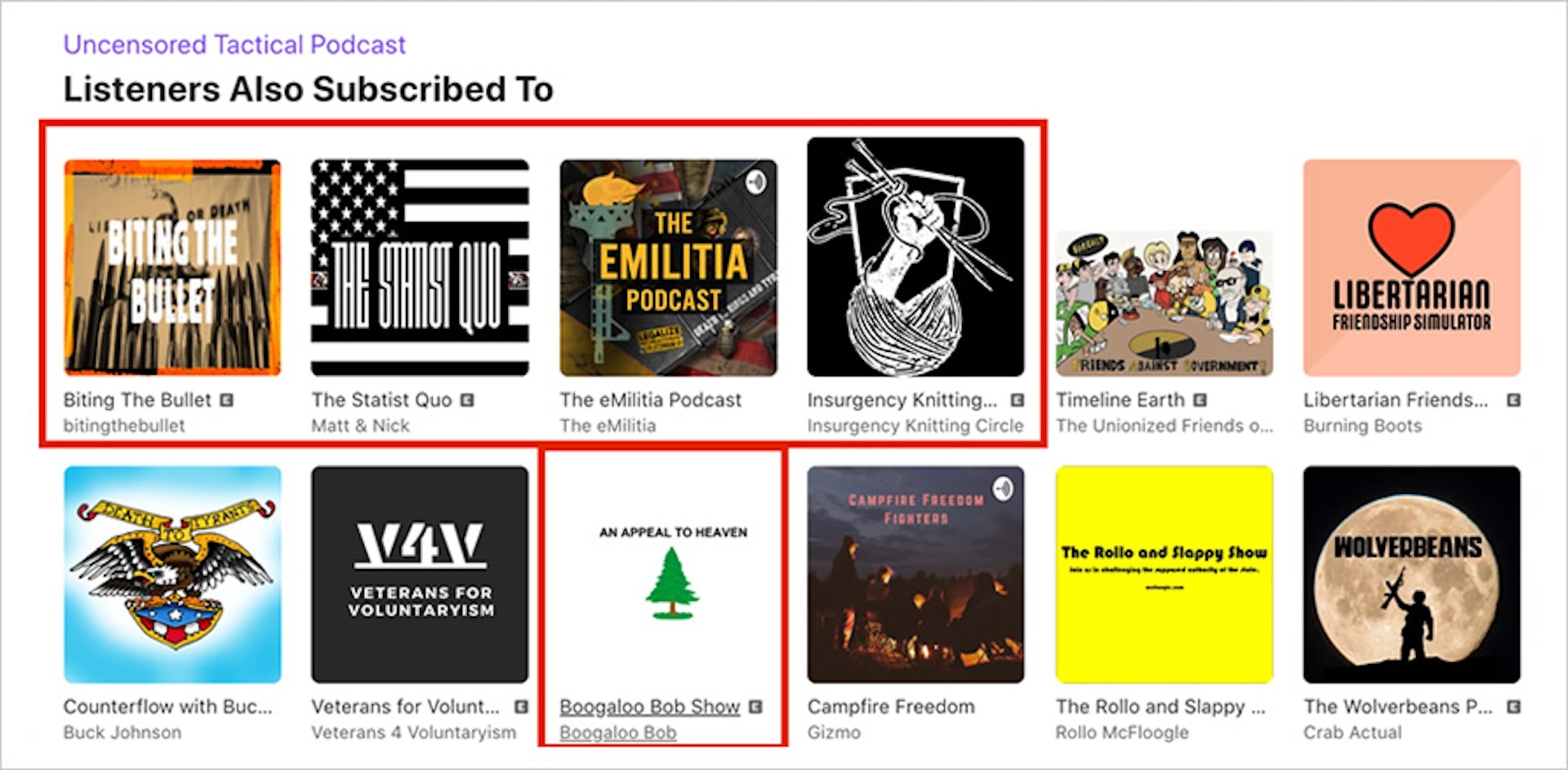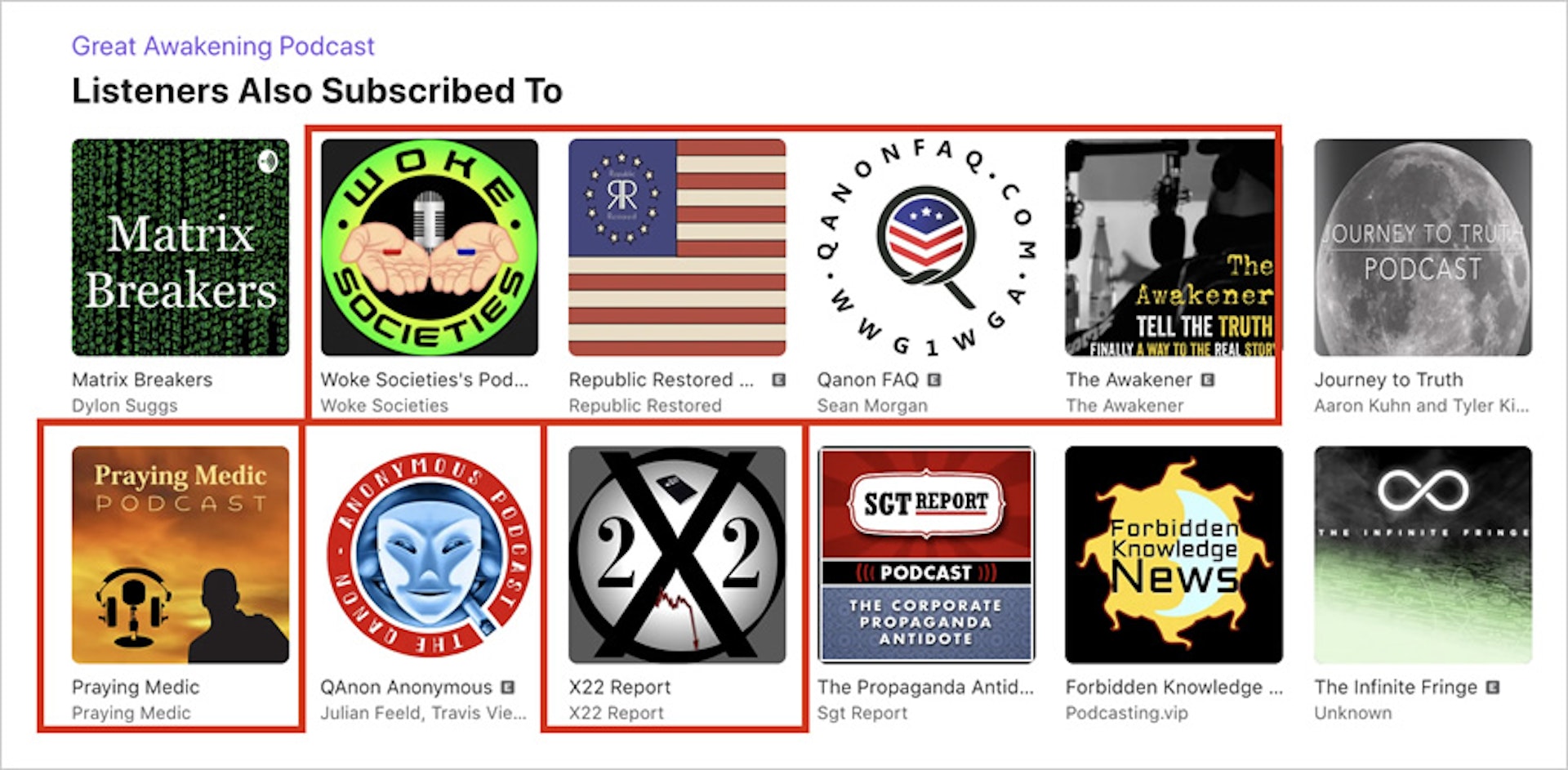 It's not clear why Apple and Google haven't already removed this content, given the evident dangers of far-right militias and QAnon. Apple says it strives to present podcasts in "accurate form," and its requirements prohibit podcast content that promotes illegal activity or violence, is "objectionable" or "in poor taste," terms that could potentially be applied to these movements.
Google's podcast content policies are less specific, but state that Google can take down content that is "obscene" and could "create liability for Google."